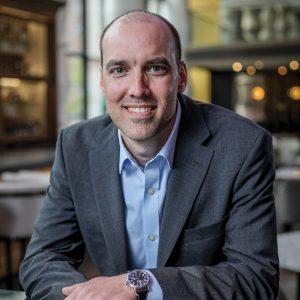 In the past, architecture has been defined as a vocation, a field of both technical and creative study, and a conduit in which an individual can impact lives and leave a legacy. Yet, its potential to influence, create, inspire, disrupt, and include speaks to a larger import than a simple, concrete interpretation. Its significance is elusive, fluid, and subjective; as varied as the talented minds and hands practicing the craft in the region, building upon the existing built fabric and landscape.
In this continued series, Great Lakes By Design Magazine had an opportunity to learn more about some of the architects practicing in the Great Lakes region—and what drives them to create inspired spaces and places.
Matthew Gerard, AIA
Architect, Designer | Visbeen Architects, LLC
Grand Rapids, Michigan; Chicago, Illinois
"I used to think of my buildings and architecture as my children. The younger version of me—the pre-married version of me, the pre-father version of me—used to look at architecture differently. I used to think I was leaving a legacy of buildings behind," said Matthew Gerard, AIA, architect and designer at Visbeen Architects LLC in Grand Rapids, Michigan. 
"Once I became a father, I realized that the peoples' lives we touch are way more important than the architecture we build. The architecture is just the conduit to get there," Gerard added. 
Initially beginning his architectural career in commercial work—educational, multi-family, and mixed-use—in the Detroit area, Gerard was drawn to residential work after relocating to West Michigan nearly 10 years ago and collaborating on-and-off for several years with Visbeen Architects' Founder Wayne Visbeen, AIA, IIDA. 
"I grew up in Chicago, spent 10 years in Detroit, and then moved over to this side of the state to raise a family. I have a mostly commercial background in architecture, so I've done a little bit of everything. I had never done residential, so when I had the opportunity to join [Visbeen] and work on residential I took it," Gerard said. 
"I've known [Visbeen] for about 10 years and he is ridiculously fun to work with. It made a lot of sense to work here at Visbeen Architects with him rather than partner with him from other places," Gerard added. 
Gerard joined the award-winning, full-service firm in 2015 and has since applied his love of drawing as he works with clients to design meaningful and inspiring spaces. Backed by a talented and experience team of architects, interior designers, and illustrators, Visbeen Architects provides architectural, planning, and interior design services from its two locations in Grand Rapids and Chicago. The firm, which was established in 1992, has since become recognized for its diverse portfolio of high-end, custom residential, retail, and commercial work spanning more than 20 countries, as well as its proprietary live sketching process. 
"I do think that is what is a little bit unique about Visbeen Architects: we do the editing process live with clients. We sit with clients, we draw, and we edit on the fly as opposed to editing on our own where you might miss out on some of that creative process," Gerard said. 
"You get a lot of ideas out quickly that way, which is why I love working with [Visbeen]; he never runs out of ideas—and then from there we edit. If you look at architecture, it is just as much about the idea as it is about editing. You have to have good things down on paper, but you also have to hold back some things," Gerard added. 
It was his love of drawing from a young age that led him to pursue architecture. Gerard attended the University of Detroit Mercy where he earned a five-year accredited Bachelor of Architecture degree and has since become licensed in the state of Michigan. He went on to become an architectural designer at SHW Group, now Stantec, in Detroit for nearly a decade before working at a local Grand Rapids firm for several years focusing on more commercial and educational work. He considers the residential work he does now the most intimate form of architecture. 
"Commercial and educational projects are always interesting, but there is a more personal connection to [residential] architecture. We can do a business for you, you go there, you work there, and it can be amazing; but when we do your residence, where you are going to live, your home, where you raise your kids and have your family, it is a much more intimate connection," Gerard said. 
"Bigger projects are sometimes fun, because of their size and their scale; but you can get lost for three years on a project. With residential, you can be a part of a lot of different projects," Gerard added. 
While making a career out of his love of drawing is what drew him to the field, Gerard noted the fun or inspiring part is being able to dream with his clients.
"Many commercial clients or educational institutions are working on their second, third, fourth, or fifth project, where a lot of residential clients—not all, but many—it is the only home that they are ever going to build," Gerard said. "They have lived in homes, but it is their first dream home. To be a part of that with them is truly special."
He also noted design is often specific to the individual and while he loves designing contemporary homes—and spent much of his career on contemporary architecture—the importance is in doing diverse styles well. 
 "I think everyone has different tastes or flavors that they appreciate, so design is not necessarily the same for everyone. What I'm passionate about is well done and tasteful design," Gerard said. "Some architects have a style they work within. We pride ourselves on being able to work in any style. Our designs are tailored to meet our clients' tastes."
Throughout his professional career, Gerard has also been an adjunct faculty member at the University of Detroit Mercy and Grand Rapids Community College, as well as serving on the Board of Directors for AIA Grand Rapids. Although current labor shortages remain a challenge and more has to be done with less, whether designing space or exploring opportunities with pre-fab architectural pieces; at the end of the day, Gerard remains passionate about the work and the relationships cultivated along the way. 
"We work with our clients on their dream homes, but eventually they are going to move from those homes or they will be torn down," Gerard said. "It is the connections and the relationships that we build that are truly important and those are the things that will get passed on to their children and our children—that's a way better legacy to be a part of."