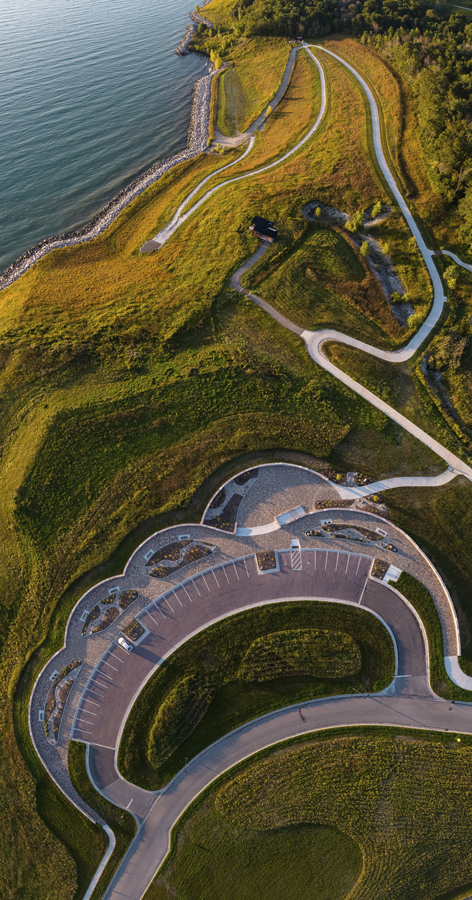 Milwaukee, Wisconsin is changing the narrative on the post-industrial urban landscape. Not unlike many of its like coastal communities—hubs of economic prosperity carved into the shoreline of the world's largest freshwater system—Milwaukee's industrial past took advantage of its port and waterways to fuel its growth and development during the 19th and 20th centuries. Yet now, the city is re-emerging as a nationally—and internationally—recognized hub for innovation, sustainability, and water technologies by leveraging its regional asset. By transforming its approach to water, the urban landscape has become a stage where green infrastructure initiatives, as well as critical global water challenges, are not only part of the dialogue, but also an active strategy for the city's neighborhoods. 
"There is a lot of activity happening here within the public sphere—properties, schools, rivers, parks, and places—where people are starting to wake up to addressing issues of flooding, addressing issues of water quality, and also addressing issues in parts of the city that are really underserved," said Cassie Goodwin, ASCE, LEED AP, principal and civil engineer at SmithGroup in Milwaukee. 
"One thing many people don't think about is green infrastructure is being used to actually tackle really major, societal issues that go beyond just helping the environment," Goodwin added. 
The firm
SmithGroup is a globally integrated design firm headquartered in Detroit, Michigan with 15 offices across the United States and China. The award-winning, architecture and planning firm strives to design a better future backed by a more than 150-year-history serving both the built and natural environment. SmithGroup, which recently expanded its Great Lakes brick-and-mortar presence to Milwaukee in June 2019—joining offices already in Chicago, Detroit, Ann Arbor, and Madison—has worked with clients in the Milwaukee and Southeastern Wisconsin regions on a number of landscape, waterfront, and urban design projects, such as: the Lakeshore State Park, Pier Wisconsin at Discovery World, Lake Vista in Oak Creek, 69th Street in Wauwatosa, and the ongoing Kinnickinnic River Corridor Neighborhood Plan.
Goodwin, who recently relocated from Madison to Milwaukee as part of the leadership team, said as a civil and environmental engineer by background, her professional focus is on green infrastructure that addresses issues like storm water management and water quality, as well as community, socio-economic, habitat and ecosystem benefits. 
"One of the things that really drew me to Milwaukee, personally and professionally, was all of the investments that are happening here as a city in this region, especially with the leadership of the City of Milwaukee and the Milwaukee Metropolitan Sewage District—which is one of our clients, also known as MMSD—and they are really on the forefront nationally, certainly in the Midwest, in terms of putting in green infrastructure," Goodwin said. 
The firm, one of the many active partners contributing to innovative green infrastructure work in Milwaukee, is part of the larger story being woven by municipal, state, nonprofit, and private investment in transforming the Milwaukee region into a World Water Hub for freshwater research, economic development, and education. The city is not only home to the Global Water Center—a $22 million, 98,000-square-foot headquarters for The Water Council, Alliance for Water Stewardship, and a state-of-the-art water business and research facility—and University of Wisconsin-Milwaukee's School of Freshwater Sciences and Starboard Building—the $53 million, 92,000-square-foot centerpiece in Harbor District—but also a Global Water Technology Park for water technology businesses, of which has been identified as a regional asset cluster. 
A city's history
"Milwaukee has for a number of years gained some recognition globally and nationally as a water-centric city or a water leader. It means a couple different things to a couple of different people, but one of the biggest things they are trying to do is brand itself as a city that embraces innovation around water issues," Goodwin said. 
"It's really exciting. I think with the Mayor's Office and MMSD, there is a really strong leadership in terms of leaders who are going around not just the country, but also globally. The city is seeing that as an opportunity to really showcase the best of what Milwaukee has to offer and certainly in terms of tracking innovation, jobs, and economic prosperity around water issues," Goodwin added. 
Milwaukee's history with green infrastructure arguably traces back to at least the 1980s when the MMSD began initial work carving out bedrock 300 feet underground to lay the Deep Tunnel system, which has captured and cleaned 98.4 percent of all water and wastewater since 1994. The Deep Tunnel supplemented the more single-purpose gray stormwater infrastructure of the time, which, according to the United States Environmental Protection Agency was the conventional pipe drainage and treatment system design to move urban stormwater from the built environment. 
Common green infrastructure practices, such as downspout disconnection, rainwater harvesting, green parking and roofs, bioswales, and urban tree canopies, can be used to imitate nature, absorb water, and filter stormwater to in essence, create healthier urban environments when integrated into the larger scale setting. Goodwin noted there are many different definitions of green infrastructure, and how it is perceived, but a common use of it in the area is stormwater management features that are done in a way that is considered green. 
"Green infrastructure is different in the sense that we don't want to take the water and immediately send it away. It is actually what causes a lot of downstream flooding. We want to mimic nature and actually absorb the water where it falls," Goodwin said. 
The Great Lakes condition
"Green infrastructure looks at how we can transform our urban and built environments by installing practices that will allow water to absorb through plant medium, porous pavement, or green roofs—things that are going to hold the water and potentially send it down into the ground versus letting it go right out to our lakes and waters," Goodwin added.
The result of which, can lead to bad water concerns if polluted drain-off water from heavy rainfalls or flooding in cities isn't slowed down or stopped; which remains a prevalent issue for the Great Lakes region despite a global scarcity of freshwater. The U.S. Army Corps of Engineers Detroit District reported water levels across the Great Lakes remain high as of August 9, 2019 with "near or above the monthly record highs" for the month and forecasted lake levels surpassing that of last year by eight-to-15 inches—with Lake Ontario forecasted at 27 inches above.  In July 2019, Lake Michigan water surface reached nearly three feet higher than its long-term average. 
Goodwin said it is one of the interesting challenges facing the region. While the Great Lakes region is experiencing an abundance of water, other places in the country are dealing with water deficiencies, drought, and potential loss of drinking water. 
"We are in the opposite position where we have more water than we need and Lake Michigan earlier [in August] met a 30-year-high; it is as full as it has ever been in recorded history. The issues related to that are flooding, basement backups, erosion of shorelines, and potentially really high floodwaters that race through our rivers that can cause all sorts of damage. It can also be very dangerous and there has been a series of drowning deaths on the Kinnickinnic River," Goodwin said. 
"We think with climate change, it is only going to get worse. There are going to be more sporadic and heavy rainfalls and we will continue to see additional problems," Goodwin added. 
Local solutions
SmithGroup, in collaboration with MMSD and Sixteenth Street Community Health Centers, an independent, nonprofit agency, has been addressing some of these critical issues by working on transforming a 2.5 mile stretch of urban river and neighborhood corridor into an ecological greenway providing habitat for wildlife, recreational activities, floodwater management, and economic opportunities.  Goodwin noted the Jackson Park-Kinnickinnic River Corridor Neighborhood Plan has been a project the firm and its partners have been working on for years and while green infrastructure is a component—and its direct relationship with the health of nearby residents—the biggest challenge at this point concerns Jackson Park. 
"We are running into all sorts of issues, because we are taking what is actually a really beautiful, historic, old park, which [the team] is having to look at tearing down 100-plus-year-old oak trees to hold the water. What are the values there? What is more important? What wins in that case?" Goodwin said. "Preserving the history and character of this park and these beautiful trees that also provide a lot of habitat benefit, capture rain water, and provide shade for people; or tear down because we have to build a big storage basin to hold too much water so it's not impacting people downstream?"
SmithGroup has also been working with the Milwaukee Public Schools, or MPS, on a number of playfield and school yard improvement projects that deal with de-paving and developing green spaces for students. It is a movement several years in the making now addressing properties owned by the public school system that were historically paved over, according to Goodwin. 
"Especially in the middle of the last century, kids were just sent out onto asphalt playgrounds. They were striped, but that was what they were told to play on. There is a recognition that children do better cognitively, developmentally, and emotionally when they are around nature, when they are around green, and a lot of kids in the urban inner cities—especially in Milwaukee with some of the high poverty rates we have here—they don't have a lot of access to nature," Goodwin said. 
"The City is systematically going through and saying, 'okay, let's look at these school yards, let's look at these playfields we control…let's tear up the pavement and put in things like outdoor classrooms, green gardens, butterfly gardens, orchards, natural play areas with logs and stumps.' It has been one of the most inspirational, exciting movements for me personally here," Goodwin said. 
A collaborative effort
The projects have been a result of various stakeholders coming together, from the MPS and the MPS Foundation, to private investors and various granting agencies, as well as MMSD investing thousands of dollars each year to de-paving and green infrastructure within MPS. Goodwin noted the collaboration and work shows it is not just for the health of the environment and community, but also about future generations and creating stewards of young children, and to help them explore and learn. 
"These grassroots efforts are bubbling up from various nonprofit agencies and neighborhood groups themselves and the leadership of the City is taking notice, saying, 'we want to contribute to this, we believe this is important,'" Goodwin said. "It is a good story to tell, but also I think it is really going to help move the needle on improving water issues in this area as well as investing in our students and our kids."
Though the work to mitigate and manage critical issues continues, Milwaukee has leveraged a very dispersed approach, where small practices are falling into place in pockets around the city; each one a piece of the overall city and regional narrative. Each designed solution is dictated by specific project goals and priorities; and yet, as Milwaukee strives toward a future where freshwater sciences, water technology, and green infrastructure are an inherent element of the cityscape, there is a cohesion and energy behind it. 
For Goodwin, it is an exciting time in her professional career as she has been able to sit down side-by-side with various stakeholders on multiple projects and have conversations about the future. 
"We are at the beginning of a groundswell movement here and its super exciting to see where it is going to go from here. We are at the beginning of the conversation about what we want our city to look like, what we want for our future and I feel like the possibilities are endless right now," Goodwin said.  "We are all designers. We all contribute in our own way." 
Text: R.J. Weick | GLBD Editor
Photography: SmithGroup