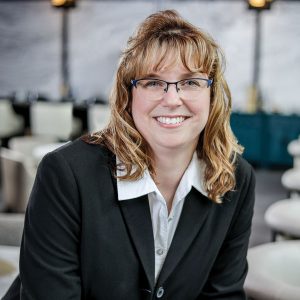 In the past, architecture has been defined as a vocation, a field of both technical and creative study, and a conduit in which an individual can impact lives and leave a legacy. Yet, its potential to influence, create, inspire, disrupt, and include speaks to a larger import than a simple, concrete interpretation. Its significance is elusive, fluid, and subjective; as varied as the talented minds and hands practicing the craft in the region, building upon the existing built fabric and landscape. 
In this continued series, Great Lakes By Design Magazine had an opportunity to learn more about some of the architects practicing in the Great Lakes region—and what drives them to create inspired spaces and places.
Elaine Keiser, AIA, NCARB
President, Principal | Elaine Keiser Architect, Inc.
Petoskey, Michigan
Roughly nine years ago, Elaine Keiser, AIA, NCARB, president and principal at Elaine Keiser Architect, Inc., stood in the halls of the recently completed Little Traverse Bay Bands of Odawa Indians Murray Road Housing Project and knew she could never look at a project the same way. 
"I'm walking through with some other people and this little girl goes running into a bedroom right next to me and she is spinning around. She says, 'I finally get my own bedroom,' and at that moment in time I was just brought to tears," Keiser said. 
"What we do every day is so concrete and methodical—we design, we engineer, and then we put it up for bid—and the human aspect of the lives that you are changing in doing that we don't always get to see. It was her life that we were changing," Keiser added. 
It was a project the team at Elaine Keiser Architect, or EKA, was commissioned to complete with a LEED Silver rating in mind. When the multi-family development was completed on budget and on time with a LEED Gold rating, the grand opening ceremony featured an awards program and a representative from United States Housing and Urban Development for its successful use of Recovery Act funding. 
"They gave us an award for reaching that milestone with LEED and bringing the project in on time and on budget. This was fast-tracked, so we went from schematic design to digging, hiring a contractor and out for bid in 10 weeks," Keiser said. "We put our heart and soul into it."
While a project near and dear to her heart, Keiser was initially drawn to the field of architecture when assigned to complete a biography in middle school. The subject in question was none other than Frank Lloyd Wright. 
"I studied him, I wrote my paper, and I completely fell in love with his architecture, the idea of architecture, of building and designing, and being in that industry," Keiser said. "I absolutely loved his drawings and I would study them for hours."
From that point on, Keiser never looked back. Rather than taking a home economics class, she opted to take drafting and wood shop and found herself drawing continuously. Keiser went on to attend Lawrence Technological University in Southfield, Michigan near Detroit where she earned a Bachelor of Science in Architecture and a Master of Architecture. 
"I was aggressive in my education. By the time I was a senior [in undergrad], I was already enrolled in the graduate program. I was able to focus my studies on my core design work and also work for a firm in Birmingham," Keiser said. "When I got done, the industry was booming and I went to work for a firm in Harbor Springs for three years."
Now registered in seven states—Michigan, Wisconsin, Maryland, South Carolina, North Carolina, Florida, and Texas—Keiser decided to launch her own firm in 2000 with a passion for creating architecture focused on clients' dreams, embodies beauty of materials, and enhances the user's experience. The firm specializes in single-family and multi-family projects as well as commercial work; and offers integrated services, such as: civil, landscape, mechanical, electrical, structural, plumbing, and interior design. Rather than focusing on a single design style, Kesier said she finds it more interesting to study clients' interests and mold the project into their dream and what they are looking for, objective-wise. 
"I find it is incredibly exciting, because we are innovating in design and materials and what these spaces are going to become and how they are going to affect our clients' lives. Going through that every day, working through what a design is, and then watching it become reality is thrilling," Keiser said. "I can't quite explain it; it is never dull or boring." 
While open to exploration in both vernacular and construction, Keiser noted some of the key tenets the firm tries to achieve with every project is being harmonious with its site and integrating client participation into the process. From considering natural site features, best use of the property, and maximizing sunlight and views, each project begins with a full site study and a goal of educating clients to a point where they have a direct hand in each part of the design. 
"I explain to them what we are doing and we take baby steps throughout the whole project. We break it down in a traditional manner from preliminary design through construction documents, but through the years I've been able to refine exactly how all of those steps work and share that with the client and have them participate in it," Keiser said. "I find that when we move through, they have very few changes when it comes to construction documents and nearly none once it is under construction. They are very much a part of the process."
Despite the challenge of rising building costs—especially in the affordable housing market and overall in terms of goods and materials—and its ability to impact how and when some projects are completed, Keiser noted there are so many more materials available now and are being used in new ways.
"It allows us to have invigorating designs that we couldn't have had before, everything from how doors and windows function to different siding and roofing materials we can use," Keiser said. "I think we are living in a really great time when we can have a lot of materials at our disposal to use."
Throughout the firm's nearly 20-year tenure, EKA has developed a portfolio of residential work ranging from Victorian and Craftsman to contemporary in single-family and multi-family construction as well as renovation; and commercial projects in fields such as retail and restaurant, light commercial, and professional offices. Some of the firm's notable projects in addition to the Little Traverse Bay Bands of Odawa Indians housing development comprise Kilwin's Headquarters in Petoskey, Walstrom Marine showroom in Harbor Springs, and Sand Castle Condominium in Charlevoix. 
"I would hope it says I wasn't stuck in one particular style; that I was very open-minded to exploring new methods of construction, new materials, new form, and not necessarily just designing something one way, because that is the way we have always done it," Keiser said. 
"Design means we are taking all of the known factors of a particular design problem and using our experience and our talents to create something that is going to work wonderfully for those who are using it. In any little thing we do, our design is always focused on is this the right thing and the very best thing that it can be?" Keiser added.