In 2003, the office of former Chicago Mayor Richard M. Daley initiated an international design competition called "Bridging the Drive," which aimed to draw major architects for a ground-breaking structural project that would improve pedestrian access to Lake Michigan across Chicago's South Lakeshore Drive and within its South Side neighborhoods. 
After nearly 16 years, the final product, brought to life by AECOM, lead design firm and civil and structural engineer, and F.H. Paschen, general contractor, among others, was unveiled in December of 2018 at 41st Street, where its bright and moderately serpentine structure crosses 750 feet of Lakeshore Drive. Last year, the new 41st Street Pedestrian Bridge was recently named Engineering New Record's Best Project, Landscape/Urban Development of 2019.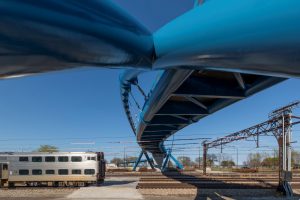 "We played a part in providing access for communities to one of Chicago's greatest assets. With the logistical challenges of building over Lake Shore Drive and active rail lines, our seamless collaboration with [Chicago Department of Transportation] and the many contractors brought this important project to fruition," said Chuck Freiheit, chief operating officer at F.H. Paschen in Chicago. "The success of the project was in the safe and collaborative construction of a community gateway for the city's south side."
Lakeshore Drive comprises a major artery for Chicago motor transit—its eight lanes supporting more than 100,000 vehicles a day—as well as rail lines like the Metra Electric, or Metra, and Canadian National Railway Company, or CN Railroad, tracks. The eye-catching pedestrian bridge design comprises an approximately 1,500-foot long, 676-ton structure that utilizes a sweeping S-curve to span the roadway and railroad tracks, and twin 240-foot long inclined arches to help support the concrete platform; an innovative application of structural engineering. The soft curve of the platform itself was also designed to create a more approachable distance for pedestrians and offer views of the city skyline, elevating the previous views—and inaccessible experience—of the shoreline. 
"There was a connection to the lakefront every quarter mile on the north side," stated Tanera Adams, a civil engineer for the City of Chicago, in a press release. "On the south side, there was not quite as many connections to the lakefront. So, you could see it, but you couldn't get to it. You'd have to travel quite a few blocks. For this particular location, the 41st Street bridge location, there was no bridge at all at the time."
When producing the bridge, the project team relieved building pressure on daily rail and traffic flow by envisioning a temporary bridge that would serve as a working platform and protective shield; allowing rail lines to remain in service while the steel superstructure was built off-site, in unison.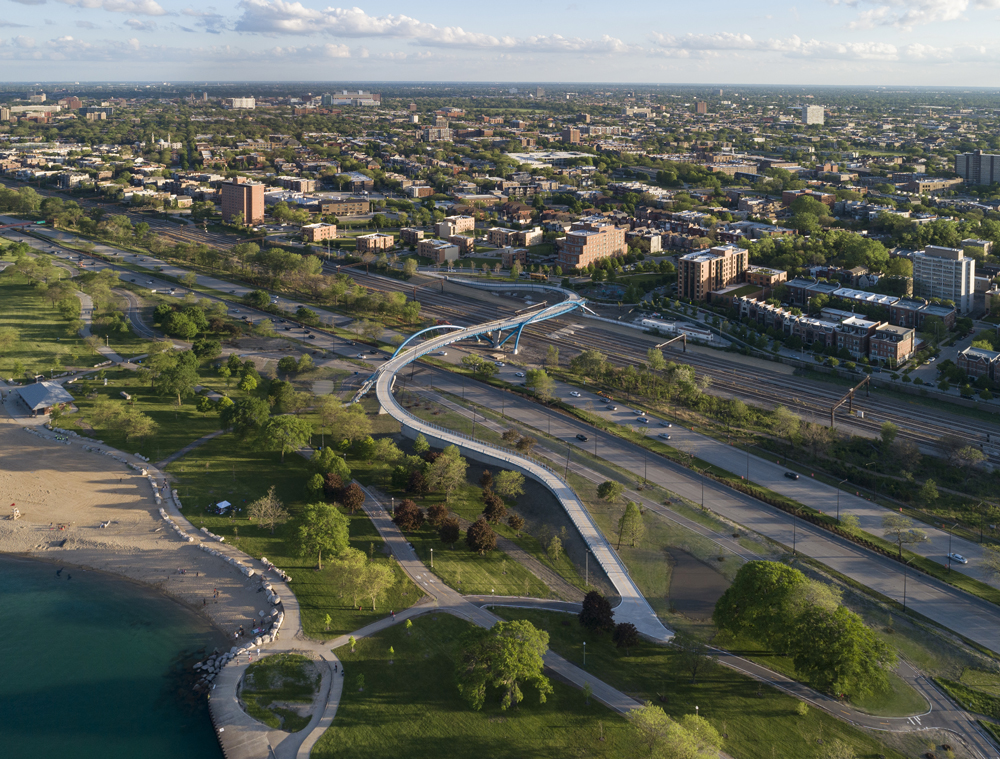 The bridge itself was pre-assembled at Hillsdale Fabricators' Chicago area shop in five groups, the longest of which was 243 feet long. Here, the shop also performed 3D modelling to ensure accurate tolerances in the design. Other members of the production team included steel bending specialist BendTec; steel erector S&J Construction; construction engineer TransSystems; and structural engineer HBM Engineering Group.
In its entirety, creating the 41st Street Pedestrian Arch Bridge involved complex and creative feats of engineering and design which now connect two Chicago assets above one of its main vehicular passages. The design, which was planned to connect the Bronzeville neighborhood and new mixed-income housing developments with the Oakwood and 41st Street Beach area of the lakefront, has set precedents in other areas as well. It is the second of five similar projects approved during former Mayor Rahm Emanuel's administration; one which opened in 2016 at 35th Street and replaced a non-wheelchair accessible bridge, and a third which began development in 2019 at 43rd Street. 
Text: R. Collins
Photography: James Steinkamp