Communities are defined by a set of unspoken social and cultural norms, strengthened by shared beliefs and often united by similar factors such as inclusion, safety, education, engagement, and sustainability. While each is unique, there is a common potential and ability for fostering healthy, supportive environments for the people who make up that community. In Toronto, Ontario, ZAS Architects + Interiors Inc. sought to realize an innovative campus set among a sprawling vertical neighborhood intended to provide a shared social and educational space, and ultimately meant to cultivate that greater sense of community.
Combining forces to create a learning and community nexus within Toronto's downtown space, two publicly funded school boards—Toronto District School Board and Toronto Catholic District School Board—and the City of Toronto & Children's Services partnered together to help drive the Canoe Landing Community Campus and Schools project, which was designed by ZAS Architects + Interiors Inc. ZAS Architects + Interiors is a design firm specializing in architecture, interior spaces, and sustainable urban places, founded in 1984 with locations now in Dubai, Vancouver, and Toronto.
"The work has always focused on a mission of public good—doing projects that are important to support healthy and active communities, projects that are sustainable, and projects that foster community," said Peter Duckworth-Pilkington, principal architect at ZAS Architects + Interiors.
Duckworth-Pilkington noted that the Canoe Landing Community Campus project was part of the early planning stages in the 1990s for CityPlace neighborhood, a community located within former Railway Lands in downtown Toronto, Ontario.
"Back in the [1990s] when this planning was starting, this was all very novel. The planning was really about: 'How do you create one of these vertical communities that is successful from a livability perspective and has a wide demographic, both from socioeconomic perspective, and economic perspective, and from family types—everything from singles to larger families?'" Duckworth-Pilkington said.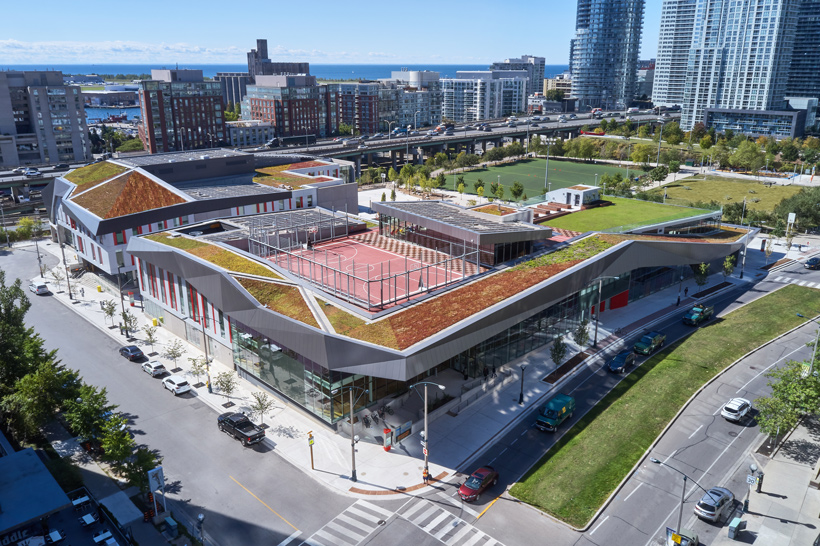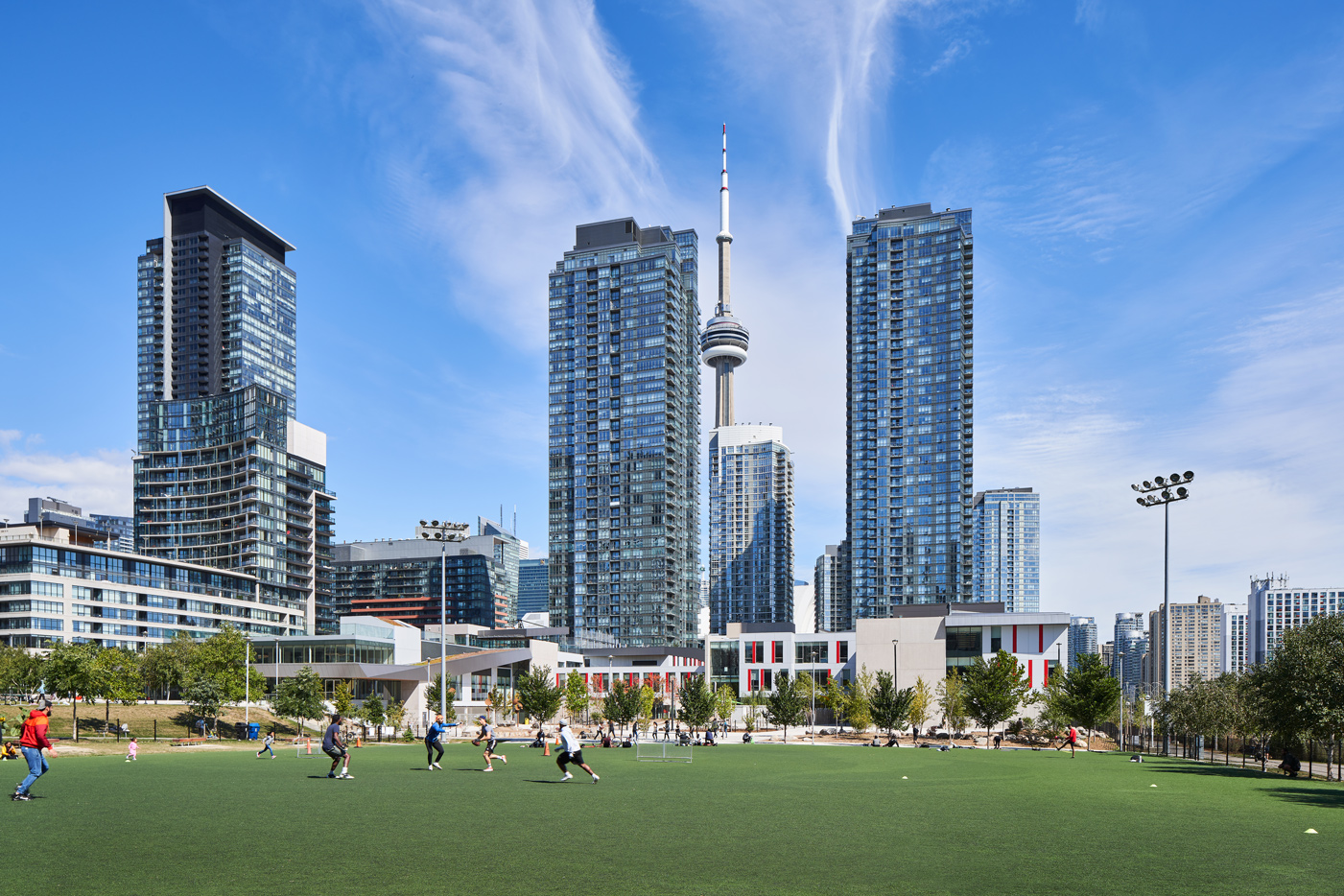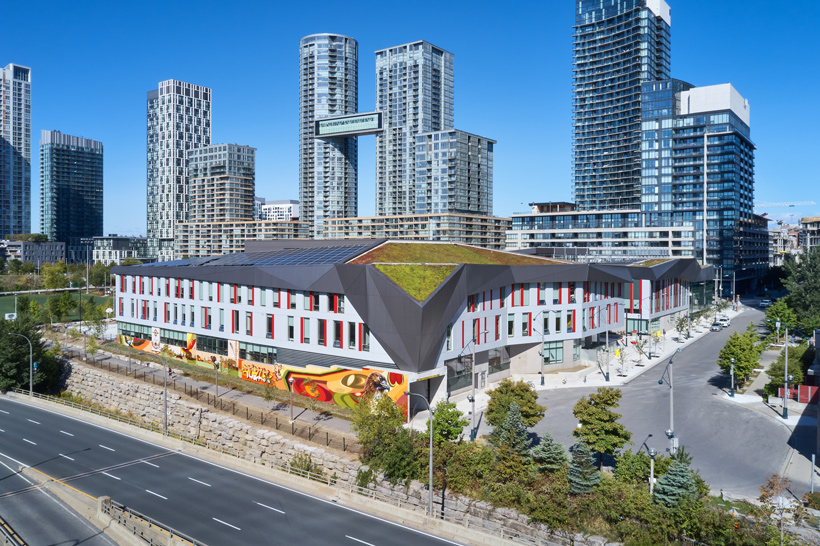 The neighborhood comprises residential and mixed-use towers, many being up to 70 stories tall. Although the Canoe Landing Campus project was part of the initial planning stages for CityPlace, Duckworth-Pilkington indicated that funding for the community building did not become available until around 2014 to 2015. The source of funding was through a development levy on each of the market rate residential units in the neighborhood. The building opened to the public in 2020.
The Canoe Landing Campus sits on a 3.32-acre site, and was specifically designed to house two elementary schools, a community recreation center, and a childcare center within its roughly 158,890 square-feet of space.
"There were a lot of goals. We were thinking a lot about what was being called the third space; it's not work, it's not home, but it's that space where community is created," Duckworth-Pilkington said.
"The key goal for the client was to create a vibrant community space that would build and foster that sense of community and would show the public investment by creating a very high level of design with a piece of architecture," Duckworth-Pilkington added.
The Canoe Landing Recreation Center, Canoe Landing Childcare Center, Jean Lumb Public School, and Bishop Macdonell Catholic Elementary School encompass a shared building that is then split into two wings: the north section and the south section. The spaces open to the public, such as the gymnasiums and the community center, operate on the north wing. The south wing is where the learning commons and childcare center are located. The two areas are separated for security purposes, so that the public cannot roam the south wing's halls during school hours.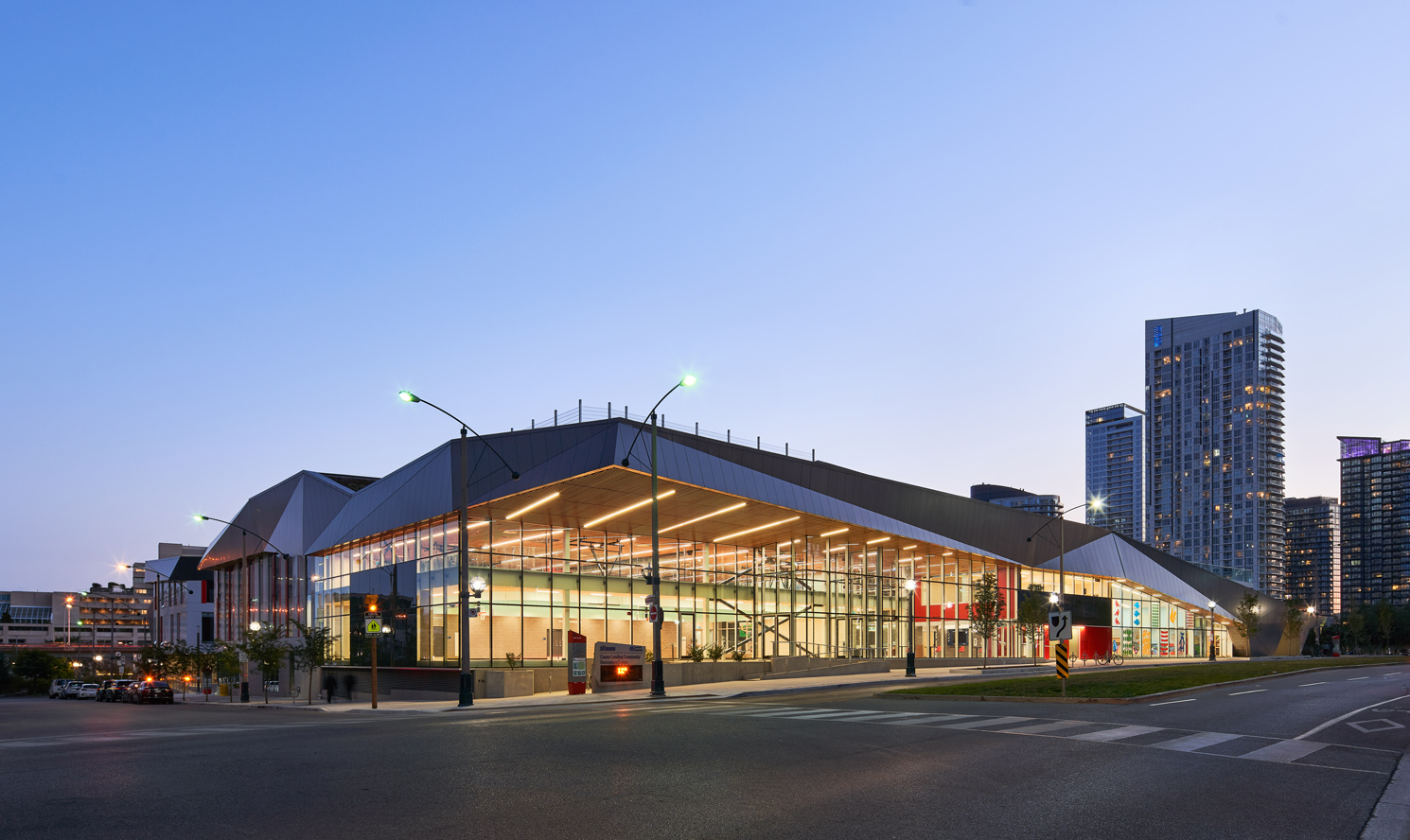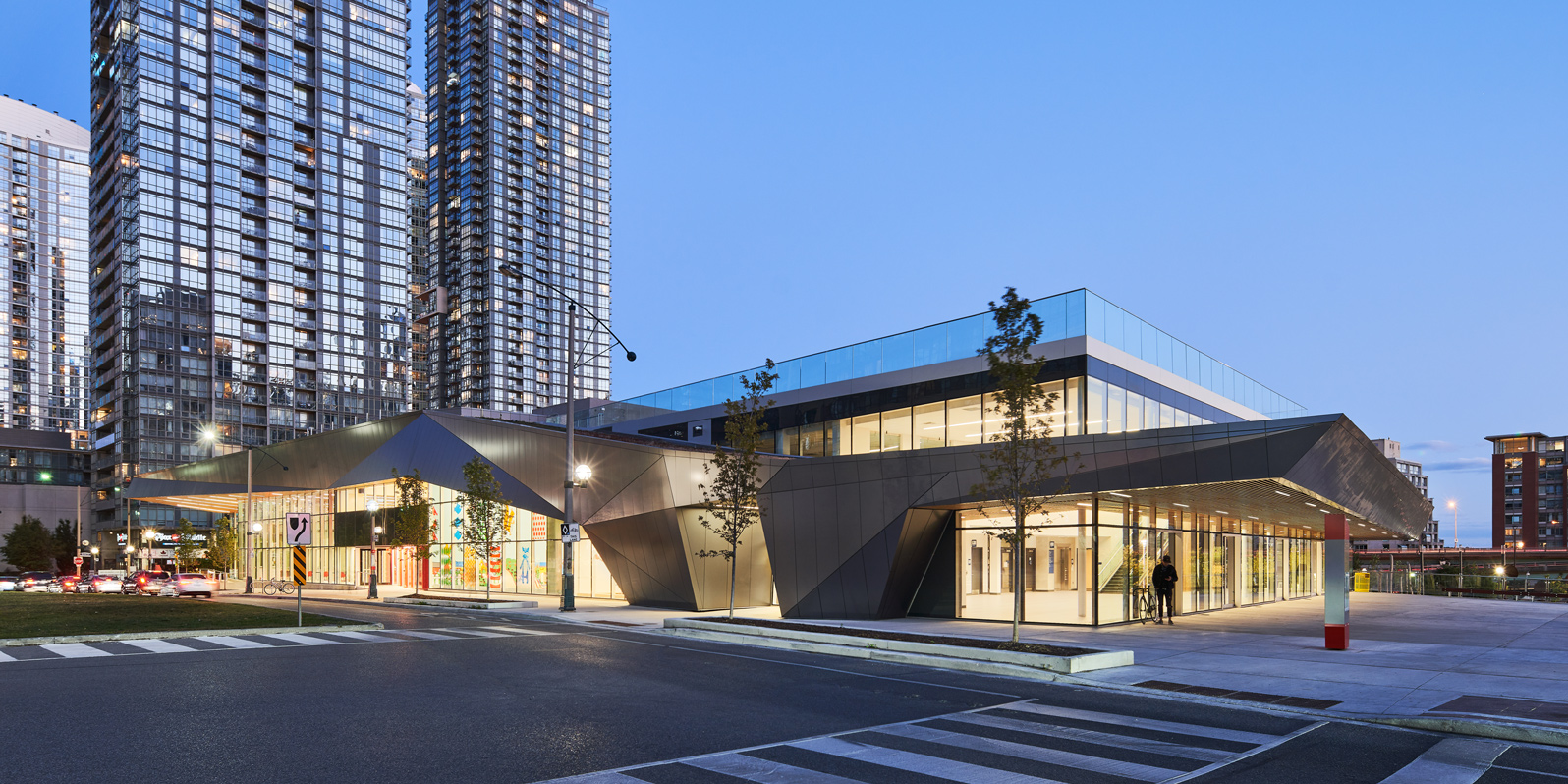 For Duckworth-Pilkington, the gymnasium's design was very intentional, with the goal of inviting people outside, in. The gym's walls are made of two-story glass that faces the street, so that pedestrians on the sidewalk can look in and see the activity inside. With the same purpose, the building's indoor play space was designed similarly, with a glass wall that is facing the street.
"Those activities don't feel like they're happening somewhere else, they feel like they're happening within the community. That was really important—to link the indoor and outdoor space. People are just embracing it and feeling very welcomed to come into the building," Duckworth-Pilkington said.
"The streets don't feel dead, they feel alive with this activity, because you can see what is happening outside even in the dense and dark of winter. It also inspires people," Duckworth-Pilkington added.
In CityPlace neighborhood, with many of the condos rising to 70 stories tall, inhabitants can see the community building's rooftop park from their living space windows. A basketball court, jogging track, yoga deck, and community gardens are some of the highlights of this neighborhood park, offering what most developed city areas cannot offer to their residents—outdoor recreation and green space.
Not only does the rooftop park bring greenery to the community, but also it has increased sustainability with built-in solar photovoltaic panels that generate 10 percent renewable energy for the building, which meets the highest level of the City of Toronto's Green Standards.
"There are a lot of people looking down on the building, so we really thought about the roof acting as this fifth elevation," Duckworth-Pilkington said. "A lot of the view is of the solar panels on the green roof. It gives this face to the neighborhood of being green and cutting-edge and it is somewhere that is welcoming, cool, interesting, and invites the rest of the city in with that view."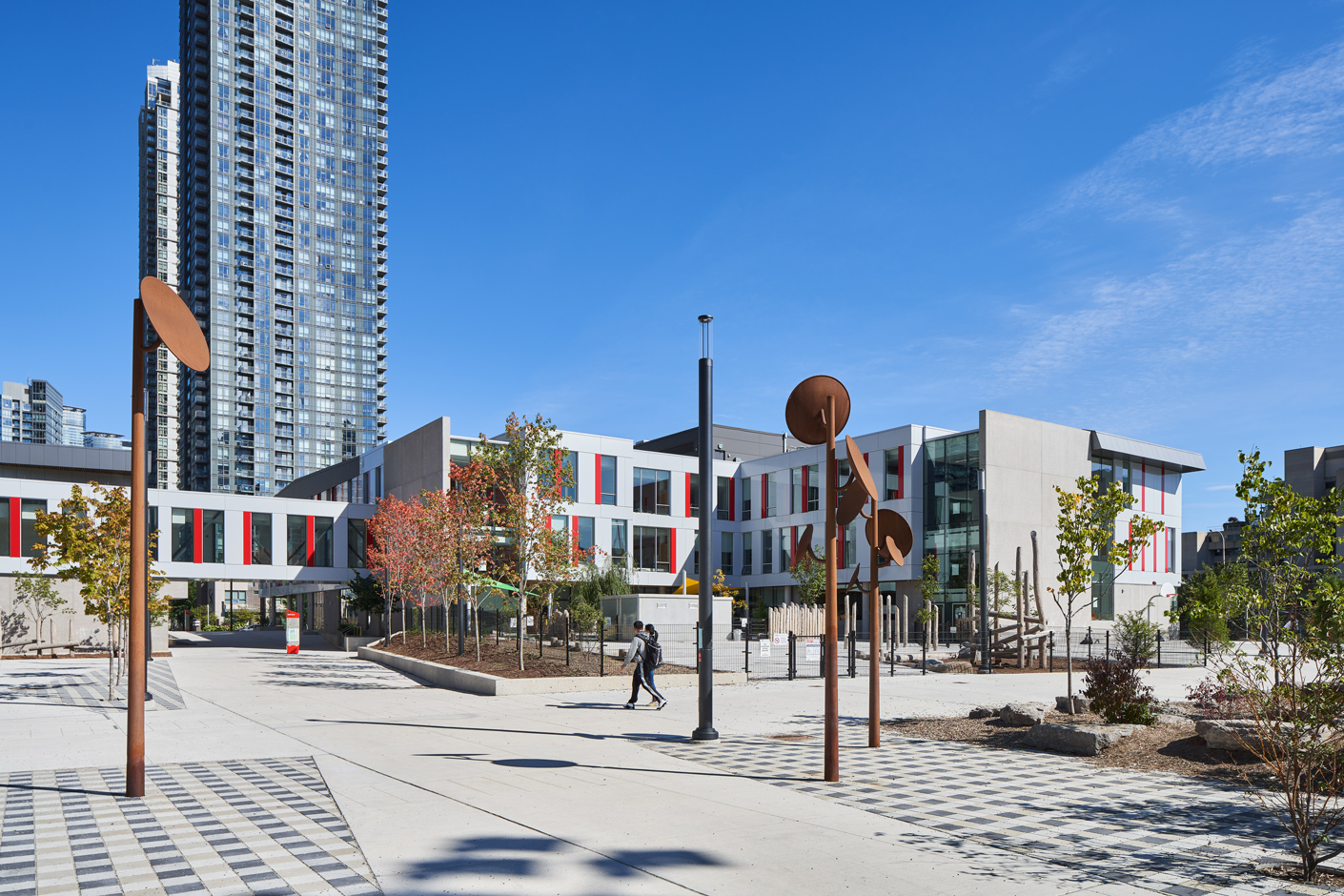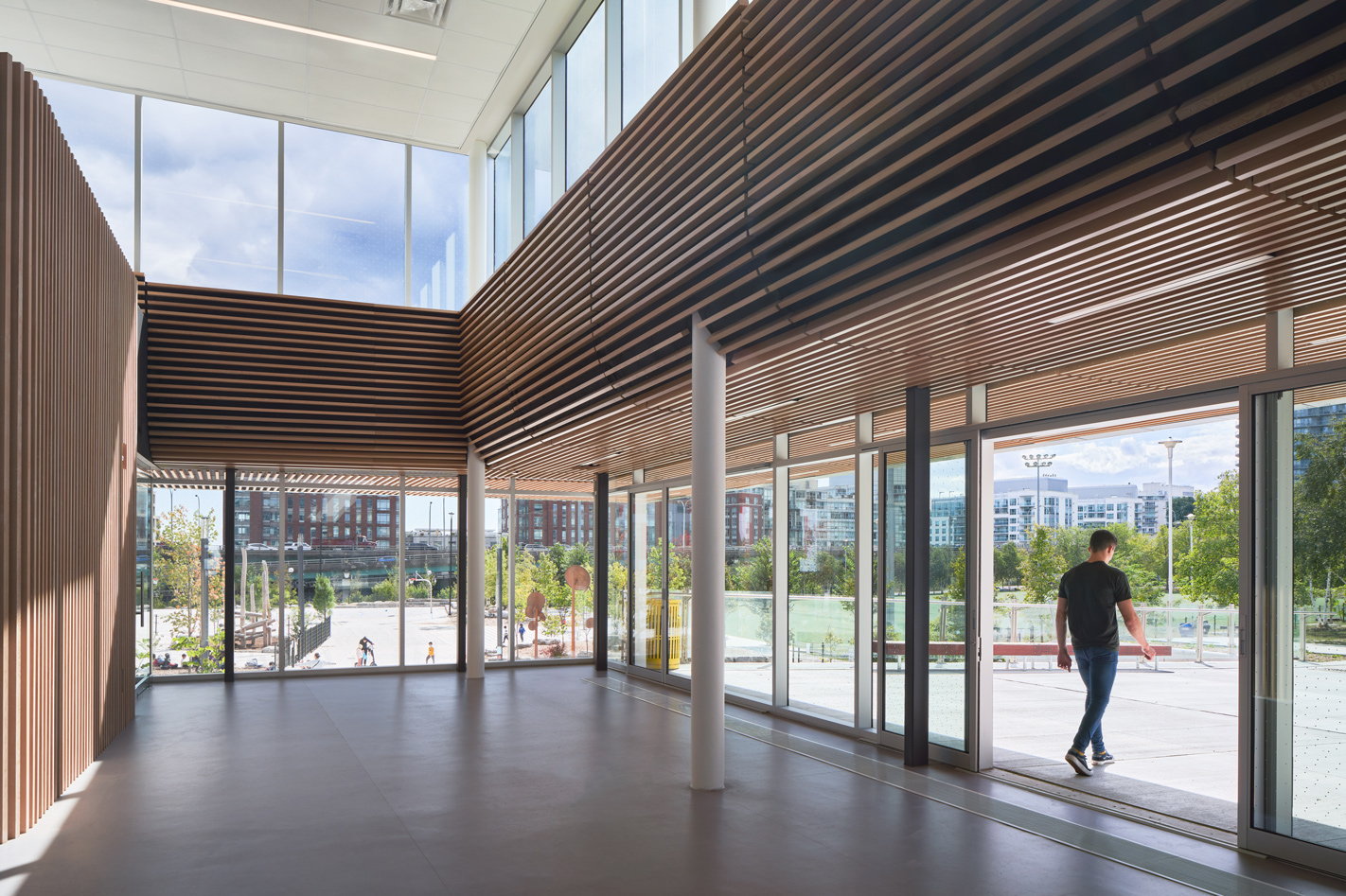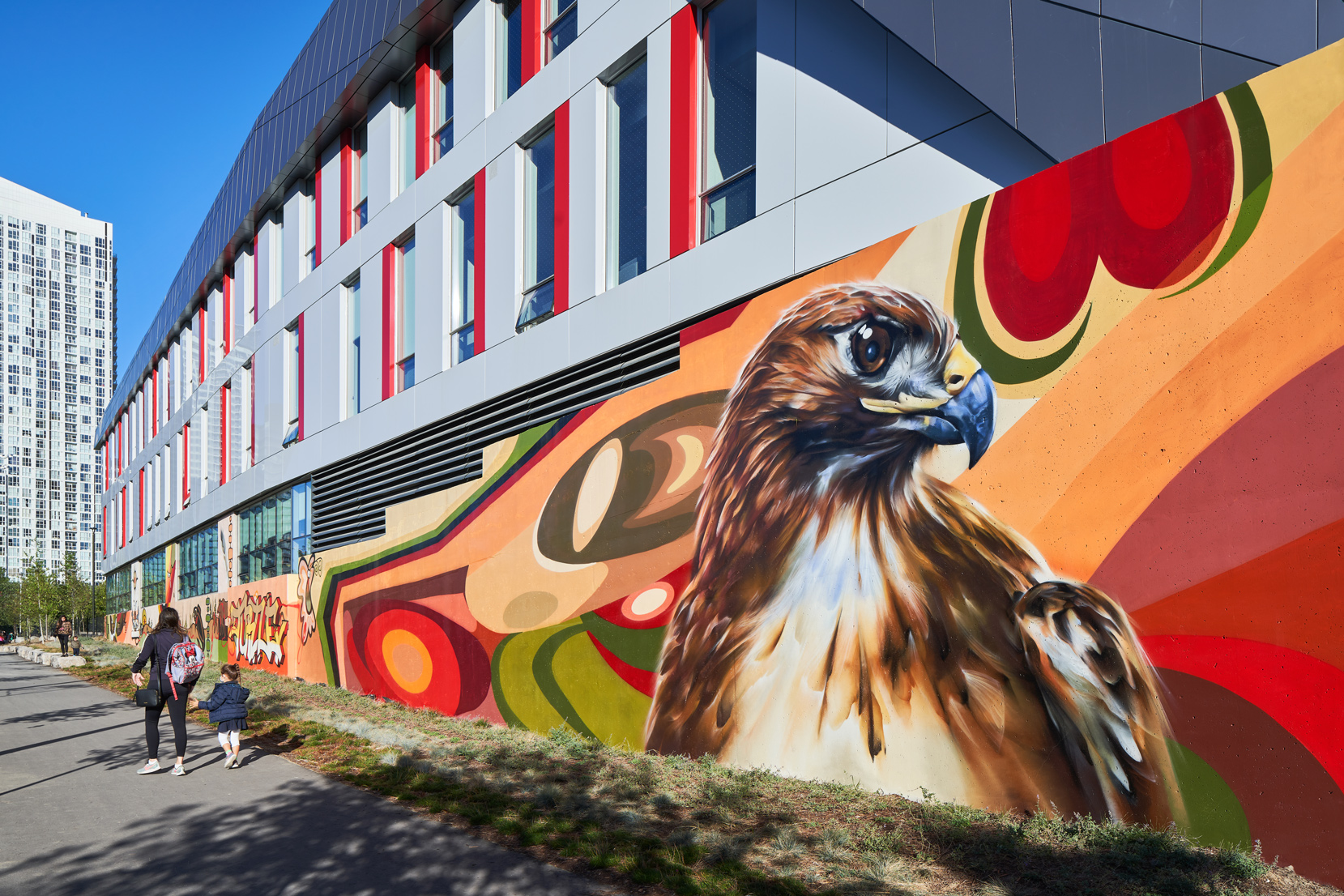 Since the building would primarily be used by children as well as a large portion of the community, the indoor air quality inside its walls had been a priority from the beginning. Duckworth-Pilkington indicated that the highly effective ventilation systems, excess filters on the major air handling units, and highly operable windows were added for healthy indoor air quality but ended up being an important asset to the campus during the COVID-19 pandemic, allowing the architecture to be utilized longer than it may have been able to, had those extra steps and strategies not been implemented.
As Toronto's neighborhoods continue to rise skyward, spaces that ignite social connection and unite communities together have become increasingly important. The Canoe Landing Campus invites people of all backgrounds in to use the space in any way they see fit—working remotely in a comfortable setting, bringing their children to the indoor playground, or being active in the gymnasium or under the sun on the rooftop park—while also promoting sustainability and providing educational facilities in an innovative design.
For Duckworth-Pilkington, it is important that architecture is designed in a way that is intentional to the location, its purpose, and that reflects the surrounding community. Many generic big-box spaces can be replicated online, and as people adapt and shift to completing many tasks from their screens rather than in-person—such as work, shopping, or school—there is increasing value in purposeful and inventive design that draws people to visit public spaces and have face-to-face interactions with one another.
"The question for architecture has now become: 'Why are we physically building a space given the investment that is required?' That now forces architects to answer that question by providing an environment that is richer than a generic space," Duckworth-Pilkington said. "How do we make spaces that enrich that contact between humans?"
Full text available in Great Lakes By Design: Bold Graphics, 2021
Text: Brenna Buckwald
Photography: Michael Muraz | ZAS Architects + Interiors Inc.