Conceptual design is a process, an ideation, and a framework. It is a creative solution and strategic plan that explores the potential of space, of experience, and of expression. It is a foundation in which client vision and lifestyle needs, form and function, organization and relationship, are given visual—abstract and technical—shape and express a design language distinctive to its users and built landscape. And for Concetti, an interior design strategy studio based in Detroit, Michigan, conceptual design is a comprehensive process in which clients are invited on a creative exploration as co-creators of their own spaces—where the stories, the grit, and the passion that drives them informs boldly designed solutions that are genuine reflections of them.
"Good design is so important, because design is a way of problem-solving, and so often people are interchanging the word design and decoration, and they are really different things. Design is a way of problem-solving, of creatively thinking through," said Rachel Nelson, chief executive officer and principal designer at Concetti.
"For us in the built environment, it is: what are the functional goals, what are the aesthetic goals, and how do we create a design solution that is going to positively impact that person? We navigate this world with our bodies, we are navigating it through our five senses, and so what feels good to you is going to differ to the other person. If we are really focusing on design as a way of problem-solving, then we are able to get really clear about what that person and persons need, whether it is residential or commercial," Nelson added.
Founded in 2014, Concetti delivers bold, professional interior design strategies for clients who want the spaces they live and work in to look, act, and feel like them. Informed by a belief that good design is for everyone and it is truly about the people, the families, the businesses, and the communities who engage in those spaces, Concetti has built a portfolio of commercial and residential work over the years throughout Oakland County and beyond. From the eclectic and industrial inspired restaurant that wove farm-to-table on the riverfront and the wooded retreat infused with subtle, warm natural elements, the studio's team of creative, strategic thinkers leverages a phased design approach to guide their clients through a process of discovery, co-creation, personalization, translation, advocation, and celebration as vision becomes reality.
Nelson noted when initially founding Concetti, she wanted to explore what the studio could do differently for clients. In working with a business strategist, she was able to identify pain points current clients, as well as other potential clients in the industry, were experiencing throughout the design process in both residential and commercial spaces. The solution was to apply her self-admitted "superpower" of concepts and conceptual design with a strategic, human-centric process.
"If we can honor that part of our process, but address the pain points that people were experiencing, which was they didn't feel seen or heard or that they felt their style wasn't being honored, it was an opportunity to say, 'let's create a process that is human-centric, that is really going to honor our clients and uplift them. And when we talk about that, it is then including them as co-creators in the process," Nelson said.
"We really take the time to hold space with our clients, get to understand who they are, how their personality translates to the built environment, how they are going to use the space, what do holidays look like, what does a Friday—starting the weekend—look like for you? So, we really do take the time to work with our clients as co-creators and I do owe it to this human-centric approach that is less about 'let's just do something, because it is cool,' it is: 'let's do stuff that is cool that supports the people who will be using it," Nelson added.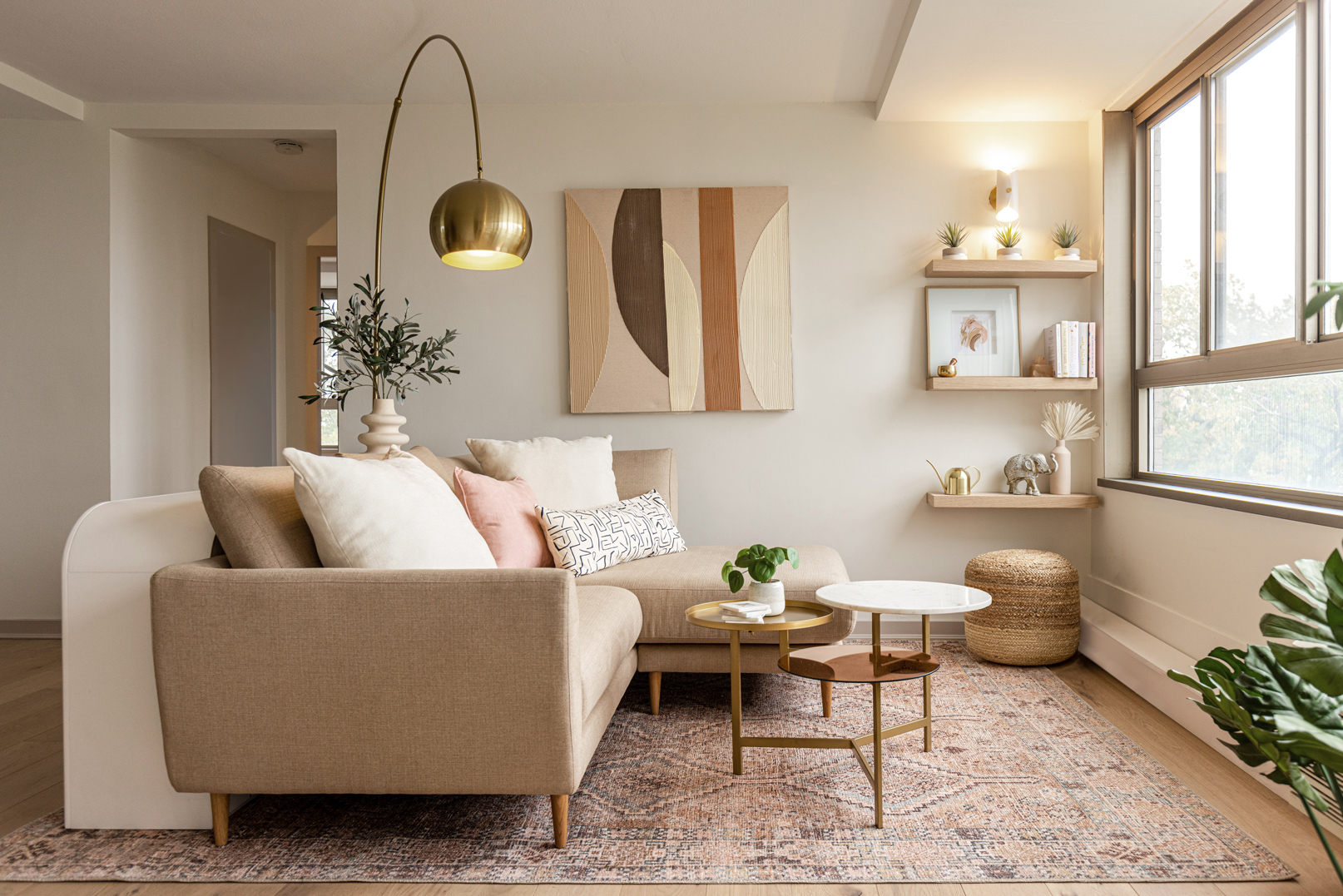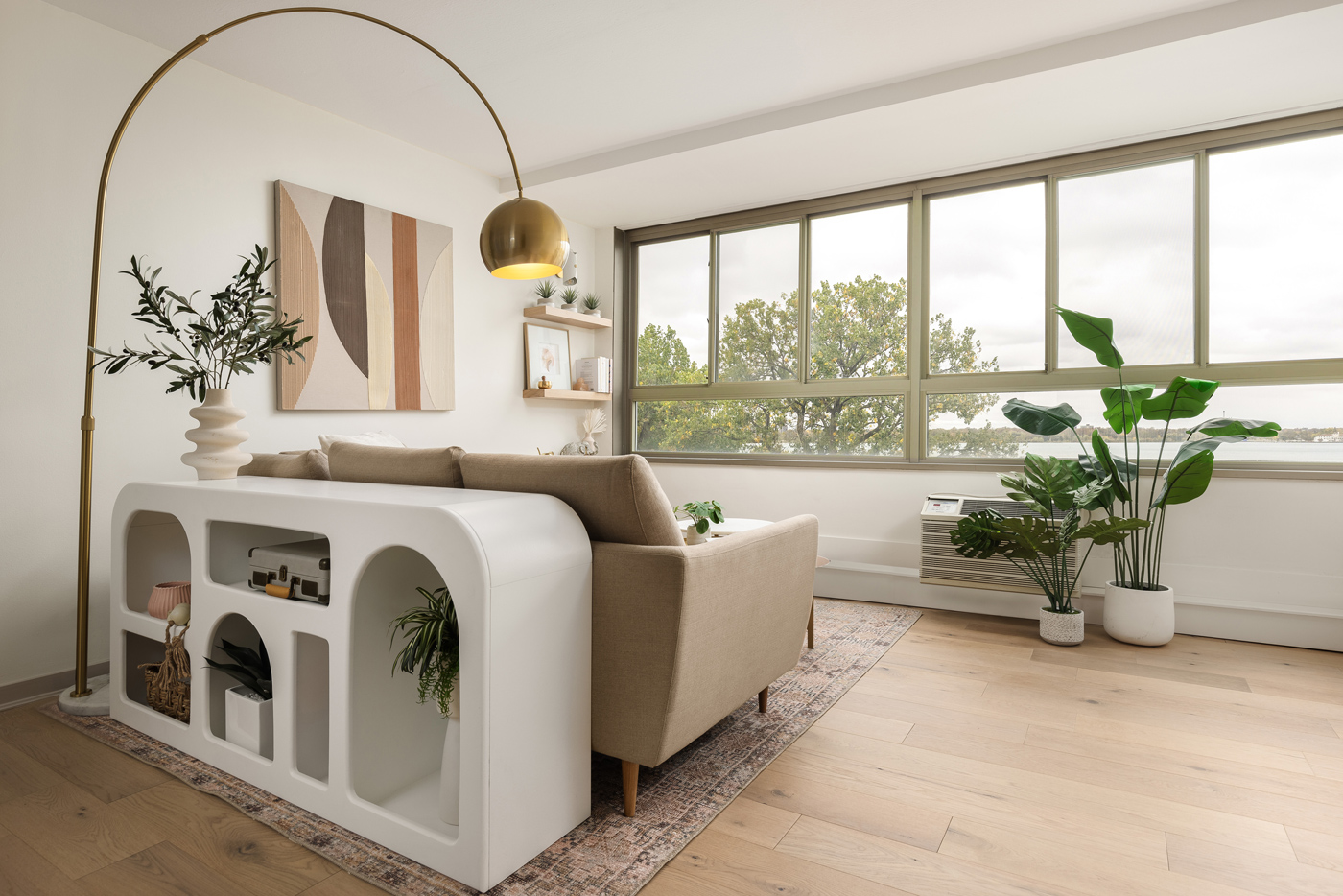 Nelson, who recognizes the ability of design to empower, has had an affinity for the arts and design from a young age. Encouraged to pursue a creative field and surrounded by the entrepreneurial spirit of three generations of Detroit-based business owners in her family, Nelson leveraged her passion for the creative field to study interior design and art history in her academic career. Nelson noted she is grateful her maternal grandparents—who she often found studying photography and painting—really nurtured her love of the arts and for her parents who encouraged her to pursue interior design as a professional outlet. And it was while spending a semester abroad in Italy, she found inspiration for the name and the vision of her future firm.
"I just always loved the human experience of a built environment," Nelson said. "My professors were very accomplished designers, one was an architect, one was a graphic designer for Ferragamo and Gucci, and we were doing our final project that semester and she was like, 'this is it, this is what makes you different, this is what makes you special: concepts—and the idea of conceptual design.' When I was finally ready to create my own firm in 2014, I said we are going to name it Concetti for 'concepts' in Italian, to pay a little homage to that experience in my life."
For Taylor Grup, lead designer and head of marketing at Concetti, it was the studio's balance of logic and creativity, and its phased-design approach offering flexibility to clients in how comprehensive of a process the team will guide them through, that drew her to the firm.
"Well-designed spaces make for well people. I think what is really cool about Concetti, and what I love about working here is our phased approach to design, which means good design can be for everyone. Phase one, where we get to know [the client] and we start to creatively solve problems and develop the space in 3D and explore the full potential of their space—sometimes that is all people need to realize the space they are in can fully serve them," Grup said. "It can be something that improves their life, so being able to offer that service to people is really amazing."
Grup, who brings a background in construction and a love of creating spaces to the team, noted their process is also about teaching clients about their philosophy, in which space is an opportunity for expression. It is in learning about their clients, what space means to them, and then translating their vision into a reality that is an extension of their boldest self-expression that design can truly transform lives. And for the client of Rose Hues in River View, that vision was to transform a 1950s apartment into a personal oasis inspired by the soft serenity of sunrise and sunset on the riverfront.
"It is such a beautiful project. It is on the river in Detroit, which is such a luxury that we not only get to live in the city, but also have these waterfront properties where what we find is people who live on the water are inspired by the fact that they are on the water. It is interesting to learn what that inspiration means to each client," Grup said.
"For Rose Hues specifically, she is a war veteran, she is an artist, and she was looking for this sanctuary space. She found this property on the corner of an apartment building that has this beautiful view overlooking the Detroit River and we found what she really loved about it was the sunrise and sunset. She loves the softness, she loves the serenity—the pinkness that comes over the water—so we were looking at what can we do to bring that inside so that [the client] feels like she is enveloped in that special moment experienced everyday by living on the water," Grup added.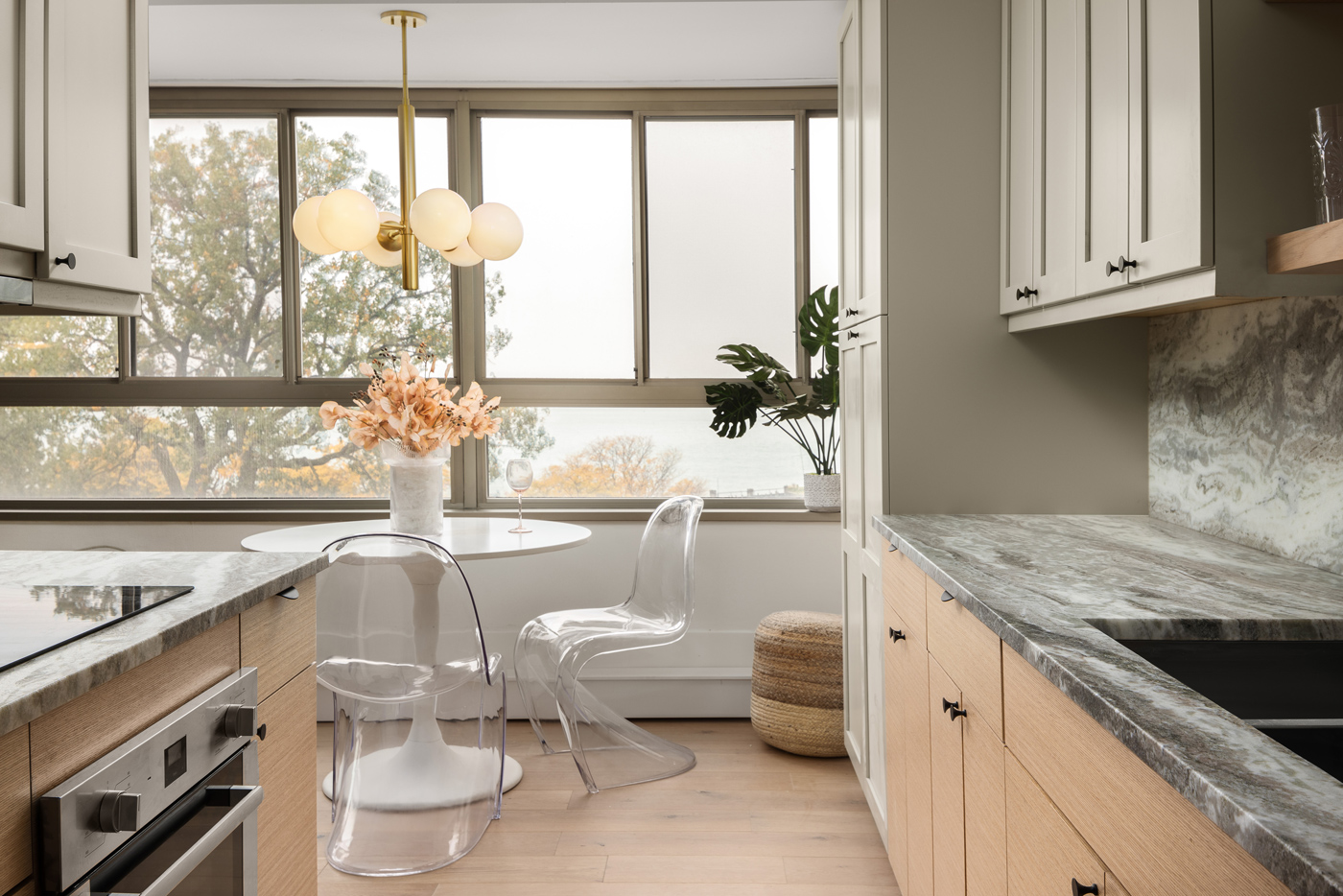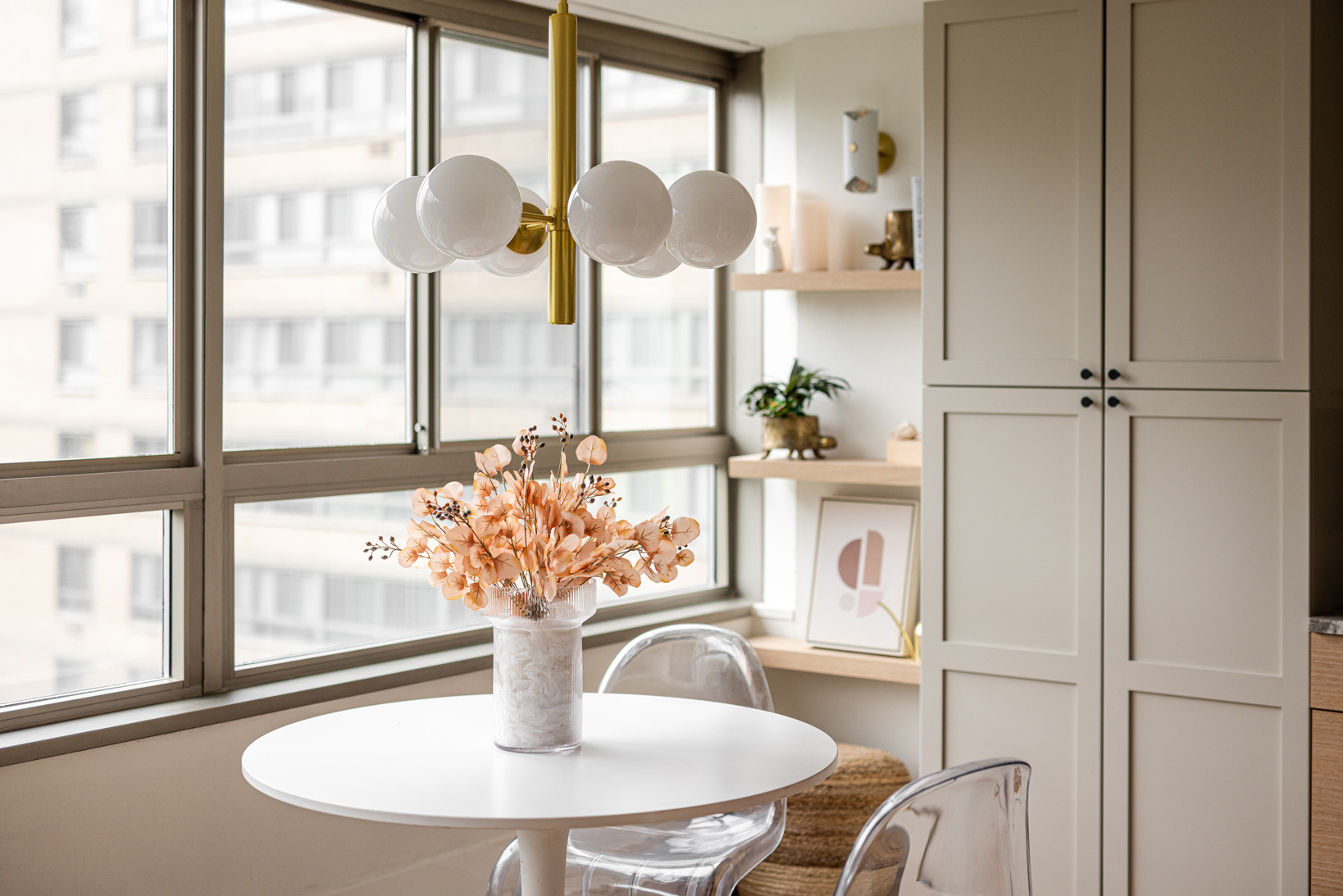 Referred to the client by an architect the team had previously worked with, Grup noted the client had just received keys to the apartment by the time they were brought in on the project. The space, which had one sole owner prior to their client, was in need of renovation to update the roughly 70-year-old apartment unit into a sanctuary set amid the Detroit landscape.
"What we started with was just identifying the vision. It was figuring out how she specifically wanted to use the space. Does she want a completely open space, does she want it to be more segmented, what is she using the space for, and really diving into what we call the programming notes," Grup said. "So, the needs and wants specifically for the function of this space and then talking through her inspiration."
It was an inspiration that not only captured the soft gold and blush hues of sunlight set low against the horizon and paid homage to the previous owner's affinity for rhododendrons and its clustered blooms, but was also intentional in form and in function, to provide a serenity for the client that went deeper than visual aesthetics. Informed by a desire to maximize views that still provided a degree of shelter, the spatial layout intentionally was not opened up completely, but rather features a series of intimate spaces. Large mirrors are placed opposite walls of windows to provide sightlines to the river from every angle, while the low-profile forms and muted, textural fabrics lend a quiet presence to the space.
"The lighting was absolutely the most looked at aspect of this project. [The client] having the experiences she has had, is really sensitive to light and shape. The lights are all globe-shaped, most of which are diffused through a milk glass and we had to be really sensitive to light tone and we had to be really sensitive to the function of different lights. We made sure we were really considerate of color temperature, bulb style, and the shape that the light was going to put off into the shadows on the walls," Grup said.
"When it is night after the sun has set, we still wanted to make sure the space was serene when using all of this artificial light that we had to bring in for her. The lighting was such a big task from the start, making sure all the light was not only beautiful—it has this Scandinavian-inspired feel throughout, because of the serenity that comes from that design style—but also highly functional, making sure that each light was specifically giving her the function she needed from it," Grup added.
While the renovation process itself posed its own set of nuanced challenges, like working with the existing walls of poured concrete to create paths for plumbing and electrical, to Nelson, navigating the process from inception to completion—identifying creative solutions, partnering with contractors to execute the design—and truly advocating for their clients to deliver a home, a space, that honors them, is what makes a project successful.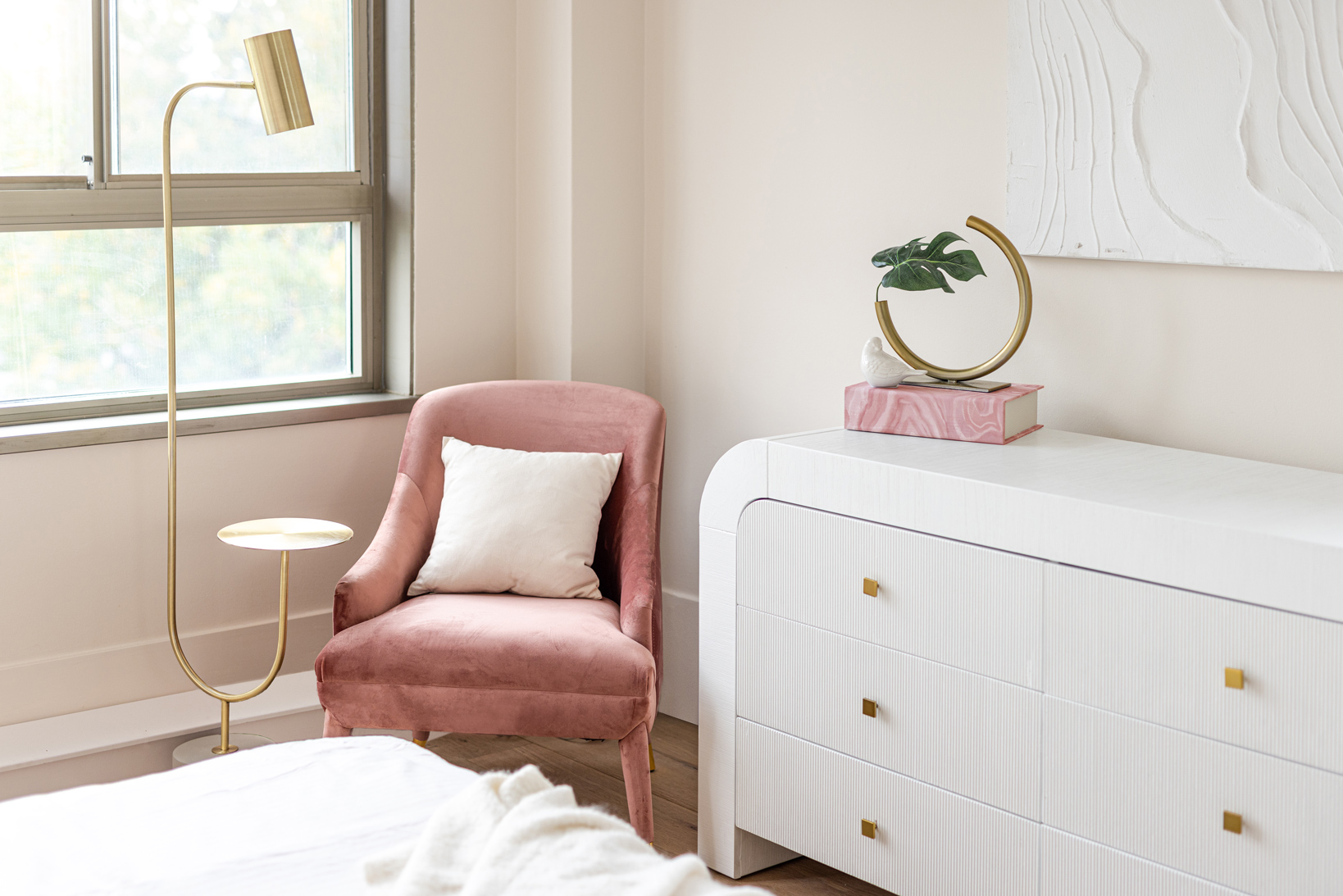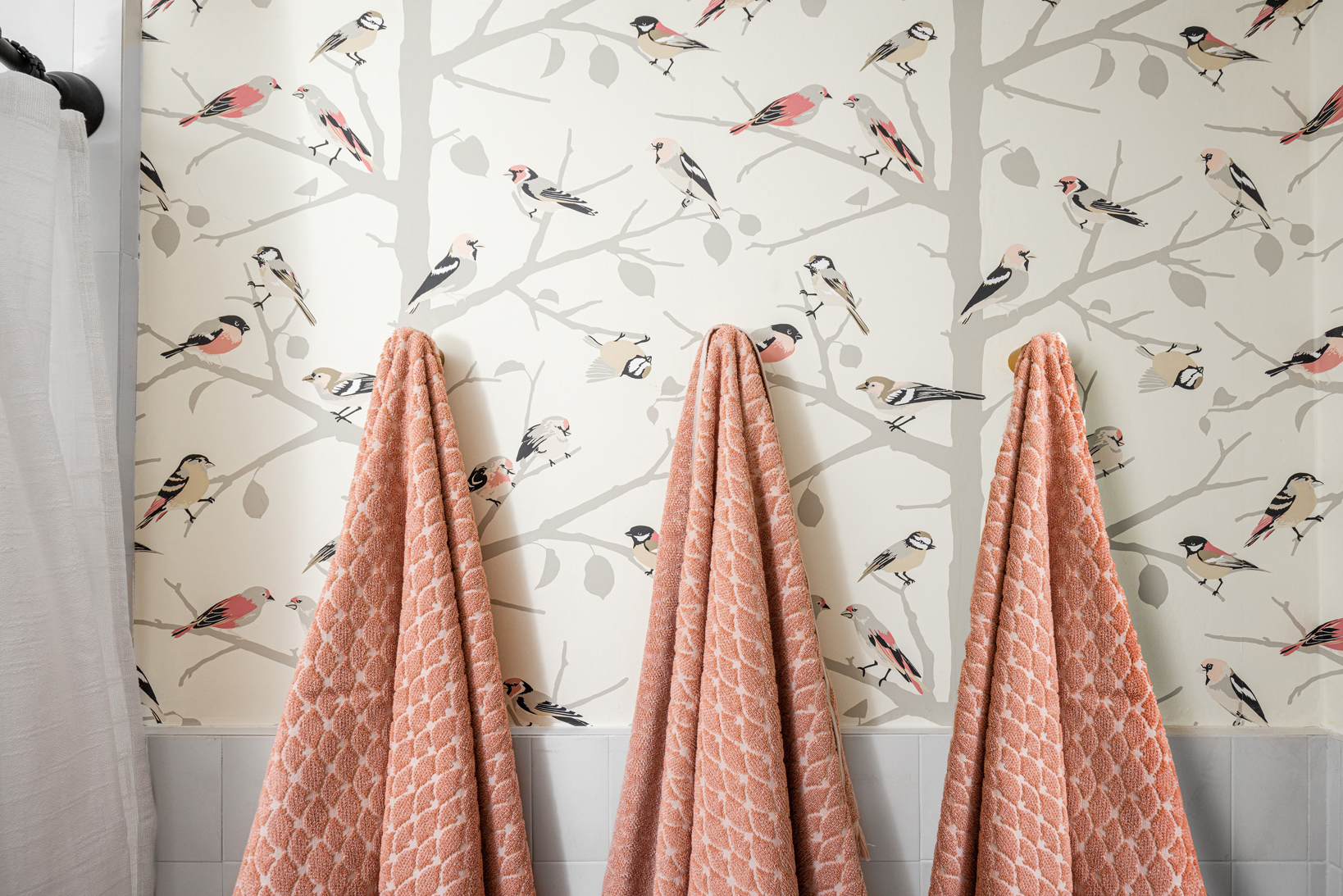 "To me, the first thing I look for is a solid concept that we have created a design solution that is honoring our client. That is their needs and how they want to live in the space, that the schematics, like the floor plan, the furniture layouts, are creatively set up so that they are specifically addressing our clients' desired way of living and if that is happening, we are going to positively impact them," Nelson said.
"We call ourselves interior design strategists and that was born out of really getting clear on how we are going to approach design and our answer being we are going to have that human-centric approach so we follow a lot of design-thinking principles. We really do honor the right- and left-brain thought process. We are in it from not just the design solution we create, but how we work with outside partners, third parties, and with our clients. We are really aiming to be an advocate and a strategist with them, not just the design solution, but with the execution of it," Nelson added.
When it came to the Raising the Barn, Nelson noted the clients sought out the team at Concetti to help them realize a new custom home for the young family as strategic, interior design advocates and partners throughout the process. The home, designed by Duket Architects Planners of Toledo, Ohio and built by Hoffman Builders Inc. of Maumee, Ohio, was envisioned not only as the forever home of Leah Niese and Jon Niese, retired Major League Baseball pitcher, but also as a waterfront hub for entertaining defined by a rustic contemporary design, authentic materiality, and layered moments tempered by clean lines.
Set on a peninsular lot, complete with a lighthouse, on Lake Erie in Ohio, Nelson said the clients were interested in capturing views from every room of the home and had already begun working with the architect when they were brought on board to begin the discovery process of really getting to know them.
"The clients are incredibly family-oriented from entertaining their extended [family] to raising their own, and so everything about this house was centered around raising family, entertaining family, and creating memories, which is such a beautiful concept," Nelson said.
"The lot of land that they ended up purchasing is so beautiful. It pushes out a little bit into a peninsula with a lighthouse at the end and there is actually a small dock in front of it. I have to say, that charming lighthouse and the ability to dock your boat right there was something that was very instrumental for them in deciding to move forward on that area," Nelson added.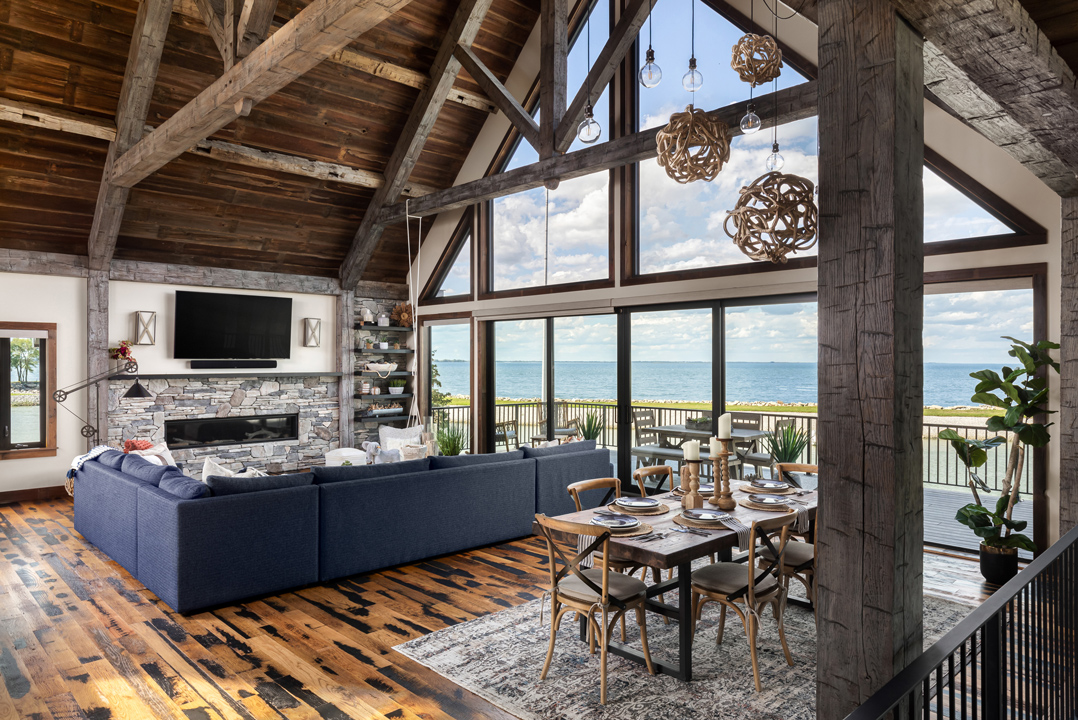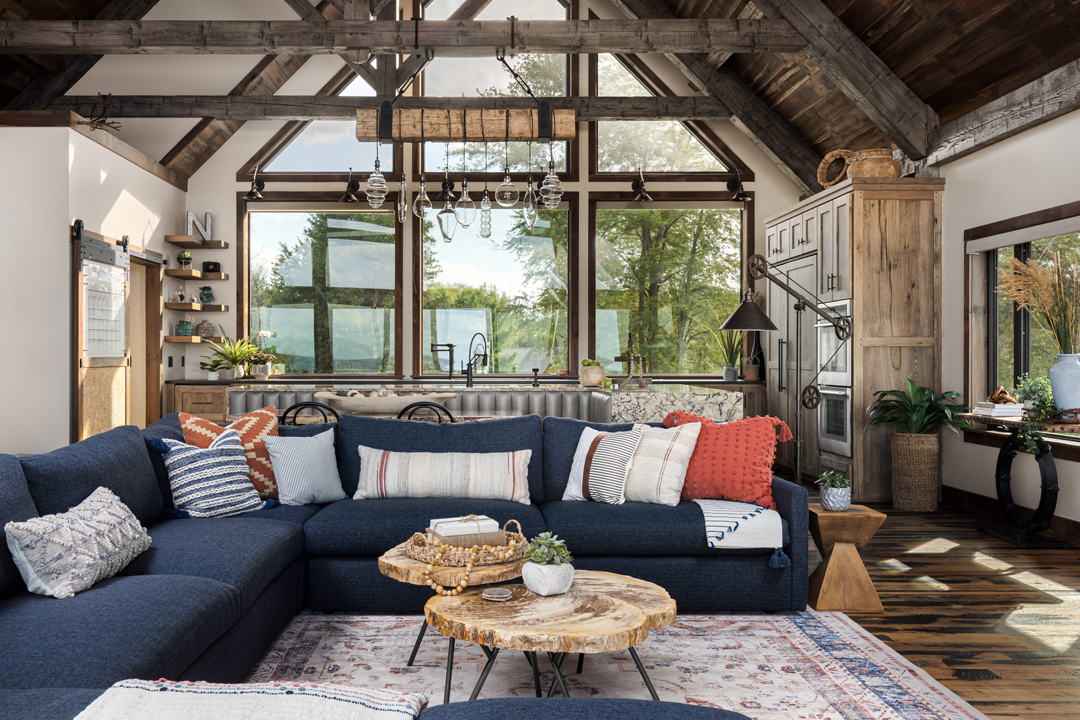 Throughout the home, which is centered around a first floor gathering space with a NanaWall glass system that completely opens up to an outdoor pool and lakeview, the interior design balances the Niese family's affinity for rustic stone, the natural landscape, and a simple modern aesthetic. The materiality, authentic and organic, is layered and warm, featuring reclaimed barnwood, natural cleft stone, corrugated metal, and reclaimed Kentucky Horse Fencing sourced from Urban Evolutions. Textures, streamlined forms, and bold contrasts in the metal set against the more neutral, albeit warm background imbue a sense of natural serenity while the kids' bedrooms on the second floor offer moments of whimsy and delight.
"You can see pieces of them through the entire storyline, which is really cool. You can see the rustic wood and you can see the sleek silhouettes. One of my favorite things is their wood floor is from a company called Urban Evolutions and it is reclaimed horse fencing. The horse fences are painted black so when they planed them down, some of that black paint still shines through and they loved that unique character, it is just stunning," Nelson said.
Grup also noted the clients' commitment to authenticity—the poured concrete, the barnwood, the corrugated metal—was an element of the project that stands out as distinctive.
"The commitment to authenticity was really special, because you can replicate authenticity, but you lose the character," Grup said. "They didn't. It is full of character."
Nelson said the client, Jon Niese, also had a hand in creating some of the elements in the home, particularly with the poured concrete for the bathroom vanity, and with the source and the craft of the corrugated metal.
"They really showed up in a way that they weren't worried about following trends. They laid out the house in a way that served them and the finishes were done in a way that set their soul on fire and felt like a really good reflection of their family. That was a beautiful reflection," Nelson said.
"To feel like your house is a genuine reflection of you and empower people to authentically step into their design style and not worry about trends—how does your personality and your lifestyle extrapolate into the built environment—that is what we are after," Nelson added.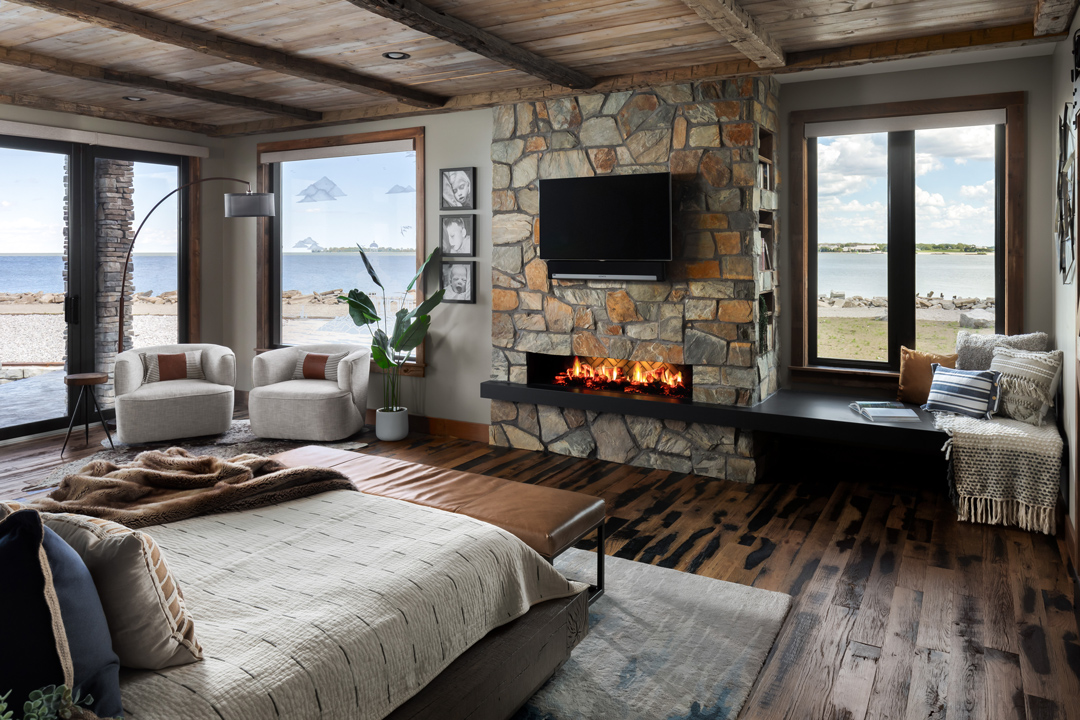 First published in Great Lakes By Design: Raising the Bar, 2023
Text: R.J. Weick
Photography: Brett Mountain Photography