"There is a lot of same-old-same-old in the world and differentiating yourself to really make sure you are answering questions for your guests or customers that aren't even asked—that you have thought through it—design is everything about that," said James Geier, founder and president of 555 International in Chicago. "Answer the questions before they are asked and when somebody walks in they know it is a good, rich environment that has been pulled together for the right reasons, not just all these miscellaneous ideas."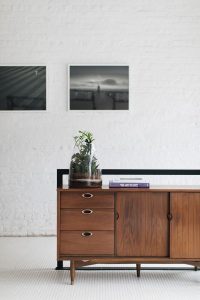 555 International is an award-winning global interior design, development, and fabrication firm specializing in the commercial, retail, and hospitality industries. For more than three decades, the design and manufacturing firm has collaborated with clients to deliver dynamic, bold environments through the emphasis of innovation, functionality, and integrated creation of custom pieces, such as specialty metal, lighting, and signage. Since its establishment, 555 International has not only grown to a team of more than 150 designers, engineers, artists, architects, and project managers, but also expanded to nearly 300,000 square-feet of combined studio, warehousing, and manufacturing space in southern Chicago. 
"We really feel our spaces are special, because in a lot of cases there are some very unique custom elements that are created specifically for those environments for the client in and around what we feel the guest experience is going to be accentuated by," Geier said. "The development of the company and the business is always lead with great design and I think at this junction in our career, we get to work with some of the best of the best, and I'm very happy about that."
Throughout the years, 555 International has partnered with well-known brands and projects, such as: Tiffany & Co., Soho House Chicago, Chicago Athletic Association, Gucci, Hermès, Valentino, Yves Saint Laurent, Chicago Bulls, Chicago Blackhawks, Goose Island Beer Co., Dallas Cowboys, Green Bay Packers, Hard Rock Hotels and Resorts International, Coda Di Volpe, GT Fish & Oyster, and Girl & the Goat, among others. The design and manufacturing firm also has experience working on commercial, retail, and hospitality spaces in the quickly developing Fulton Market District and the West Loop neighborhood in the Chicago area. 
"We lead with good design and it is thinking about the appropriateness of selections you are going to make no matter in what area—it could be building, architecture, fashion, or consumer products," Geier said. "It is leading with the thought that good design makes sense and it fills needs beyond just a price-point."
When Blind Barber—a barbershop-lounge concept originating from New York City—looked to expand its network from the Big Apple and Los Angeles to the Windy City in the Fulton Market District, it sought out 555 International to bring their signature bold and innovative approach to the project. 
"Blind Barber are unique in that they have a real hip, cool barbershop up front and then in most cases, behind a little sneak door  they have a food-and-beverage-hospitality experience," Geier said. "We had just finished a restaurant across the street for the Alinea Group called Roister—and have done many projects in the West Loop—so it was very easy for us to understand who the potential customer was, and then start to work with them to make a truly special-to-the-Midwest, -to-Chicago, -to-the-Great-Lakes, experience."
The chosen site was nearly 3,500 square-feet of space in a recently renovated building amid an area experiencing a thriving hospitality, retail, and commercial industry boom, which had the potential to attract new talent and potential customers and residents to the neighborhood. The back-to-the-city renaissance is a fitting location for Blind Barber: Chicago, since it introduces duality in harmony—a unique and innovative concept—while drawing inspiration in part from the heritage of its individual locations. 
In the front, the barbershop awash in crisp white walls, clean lines, wooden beam ceiling, and repurposed modern furniture and barber chairs; yet there is an industrial element and grit as custom fabricated metal wall cladding with worn erosion wraps around the barber mirrors. It hints at a legacy of mid-century modernism, industry, and craft inherent to the region; and is almost stark in comparison to the Back Room lounge that lies beyond the nondescript door past swaged mohair drapes.  Featuring knotty pine wood paneling, exposed brick, checkered flooring, vintage sectionals, and low-slung lounge chairs, the restaurant and bar is a time capsule illuminated in low amber lighting. 
"You walk into a time warp back into the 1970s," Geier said. "The environment is literally ceiling, walls, and floors covered with materials and finishes that hark back to that time—1970s hip and cool. A lot of the furniture and a lot of the art within the space were repurposed—purchased—from some antique dealers and going out to find the right vintage pieces that would support and evoke the message."
Inspired by basement rec rooms and cocktail bars, Blind Barber: Chicago's Back Room lounge is a retrospect on the Wisconsin supper clubs of the 1970s. The fabrics, hues, and materials—not to mention the food and beverage menu—invite the diner to linger in the past. 
"Truly the materials—the knotty pine paneled walls, cork on the ceiling, checkered vinyl linoleum flooring, the coloration of the fabrics that were chosen for the custom banquettes and how that pairs with the fabrics that were purchased pieces—and palette is very much of the day. There is burnt umber and marigold colors and an orangey splash. If you look at the fashion at the time, those were all hot, big, cool colors," Geier said. 
"You feel comfortable in this environment, because it feels like it is fully scripted and directly dialed into everything that might make sense if you had a visual reference or had seen photos on what these environments were like," Geier added. 
Overall, 555 International provided design, fabrication, interiors, engineering, furniture, custom lighting, custom millwork, signage, and art installation services for the Blind Barber: Chicago project. Some of the specific custom work comprised: distressed metal panels and cast wrap on the reception desk in the barbershop; and the banquette seating, wood shelves, and neon sign in the lounge. 
"Being a design firm of international reputation and a manufacturer in the city of Chicago is a rarity," Geier said. "We like the idea that around the world people see our boxes—our crates show up or they find out it was a company in the city of Chicago, in the Midwest. We are very proud that cool shit comes from Chicago and the Midwest, and hardworking people are slugging it out on the world stage."
Text: R.J. Weick | GLBD Editor
Photography: John Stoffer
Full text available in Great Lakes By Design: Raising the Bar, published 2018