In June 2020, Stantec, a global design firm, publicly released the results of a biophilic design research study aimed at identifying the correlation between individual workplace performance and holistic wellbeing conducted through the Healthy Building Program at the Harvard T.H. Chan School of Public Health. While the concept of biophilic design has been studied in the healthcare setting, this particular study—sponsored by Stantec's Creativity & Innovation program—identified some interesting tenets about human health and the body's response to biophilic design in terms of healing and healing rates in a workplace that requires employees to be creative and innovative. 
"We, as an organization, have built our design ethos around the platform of using research and benchmarking to explore ideas that interest us and try to use data in a way that informs our design, our design thinking, and in turn helps educate our clients about new ideas that maybe they hadn't considered," said Heather Greene, senior associate and Commercial Workplace Studio leader at Stantec in Detroit, Michigan. 
"We are very driven by data and we are very thoughtful in making decisions, wanting to ensure that we are looking at all aspects of things, especially in a post-COVID world where mitigating risk and focusing on human health are paramount," Greene added. 
Jie Yin, author of the doctoral dissertation of the "Bringing Nature Indoors With Virtual Reality: Human Responses to Biophilic Design in Buildings" study at Harvard, noted in the abstract while the world is rapidly urbanizing and people spend more time indoors, studies quantifying health impacts of indoor biophilic features was limited. To address it, the study investigated short-term health impacts of biophilic design in buildings through combining virtual reality, or VR, eye-tracking, and wearable biomonitoring sensors in a series of experiments that measures physiological and cognitive responses. 
Leveraging Harvard's virtual reality lab, Stantec design teams integrated and layered biophilic patterns into the space using real-life solutions that could be applied in the future. The randomized, crossover study was also designed to allow participants to experience the different versions and levels of biophilic design in open and closed office spaces, according to the press release. This way, as Greene noted, participants were measured against their own performance, rather than comparing different individuals.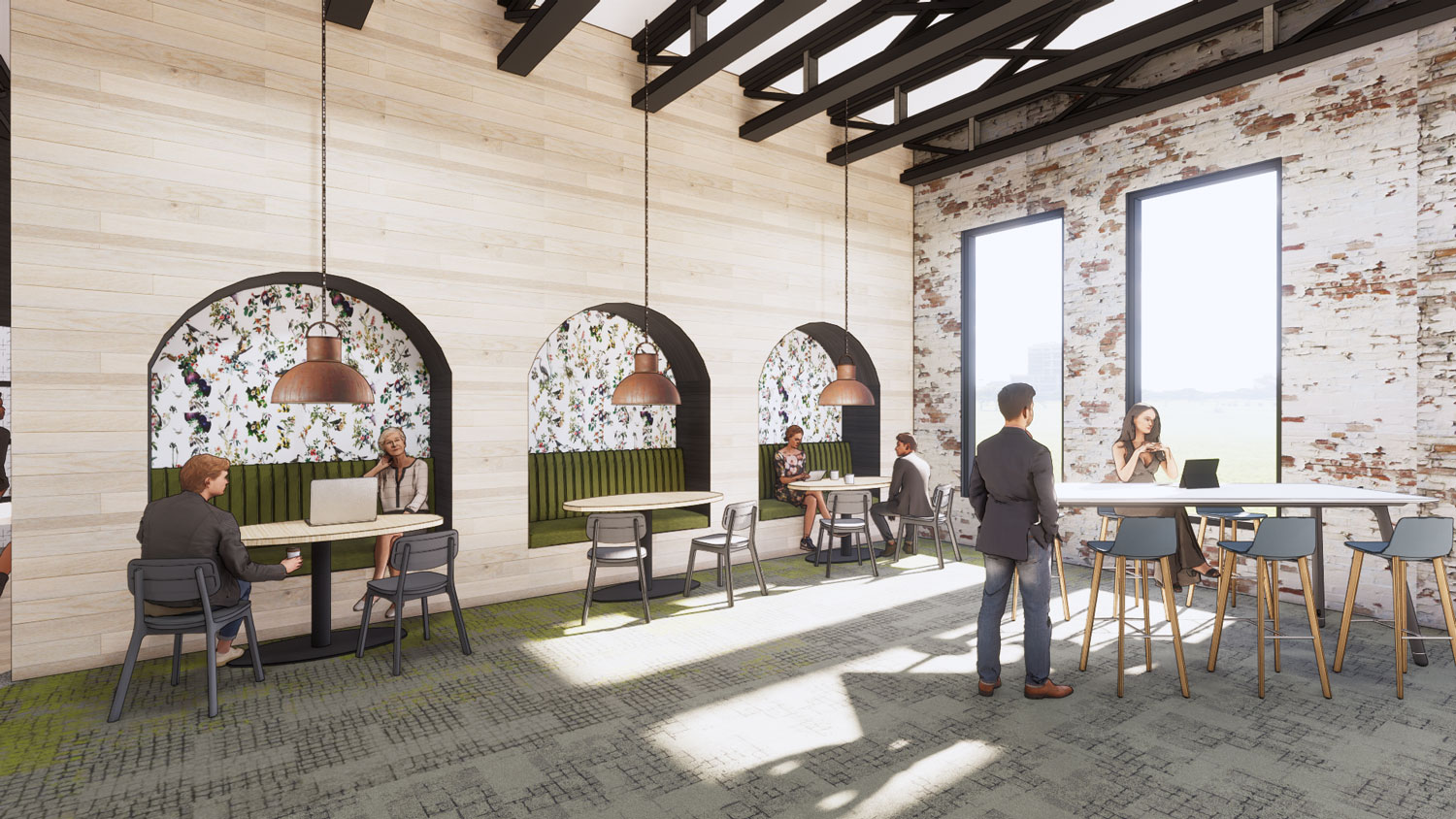 "The benefit of virtual reality is we have more control over the testing environment and Harvard was able to isolate some really interesting data points around the eye-tracking data to make sure the level of biophilic design was equal from participant to participant," Greene said. "We weren't looking to see if this person was more creative than another person; we were measuring their creative scores against themselves to see if there was any improvement."
The study used three different types of biophilic environments—and one non-biophilic environment to serve as a control—and after about a five-to-ten-minute period to assimilate to virtual reality, participants' blood pressure, heart rate variability, skin conductance level, and other physiological health measures were tracked as they were asked to perform work tasks that would be required in real space. When exposed to biophilic design patterns or elements, the study's results suggest interventions can help reduce stress and improve creativity. 
"What we are trying to evolve and get our clients to think about is: what are we asking people to do when they come to work? We are no longer asking to just check a box and be at their desk for eight hours-a-day; we are asking people to innovate and be strategic and be creative and use those cognitive functions to drive and accelerate growth," Greene said. 
"We create an authentic story, we attract and retain the best talent that is going to get us there, and then we give them the tools and resources to be innovative—and one of the tools and resources that we haven't really been addressing is their cognitive and their emotional health. How do we set them up for success?" Greene added. 
Especially if the workplace many workers are returning to have orange tape, plastic, plexiglass, and other interventions that are likely to invoke more anxiety and fear, as opposed to encouraging holistic and wellbeing strategies that still adhere to CDC and WHO guidelines. Greene noted while the pandemic highlighted the lack of prioritization when it came to health in the workplace prior to COVID, it has also provided an opportunity—a silver lining of sorts—to do better to use the tools and resources at the design community's disposal to create spaces and places that position people as the central focus. It becomes less about providing biophilic design principles and wellbeing practices as an amenity, and more about leveraging those strategies as a priority for people moving forward. 
"We have to do this holistically, we can't do this in piecemeal, because we have seen firsthand how dangerous pandemics can be when we don't prioritize health. Many of the people and the communities who have been significantly impacted by the pandemic have not had their health and wellbeing needs met and so their exposure to this pandemic is greater," Greene said. 
"We have an opportunity and an obligation as a community to build the communities that we want to be a part of," Greene added. 
Text: R.J. Weick | GLBD editor
Renderings: Stantec