Since its founding in 1992, Ann Arbor, Michigan-based firm Motawi Tileworks has been redefining the role of tile installations in residential and commercial spaces with its artful, handcrafted tile designs. Depictions of a snowscape at dawn, Amaryllis in bloom, and indigo tulip buds are only some of the designs offered through its extensive art tile collection, which is also highly influenced by Mid-Century artistic figures like Frank Lloyd Wright and the illustrator and conservationist Charley Harper. It is also an installation tile collection that includes intricate relief tiles, moldings, and liners.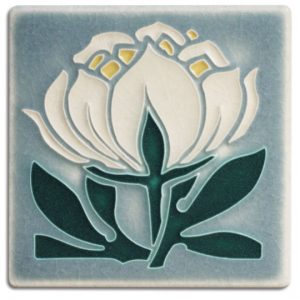 Late June 2020, Motawi Tileworks released two new vibrant art tiles inspired by Charley Harper and the studio's existing, extensive florals collection. Peony Bloom, available in 4-by-4-inches and colorways like Grey Blue, Indigo, Pale Blue, and Red, is the latest addition to the florals collection. Puffin Profile, a 4-by-8-inch tile offered in Cream, Light Blue, and Ocean Blue, is the most recent of many collaborations between Motawi Tileworks and Charley Harper Art Studio, a monument to the Mid-Century Modern artist and his work. 
"Both of these tiles were trickier to design than I expected," stated Nawal Motawi, owner and artistic director of Motawi Tileworks in the press release. "4×4 Peony Bloom is for peony lovers who like our smaller tiles. Puffin Profile is the result of a design process that required repeated paring down while still maintaining the unique features of this charming sea bird." 
Motawi Tileworks' pieces double as works of art and craft, and interior design components for fireplaces, backsplashes, public art, and shower tiles. Historically inspired themes have been present in the studio's work since its founding by Motawi more than 20 years ago, before which the designer established her practice in her garage and sold tiles at a local farmers market. 
Since then, the studio has come to specialize in aesthetics like Art Nouveau, Arts and Crafts, and Mid-Century Modern. Work by the now 12,900-square-foot studio can be seen everywhere from the University of Michigan in Ann Arbor and Dearborn, Michigan, to Yale University and the Thompson Chicago Hotel; and tiles are sold in more than 300 locations in the United States and Canada. 
Text: R. Collins / GLBD writer
Featured image: Summer tiles — 4×8 Puffin Profile in Light Blue
Photography: Motawi Tileworks