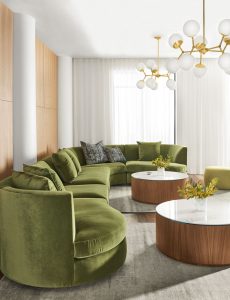 Room & Board, the iconic Minneapolis-based furnishings designer, throughout the years has pulled inspiration from revived design movements like Arts and Crafts, and Shaker styles as it creates furniture with tried-and-true design principles reinterpreted for modern living, as well as commercial markets. 
Its residential offerings range from mattresses and ottomans to wall clocks and chandeliers, and they also contain conscientious initiatives like The Urban Wood Project—a partnership with the United States Department of Agriculture, or USDA, that sources urban harvested, reclaimed wood—and a general preference for working with small artisanal and business outfits to bring designs to life. The firm also has a branch dedicated to commercial interior furnishings, called Room & Board Business Interiors, which has recently launched a fresh collection of furnishings in anticipation of fall 2020.
These contract-grade seating and table options were designed to join American craftsmanship with sophisticated, modern European design, and to bring in romantic, organic form and durable materials into high-use commercial spaces.
"Fall 2020 is a counterpoint to the clean and masculine look and celebrates the feminine, softer side of design, without being fussy," said Jenon Bailie, Room & Board's Merchandising and Design Director, in a press release. "There's a comfort and elegance to the overall aesthetic. Subtle arcs reminiscent of a warm embrace make us feel secure, while more classic design elements like tight-back sofas provide tailored high-performance and no-fluffing required solutions."
A zero-maintenance approach to materials also honors safety standards set for public spaces, with universal tables featuring scratch-, stain-, and chip-resistance, easy access storage, and ACT-grade velvets. The resulting pieces are suited for the demands of those who interact in the commercial sphere daily, yet still reflect a composition and shape for lounging.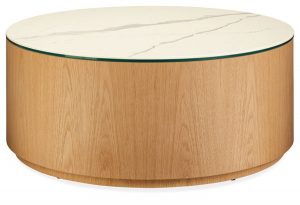 In deep red, the Ada sofa and swivel chairs offer sleek peaked backs and maintenance-free cushioning, while the Astaire sectional elongates a curvaceous, organic shape that splits apart to populate smaller areas. The collection includes another sofa and accent chair as well as a bench that doubles as storage and two side table families that bring warm walnut and white oak wood and recycled steel accents to the overall materials palette. 
A founding member of the Sustainable Furnishings Council, Room & Board underscores each design process with a consideration for similar materials that are recycled—steel, wood, plastic, and nylon—and generated from sources like fishing nets and rugs, which are then converted into new furniture solutions.
Among the unique qualities that come with fitting commercial interiors, Room & Board also offers special advantages in the way of service, including complementary space-planning, custom table and desk sizes, and customized storage configurations among others. 
Text: R. Collins | GLBD writer
Photography: Room & Board | Novita Communications