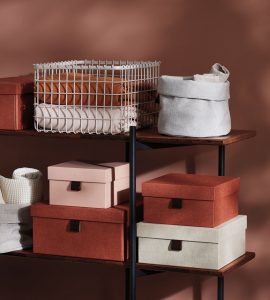 Indigo Books & Music Inc. is a Toronto based company that doubles as a world cultural department store, filled with curated collections of books, music, art, and lifestyle products. Its fashion branch spans jewelry and sleepwear to backpacks; while its curated home goods branch includes décor, glassware, furnishings, and more. 
Recently, an exclusive new brand, called OUI, has joined Indigo's home collection, and it is led by Nathan Williams, chief creative officer for Indigo and founder of Kinfolk magazine. Available at Indigo and chapter locations across Canada, OUI is a thoughtfully designed and curated collection of home décor, tabletop, and wellness products inspired by the natural world, contemporary art, and residential comfort.
"Every product in the OUI collection is designed to empower our customers on their journey to live with intention," said Williams in the press release. "Functional, purposeful design that encourages values-led, conscious living can help us feel that: 'Yes, we can do this.'"
Rooted in French inspiration, its name alludes to the sensibilities of the collection. Items gesture to purposeful, versatile living and seek to instill a confidence and optimism in the user. This is achieved through OUI's versatility; items are meant to be mixed and matched, and seasonal patterns and prints revolve around core products, patterns, and textured solids year-round.
"Our design approach is rooted in layering. It's the idea that you can take foundational colour and add depth through layers of texture, print, patterns and materiality," said Nick Nemechek, category director of Home & Lifestyle at Indigo, in the press release.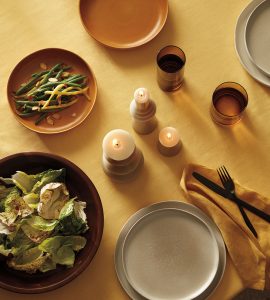 Throughout the collection itself are handmade touches and thoughtful finishes intermingled with a color palette inspired by natural materials like wood and stone, and other more vibrant tones found in nature. 
Some highlights from OUI comprise Organic Collection's shallow ceramic dishes, and flat pack storage solutions designed in collaboration with Swedish storage leader Bigso Box of Sweden. The storage pieces are made with FSC-certified paper and come in six blush- and neutral-toned colors and various sizes; and versatility also characterizes the dish sets by Organic Collection, which are coated with a reflective glaze that creates variations in color and texture to offer a unique hand-finished touch to each. 
Similarly, the modular, sometimes shallow design of the Ridged ceramic serveware—designed by OUI—offers easy, functional storage that is equally attractive with its ridged lines and earthy glaze tones like Olive, Ivory, and Honey that stop short of the edge to reveal a glimpse of undressed clay. Another mainstay item is the Tapered Candles by Root, one of the oldest operating candlemakers in North America. These slender tapered candles are continuously dipped to build up 35 individual wax layers for solid, uniform color; in this case shades like Rust, Garnet, and Dark olive. 
Apart from these offerings, OUI hosts drape-worthy throws in chevron and honeycomb chenille, stoneware pitchers, velvet pillows, and things of the like—each designed for comfort and intention in everyday life. 
Text: R. Collins | GLBD writer