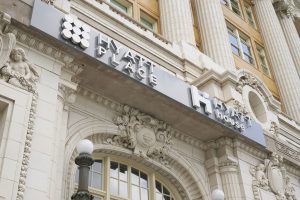 In the Illinois Medical District on Chicago's West Side, Harrison Square, a new micro-neighborhood is being formed that will add residential, office, and retail and hotel space to the immediate surrounding area. One transformative project in the heart of the development oversaw the restoration of an eight-story iconic building with a distinctive Beaux-Arts façade that led to a 2020 Landmarks Illinois Richard H. Driehaus Foundation Preservation Award for Adaptive Use. Decommissioned in 2002 and vacant for more than 15 years, the sprawling old Cook County Hospital has been converted into a dual-brand Hyatt House and Hyatt Place Hotel, alongside other relevant additions to the area.  
The historic rehabilitation project was led by Civic Health Development Group, a joint venture and private development team comprising John T. Murphy, Walsh Investors, Murphy Development Group, MB Real Estate, Plenary Group, and Granite Companies. The approximately $140 million project completed in August 2020 also included the architectural and design firms of Skidmore, Owings and Merrill, or SOM; Wiss, Janney, Elstner Associates, Inc.; and KOO LLC; as well as Walsh Construction—a more-than-century-old contractor. 
"The old Cook County Hospital is rich in history, having served our community and nation for over a century, while at the same time being a fountain of medical research, innovation, and advancements," said Dan Walsh, co-chairman of Walsh Construction in a press release. "The Walsh Group is proud to have played a leading role in saving and transforming this unique historic structure; and delivering a reborn building that welcomes visitors and economic revival to the Near West Side of Chicago for another 100 years."
In 2018, the Civic Health Department Group announced a plan intended to energize the neighborhood through adaptive reuse as a vibrant, mixed-use, transit-focused development, according to SOM. The team intentionally restored features highlighting the building's long history as a renowned medical training facility, and Chicago's first public hospital. More than 4,000 individual pieces of terra cotta were repaired and duplicated to restore the $18 million façade, original terrazzo flooring was completely refurbished, and historic marbles such as the valley grey and vermont verde were preserved. 
Its interior also features custom boutique-inspired public spaces and architectural elements such as egg and dart frieze motifs, a snake entwined around a chalice, leaves and pomegranates, and lion's head and cherubs that pay homage to the building's history. There is also a 16-foot, polished brass chandelier in its two-story atrium. 
At its completion, the building stands as a 210-room Hyatt House and Hyatt Hotel, as well as medical office and retail spaces, a museum chronicling the hospital's noteworthy contributions to the region and medical field, and the 10,000-square-foot Dr. Murphy's Food Hall, named after Dr. John Benjamin Murphy, who studied, practiced, and taught within the Cook County Hospital and Illinois Medical District. 
"The reborn Cook County Hospital will further energize the Medical District and supplement the neighboring healthcare institutions," said Tom Caplis, vice president of healthcare at Walsh Construction, in the press release. "This building has been rejuvenated and will serve as a place of history, comfort and hospitality to all who visit."
The process of transforming the 1913 hospital also served local employment needs by enveloping trades outreach events organized by Walsh Construction, in partnership with Cook County Government, and sponsored apprenticeship programs that allowed candidates to gain construction exposure and experience. Industry-based training was also given, including flagging certification, fall protection, confined space, and first aid. After completion of the program, pre-apprentice candidates were hired directly into local trades. 
Text: R. Collins | GLBD writer
Photography: Mike Schwartz Photography