A rich vein of high Italian style, both rustic and traditional, and sleek and contemporary, permeates international interior design markets, including that in the American Midwest. Since its founding in Pesaro Italy in 1961, Scavolini has been a brand synonymous with stylistically relevant, highly functional and Italian-made living arrangements. It is known for its ability to transform kitchens and bathrooms with styles and finishes that support even the busiest of culinary homes, and branches of its stateside arm, Scavolini USA Inc., appear everywhere from Miami and its Soho Gallery flagship store in New York, to Las Vegas and, for the last decade, in Birmingham, Michigan. 
As of September 2020, in tandem with its 10-year anniversary, Scavolini Store Detroit founders unveiled the store's new location within the Michigan Design Center, a 215,000-square-foot, single-story campus housing nearly 40 curated showrooms and representing more than 1,000 manufacturers. The Michigan Design Center hosts names like Ann Sacks, Baker Furniture, and Detroit Luxury Beds; now to be joined by a distinctive planner and designer of seamless kitchen, bathroom, bar, and living spaces in genuine Italian finishes that touch a variety of price points.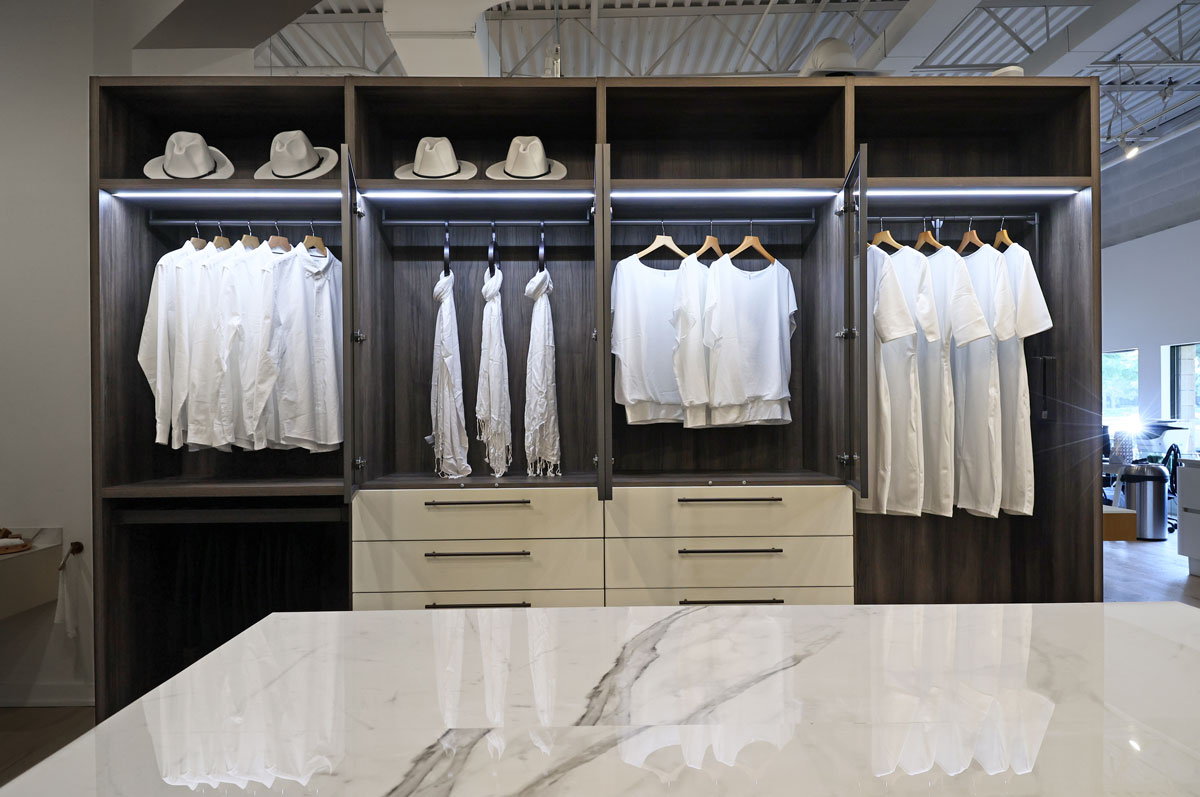 "Scavolini is an Italian brand that we import—everything is designed and made in Italy—and I think that's really different, because a lot of things might have a 'European' look or style, but we're actually there. That's a tribute to the quality of design and products in terms of actual materials that we're using," said Niki Serras, founder of Scavolini Store Detroit. 
Serras and Scavolini Store Detroit founders Alisha Serras and Brian Gamache have also established Scavolini Stores in Boston and in Chicago, within the Merchandise Mart, and each showcases its own personality influenced by their surroundings. Among planning and design for single and multi-residences, Scavolini Store Detroit's new location offers four full kitchen and three bathroom vignettes, as well as a master closet styling, all featuring a contemporary design theme. 
"Scavolini has a huge product line so we can even offer traditional styles, however we focus as a company on the more contemporary versions and I think that's what we do really well: very clean lines and contemporary aesthetic," Serras said. "When people see modern, they think too pristine, not enough [warmth] to feel comfortable, but with our styles they've formulated these designs so that you use them, and many of our clients are home chefs with very active kitchens."
The vignettes featured in Scavolini Store Detroit's new location splinter into a few more contemporary styles, with a material palette consisting mainly of glass, wood, stainless steel, Dekton countertops, and LED in-cabinet lighting. One midcentury modern grouping features walnut, marble, and white doors while others, one in collaboration with clothing company Diesel and another with Japanese design firm Nendo, exhibit a rugged edge created by knotted wood and stainless steel, and a minimal air created by light wood hues and rectilinear lines, respectively. 
"Everything that we're showing I would say is in the modern vein, but we're showing different ways that it can be incorporated in a different house," Serras said. "Not every person speaks the same modern language; it's a matter of taste."
Apart from a variety of contemporary aesthetics, Scavolini Store Detroit has seen trends in the ways that residences have adapted to a stay-at-home lifestyle. 
"One is more obvious, relating to hygiene and surfaces and configurations of the kitchen," Serras said. "We achieve that by having glass overlay doors so there aren't little crevices from a frame, for example, that you're going to have to clean out."
Another trend was less anticipated, and includes infusing home spaces with multifaceted functionality and splitting them into zones of activity equipped with their own helpful accessories; generous island spaces with snack storage and sinks make cooking and studying space while a la carte bars appear in spaces other than the kitchen to diffuse activity. Besides closets that may be more organized than usual, Serras said other appliances are perhaps made more accessible to users; coffee makers appear in the master suite and laundry space comes into the living quarters or other more accessible spaces. 
Whatever the case, Serras is ready to greet visitors to the Michigan Design Center and Scavolini Store Detroit with design prospects and customized arrangements that fit their ever-changing household needs or lifestyles. 
"We're like in our own little microcosm of design so it just feels so vibrant with retailers or merchants, or designers, or architects or whoever in our industry that we had a really warm welcome and it just feels like we're part of a bigger design community," Serras said.
Text: R. Collins | GLBD writer
Photography: Jeff Aisen