Since its establishment in 1980, the Grand Traverse Resort and Spa of Acme Township, Michigan has helped define northern Michigan hospitality, with its picturesque location near Grand Traverse Bay atop nearly 900 acres that host the fresh fairways of its three championship level golf courses, clubhouse, golf academy, and grille. The resort itself holds nearly 600 room suite ensembles, and more than 80,000 square-feet of versatile meeting space, as well as a shopping gallery, luxury spa, and variety of dining options that culminate in the rooftop lounge Aerie, known for its panoramic views of the grounds and a culinary experience that harnesses the best of the region.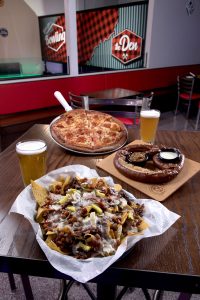 A destination in itself, the Grand Traverse Resort and Spa offers a singular experience in the Traverse City area, and one that was expanded earlier in the year through a creative design transformation to a portion of the interior. The Den, a game and entertainment center now housed in a former sales area, was the product of an imaginative design program led by a nostalgia for classic and vintage games and memorabilia from their respective eras. For guests, The Den adds another layer to the resort experience.
"That is part of any type of travel or engagement with people: you need to have an area where you're comfortable and feel like you can step inside and feel like you're somewhere else," said Matthew Bryant, general manager at Grand Traverse Resort and Spa, and lead for the design and renovation of The Den. 
The plaid and corrugated, steel-clad entryway to The Den intentionally differentiates from the rest of the hotel interior. Beyond the entrance, there are featured areas dedicated to bowling, axe-throwing, arcade games, virtual reality, an escape room, and bar seating—all of which are unified by Bryant's love for beloved games and science fiction moments, from Atari to Star Wars, and have established modern mainstream gaming and been found in basement entertainment throughout the years. Bryant referenced fond memories in his own family's den while growing up for the design program that drove The Den concept. 
"I thought about my life growing up in Flint playing video games and Atari in the basement, moving down to the den, and I thought '[the name] is perfect,'" Bryant said. "The den is that family place you go and play board games and things like that, so that's where the name came from and it went from there." 
In family-den-fashion, the open-grid ceiling exposes rafters and black-and-red speckled, epoxy cement flooring supports a durable, cleanable game surface that also shines under neon and LED lighting. Lighting mixes with the sounds of tumbling bowling pins and axes hitting wood backboards further into The Den to create a highly sensory experience according to Bryant. It is an energy the design team also sought to revive from the room's previous identity as the Wild Cherry Disco, before its use as a sales team area.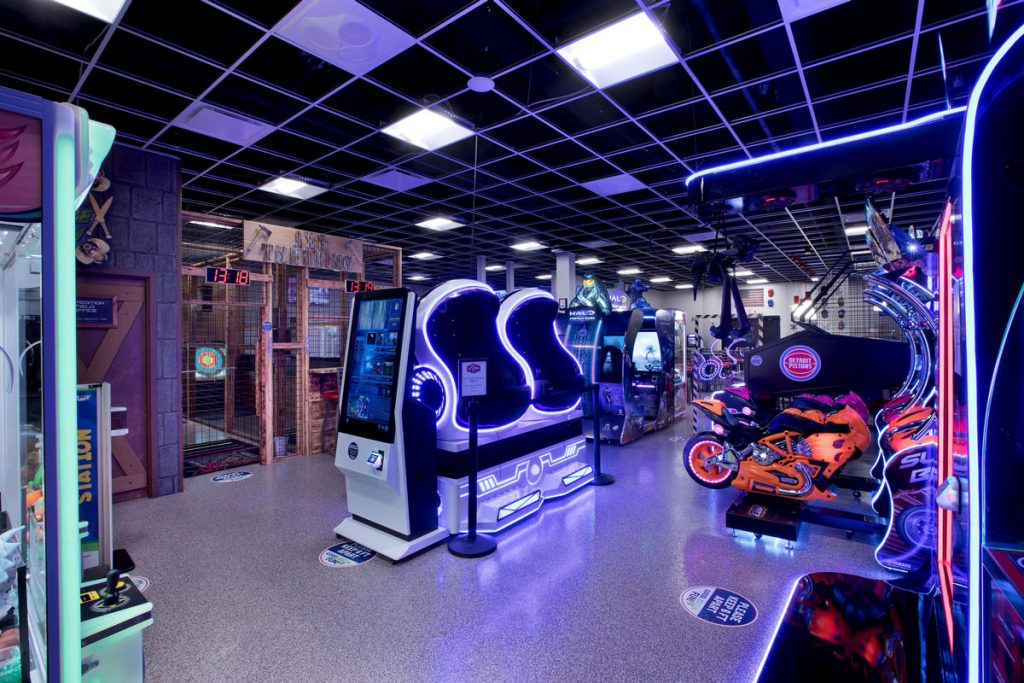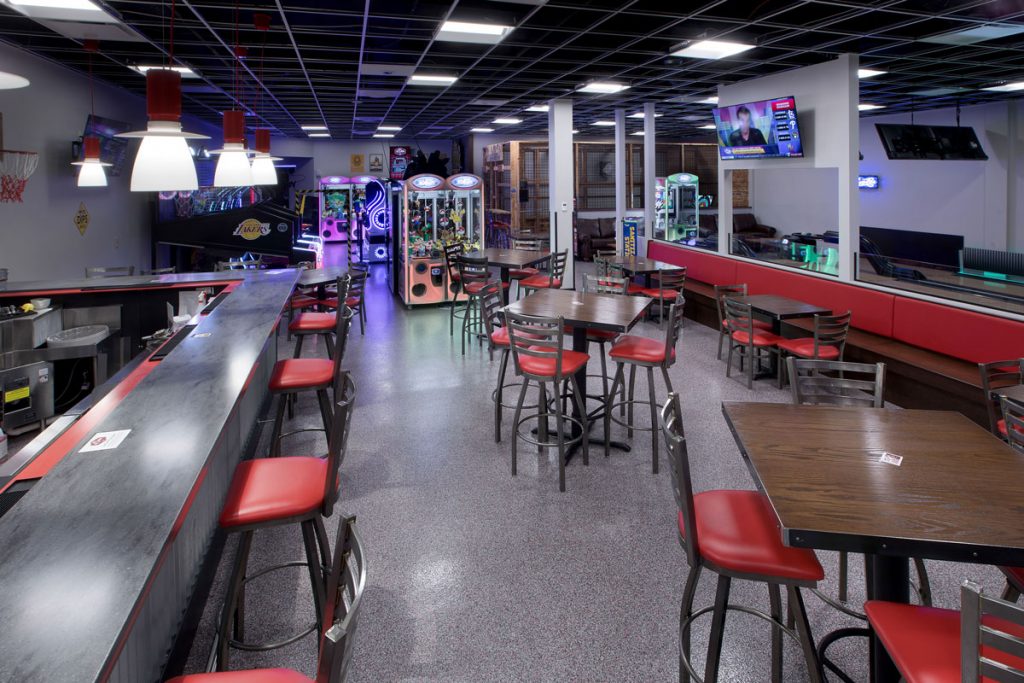 The bar area is also clad in corrugated steel with black and red accents that reflect a strip of LED lighting underneath the bar that evokes a lightsaber-like quality for Bryant. Cherry-red, vinyl seating cushions, hardwood tabletops and soft leather couches were other strategic material choices that appear throughout gaming areas to match aesthetics and support durability needs for high-traffic areas. 
They anchor more nostalgic nodes in décor like vintage Pepsi and car signage that was handpicked by Bryant and inspired by his hometown of Flint, Michigan. Even the food and drink menu at the full-service bar area offers Midwest classics that hit close to home, from Flint-style Coney Dogs to ice cold PBR—the first draft Bryant enjoyed. 
From floor to ceiling and gaming to menu, The Den seeks to capture that moment of delight and gaming nostalgia through the creation of new memories in a curated entertainment hub within a resort atmosphere. 
"That was the key—that [instance] of coming together in a group and experiencing something that was out of the norm to take away with you," Bryant said.
Text: R. Collins | GLBD writer
Photography: Grand Traverse Resort and Spa