In the renovation of this Lincoln Park House in Chicago, Illinois, the intentional composition of light, texture, and material is an ode to the contemporary, where understated elegance and playful undertones breathe character and life in a series of curated moments. It reflects a design language distinctive to its homeowners, defining lifestyle and taste, while highlighting existing interior architectural vernacular in respectful homage. The original three-story skylight and refinished maple wood floors speak to the home's identity, while custom-designed details like the fireplace, new wine room, and rich accents, wallcoverings, and patterns tell a new narrative.
To reimagine the roughly 4,400-square-foot, four-story space, the homeowners looked to the design expertise of Ani Khachatryan, interior designer and founder of ANI K Interiors in New York City. For Khachatryan, who also serves as an interior design lead at Meyer Davis in New York City, or NYC, specializing in hospitality and hotel projects, there is something powerful and intimate about residential work.
"I'm really passionate about interior design; really passionate about the impact it makes on people's lives. I worked throughout different industries, but residential is near-and-dear to me, just because it is so personal and it makes such a big impact on the client or the people who occupy the space," Khachatryan said.
"I remember, even as a kid, I would always redecorate my room and play with the pieces where they are inside the room and try different things, seeing what makes more sense and playing with the layout. I never actually realized how much I enjoyed doing that. When I started studying design, I realized that I'm really passionate about not just the individual pieces that I'm designing, but more so the space and how it makes an impact on you—the color, the layout, the proportions, and the scale," Khachatryan added.
Khachatryan, who initially studied industrial design at Yerevan State Academy of Fine Arts in Armenia, focusing on furniture, quickly realized her affinity for interior design and went on to also study at the Fashion Institute of Technology in NYC. Afterward, she spent time assisting in the development of furniture lines, custom lighting designs, and furniture layouts at a number of firms in NYC. Khachatryan then turned to the hospitality and residential interior design field, ultimately launching her own firm, ANI K Interiors, specializing in residential interiors in 2017. Then, in 2019, Khachatryan also began working full-time at Meyer Davis, which is a globally recognized design boutique known for its high-end commercial and residential design practices.
"I think residential, again, for me is very personal. Of course, it is very fun to design big hotels and restaurants—it's a totally different game—but for me, personally, I just love residential, especially when you just completed it and you see the client's face and how much they, hopefully in the end, are really happy with the result," Khachatryan said. "That's the thing I like about residential, because in bigger projects, there are a lot more people involved, and it is a little less personal; it feels a bit more commercial. That is why I always have some type of residential project happening on the side, because I really enjoy working on them."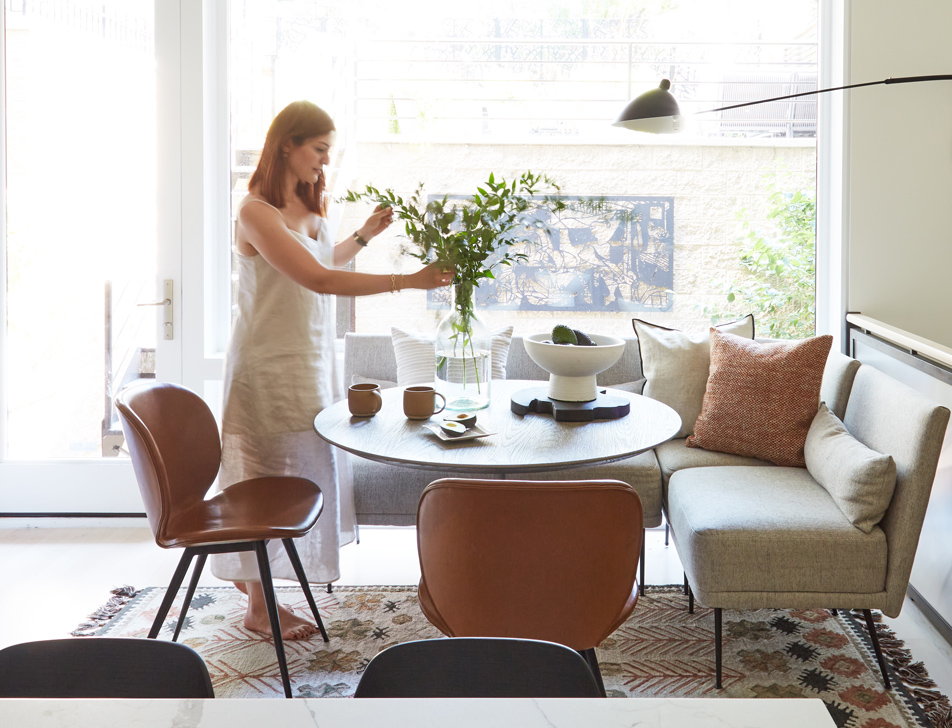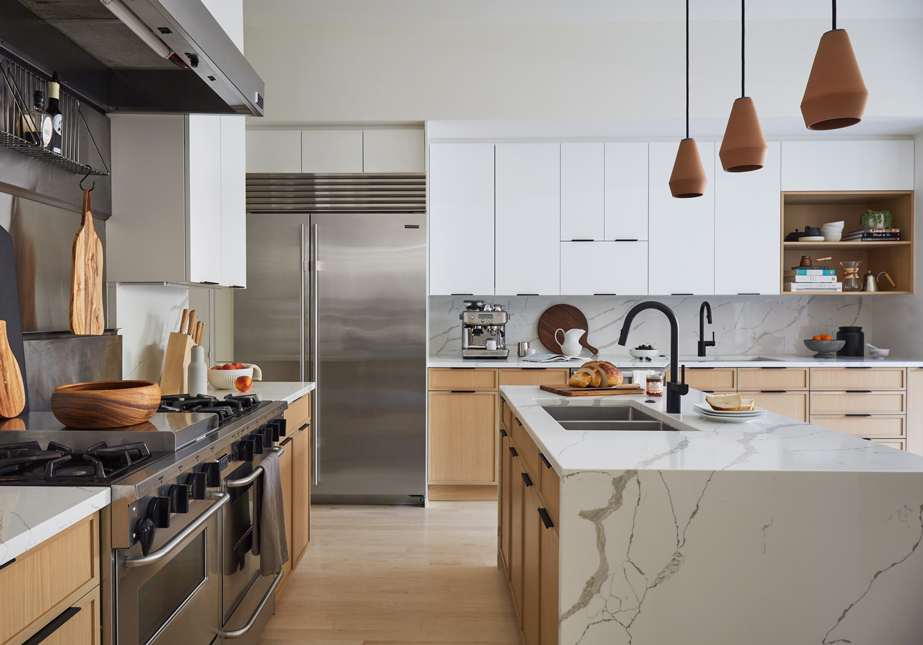 Through ANI K Interiors, Khachatryan offers full-service interior design from art and furniture selections to comprehensive renovation work. Since 2017, Khachatryan has developed a portfolio of contemporary and modern projects such as an 1890s townhouse in New Jersey, a master bath renovation in Los Angeles, a renovated apartment overlooking Roosevelt Island in NYC, and a mid-century modern apartment with Scandinavian-inspired aesthetics in Washington D.C. Backed by a philosophy where successful spaces balance function and aesthetics tailored to the specific project, Khachatryan said one of the things she considers very important throughout all the design work she is engaged with is keeping it centered around the client.
"It is all about the client. It is all about their lifestyle. It is all about what they enjoy, what they like. It is a balance of hearing them out and guiding them through the process, offering good design solutions, but a lot of times, I'll hear things like, 'well, what's the correct color? What's trending now?'" Khachatryan said.
"I'm always trying to get information from them, get a lead from them, and tell them that it's just, 'tell me what you like and we will find the correct design language, we will find the correct way to communicate and curate it to fit your needs and your lifestyle and your taste, because in the end it is all about you.' That is really important to me throughout the work I do, keeping that in mind and just really keeping the client involved and building everything around them," Khachatryan added.
For the Lincoln Park House in Chicago, the client first connected with Khachatryan through a mutual acquaintance upon purchasing the residence at the onset of the COVID-19 shutdown in April 2020. Khachatryan noted the clients were initially interested in just refreshing the space, but as they worked through the process, the scope of the project evolved into a complete renovation that would integrate a little more flexibility, multipurpose function, and playful elegance for the young family.
"They reached out, asking if I would be interested in taking the project on, and of course it was an interesting time, we were all stuck at home, no idea what was going to happen, so I was really intrigued by the project," Khachatryan said.
"I was also really excited about this project, because architecturally it was a beautiful building. It had very interesting solutions in terms of keeping the plan open, keeping it light and airy—it has a skylight that goes through all three stories of the building—so it was very intriguing in terms of architecture," Khachatryan added.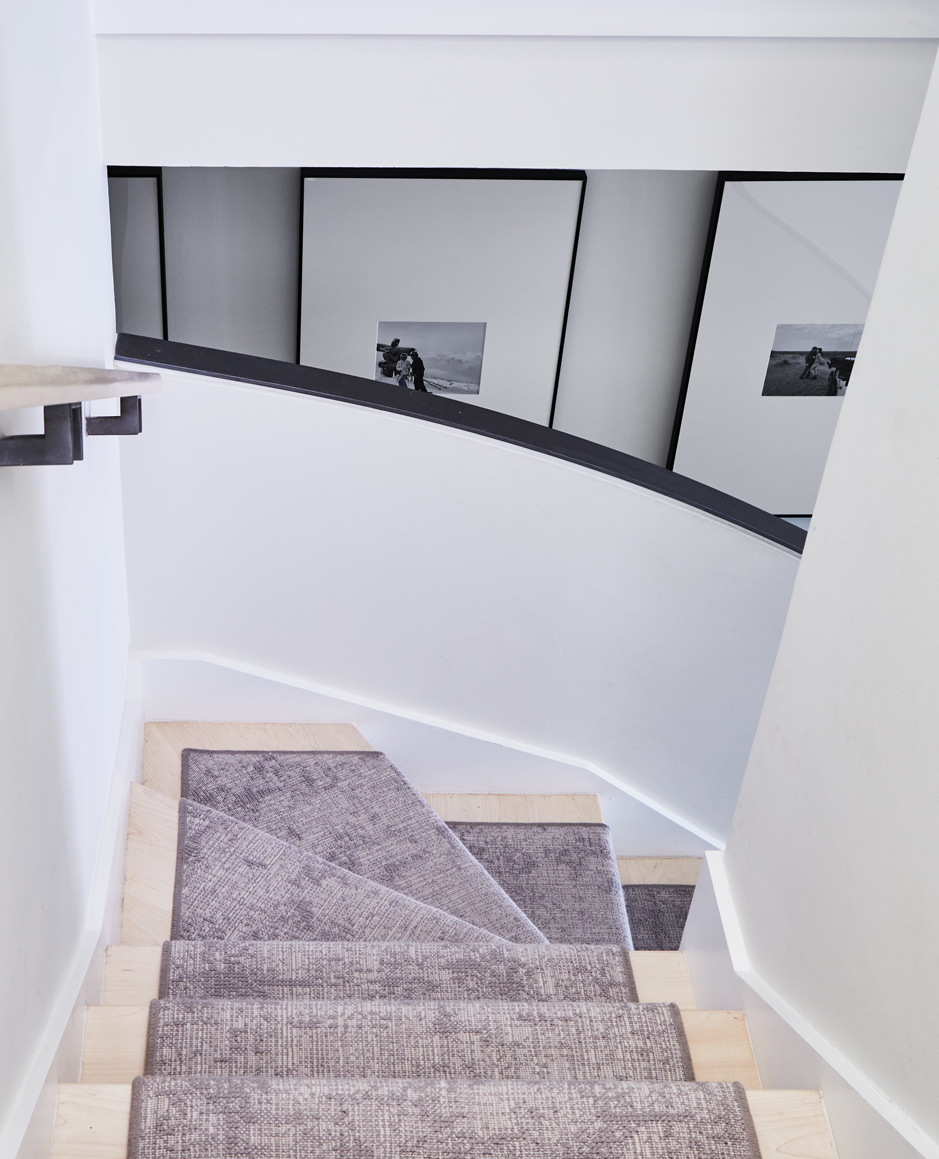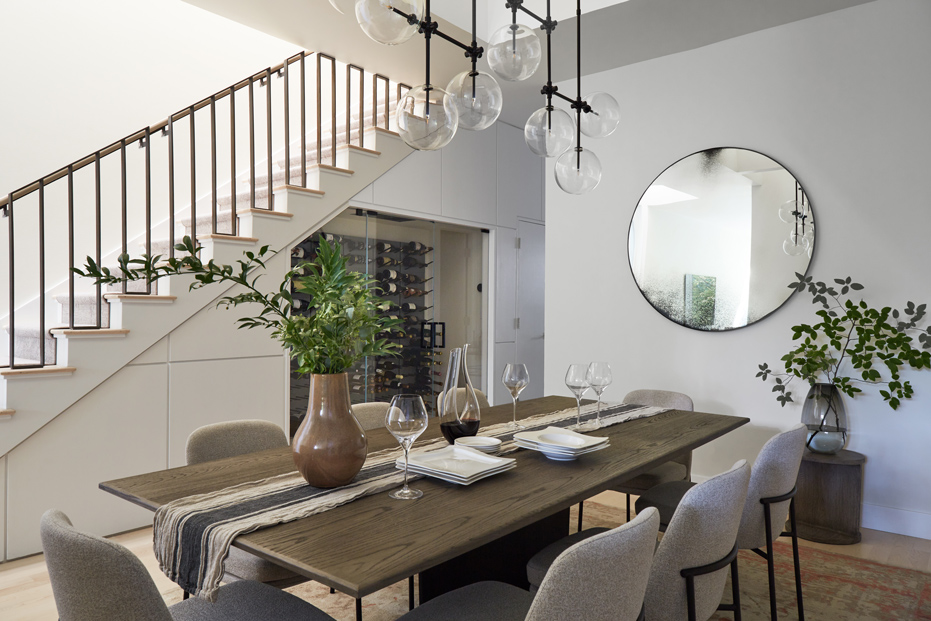 Originally designed by Dirk Denison Architects, an award-winning, Chicago-based firm, Khachatryan noted though both its exterior and interior were architecturally striking, it was a bit outdated since it had been constructed in the 1990s, lending itself well to a renovation and redesign to position it for the new homeowners.
"I think initially, [the clients] weren't looking for anything big. It was more like, 'let's freshen it up,' and then the more we got into it, the more they realized how much potential the house itself had, how many rooms it had, because it has like four bedrooms, an office, a family room, a playroom, and separate dining and living areas," Khachatryan said. "The more we got involved, the more we realized how much we could maximize these areas; how much we could make them function for different purposes."
In the end, the project reimagined the entire four-story home, approaching each space with a contemporary perspective that infused each room with warmth, tailored details, texture, and honest materiality. The dining room was expanded through the removal of a staircase that led to the second floor, allowing the space to breathe. The added installation of a custom-built wine storage area now serves as a focal point for the floor, while the playroom, family room, and office has been consolidated into a single, large, flexible area.
"The client wanted to have this really big, flexible space where it wouldn't necessarily be divided, but rather be used depending on the situation, depending on where they are with their life, and to be able to use it in different ways," Khachatryan said. "What we did is we opened up the entire area, we took out all the walls, so you have this big playroom-family-room. I like to call it a playground for adults and kids alike, because even after we finished the project, I found that it's their favorite space to hang out. It makes me happy creating a successful space that the clients really enjoy using."
Khachatryan also noted the architecture of the house was really great to begin with from its dedicated entry and foyer space that allows for dramatic statement and first impression, to its number of windows and amount of natural light, so the overall look and feel was intentional in retaining that light and airy ambiance. Existing maple wood flooring was refinished or matched in areas where it had to be replaced, and while a lot of new furniture was either custom-designed or sourced from vendors such as RH—formerly Restoration Hardware—Design Within Reach®, Room and Board Inc., Serena & Lily Inc., Anthropologie, and Lulu and Georgia, the design was thoughtful in keeping some of its original moments to keep the identity and character of the house intact.
"I don't want to say minimalistic, but just simple in a good sense and just picking our moments in each room on what we wanted to focus on, be it the fireplace in the living room or if it is this really interesting color accent in the playroom or master bedroom. It was really just carrying this very neutral theme throughout, focusing on textures, and picking our little moments and vignettes in each room," Khachatryan said.
"It is a family of four, so the fact that they wanted to keep everything light and neutral, in terms of materials, we had to take it to the next step and think about how we make it really durable, how we make it livable and practical at the same time without compromising the design. That was an interesting challenge we worked through while we were working on the project," Khachatryan added.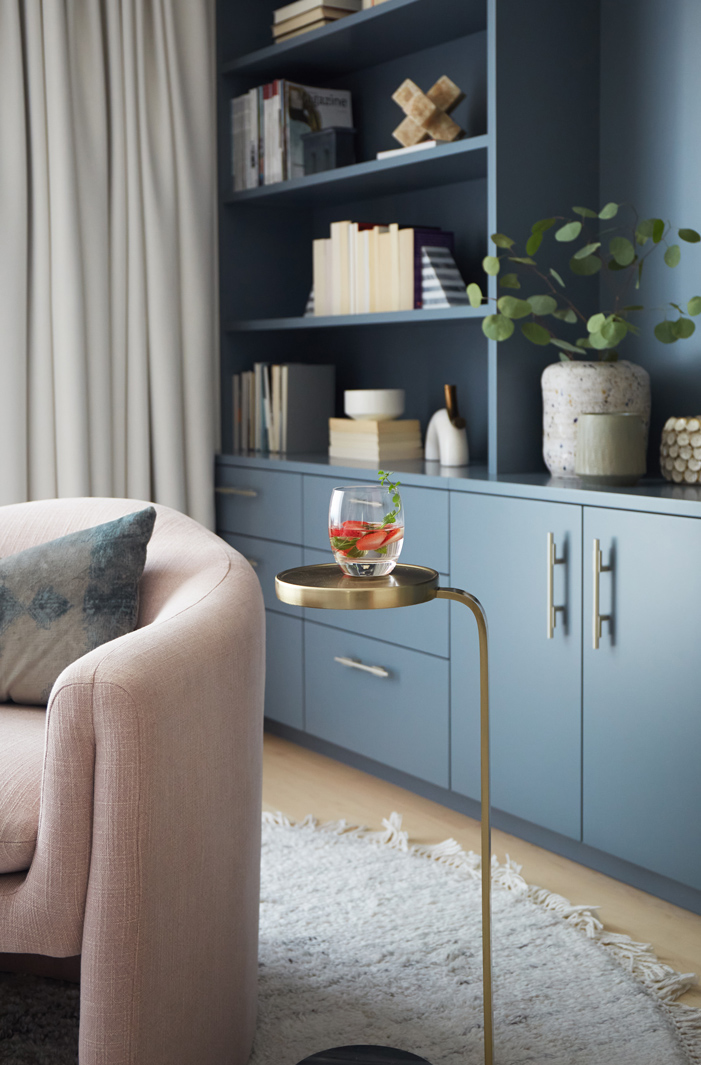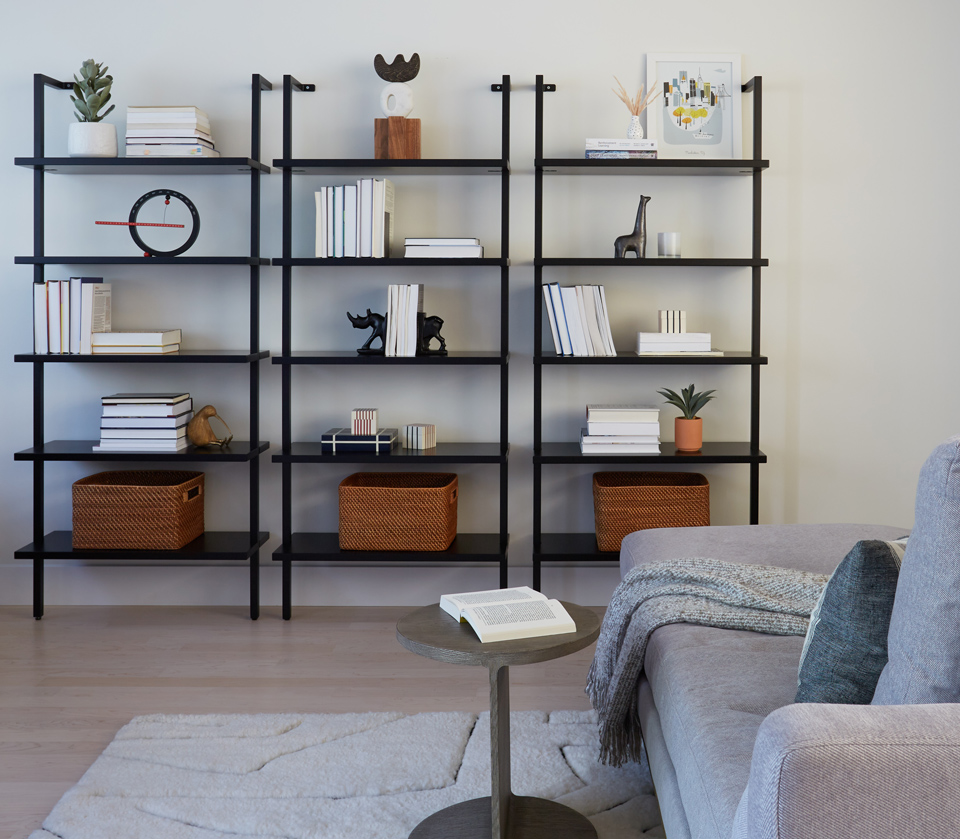 The other interesting challenge of the project, which was completed in about eight months, was that it took place early on during the pandemic. Khachatryan said within those eight months, she hadn't physically been able to be onsite.
"That is something I never did. Obviously, you are there for a lot of site visits, but that was a time where you weren't even sure if you could fly," Khachatryan said. "It takes a lot more coordination, a lot of calls, and a lot of video calls. We tried to keep a structure of weekly meetings, keeping up with the progress, and having an open line with the contractor, the subcontractors, and the vendors. It influenced the process for sure."
There is a layered, nuanced narrative woven throughout the home, where subtle hints of circular mirrors, globed lighting, and curved lines soften the simple, clean aesthetic. Rich-hued accents bring warmth and drama to spaces, and distinctive details like the skylight, playful wallcovering, geometric lines and patterns, and outdoor patio lend delight and a sense of the unexpected. For Khachatryan, who noted as a designer, she often works in the style and theme of her client, this particular project was very special in the sense that her personal design aesthetics and the clients were very much aligned, lending to a really fun, collaborative process.
"I think as a designer you live and breathe design, especially after years of practicing, it is almost hard to distinguish, like everything almost evolves around design. Even the simple everyday objects that you are dealing with in your personal life, you just start paying attention to the design. For me, good design is the perfect marriage between function and aesthetics," Khachatryan said.
"I think a lot of times, people think of design as being this very unapproachable component that is all about the look and I think it is very much about the function and how all the components are designed, how the components work together, be it a single object, a single piece of furniture, or a house, or restaurant, or a room. It is about how it all works together," Khachatryan added.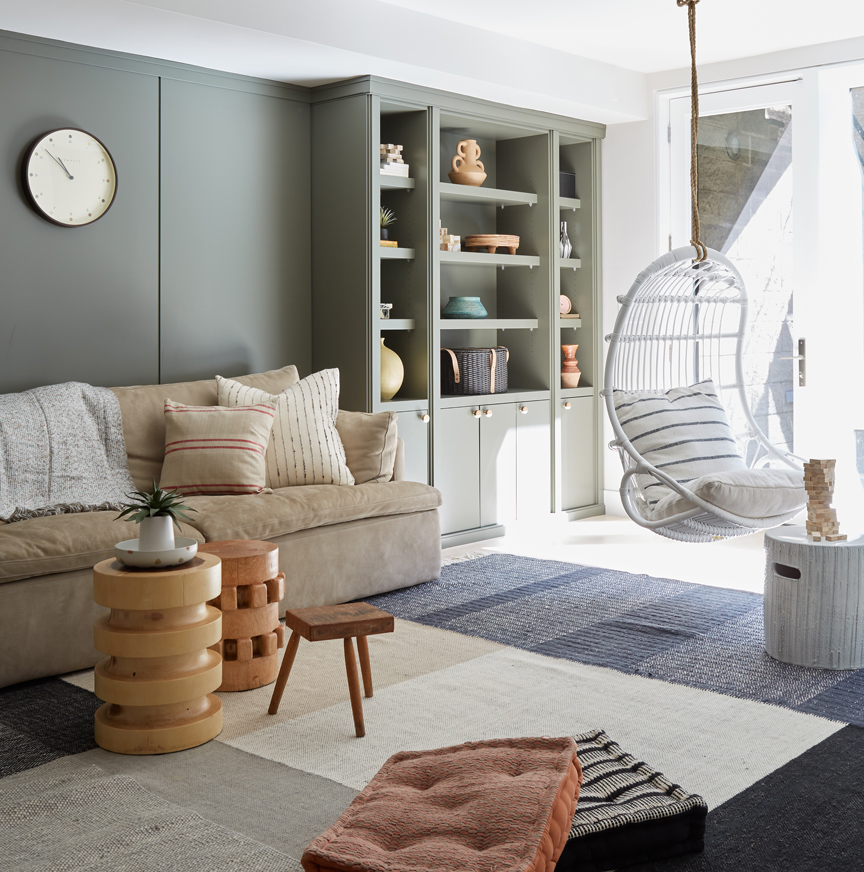 Originally published in Great Lakes By Design: Bold Graphics, 2022
Text: R.J. Weick
Photography: Michael Alan Kaskel