In January 2023, Shantell Martin, a multimedia artist and philosopher, and Joya Studio, a fragrance brand and design studio based in New York City, unveiled a collaborative, limited-run edition of candles informed by the meditative language of lines, the dynamic and ephemeral nature of light and shadow, and the often-invisible and nuanced sense of smell in a single vessel designed to foster clarity, focus, and calm. Featuring a custom-printed, classic glass votive candle and a special Artist Edition XL porcelain candle, the collaborative line is a thematic and creative exploration that celebrates the everyday hours and minutes spent in the process of artwork or other large tasks and projects.
Hand-poured and crafted at Joya's studio—a former 19th century, Brooklyn rigging garage and industrial space that pays homage to entrepreneurs, artists, philosophers, and explorers—the limited-edition candles feature original artwork drawn by Shantell Martin and distinctive-scented wax layers developed with input by the artist as well.
"What do creatives need to stay creative? We need the comfort to get in the zone, the space to create, and the freedom to let our intentions flow. I believe the road to embarking on a creative journey should first begin with a positive intention. And that's where these candles come in. I wanted to create a gift that encourages clarity and focus, whether for yourself or for others," Shantell Martin said. "My wish is that these candles can burn in the background during your creative process, much like a playlist, invigorating your senses and bringing you back to self."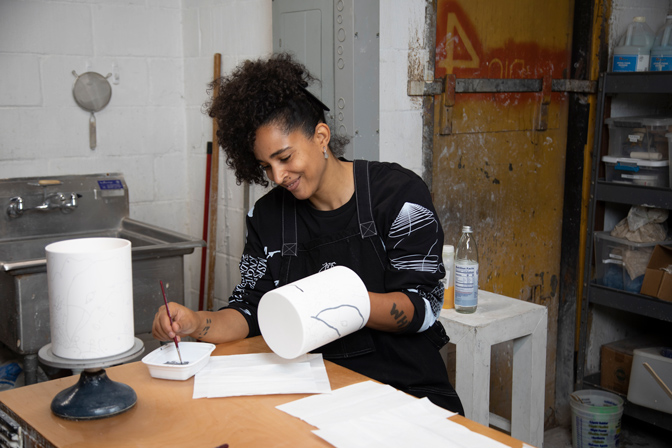 A highly regarded and award-winning artist, Shantell Martin is also a public speaker, a curator, a performer, a choreographer, and a philosopher, whose work explores themes of identity, intersectionality, and play in an ever-evolving art practice that embraces a meditative intuition and language of lines, characters, and messages. Her work has been sought after by renowned art spaces, galleries, and museums like the New Britain Museum of American Art, Buffalo AKG Art Museum—formerly Albright-Knox Art Gallery, Brown Institute for Media Innovation, Whitney Museum Shop, Denver Art Museum, and the Oculus, World Trade Center. She has also collaborated with Pulitzer Prize-winning performance artist Kendrick Lamar and iconic brands like Tiffany & Co., B&B Italia, The North Face®, and Google Creative Lab, to name a few.
"Every project I work on is something that I'm curious about and that excites me. I guess what ties them all together is perhaps, myself. They've all passed my checklist as a project I've always wanted to work on, or something that I find challenging and can learn from," Shantell Martin said.
"All the work I create is about light and space. If there wasn't light, there wouldn't be darkness, nor would there be contrast or lines. Light is the foundation of my work," Shantell Martin added.
Frederick Bouchardy, owner of Joya, said the fragrance brand and design studio initially connected with Shantell Martin through mutual friend and creative visionary, Jeff Staple, and felt her work spoke to the company's brand in a highly complementary way.
"Exploring identity is the hallmark of what we do. The graphic urgency of Shantell's work is a strong counterpoint to the nuanced invisibility of ours. Her work is also multi-sensory and multi-dimensional, which is how I see Joya's," Bouchardy said.
"And Shantell has precisely that type of style that is immediately recognizable and constantly questioning, evolving, but along the same path—her own. I believe we also personally shared this desire to learn and connect," Bouchardy added.
Shantell Martin noted it was in-part the studio's creativity and excellence that led her to want to collaborate on a limited-run edition of candles with Joya.
"I love that they are local, located in Brooklyn, and that they're specialists in what they are doing. The Joya team wants to do things at a high-quality level, and they push the envelope in what they do," Shantell Martin said. "They focus on creating high-quality work and are constantly pushing to progress, collaborate, and maximize creativity."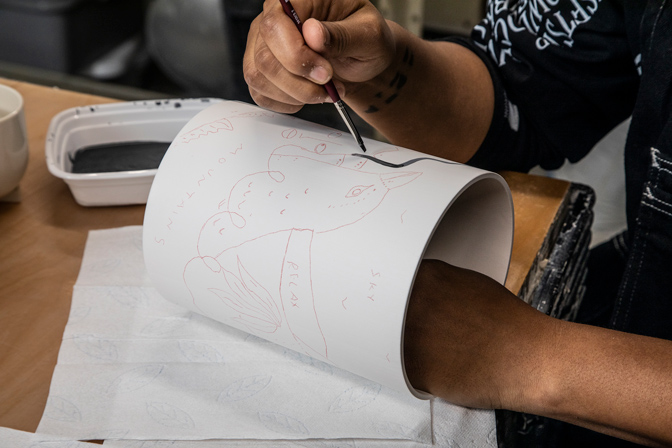 Founded in 2006, Joya designs and manufactures fragrances and scented objects from its Brooklyn-based studio. Throughout its roughly 17-year history, the studio has developed a collection of scents that capture the tangible notes of plants and flowers as well as the more elusive essences of "the moods and melodies of the forgotten and impossible." From earth and resin, connection and memory, and wild and manicured, to energy and emotion, Joya's collection of scented objects comprise candles, diffusers, soaps, perfumes, and art objects.
"Joya is a fragrance brand and also design studio with vertical manufacturing capabilities—creating scent identities and perfumed products with companies and artists worldwide. With over 10 years of experience and a strong portfolio and body of innovative work, Joya's collaboration drops are typically eagerly anticipated in the fragrance industry and beyond. We are always looking to raise the bar," Bouchardy said.
"And I am personally always looking to connect with artist and brands that have extremely clear points of view and signature styles. Perhaps this is because half of our time and expertise is spent interpreting and harnessing others' visions? Perhaps, because, in a sense, this means that our own signature style is mysterious, an underlying link and influence?" Bouchardy added.
In its latest collaborative launch, the Shantell Martin x Joya edition features a screen-printed, classic glass votive with custom artwork handwritten and drawn by Shantell Martin. The candle also has a burn time of approximately 50 hours across its two wax layers that release distinctive scents after a specific lapse of time.
The "Artist Edition" XL is a three-wick, cast porcelain candle produced in limited quantities and feature hand-painted artwork and accents of 22k white gold. The special edition is comprised of three wax layers and has a total burn time of 145 hours. In this case, the layered wax process allows two different scents to activate together, twice throughout burning.
"The philosophy behind this project heavily relied on the design, and Joya was really able to bring my vision to life. Every detail has been carefully considered. In the end, we created the gift of focus, either for yourself or for a loved one. It's a symbol of intention, commitment, and execution," Shantell Martin said. "The layers act as a marker of progress, and I was also very intentional with the words and drawings selected for the candle exterior, perhaps even more so than my other projects. I really wanted to create a product that supports the owner of the candle."
Shantell Martin also noted incorporating scent and smell felt like a natural extension and added dimension to her work, and when collaboratively developing the scents for the candles, she first described feelings and places.
"I gave notes on scents that I was looking for and enjoying, and from there, the Joya team created the original samples. We then worked collaboratively to land on the final selections," Shantell Martin said.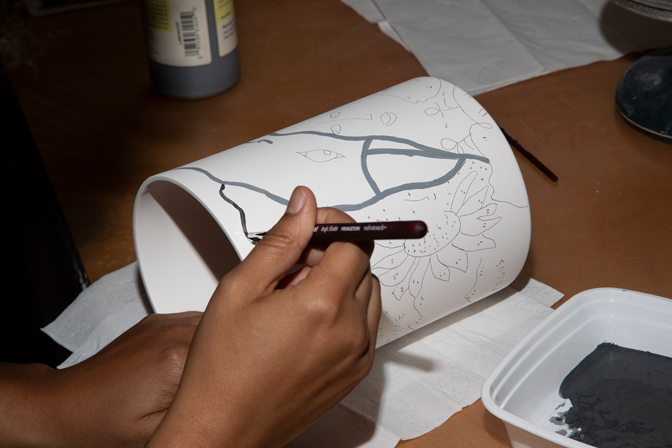 Inspired by notes of shaded green tea, ocean air, heliotrope petals, and more, the wax layers are known as "Silk Pajamas" and "Dragon Well." The top scent, "Silk Pajamas" is a curation of dramatic, yet nuanced herbal inflections of clary sage lavender, chamomile, and Guatemalan cardamom. There are also notes of geranium, rose blossom, lily, and coconut with additional hints of violet leaf, amber, and pale musk.
The second scent, "Dragon Well," is designed as an uplifting and energizing gyokuro tea supported by creamy, white floral and woody musk. Top notes comprise cyclamen, shaded green tea, and ocean air, with heliotrope, vanilla flower, tuberose, and jasmine petals at its heart—and there are hints of cedar leaf, amber, and sweet musk at drydown.
Officially released on January 23, 2023, the Shantell Martin x Joya limited-run edition of candles will be available at Joya Brooklyn boutique and online through both the artist and the studio.
"One unique aspect was Shantell's explicit desire to achieve something both beautiful and functional: a true tool to inspire creatives and to assist them in their creative journey. At Joya, we genuinely believe that scent can produce functional, emotional recollections—but to explore this with Shantell in a focused, explicit, and evocative way was a refreshing break from the norm, because she never looked at it in any other way," Bouchardy said.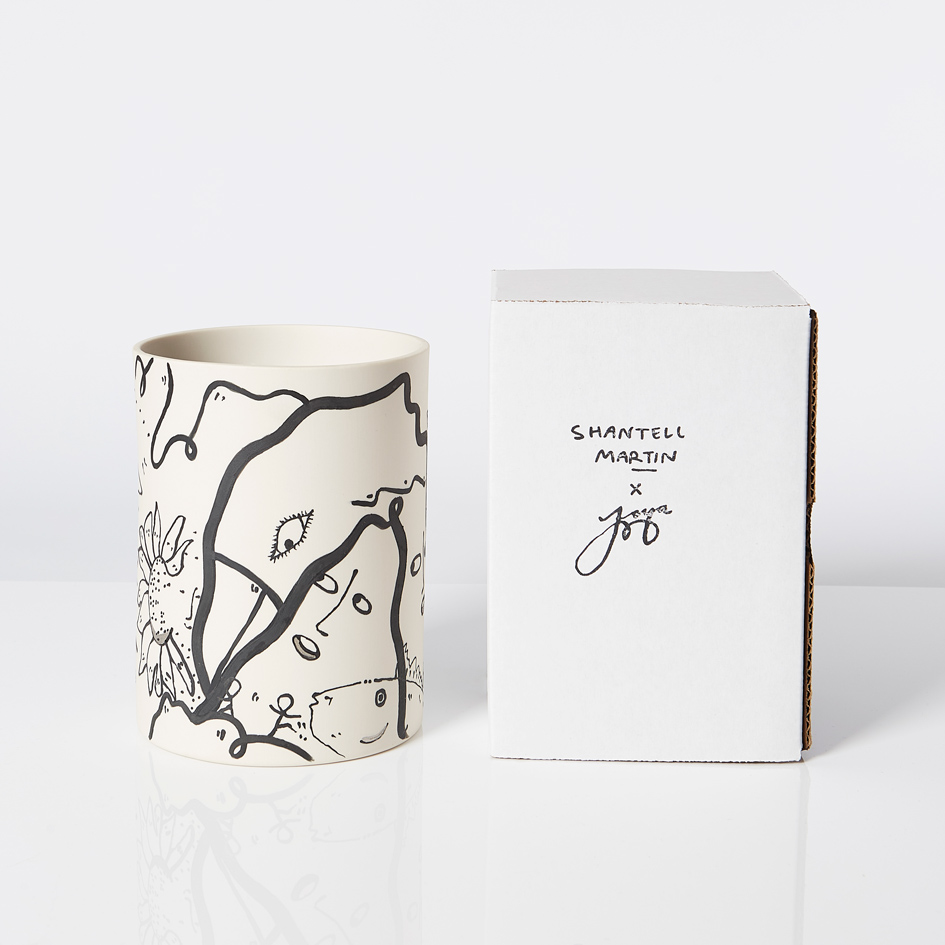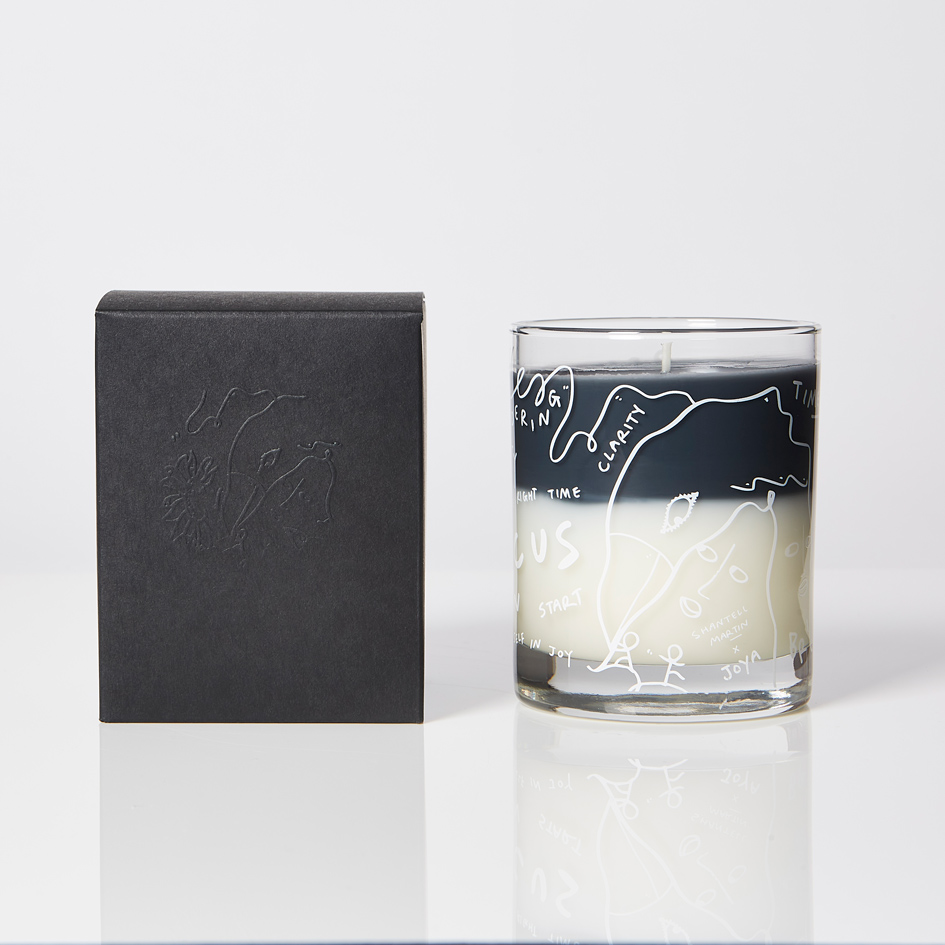 First published in Great Lakes By Design: Raising the Bar, 2023
Text: R.J. Weick
Photography: Eli Schmidt, Joya Studio