Built on granite-clad, terraced foundations on the northern edge of Lake Muskoka in Ontario, Canada, this modern cottage is a dynamic, volumetric response to its site as it quietly settles into its natural landscape. From the water's edge, it gives a linear impression as its deep rooflines provide horizontality to the series of forms as they cascade down the steeply pitched shoreline. There is a sense of procession to its overall shape, a magnetism to its lakefront, and familiar tactility of its composition, as it embraces the existing conditions of the site and a rich palette of natural materials like white pine, burnt wood siding, and granite. And for Architect Graham Smith, managing principal and founding partner of Altius Architecture of Toronto, Ontario, it is characteristic of the firm's portfolio of residential and cottage work, in which complex programmatic needs, modern design strategies, challenging build constraints, and distinctive natural sites intersect.
"Residential architecture is a challenging thing to do, but at the end of the day, it is what we are passionate about. When you think about it, they are the most complex, programmatic buildings you can do in terms of all of the uses you have to fit into these buildings and then fit them perfectly into their sites, which in most instances, like this particular cottage project, you are dealing with a complex site that you work with 360 degrees around the building," Smith said.
"We look at cottages as one of the best places to live and to enjoy family. Your heart rate goes down, your blood pressure goes down, and you surround yourself with things that you can understand at a tactile level. You want to look at every material in a cottage and know exactly what it is, like that is granite and that is stained wood. You want your cottage in and of nature as the site it is on," Smith added.
Altius is a multidisciplinary architectural firm founded on a collective vision that reestablishes the tradition of the architect as central to the design and build process from initial planning and architectural design to landscape and construction. Established in 1998 by founding partners Cathy Garrido and Smith, Altius embraces a philosophy that considers and takes responsibility for all aspects of a project, guiding clients through a detail- and client-driven process.
Throughout the years, the firm has worked on residential projects across urban, water, and rural landscapes in Ontario and has become known for creating thoughtful, enduring spaces that are contextually sensitive. Its portfolio reflects a vernacular style of clean, contemporary design and an attention to detail, materiality, and craftsmanship, and in 2007, Altius Architecture was recognized by the Ontario Association of Architects for design excellence and its entrepreneurial spirit with a Best Emerging Practice Award. Altius also offers property consultation, interior design, landscape design, and construction management services for their clients as they work to realize their dream home or cottage destination.
"We have a full construction management division, so as architects we've built probably half of our own projects over our career. We have this profound knowledge and understanding of residential projects at a ridiculously detailed level," Smith said.
"It really isn't common in Canada. It is much more prevalent in the United States where they have a whole association dedicated to architect-led design-build, as opposed to what we call design-build up here where it is normally the general contractor hiring a draftsperson to produce the permit sets and often there is not even an architect involved in the designs. So, we come to residential design with a remarkably big toolbox that we can work with clients to do some really very special projects. And this is a great example of that," Smith added.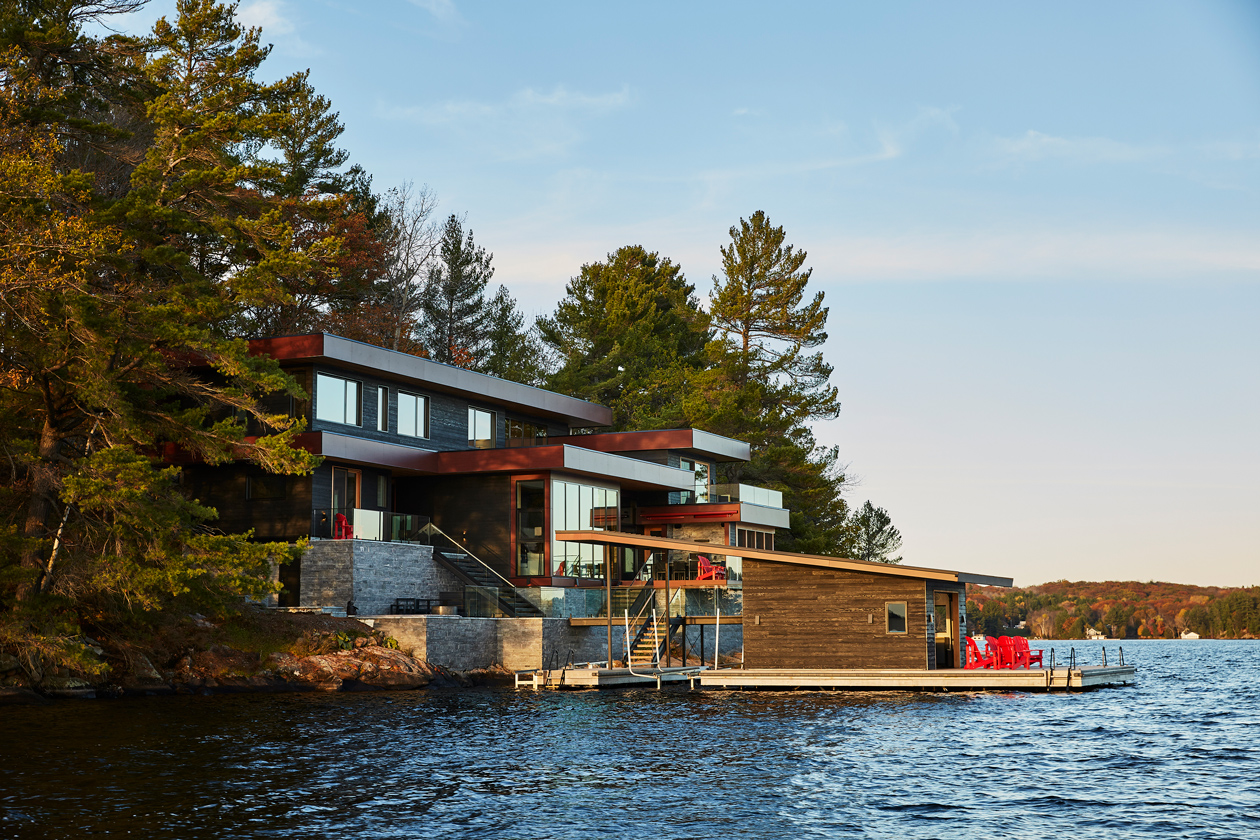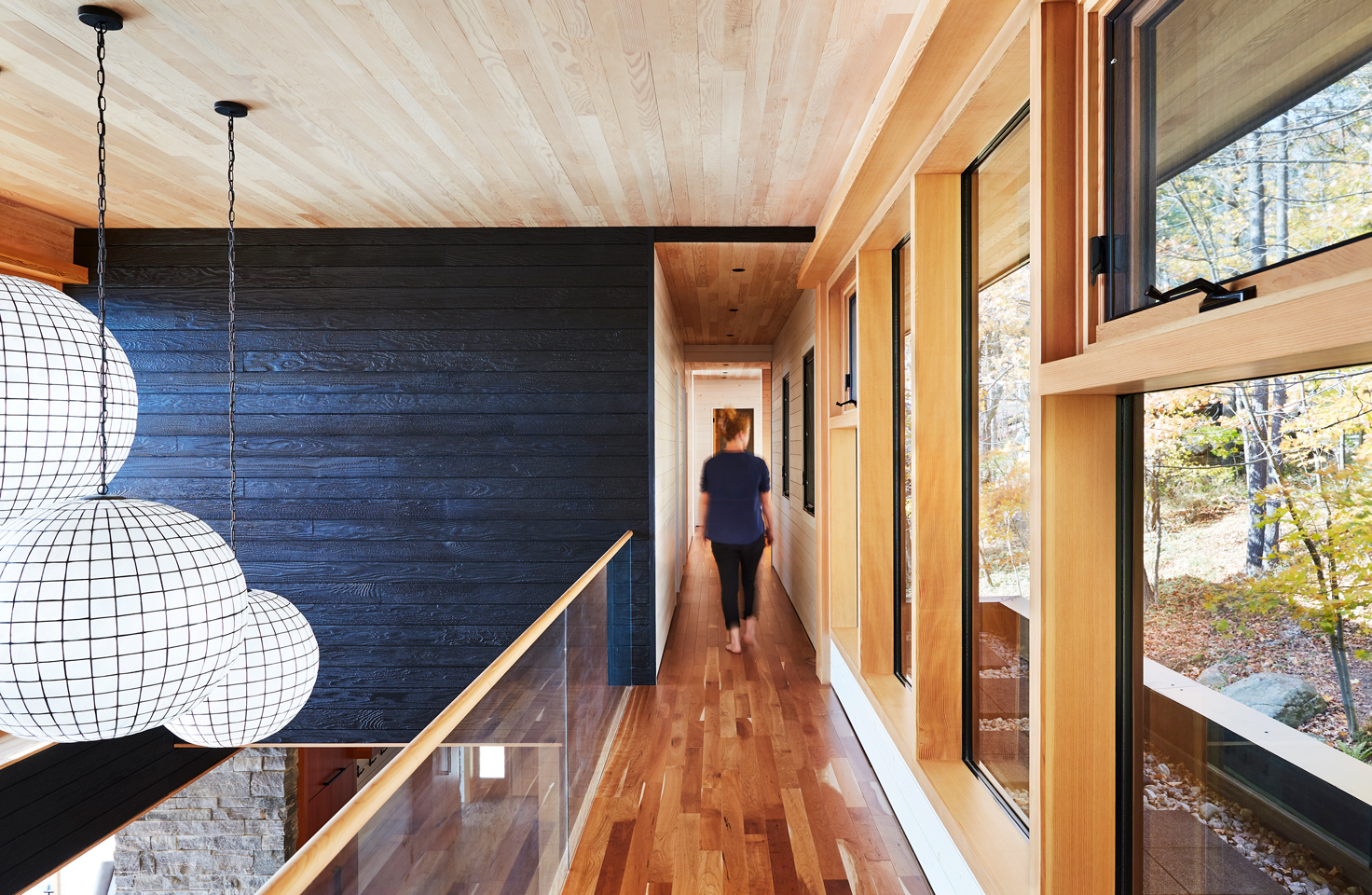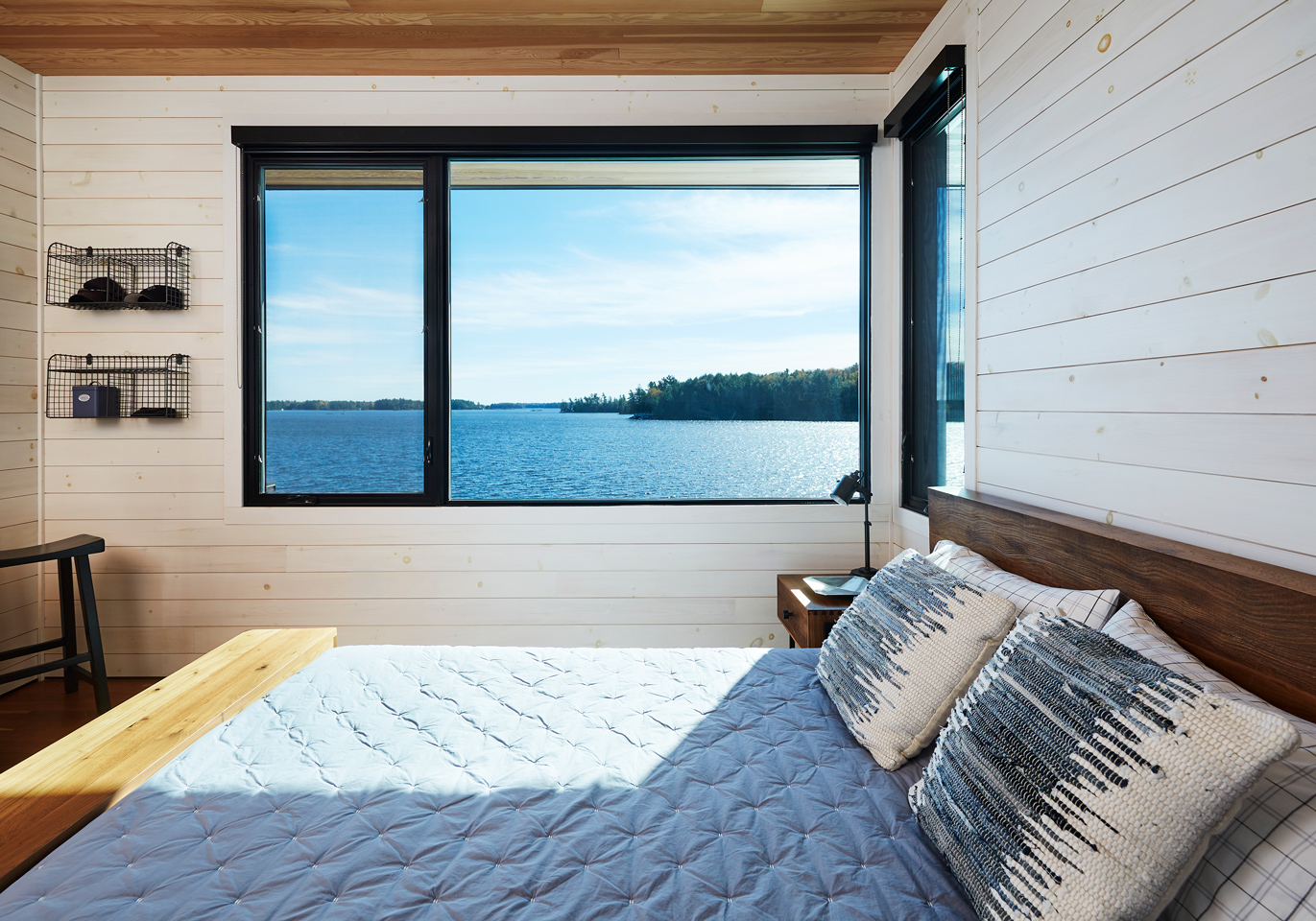 For this Lake Muskoka project, known as the Scarcliffe Cottage, the clients initially approached the firm with an interest in locating a fairly large piece of property with generous waterfrontage on either Lake Rosseau or Lake Joseph. The region, which is located roughly 200 kilometers north of Toronto and east of Georgian Bay, is embedded within the District of Muskoka.
It is a landscape defined by rock formations, glacial-carved lakes and waterways, and transitional coniferous and deciduous forests, where gneiss, granite, and metamorphic rock meet towering pines, evergreens, and hardwood species like basswood, red maple, beech, white oak, and yellow birch. Muskoka also contains roughly 1,600 lakes within its regional footprint, the largest and most well-known of them being the interconnected waterways of Lake Joseph, Lake Rosseau, and Lake Muskoka.
"The clients were looking for a building lot with fairly big frontage and big acreage on Lake Rosseau and Lake Joseph and this property came up on Lake Muskoka with fairly limited frontage, limited acreage, and an existing building on it, which was an odd collection of renovations and additions done probably over the span of 100 years. The existing cottage predated zoning bylaws by a century and so the existing cottage was literally right on the water," Smith said.
"In fact, it had a dry boathouse that actually cantilevered out over the water so it was about as close to the water as you could possibly get, and the site kind of ski-jumped up behind it," Smith added.
Though the site itself only provided 139 feet of frontage and presented rather challenging, steeply sloping terrain across its 0.7 acres, the existing cottage had been located on the small blunt point of the property offering spectacular views of Lake Muskoka to the south. The site also featured a marine railway and an expansive dock that covered much of the shoreline in addition to the gray-and-white cottage that had been built in roughly five stages with its earliest structures dating back to the early 1900s. When analysis revealed the cottage had deteriorating foundations, it presented a unique opportunity to work with the Planning Staff at the Township of Muskoka Lakes to rebuild at the water's edge since the structure predated Muskoka Zoning Bylaws. It also presented the equal challenge of working a five-bedroom, modern structure within the dimensional envelope of the old cottage as well as minimizing its presence along the shoreline.
"There was no question the cottage was coming down. It had several cosmetic renovations, but substantially it wasn't winterized and the foundations were everything from concrete blocks to tree stumps. But then we had a pretty big footprint right on the water and somehow had to try to make it disappear, which is something we always try to do. We always want our cottage projects to just quietly retire into the woods. The previous cottage was a landmark you could see from kilometers away," Smith said.
"It was going, okay, we are putting a pretty big building right on the water, how do we mass it, how do we bring the material palette into it so we can really quiet it down and let it recede as much as possible into the landscape?" Smith added.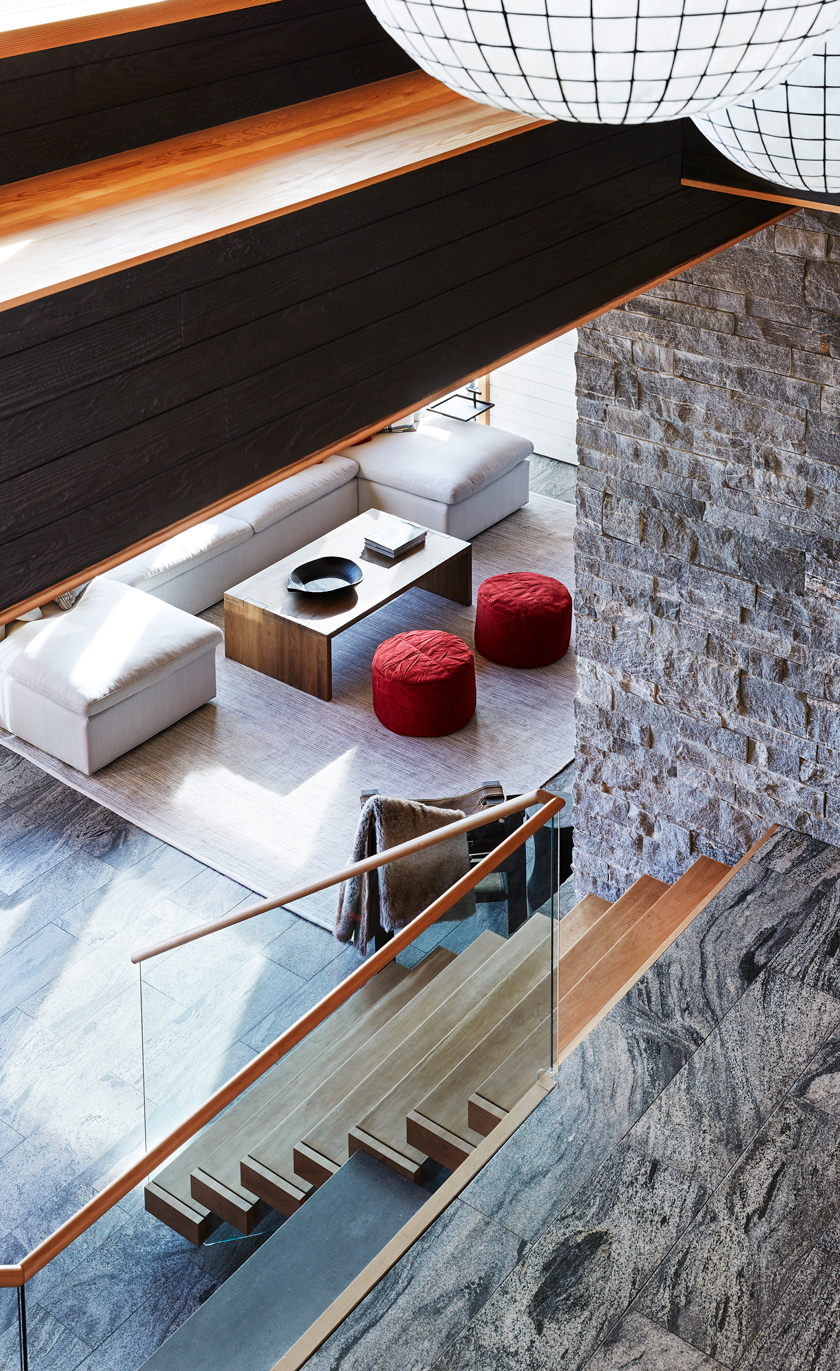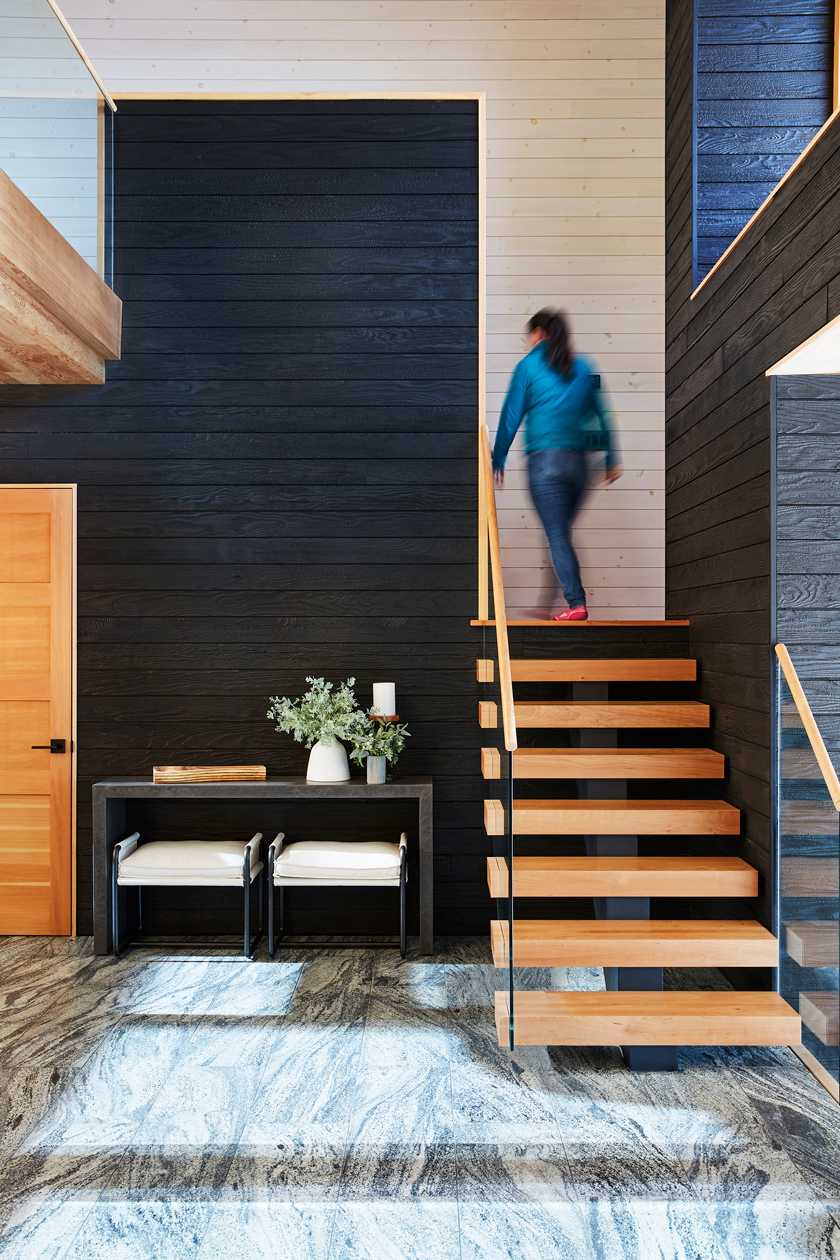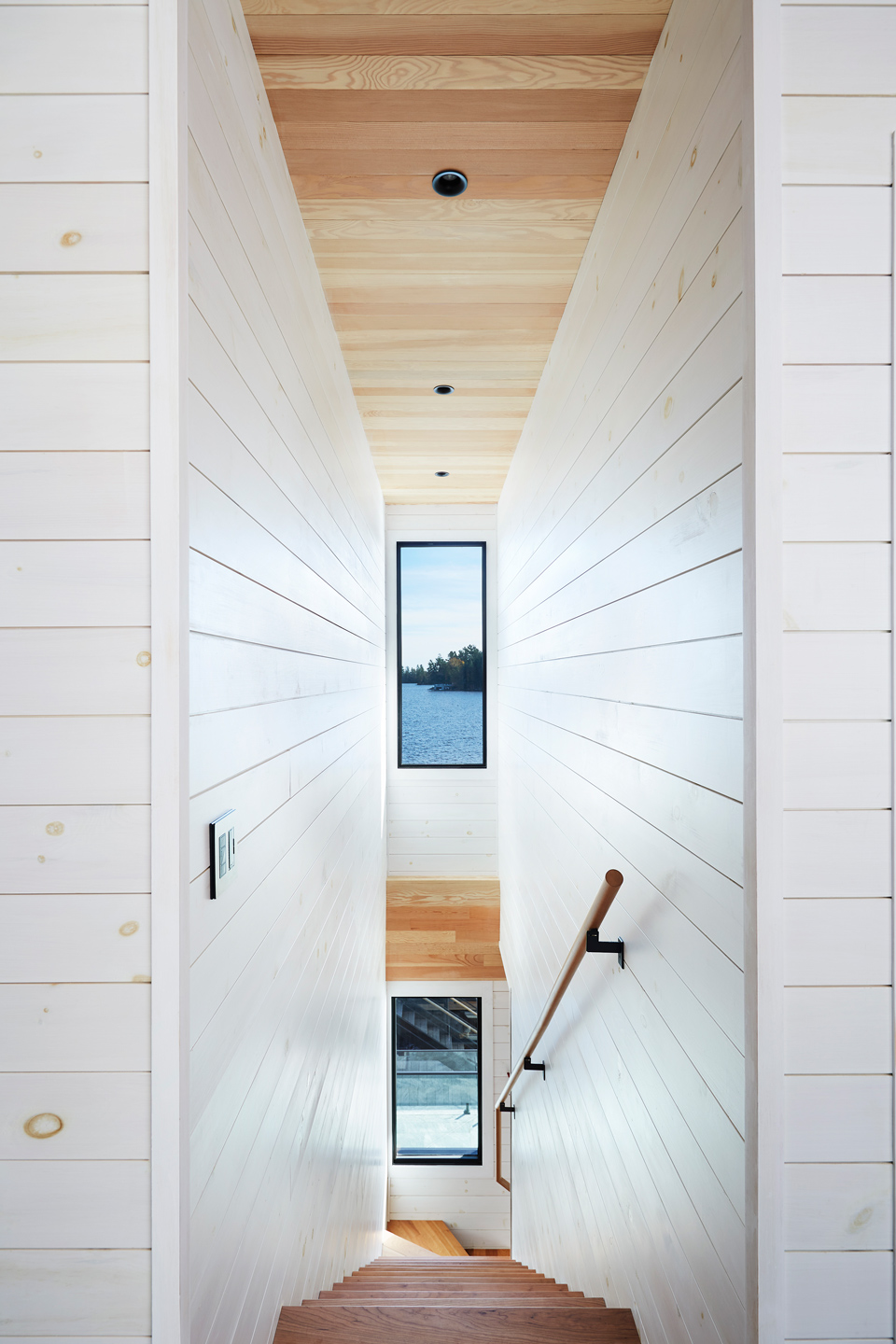 The solution was to leverage a series of volumes set intentionally into the elevation with a material palette that subsides into the landscape. Featuring an exterior composition of gray granite, shou sugi ban black siding, and burgundy phenolic panels, the split-level residence projects the main level forward, while stepping the second level up the hill, revealing all four levels of its cascading flat rooflines in profile. Even the boathouse, which repositioned the boat slip as a drive-through design behind the structure complete with a pedestrian bridge linking the main dock to shore, compliments the cottage massing with its sloping roofline back toward the land. Smith noted the manner in which the building recedes into the landscape is one of the things he's most proud of, despite its prominent setting.
"The biggest mistake architects make that aren't familiar with working in a cottage landscape is that their first instinct is to try to make the site flat so they can put their flat building on it. You hear about people blasting in Muskoka, where they are actually cutting out the rocks so they can make a nice flat spot to put a cottage. I have never blasted a site in my career and I never will," Smith said.
"There are so many ways to work with a natural site and ultimately, apart from the fact that we are already using in most instances concrete foundations, I like to say that my buildings could be removed from the site and the site would eventually restore itself so you never knew a building was there. If you blast a big hole in the rock, you are never going to achieve that," Smith added.
Though in this particular case the design had to fit within the existing footprint that lined up parallel to the water's edge, Smith noted the team will often rotate buildings 45 degrees to the shoreline to take advantage of a particular view, solar orientation, or to address climatic challenges like extreme temperature swings, storm movement, and prevailing winds. It is about trying to figure out where a three-dimensional building is in relation to the natural topography of the site and its larger environmental context, while recognizing in most instances, like on Lake Muskoka, the sites slope dramatically down to the water. And by staggering the cottage up the hill, there is a sense of procession created as one arrives into the building, through the interior spaces and its six major level changes, down to the water.
"There is always this sense of, whether you are arriving or whether you are in the cottage, you are always moving down toward the water. It is not just a physical thing, but your eye is always being led down to the water," Smith said.
"With the footprint being so close to the water, what we tried to do was to mass the building so that we started with the boathouse—you will notice that its roof slopes in the same direction as the waterfront—and then as soon as we are into the building itself, we've got this broad, granite pedestal that grounds the building," Smith added.
From there, a main level stretches across the site featuring a screened porch, kitchen, living, and dining room spaces that open out toward the water. The massing of the cottage then "steps up" the site to where the bunkie, which is attached to the rest of the structure by the second floor as it moves over the top of the breezeway, and several service rooms, like laundry and mechanical, are located. The structure then "steps up" again to where the primary suite is positioned above the dining and living spaces, and finally to the second level. Smith noted it gives people the ability to define their own space within the cottage, while still presenting itself as a holistic image of a unified structure.
"We are pushing those masses into the hill, so if you were to draw a line down the volumes of the cottage, it is mimicking the slope of the natural site. Even though it is a big building, it really helps to reduce it in terms of impact. It is not this structure that is looming over top of the waterfront. It sits in and looks like part of the landscape," Smith said.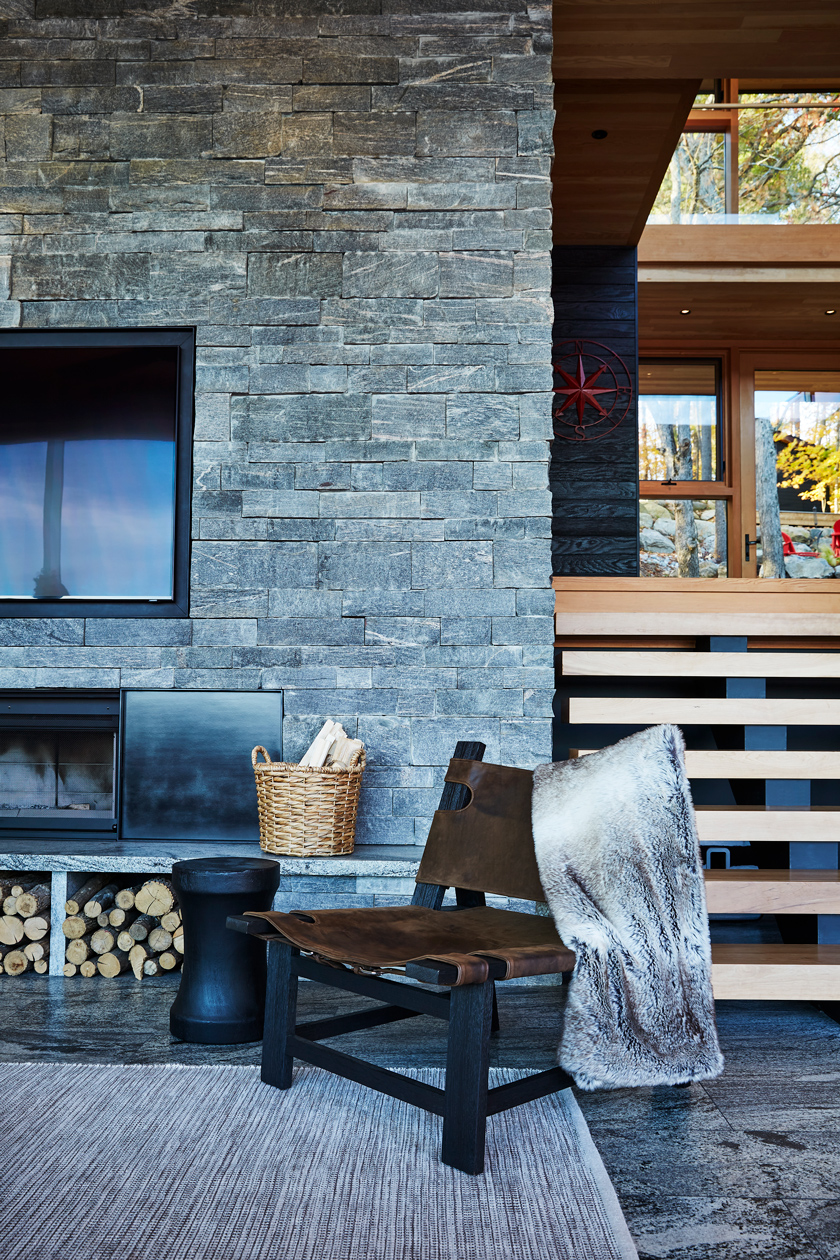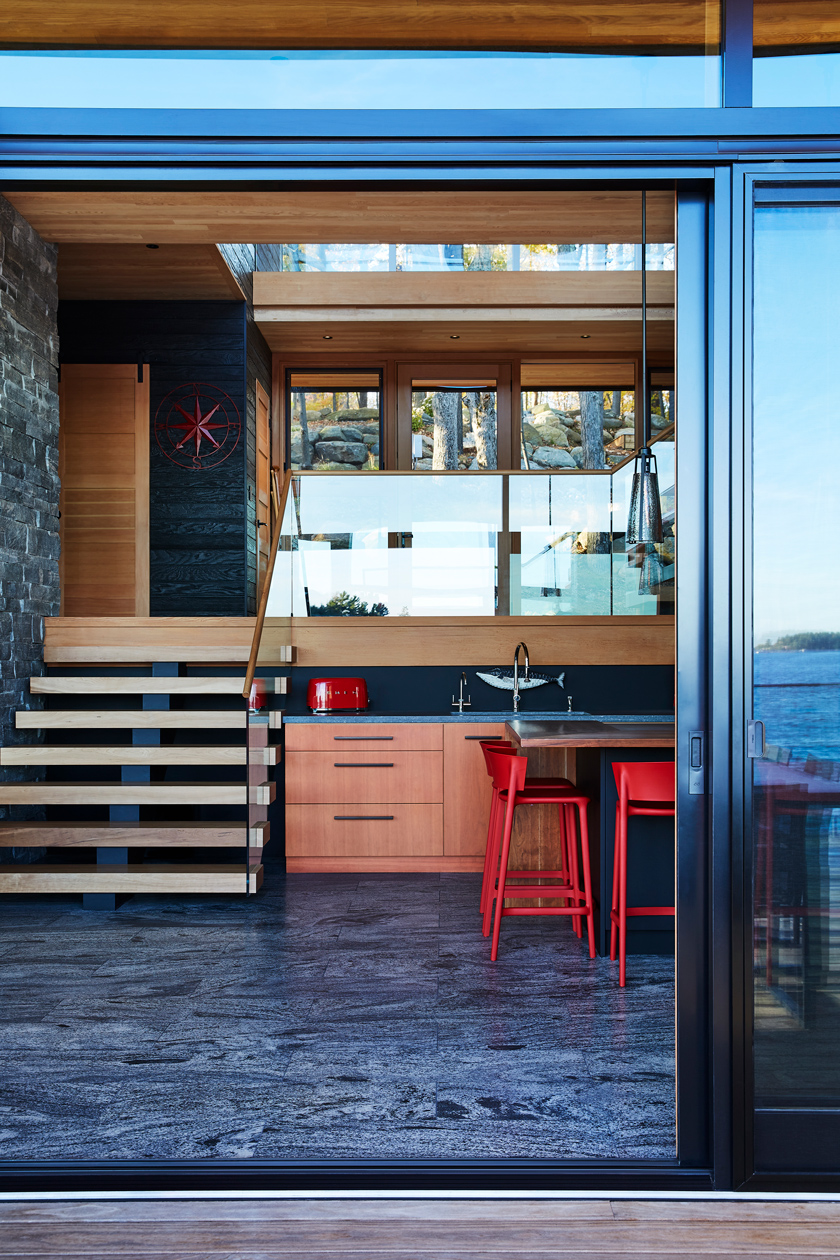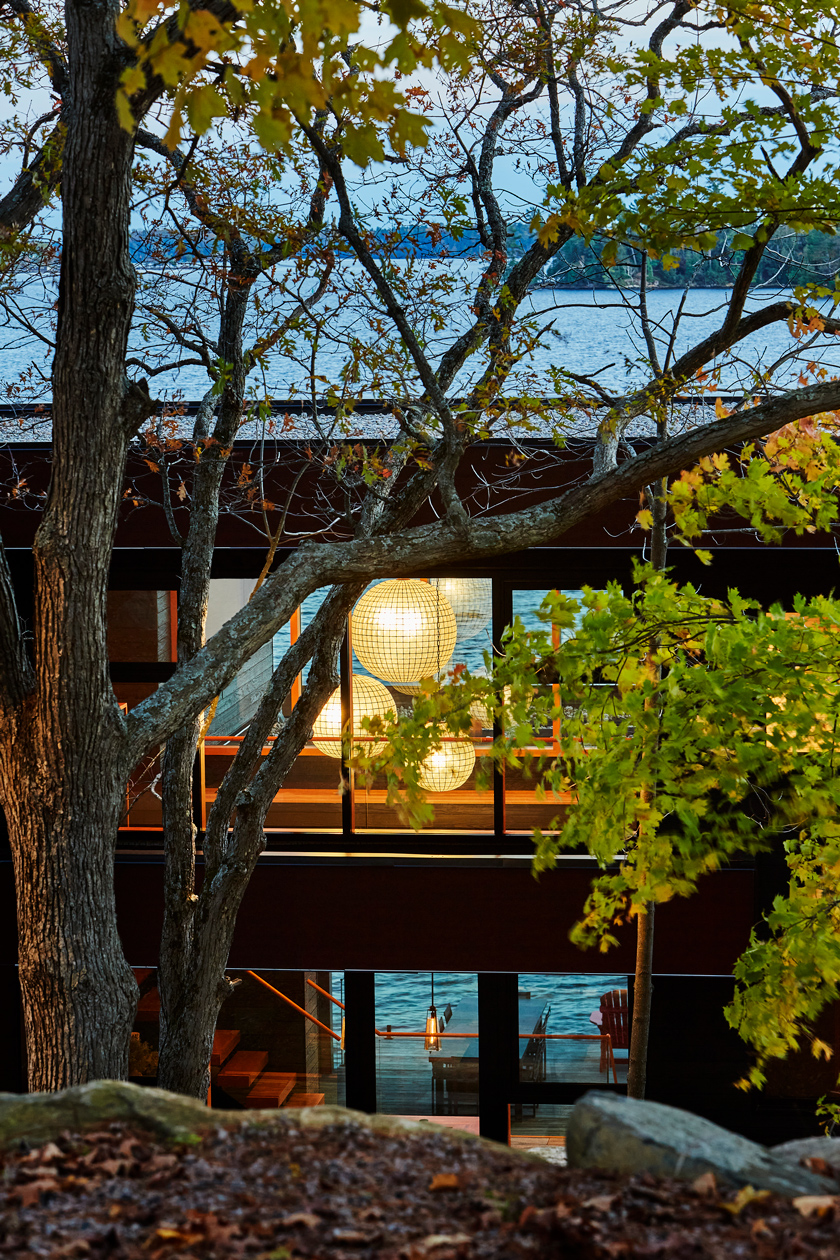 Smith also noted the programming of cottages become quite complex since they tend to be multi-generational structures and the team approaches each project by really looking at the family's long-term goals, understanding spaces are often repurposed as needs change, how the next generation might utilize the structure, and being intentional about materiality.
"Materiality is an interesting one. I come from the generation that when you went up to Muskoka past Thanksgiving or pre-Victoria Day weekend, nobody was there. I come from those old school cottages that were mostly seasonal and not winterized. There is a different materiality and a design technique when you are not designing for people who need to be in the building in the winter or even when it is single-digit temperatures in the spring or fall," Smith said.
"There is an architectural design for seasonal cottages where materials like drywall—forget it. You can't even do it, because over the course of a decade freeze-thaw cycle it will just turn to mush. The materiality is about durability and I like materials that develop a patina so over time they should look better as they weather. We are always very sensitive to that," Smith added.
Smith noted recently, cottage design has evolved into year-round destinations as rising costs, access to high-speed internet, and the pandemic have shifted client goals for their cottages to be able to weather all four seasons. There has been an embrace of natural, organic materials with a less formal vernacular that result in harmonious interiors and relaxing experiences. In this cottage, the clients wanted a material palette that blurred the traditional boundaries of the indoor-outdoor experience, utilizing white-stained pine wall paneling throughout the bedrooms, hallways, and common spaces, and Douglas fir in all of the ceilings. There is also the charred, black siding that runs inside to outside and granite patios that mimic the granite in the living spaces—and the Fundermax phenolic panels in a deep burgundy serve as a dynamic color dialogue between it and the natural landscape.
Overall, it is an architectural-landscape dialogue that is intended to be a subtle, harmonious one, where its massing didn't aggravate the noncompliance of the old building and improved upon the old. Its distinction is in its materiality and its performance, its sense of procession and physical pull toward the water, and its ability to blend in with its landscape. There is a purpose—and repurpose—to space and an emotive journey that integrates passive, sustainable strategies so the structure responds as much to its environment as the person experiencing it.
"These clients were really good to work with," Smith said. "I'm a Master [Builder]. I'm always trying to create spaces that even when they are not for me, they are for me. We are always looking for spaces that ultimately people want to be in and spaces where people are inspired and amazed."
First published in Great Lakes By Design: Crafted Lodging, 2023
Text: R.J. Weick
Photography: Naomi Finlay Photography