Principal Architect, Owner
North House Architects | Grand Haven, Michigan
Buildings, like stories, often reflect the world in which they are built. It is in the thoughtful material and form, and the intentional organization of space and position in landscape that physical narratives are crafted, leaving behind symbols and record of the many who once used it—from public libraries and commercial corridors that speak to cultural norms, to hospitality venues and residential retreats that lend insight into social life. And for Joseph Filippelli, AIA, principal architect and owner of North House Architects in Grand Haven, Michigan, the design of those residential spaces and places is a careful consideration of both the poetic and the rational.
"I think design is important, because it balances aesthetics with performance, form and function, and sometimes one of those things may win, but they are always considered. And as a designer, I take that very seriously, where I walk right down the middle of that line," Filippelli said.
"I always talk about the balance, where the work that we are trying to pursue is attempting to strike a balance between the poetic and the rational, and sometimes poetic is irrational and sometimes being rational isn't very poetic, but knowing through experience and knowing when to push and pull that is the beauty of design. I think if you don't know how to walk that line and you let one of those aspects pull too hard, you have failed," Filippelli added.
North House Architects is a full-service design firm specializing in modern architecture that is contextual for the geographic and architectural landscape of the Great Lakes region. The boutique studio strives to deliver unique solutions that not only capture the aspirations of their clients and potential of each site, but also are designed to endure for generations. Founded in 2020 by Filippelli, North House Architects primarily focuses on residential architecture and embraces a studio-wide ethos that considers expression of structure, natural materials, and sensitivity toward landscape to create inspiring and inviting environments for clients.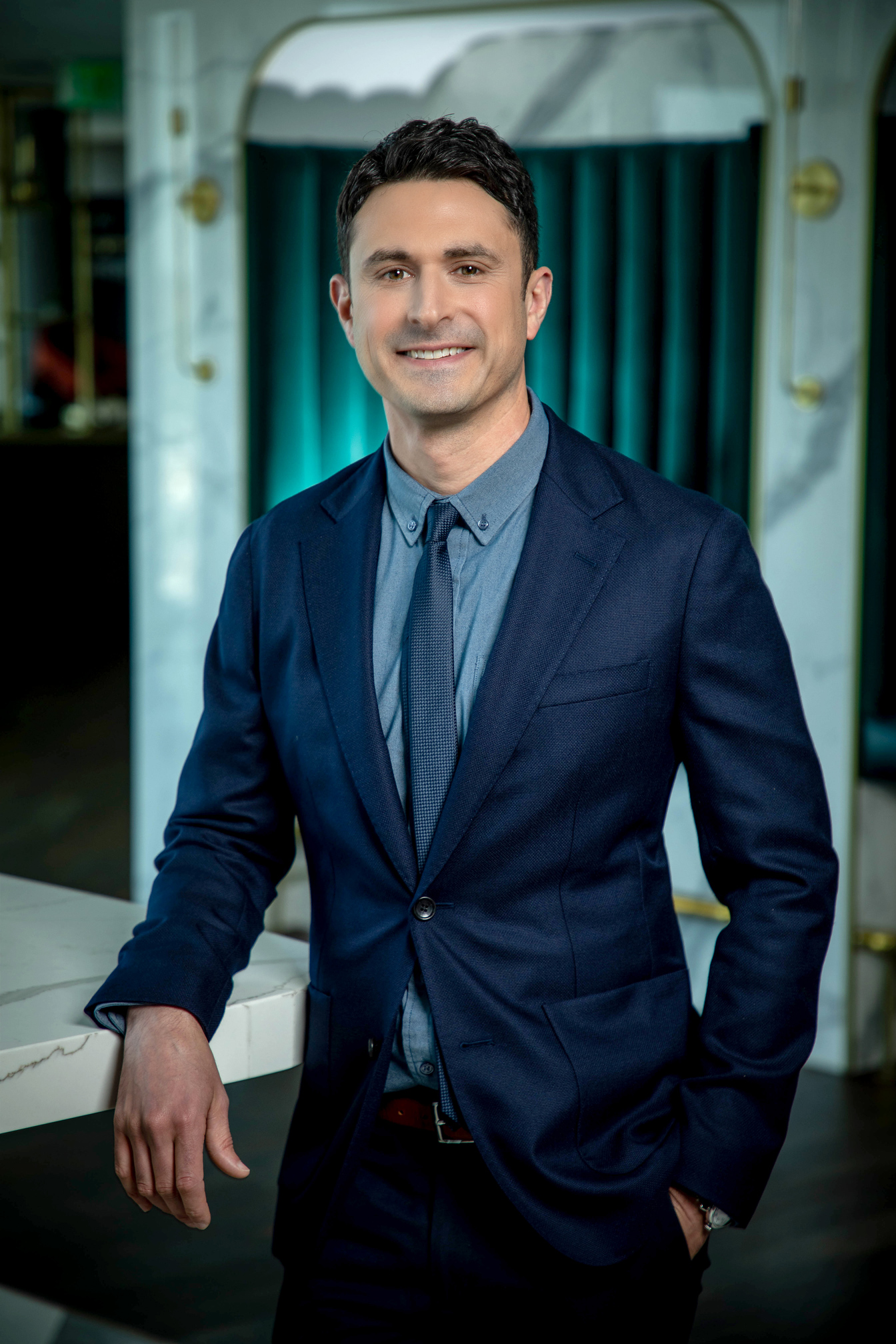 "We are doing work that I feel like embraces this context and that it can only live here. It is work that is truly unique to this region, it is not just taking a house out of Seattle or California and plopping it in Michigan and just making it work. Although my past experiences have a tremendous influence on the way I approach architecture, what I'm trying to pursue is true Michigan, modern architecture. I've realized that is a tall order, but we are using materials that age well and that trades here are familiar with while being respectful of the context," Filippelli said.
"We've been operational under the North House name for almost three years and we are up to three people now including myself and we are doing good. These projects take a long time. Projects I started early in the onset of this are finally working their way through construction and should be wrapped up this winter, but we have a lot of good ones on the boards and the future is bright," Filippelli added.
Prior to launching his own firm and honing his craft at other studios in cities like Los Angeles, Ann Arbor, and Seattle, Filippelli initially discovered an affinity for arts and engineering at a young age. He noted his love of drawing, painting, and watercolor, paired with an interest in understanding how things were made, ultimately translated well to architecture later on in his life on both a creative and technical side.
"I used to take apart my dad's fishing reels when I was like four- or five-years-old and try to see if I could get them back together. Sometimes I could and sometimes I couldn't, but I've always had that artistic side balanced with more of an engineering or mechanical type of brain," Filippelli said.
"In trying to figure out where that would be applicable, I gravitated toward shop class in high school, took hand-drafting classes in high school, and did really well at those things. I went to a pretty rural high school, but we had a tremendously advanced industrial technology program, so we were both designing and building furniture. I was really excited about that and did well at it," Filippelli added.
Though he briefly considered a pathway into graphic design, Filippelli then went on to study architecture and construction technology at the Baker College of Flint, which focused more on the technical components and drafting side of the industry. It was during an internship in Flushing, Michigan, however, that he met an architect who completely changed his way of thinking about the creativity of the field.
"She was exactly the type of architect I wanted to be. She balanced that creative side with the engineering side and she was really good at both. She was telling me I was going to the wrong school. 'You need to go to a school that gives you that balance and kind of pushes you,'" Filippelli said. "It completely changed my outlook on the profession and introduced me to a great network of people. It really solidified in my mind that this is the right thing for me."
Filippelli then went on to attend the University of Michigan's Taubman College in Ann Arbor, Michigan where he earned a Master of Architecture degree while working at a number of studios as a project assistant and project designer between semesters. He noted by the time he completed his academic career he understood the type of firm that would be an ideal fit for him based on his love of the outdoors, the type of architecture he wanted to pursue, and his interest in working in an urban environment—and looked to Olson Kundig Architects of Seattle, Washington to hone his craft.
"Olson Kundig would refer to us as generalist architects and what they meant by that is they wanted you to be not just okay, but to excel at every aspect of design and construction. They wanted you to be able to be in the early client meeting where you are doing scribbles onsite, getting the clients excited about the project, dreaming about what it can be, all the way down to where you are filling out the punch list for a flashing detail done incorrectly and you are excited about all of those things from start to finish," Filippelli said.
"It wasn't a firm where we had designers, detailers, and construction administration staff in separate camps. It wasn't siloed in that way. You had to wear all those hats and you had to wear them really well," Filippelli added.
While in Seattle, Filippelli served as project architect at Olson Kundig—a collaborative design practice with deep roots in the Pacific Northwest and whose work spans both built and natural landscapes—and after five years, looked to move back to Michigan. Filippelli said while he and his wife loved Seattle, the city had changed tremendously in the time they had been there and with a growing family, viewed the move as an opportunity to apply what he had learned on the West Coast to the Great Lakes.
"[I wanted to] start something from scratch outside the typical architectural centers rather than try to be a small fish in a big pond like Seattle and see what kind of impact I could make through more of a homecoming to the Midwest. I worked at a local firm to get my feet wet, to meet builders, and network and once I had the opportunity to start this, I did," Filippelli said.
"I also think it is difficult to generalize the entire state or even the Midwest region. I think the work that we are trying to do here is really about West and Northern Michigan more so than anything and I think the reason why the work I did out in the Pacific Northwest translates so well is because there are so many similarities," Filippelli added.
While there may not be the mountain ranges and the oceanic theater inherent to the West Coast, it is in the mentality of outdoor culture, the desire to have a connection to the outdoors, and the materiality used in residential architecture that Filippelli noted a correlation between the Great Lakes and Pacific Northwest regions. In contextualizing the warm, modern architectural style, he noted it is about using natural, honest materials, and a design that embraces its landscape.
"I think less about these things as objects and more as viewing apparatuses to embrace aspects of the site. We are working on a project right now that is massive and perched up on the lakeshore, but we are also doing a 600-square-foot cabin in the middle of the woods down in Glenn, Michigan. Those are such wildly differently typologies, but that is what is exciting. I love that," Filippelli said.
"I'm not as concerned about size or budget right now, it is the work that is going to explore, grow, and embrace the things that we do best, and for that reason, I'm trying to keep the office small. We take on a limited amount of work so we can give each project the full focus and attention it deserves. I'm not trying to create a production house where we are just cranking these things out. I want each one to have enough time to mature and marinate in the design process to be as good as it can be," Filippelli added.
Though he noted regional constraints in terms of some of the restrictions in the region—in relation to buildable landscape, protected areas, construction industry, building costs—there is also an opportunity to embrace technology to a certain degree to help streamline aspects of the construction process, especially as a generation of passion-driven craftspeople look to retire. Filippelli said he is hopeful as architects and builders continue to build collaborative partnership in the region, they will be able to leverage technical expertise and technology to make it easier to build well-crafted homes that are easier and less expensive to construct. And for him, the opportunity to visit the site in-person along with his team is not only one of the most rewarding aspects of his job, but also helps to visualize the end goal and understand proportions and how it feels to actually exist in the built space.
"Seeing the work in the field under construction, being in it, experiencing it, talking to the builder, talking to the trades, and seeing how excited the clients are: being in it is so recharging. If we just make beautiful renderings of speculative work for our website, I won't feel satisfied. I want to build things," Filippelli said.
"That is one of the reasons why I do like residential work, because in the grand scheme of things, it is much more fluid than commercial projects. Even though we are designing these things for a year and it takes a year or two to build them, that is still pretty quick in the grand scheme of things. You are able to work through multiple projects faster, you are able to learn lessons faster, and that gives me that recharge that I need," Filippelli added.
It is also building the boutique firm itself that inspires him day in and day out, noting the entrepreneurial challenge is one that excites him as he continues to foster a tight-knit group of designers and architects who share a similar vision as him. For him, it is about bringing new team members with their own distinctive perspective to the collaborative table to "make something truly unique beyond what [he is] capable of doing" alone.
"That is not just employees, but that is also the type of builders I want to work with, the type of subcontractors who are brought onto projects. I'm really interested in the team aspect of these projects and understanding and learning from other people, and at the end of the day, the best idea wins. I don't care who it comes from," Filippelli said.
He also recognizes material consumption and material type as challenges facing the industry, and on a more personal level, the nuances of navigating the selection process to ensure client, contractor, and design team goals are aligned in ethos, process, and aesthetic. While the process is often a demanding one and the team has uncomfortable conversations about money and budget early on in the process, Filippelli noted at the end of the day, a successful project is one that not only achieves client satisfaction in both outcome and experience, but also is respectful to the site, maintains a good relationship with the overall build team, and is financially viable.
"I know we are in the service industry—we are doing this for other people—but architecture is a weird profession. You are an artist, you are an engineer, you are thinking about materials and the way things go together, you are balancing all of these things, but you are also emotionally invested," Filippelli said.
"What is the overall standing of that? Are we still in good faith? Did we find ways to navigate this and work well as a team? That is an attribute of a successful project. And then, selfishly, am I proud of this project? Am I happy with the outcome? Do I like the way that it looks? Do I like the way that it feels? Do I like the way that we framed the views onsite? That is a huge metric for success," Filippelli added.
First published in Great Lakes By Design: Architectonics, 2022
Text: R.J. Weick
Photography: (profile) M-Buck Studio LLC; (gallery) North House Architects
Select North House Architects projects:
This slideshow requires JavaScript.