On the coast of Lake Michigan in Illinois, this contemporary, waterfront home is an artful composition of geometric form, glass, and stone designed to intentionally dissolve traditional boundaries to its shoreline landscape. There is a curated depth to its experience, from entry sequence to lakefront facades providing unobstructed, albeit layered, views outward to the lake. Colors take on a thematic thread in its interior like in the playful use of shower tiles, furnishings, and abstract geometry of a stained-glass window. And there are moments of delight within as light serves definitive inspiration such as in the skylit conservatory-like sunroom above the garage.
Its muse also quietly speaks of late modernist principles and of the postmodern—a movement whose definition is often as elusive as it was in constant evolution during its prominence. The combination blends openness and structural expression with a pluralism and uniqueness, serving as a personalized artifact reflective of its owners. Designed by the Evanston-based firm of Morgante Wilson Architects Ltd. for clients with an affinity for art and conversation, this home offers a transformational space for them to live and to entertain.
"We firmly believe design can change your life. People are organized, but they often don't have spaces they can be organized in. People don't realize how much time their brain is occupied with how their current space often doesn't function. But if it is well-designed, it clears your brain out to then be able to enjoy life and live in an environment that is beautiful and calming to your psyche. We 100 percent believe that design, from floor plans and finishes to lighting and furniture textures, work to enhance your life. We are big on that," said Fred Wilson, AIA, founding partner of Morgante Wilson Architects.
"We just think design is transformative in someone's life and this home is exactly that. The clients lived in a very typical, dark bungalow that you didn't realize one room flowed into another, and they are very artistic, very cultured, and they entertain a lot. They are into very interesting conversations and I think this house is now a place for them to really thrive in their lives," Wilson added.
Morgante Wilson Architects is an award-winning architecture firm that draws inspiration from its clients. Since 1987, the firm has embraced a philosophy that places the client as central to a collaborative process, listening carefully to ideas, preferences, and concerns to ultimately deliver homes that integrate livability, a sense of ease, and an organization of space that welcomes and inspires. For the past 35 years, the firm has developed a portfolio of residential and commercial work in a variety of styles in new construction and renovation across architecture, interior design, and custom furniture work.
"This home is a good example of this phase we are in where we are bringing the outside into the home, where the glass is floor-to-ceiling, and it is a very comfortable, easily flowing home. It is a much more open plan and there is not a formal living and dining room; it is all about entertaining and being with your family," Wilson said. "Our philosophy is that we can really move in any direction. We've done very high-end formal homes and we've done very casual, and the reality of it is we are very good listeners. We really listen to the homeowner as part of our team and determining what they are actually looking for and then we bring the expertise to develop it. The owners are the variable."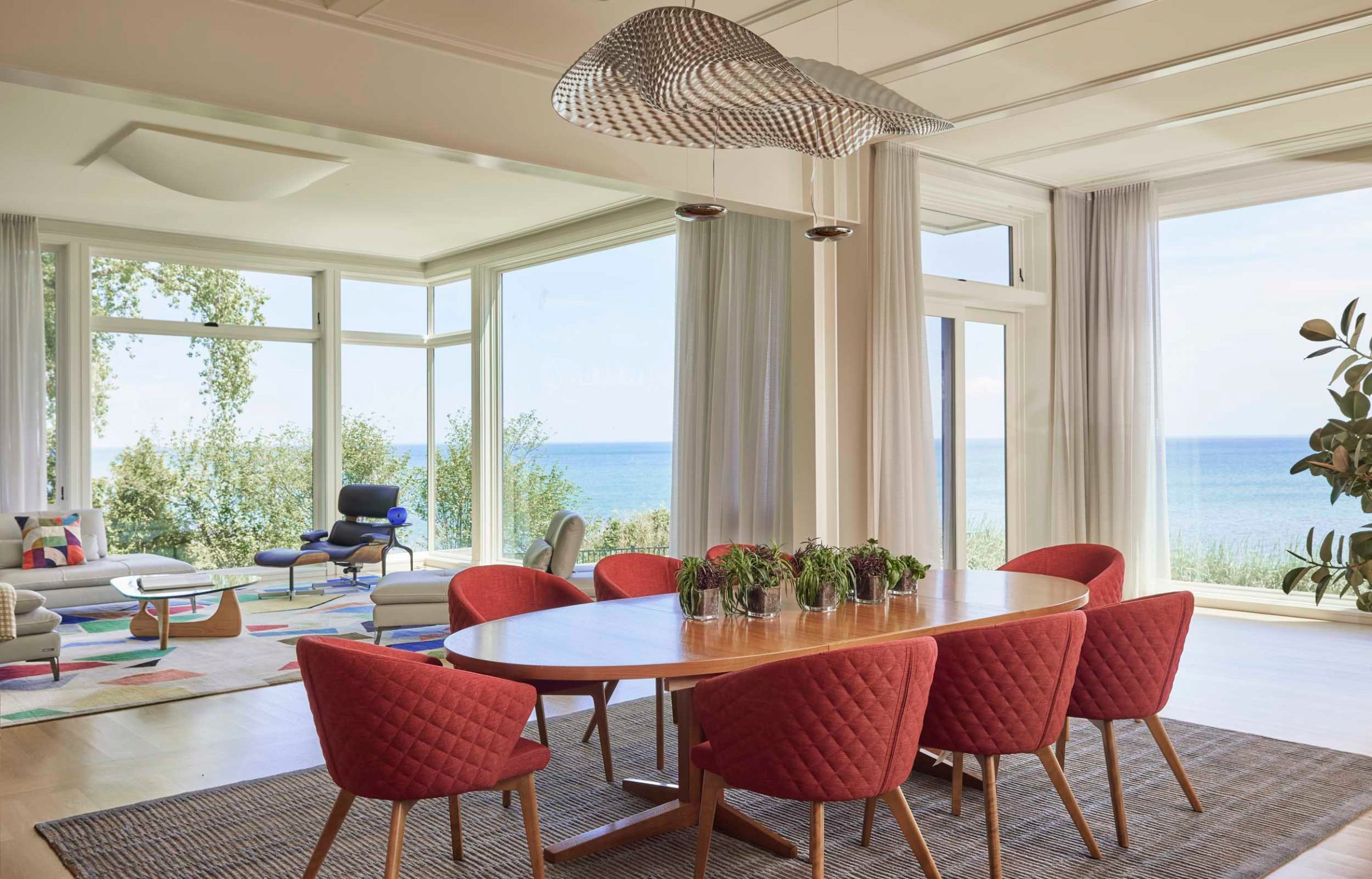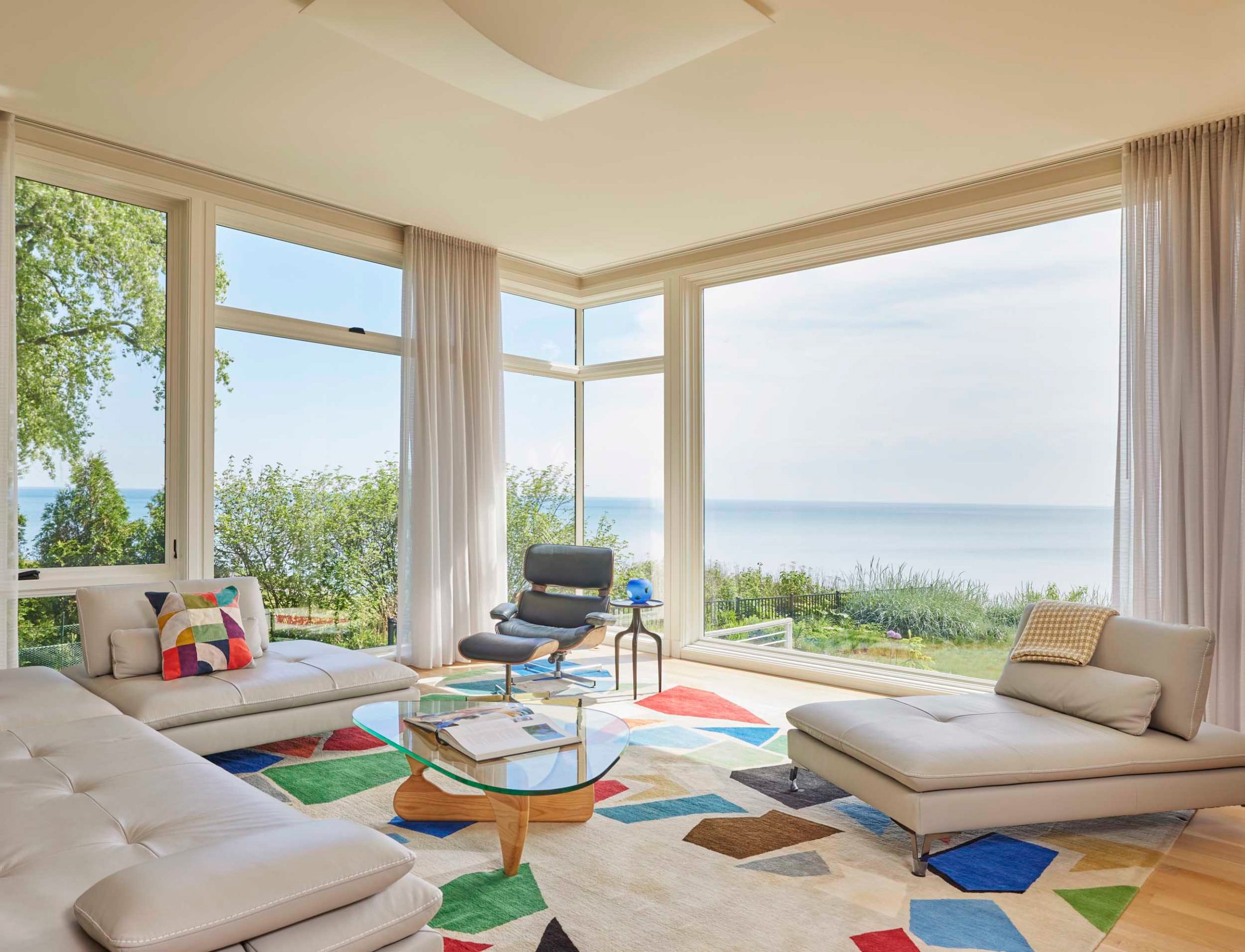 Elissa Morgante, AIA, founding partner of Morgante Wilson Architects, also noted the firm's ability to provide architectural, interior design, and custom furniture work has enhanced the overall result and experience for their clients within their home. The firm's interior design arm, which launched roughly 15 years ago, was an intuitive move to help enrich their work and integrate details like how circulation, lighting, and furniture interacts with the architecture and the overall design.
"We start with the architecture, which is establishing the circulation, the views, and the functionality of the house, and there is usually a big idea that is organizing the architecture of it. Then, we are able to layer furniture and finishes into the house that will enhance the client's lifestyle. As we get to know them, we can then start to suggest and implement interior design ideas that really facilitate their lifestyle," Morgante said.
"You have to be able to ask the right questions and then listen to the answer to figure out how you are going to get to that point. Most of the houses we do are 20- to 30-year homes or family legacy homes that are going to be passed down. It is important to make the space friendly and be able to accommodate the group when they want to come together, but also enable people to have their own space so that it is a pleasurable experience," Morgante added.
It is work that has highlighted the importance of scale and flexibility for clients, as well as privacy, as the home often evolves and adapts to its users throughout the years and, potentially, generations—like the designated guest entrance the team recently designed for another project. That particular entrance is also paired with an interior pocket door that can be used to close off the entire wing from the rest of the home.
The firm has also been involved with the Community Partners for Affordable Housing, or CPAH, providing financial and architectural services for over a decade, which led to the establishment of its Morgante Wilson Foundation in 2020. CPAH, a HUD-certified affordable housing nonprofit, has a thriving Community Land Trust, and as residents of Wilmette for nearly 30 years, Morgante Wilson Architects' founding partners wanted to help fill the financial gap, provide design and construction support, and leverage professional network in the affordable housing sector for northern suburban communities of Chicago.
"Design is inspirational. You don't necessarily know it is happening, but when you are in a beautiful space, whether it is a multi-million-dollar home or you are sitting on a quiet beach or you are in a really cool bathroom, there is something that happens to us emotionally that makes us happy," Morgante said.
"When you are not fighting with your space to live in it, because the best place to sit in a house doesn't have a window, or is sitting on top of a duct because nobody thought out the air conditioning and the heating, or nobody thought out how you might want to furnish it and plug a lamp in so you could read in the chair and so you're struggling with extension cords going around your house, it is a very emotional and visceral feeling when you get into a space that is well-designed," Morgante added.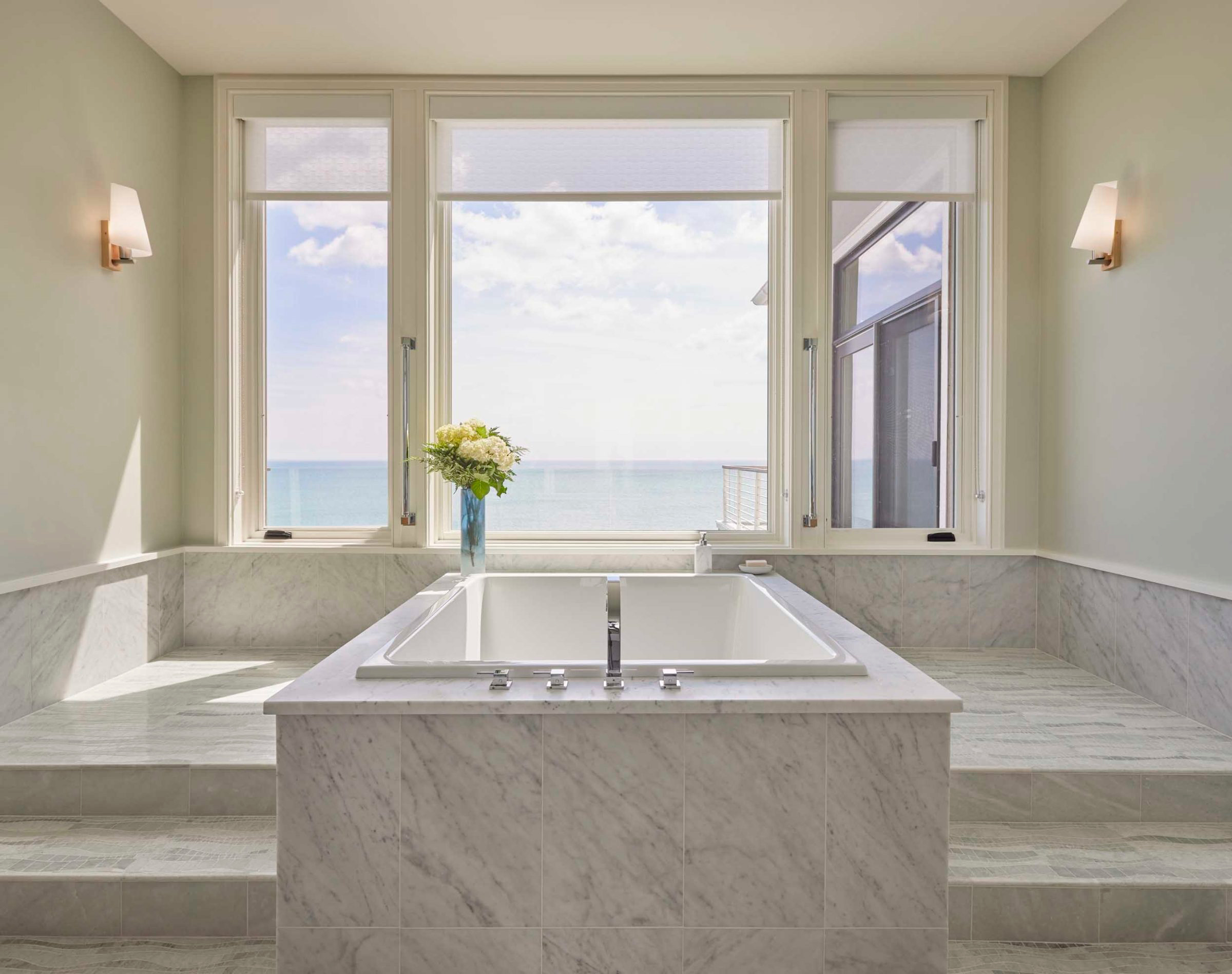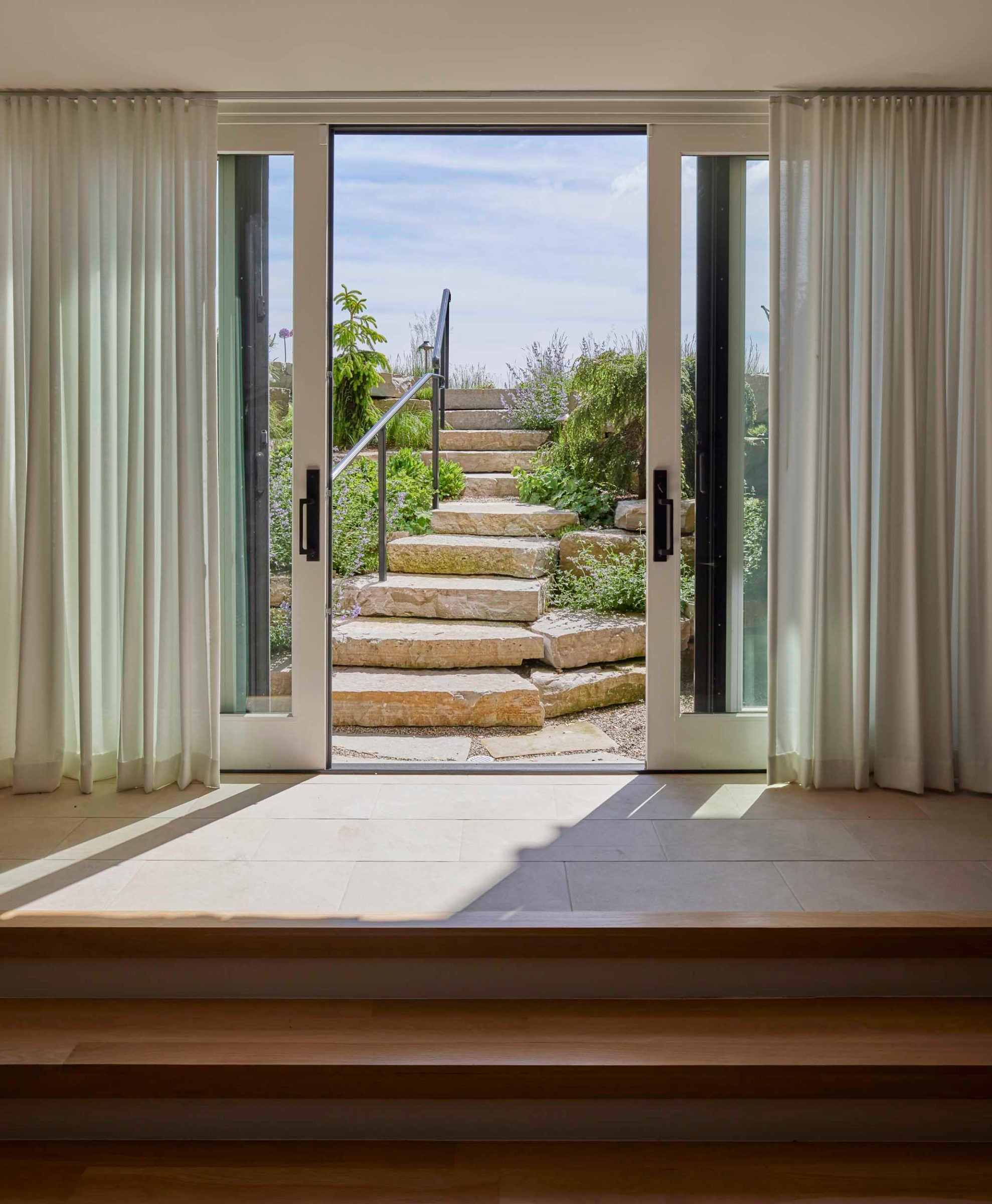 For the clients of this waterfront home, being on the lake was a major draw to this particular piece of property located on the western shores of Lake Michigan. Though the lot had an existing home on it when the clients acquired the site, as well as very tight buildable constraints at only 50 feet in width, it was the connection to nature itself that led the clients to fall in love with the property and its incredible view when presented with the opportunity to rebuild.
"I think being on the lake anywhere is magical. It changes. It is equally as beautiful in the winter with its ice sculptures and frozen tundra-looking beautiful elements of nature as it is in the summer when it is mellow, relaxing, and peaceful," Wilson said. "I don't think people could envision what kind of a house you could build on this, but then what happened was we unfortunately ran into horrible soil so we had to actually dig down 30 feet to put gravel into the soil to bring it back up for the bearing capacity."
Though navigating the soil challenges proved to be an interesting experience and process, Wilson said it was a successful one. With architecture and interiors by Morgante Wilson, construction by Jarzab Construction, and landscape design by Scott Byron & Co., today, the home sits on the building setback line toward the shore, capturing views to the north and south as well as eastward to create a very dynamic experience of the waterfront.
In response to its setting, the home intentionally features more contextualism from the street, affecting a quieter presence within its neighborhood before opening outward into a series of large windows on the lakeside. The windows, which Wilson referred to as a "Mondrian composition of glass"—in reference to Pieter Cornelis Mondriaan, or Piet Mondrian—ground the home into its landscape and give a layered perspective of garden in the foreground, shoreline in the midground, and the water and horizon beyond in the distance.
On the interior, the lake also served as the primary focus in terms of organization of space, drawing the environment, its colors, and light deep into the home. On the main floor, primary spaces like the family room, dining room, kitchen, and sun room have views of the lake, strengthening its relationship to its landscape. Other spaces, like the small library and stairs are positioned more centrally in the plan, while the primary bedroom, bathroom, and her office are located on the lakeside of the home on the second level. Morgante noted the clients, who are very gracious, casual entertainers with an affinity for cooking, were interested in having one main entertainment space where guests wouldn't have to stand on a lot of formality.
"Between the plan, which is completely open from one space to another, and then having the furnishings earthy and playful, you are immediately comfortable when you come into the house. It is a really easy space," Morgante said. "The clients really engaged in the design process. They were very focused on all the decisions that they were making regarding the function of the house, the finishes of the house, so that helps make it quite successful when you have a client who is engaged and shares the vision."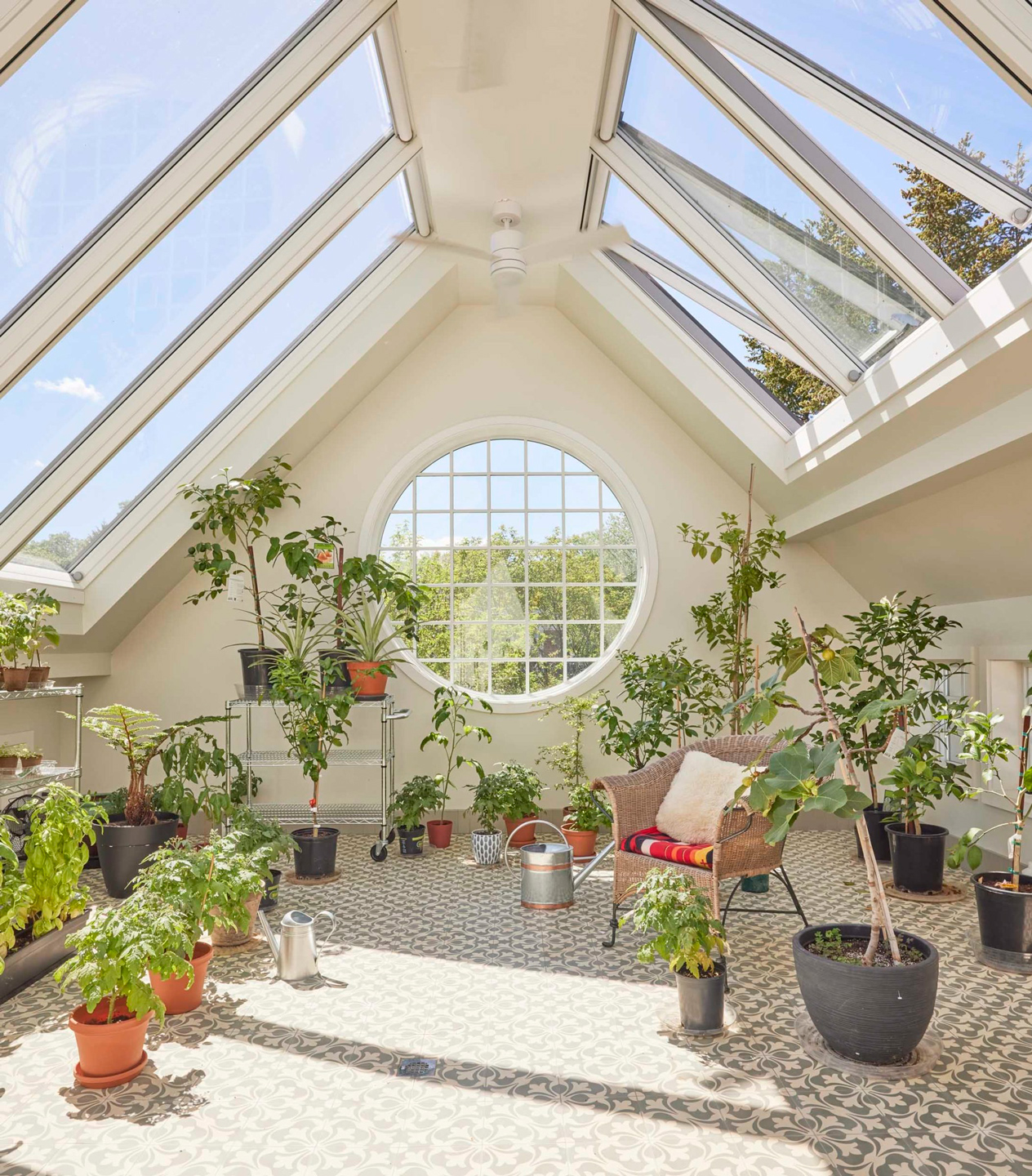 From a functional standpoint, the organization or flow of space at the moment of entry was another big discussion point between the design team and the clients. Morgante said one of the interesting things about working on the lakefront is figuring out how that sense of procession or entry reveal will unfold for both homeowners and guests, whether the whole experience will be revealed at the front door or revealed as one moves through the house.
"There are two sets of closets and we had those closets separated, pushed together, separated, and pushed together. It was down to the 11th hour on whether those closets were together and, ultimately, they are pushed together. There is a tiny little sneak view you can look through, a six-inch gap between those two cabinets, but you really do not see the lake. When you come up to the front door, there is a giant window and a beautiful front door and then you come in and you are in this very gracious foyer with a beautiful earthy stone tile and these big doors to take your coat and sit down," Morgante said.
"It is very welcoming and more textural, and then they can invite their guests around the corner into the kitchen or into the dining, living room space. I feel like that is an important decision, because it affects the sequence of emotions. You get in the house, you are saying hello, and then you come around the corner and it's like, 'wow, this is an amazing view, amazing architecture.' It is this controlled, very exciting experience as opposed to it feathering out because you've been standing at the front door and experiencing it all at the same time," Morgante added.
Morgante also noted that reveal and the fact that the clients were really engaged in the design process were really what helped make the project so successful. While light was a definitive component of the overall atmosphere of the home, driven by the architecture, the client, and the site, color also played an integral role in the look and feel of the home, like in the colorful tile design in his study bathroom that the client created along with the stained-glass work.
"The homeowner designed that piece of stained glass. He was a graphic designer and so he designed it, somebody else made it, but you can see that they both like a lot of color. They fell in love with the Roche Bobois Mah Jong sofa that is in that fireplace room off of the kitchen, so if you're in the kitchen and you're working at the sink, if you turn to the east, you are looking through that sunroom with that beautiful colorful sofa and if you look straight ahead, you are looking into the living room. In order to mesh it all together, we needed something that was as strong as the Mah Jong sofa, so it was important the sunroom didn't feel like an add-on piece that was different than the rest of the house," Morgante said.
"The kitchen is pretty monochromatic. It's natural wood and dark green countertop, and it's a bit quieter, a little bit more of a corner anchor, so by putting that colorful rug in the living room, it talked to the Mah Jong sofa, which is sitting on top of the floor and this rug is the bottom plane of the living room, so it really was to balance the texture and the color throughout," Morgante added.
With circular porthole windows, a conservatory-inspired garden room above the garage complete with an integrated hoist to move plants from garage to the upper level, and an innovative aging-in-place solution built into the library space, this home is designed to invite and to inspire, capturing depth of expression in the unexpected moments—like the hidden shower in the powder room on the main floor. Oak-paneled, the powder room can become a full bathroom and the adjacent library space—complete with live edge book shelves made from a willow tree onsite—can be converted to the primary bedroom suite in the future.
"The clients in any of our projects, but these clients in particular, are wonderful people and we wanted to create a transformational space for them. They just really embraced the whole process and you just feel a sense of ease with them now," Wilson said. "We always say to [potential clients] that everybody we are interviewing against will have nice portfolios, but it is about the process we have that we take people through and how that process bears fruit at the end to be these amazing spaces."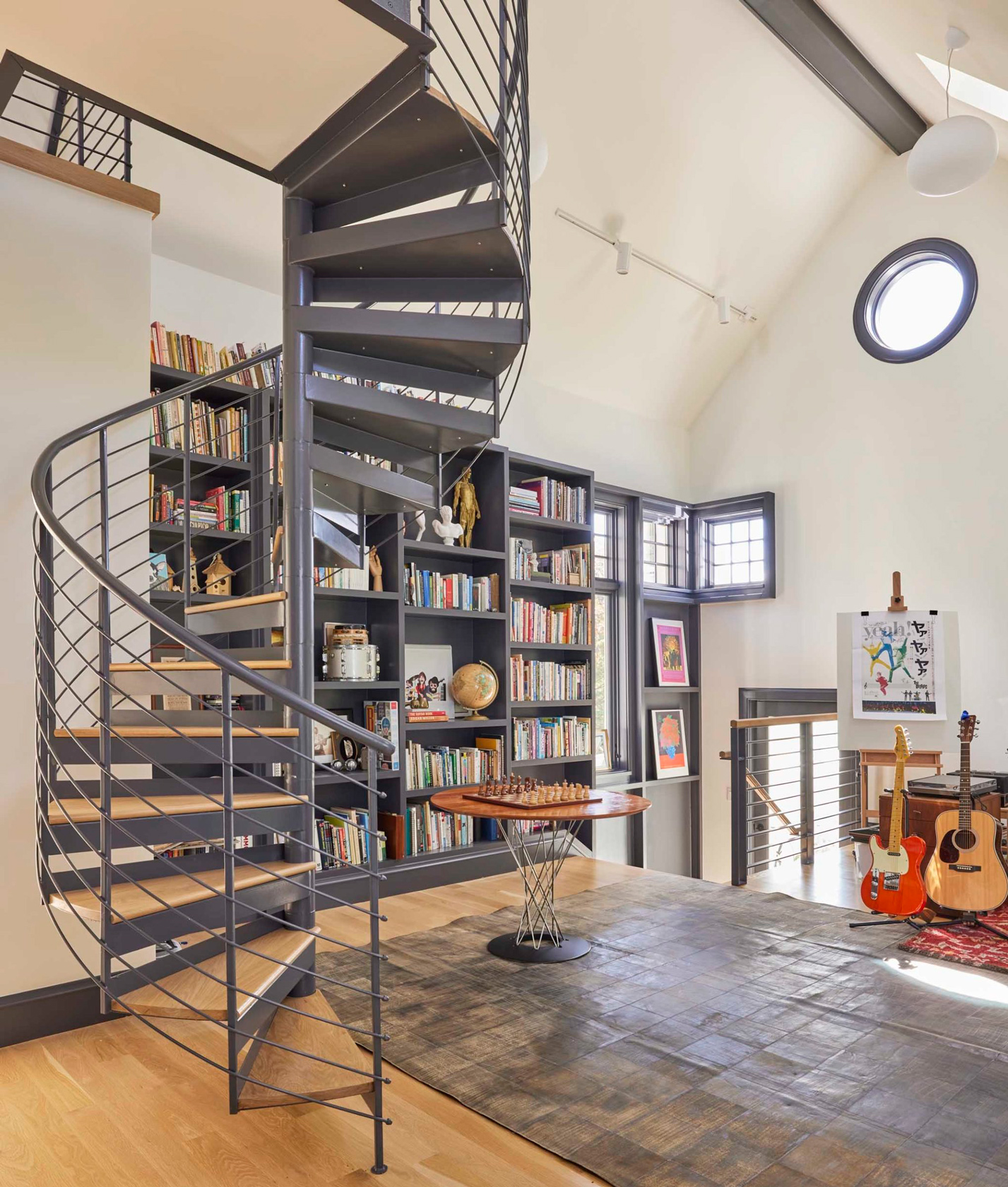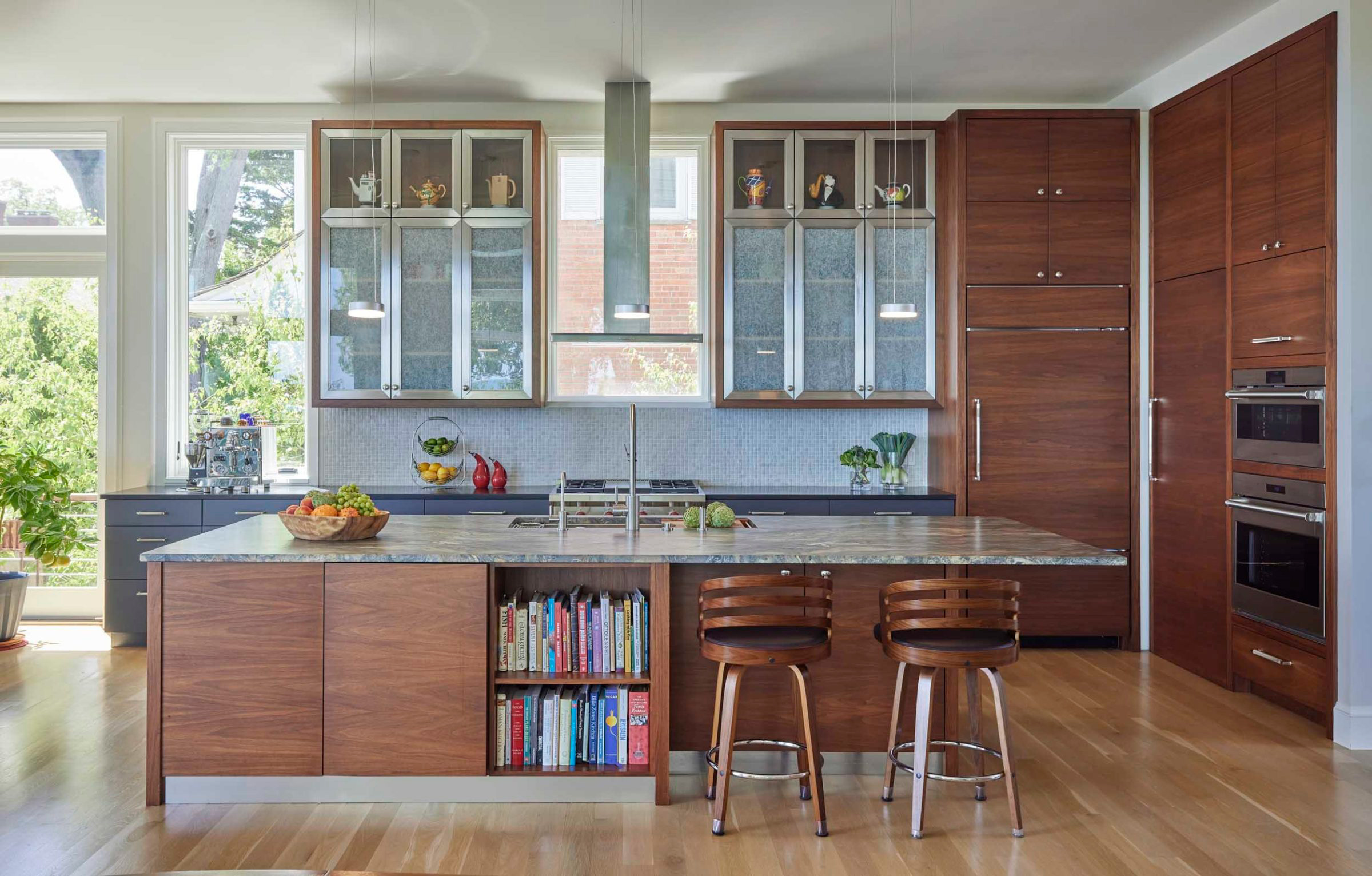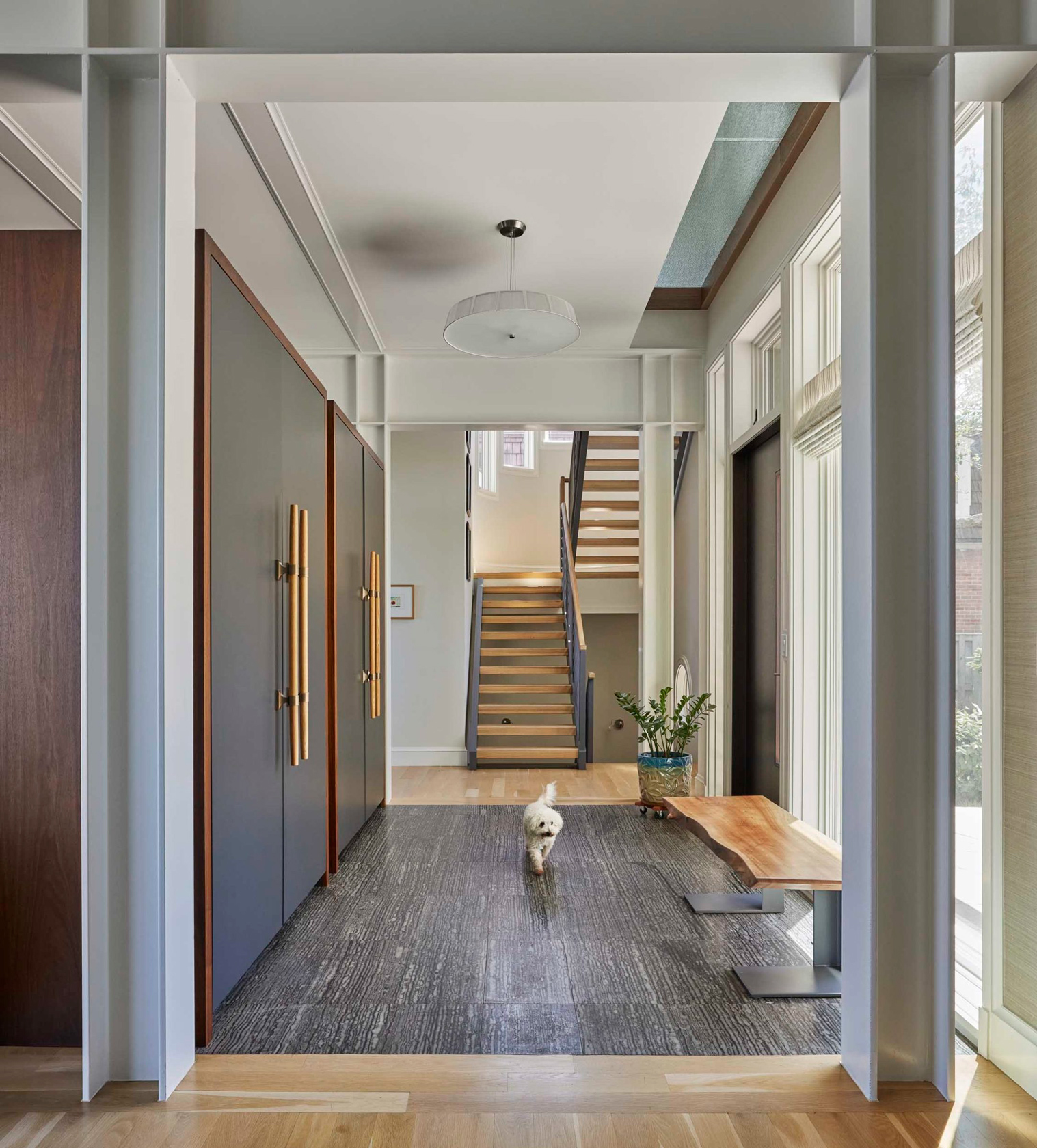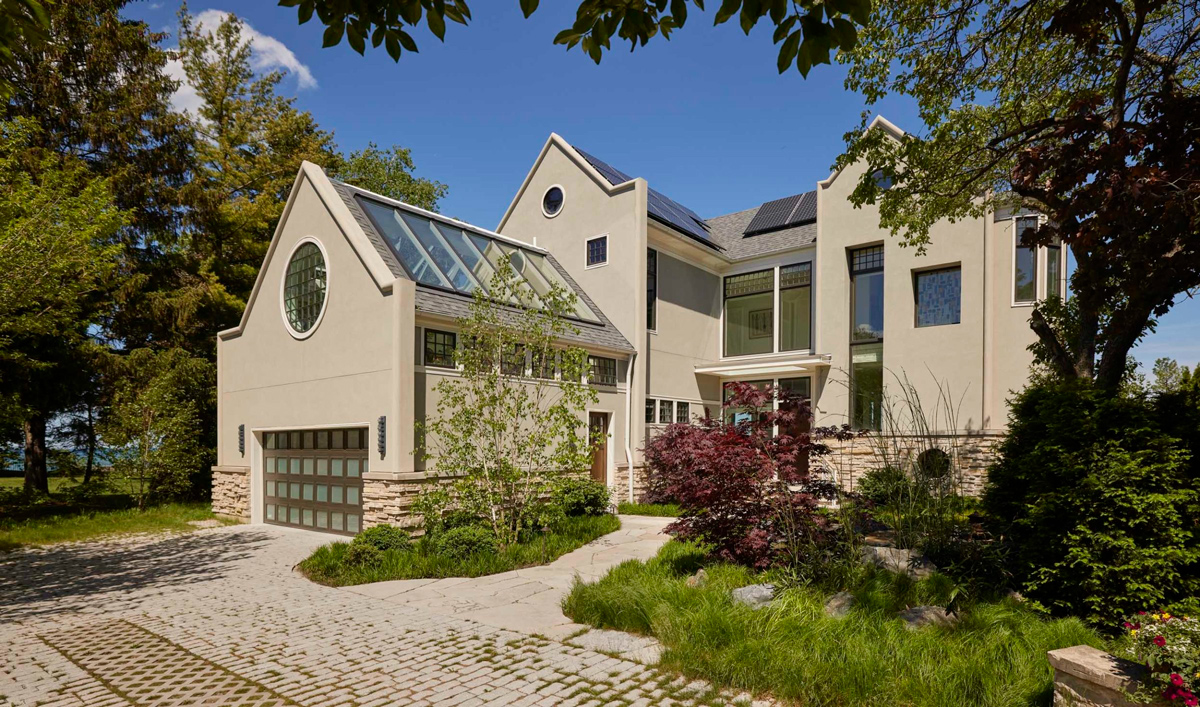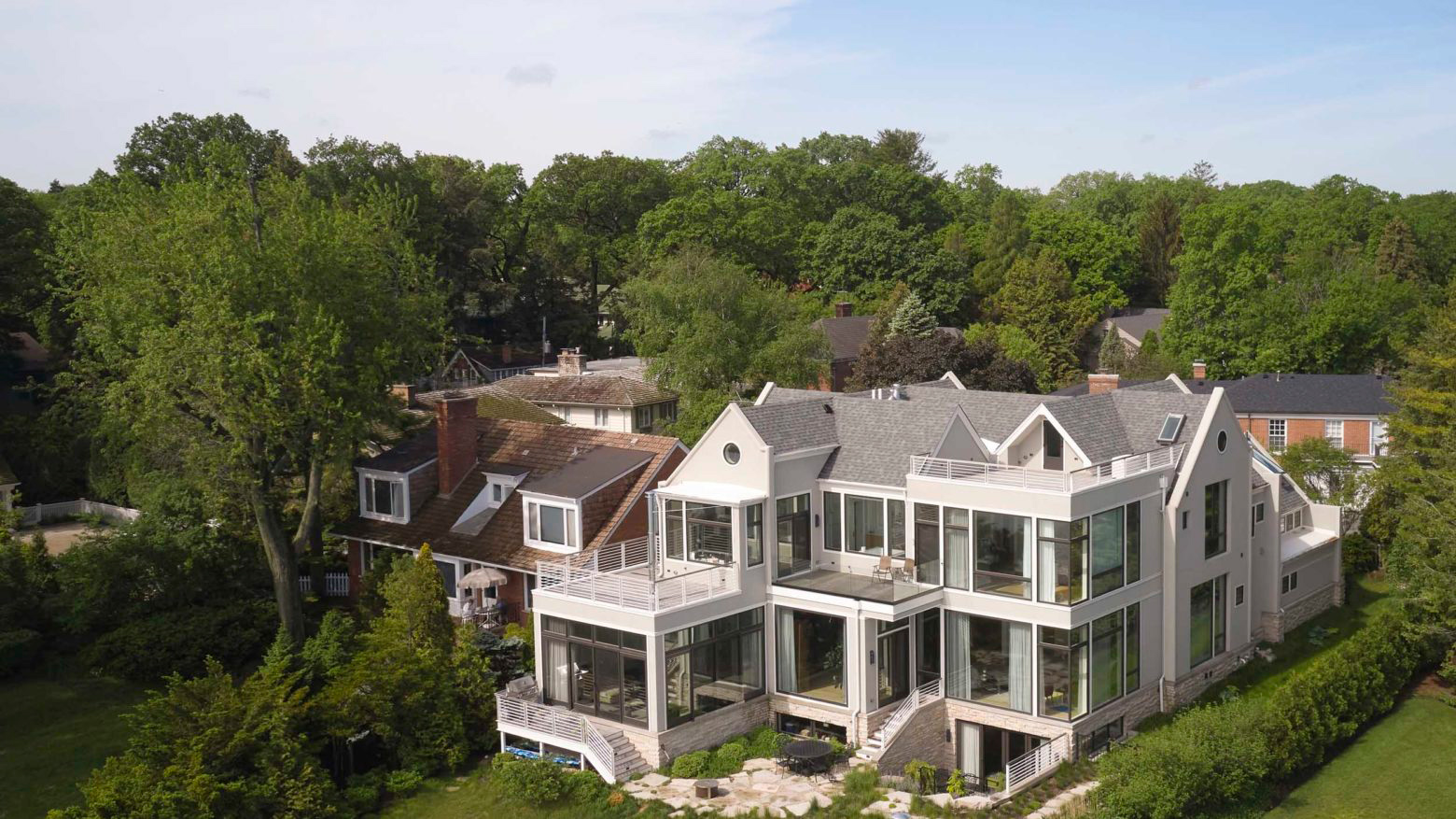 First published in Great Lakes By Design: Bold Graphics, 2023
Text: R.J. Weick
Photography: Mike Schwartz, Courtesy of Morgante Wilson Architects