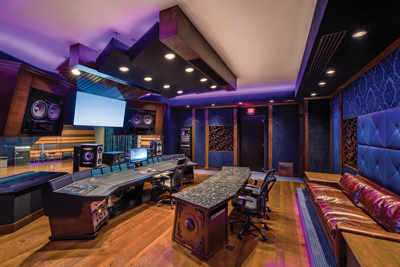 Picture an aging automotive warehouse: a one-story, raw space of cement block and steel beams with industrial troughs and drains set into the floor. Then Imagine the same space as a sleek, state-of-the-art recording studio with sound systems catering to high-profile musicians, distinct areas carved out for both creativity and relaxation, a full-service kitchen, an indoor basketball court, and glassed-in transparent garage.
This is the vision Detroit-native Roger Goodman realized when returning to his hometown several years ago, bought an old warehouse in the industrial corridor along Royal Oak's Delemere Avenue, and transformed it into Royal House Recording Studio.
Goodman engaged Saroki Architecture—an award-winning, 20-person, boutique firm—to deliver his vision and adapt the nearly 5,500-square-foot central warehouse and an adjacent 2,500-square-foot structure. 
"That's what made the whole project unique. We had to work with Glenn's requirements for the sound, but we also had to work with our requirements with how the building itself looked," said Jim DiMercurio, AIA, NCARB, LEED, AP, lead project architect at Saroki Architecture. 
Positioned at the center of the studio, the recording room offers views into the kitchen, lounge, basketball court, and outdoor courtyard. The effect is one of a campus oasis, with rooms set aside for creative reflection as well as relaxation. 
While interacting with a variety of stakeholders can bring its own set of challenges, the architectural team noted the collaboration on the project was essential to realize their client's goals. 
To read the full story, pick up your copy of Great Lakes By Design: The Acoustics here.
Photos courtesy: Jared Chulski