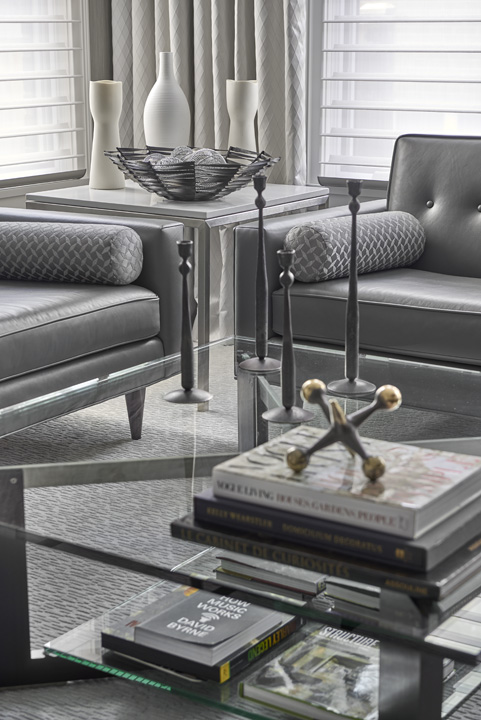 In most professions, portfolios are intended to make a statement. They showcase, highlight, and define the artistic, while at the same time convey technical details and experience. For the more design-related fields—especially interiors—it is a presentation tool often as carefully curated and compelling as the spaces themselves. To the careful eye, it reveals intimate and significant details about the designer or team behind the work and serves as an expression of a process and philosophy. 
At Lauren Coburn LLC: Interiors for Architecture and Design in Chicago, Illinois, its portfolio offers a concise narrative on the depth and breadth of genres and styles realized in residential and commercial spaces for the last 15 years—informed and curated by an interior designer who has paired artistic craft with business acumen as an entrepreneur with a deft eye for interior architecture. 
"Design is a perfect mix of creating a space that will function for you as well as possible for who you are and your family and how you live, and at the same time—to the same degree—have it be beautiful and have it reflect your personal style," said Lauren Coburn, owner and interior designer at Lauren Coburn LLC. "A designer shouldn't give you what they give to everybody else, but rather a designer should be hired to get to know the client and give the client what they want—and do it beautifully."
That balance of function and aesthetics, a critical achievement for well-designed spaces and places, is evident not only in Coburn's work, but also throughout her personal and academic background. Though Coburn, a native of Detroit and Bloomfield Hills, Michigan, attended Cranbrook Schools—which is part of the Cranbrook Educational Community comprising the Cranbrook Academy of Art—throughout primary and secondary school, and hails from a family with an affinity for the arts; she ultimately pursued an entrepreneurial career where business transparency was at the core of its operations rather than become an artist. 
"I always went to a school that was very arts-based. My mom is an artist and my dad was an ophthalmologist and a race car driver who also loved to paint on the side; so I come from a very right-brain, left-brain family," Coburn said. "I always wanted to be an artist, but I knew it was a tough business so I went into interior design." 
Graduating with a degree in interior architecture in 2000 from the School of the Art Institute of Chicago, an internationally renowned school of art and design otherwise known as SAIC, Coburn quickly honed her skill in the industry as a designer with Tigerman McCurry Architects in Chicago. During her three-year tenure under its two leading FAIA-recognized principals, Coburn not only gained a first-hand understanding of the interplay between design and architecture, but also cut her teeth on high-end projects at 21-years-old. 
"I was working for these very famous architects right out of college and I had this great opportunity. I was the only full-time interior designer at the time," Coburn said. "I was thrown into the fire and I had to figure it out without knowing what I was doing."
From there, Coburn spent time as a designer with Soucie Horner, Ltd., a Chicago-based luxury interior design and interior architecture firm specializing in residential and commercial projects, before launching her own firm in 2004. When establishing the company, Coburn's appreciation of design and interior architecture wasn't the sole driving consideration for its philosophy; there was also the matter of business and an authentic process. Inspired by past and current experiences of her parents, acquaintances, and others who weren't satisfied with the typical design framework at the time; Coburn created a model that inherently passed cost completely on all products for clients. 
"I started asking everyone I knew if they could have the ideal interior design situation, what would it be? I took that research and those answers—and it was very unorthodox 15 years ago—but I decided to pass on my cost on everything I sell to my clients and only charge for my time," Coburn said. 
Gold Coast Residence
When it came to helping a long-time client update her existing condominium unit in the Gold Coast neighborhood—a project that initially was intended to be an inexpensive re-design with the intention of selling—Coburn brought in Clark Fell, president and architect at the Chicago-based studioCJF.inc, and Design Construction Concepts of Northbrook, Illinois to help realize the design and construction when the project transitioned into a complete renovation.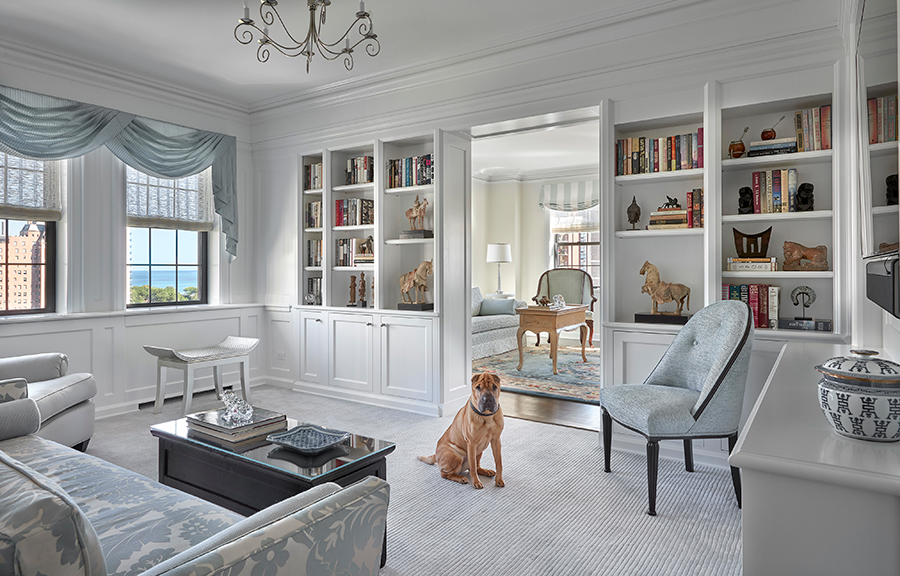 While still traditional in nature, the Gold Coast Residence now reflects a softer, lighter palette and one that takes into account its proximity to Lake Michigan. In the living room, there is a mixture of re-upholstered, vintage Queen Anne and Asian antique furniture pieces set upon an original Aubusson rug that were existing pieces owned by the client; as well as handmade, woven shades and Roman shades of silk custom-designed by Coburn.

Walnut floors, stained a Jacobean-ebony mix run throughout the unit, complementing the brighter backdrop where modern lines are on balance with traditional details and rich materiality. Modern pieces are softened to pair with the vintage objects and book collection in the sitting room, where an original recliner was reupholstered in leather and a loveseat was done in silk. There are also paneled walls in white and customized storage spaces to maximize the room architecturally. 
In the dining room, custom-designed pieces in dark walnut and silver leaf, of Asian-inspiration and modern line, is juxtaposed with the rich, curvilinear details in the existing Queen Anne dining set. The furniture was stained dark and reupholstered with Fortuny fabric, which has been handmade in Venic since 1907. With the lacquered wallcovering with metal inlay by Phillip Jeffries, custom silver leaf mirror designed by Coburn, and the shades of tan, orange, and walnut, the dining room exudes tactile warmth that befits a space intended for gathering. 
Coburn, who custom designed all the pieces in the dining room except for the table and chairs, said the client loves very traditional, soft colors and the resulting project is a curated creation that looks like the client—who has an affinity for birds and collecting vintage Tang Dynasty horses.
"The design screams of my client's taste," Coburn said. "The client is incredible. She is one of the most dynamic, amazing women I've ever met in my life. She is a huge entrepreneur, owns a gigantic company, and has been voted one of the most important women in the world."

North Shore Modern
While the Gold Coast Residence is decidedly traditional in nature, for the North Shore Modern project Coburn was tasked with capturing a more transitional ambiance that paired the husband-and-wife-client affinity for clean lines, modern art, and entertaining. The clients, who are also personal friends and are a family of four with two young boys, moved to the North Shore from the city and fell in love with a street after touring a different house in the area.

"They really wanted to stay on the same street to stay in the same school district. So we looked at another house that offered better spaces for them, but it needed a lot of renovation," Coburn said. "We gutted the entire main floor."
The project, which primarily focused on renovating the main level from its previously traditional design into something more transitional that leaned toward modern, comprised paring down moldings, squaring off arched openings, and modernizing the spaces to fit the family's lifestyle needs and vision. Coburn noted the clients, like a number of their peers and friends, were finding they want the functionality of a dining room, but are not using the space and instead opted to rethink the room based on their fondness for entertaining.

"We made the dining room into a bar-lounge where they could entertain more easily," Coburn said. "They wanted an open kitchen with a lot of light pouring in, they wanted a cozy family room off the kitchen for their kids, they wanted a kitchen and breakfast space where the kids could sit and do their homework, but they saw more of a need for a nice, big breakfast table than a separate formal dining room."
Restored, original—and transitional—window moldings and baseboards; beveled, shaker cabinets in white; and stained walnut of coffee bean and espresso are meant to reflect a vision of soft, clean lines with a touch of elegance. Clean-lined furniture is upholstered in leather for practicality in the lounge and complemented by the softened, curved sofa by the bay window in the sitting room where Barbara Coburn artwork accents amid silk wallcovering. The sitting room built-in, custom-designed by Coburn, is stained ebony-walnut and lit to highlight the Lalique collection; and a sheer, fabric panel can be leveraged to close off the room for privacy.
"The clients are a cool couple who love to entertain. The husband is in construction and the wife is in [public relations] and they have two young boys," Coburn said. "The woman's taste is very chic: soft, clean lines with a touch of elegance and for great art. She loves clean-lined furniture mixed with the elegance of Lalique, modern art, and vintage, modern furnishings for their classic-never-dated feel."
Construction overseen by the homeowners, the North Shore Modern project is one that is modern in inspiration as it transitions from a traditional and typical North Shore house, into a home fit for its new owners. 
Full text available in Great Lakes By Design: In Scene
Text: R.J. Weick | Editor
Photography: Gold Coast Residence: Tony Soluri | North Shore Modern: Tony Soluri
Featured image: Gold Coast Residence