"To me, architectural design is the culmination of so many things—art, sculpture, engineering, mechanics, ecology—and the concept of taking a client's dream, turning that into lines on paper, and then transforming it into a massive piece of engineered art that someone lives inside of for years is extremely gratifying," said Kevin Akey, owner of AZD Associates Architects Inc. in Bloomfield Hills, Michigan.
AZD Associates is an award-winning, full-service architecture and design firm delivering client-sensitive, forward-thinking projects in the residential, commercial, and remodel spaces. Established in 1990 by Akey and Frank Zychowski, owner and architect at AZD Associates Architects, the firm has since developed a portfolio of work across both architectural style—from modern to traditional—and physical landscape as the team works with clients to bring their clients' visions to life in places like Florida, New York, Texas, Michigan, Ohio, California, Canada, Bahamas, and Turks and Caicos.
The firm provides architectural and construction drawings, home remodeling, restoration, structural engineering, 3D rendering, floor planning, and sustainable design, among others, and has garnered more than 120 awards for its work, such as a Governor's Award for Design Excellence by the State of Michigan Historical Society.
Theirs is a process informed by more than three decades of experience, leveraging a shared passion for design, creative detail, and capturing their client's lifestyle and dreams into built reality through tilted glass walls, curved rooflines, and dramatic views of waterfront peninsulas. For Akey, who self-admittedly stumbled into the field and instantly fell in love with the work, design is about expression and reflecting their clients through artistic engineering feats of architecture.
"The site, the amenities, the sun, and the views are always a priority. I like having clients' input on what they like and don't like and then putting our twist to it and our twist is all about style, the views, and proportions," Akey said.
"I have the best job on the planet. [The clients] are building their dream house. Just the whole thing, from taking something from a drawing image to a piece of art that they can live in is so much fun and we've been doing it long enough now that we are getting dream clients all the time. They just want these fun, unique houses," Akey added.
From initial client consultation, in which client lifestyle, likes and dislikes, and wish list of programmatic goals, priorities, and features are identified, the team then works through the design phase throughout a six- to seven-week process, meeting with clients and reviewing different floor plans, layouts, site positioning, views, and sustainable, energy-efficient elements of the project. The architectural firm also offers interior design services through AZD Interiors with Sharon Kory, delivering solutions in form and function on a number of projects for both residential and commercial spaces.
Inspired by clients, the landscape, and the world around, the firm's portfolio of projects often defy common boundaries, dissolving indoor-and-outdoor lines, pulling water and views into and through the home in modern style, and making a statement through distinctive rooflines or sprawling estate-like design. For the Island House, which replaced an existing one-story cabin on a generational family-owned property, Akey noted the team was tasked with creating something new and unique for the long-time client.
The Island House not only features natural materials like wood and stone, nearly 360-degree views around the house, and water views from every single room—including the moment of entry, and its two bedrooms and bunkroom—but also a pool, outdoor living space, and an entertainment space on the water accessible by boat. While it was challenging having materials and heavy equipment brought to the site, and the property had buildable footprint constraints, Akey noted it was a matter of shaping it into a design prioritizing its elevation, and it is the materials, rooflines, and glasswork that stands out as distinctive to him about the home.
"We have a lot of people who like our modern, prairie-style homes, which is what you would call this with the lower roof pitches, larger overhangs, and unique fascia details," Akey said. "The walls of glass—floor-to-ceiling, corner-to-corner, retractable walls of glass—and the materials—we have a lot of people who like the natural materials that we use—stand out to me."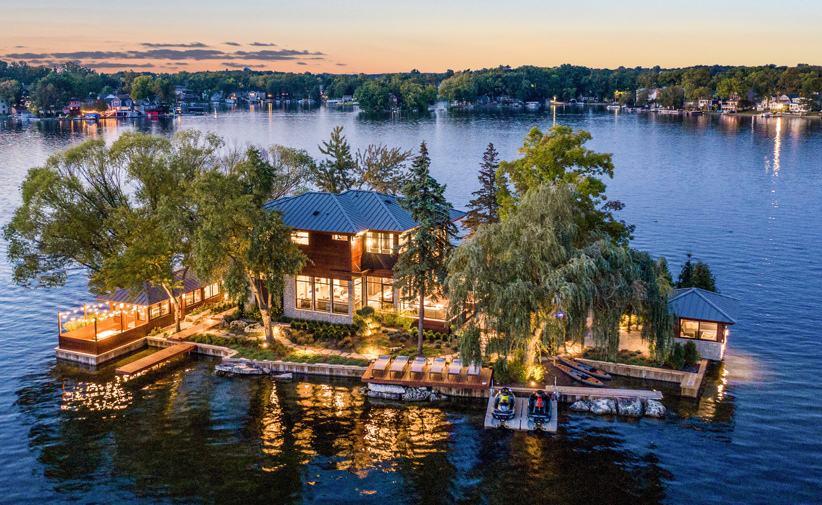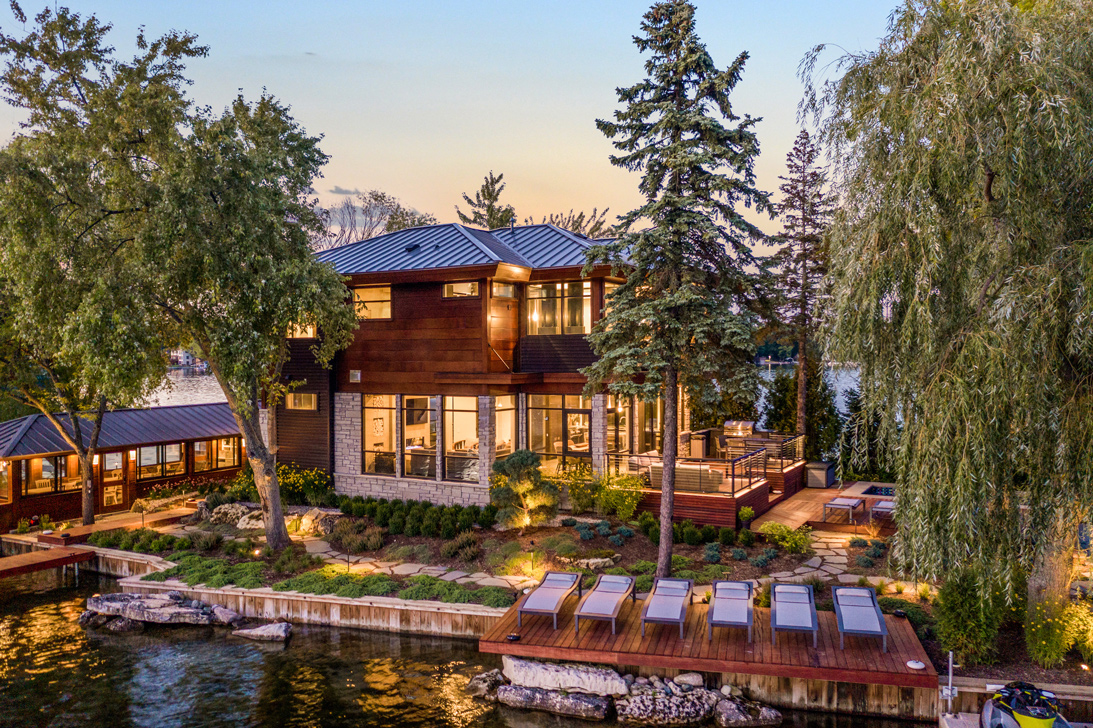 In similar fashion, the Walloon Lake Residence is also one of prairie-style inspiration, featuring large overhangs, walls of glass, low-profile rooflines, and a nearly 250-degree panoramic view of the lake from its peninsular site. Unique ceiling details, lighting, and a soft, warm interior palette of rich, natural elements of modern line are complemented by the surrounding land- and water-scape beyond as expansive glass invites the blues and greens into the home.
"There is no steel or structural elements blocking your view [in the great room]. That is kind of an engineering feat and the covered porch with the retractable screens is a pretty cool lakeside feature in this house," Akey said.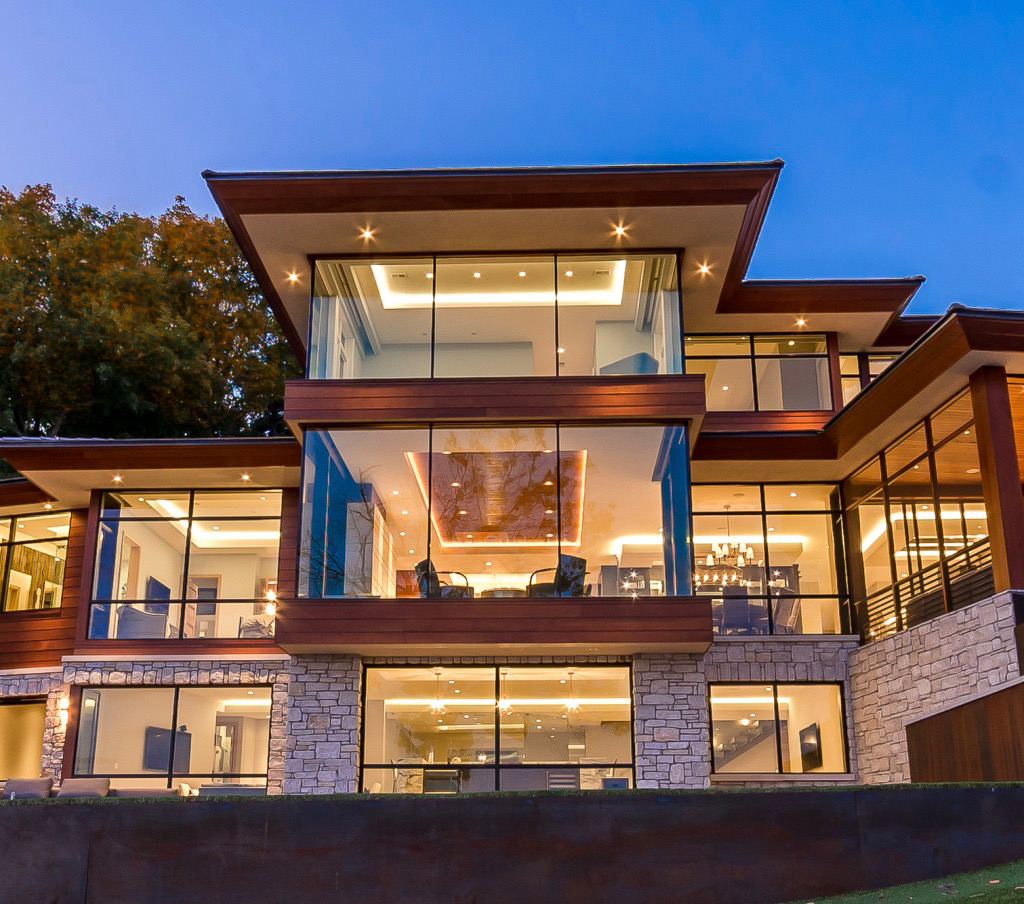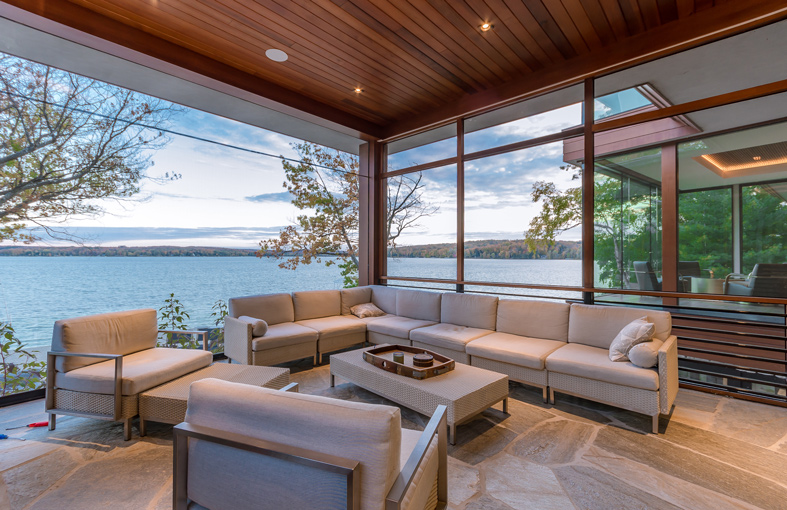 To the southeast, set on the shores of Lake Saint Clair in Canada, the Ontario Residence is a dramatic and geometric statement of curved and hipped rooflines, rich materiality, and entry sequence complete with a covered bridge walkway and sightlines to a lower-level garage. Dynamic volumes and divergent lines, fit for the drama of waterfront, are woven together through its natural palette and glasswork. Designed to be 100 percent maintenance-free, the home features two, underground garages in museum-like setting that can house about 12 cars and are visible through glass floors and walls. The home also comprises a large indoor-outdoor bar, engaging ceiling details and finishes, an outdoor pool, and a beauty salon.
"All of the wood is actually metal and it does have a combination of curved, hipped, and flat roofs. We actually tilted big, floor-to-ceiling walls of glass and there are a lot of walls that aren't perpendicular. That is probably the biggest and most unusual feature," Akey said.
"I think it was a unique way to combine three different rooflines in a sense and then the bridge to get to the front door is pretty cool and dramatic as you walk up. You're going over a bridge, it goes over a road, you can see the cars in the museum below, and see through the house walking across the bridge," Akey added.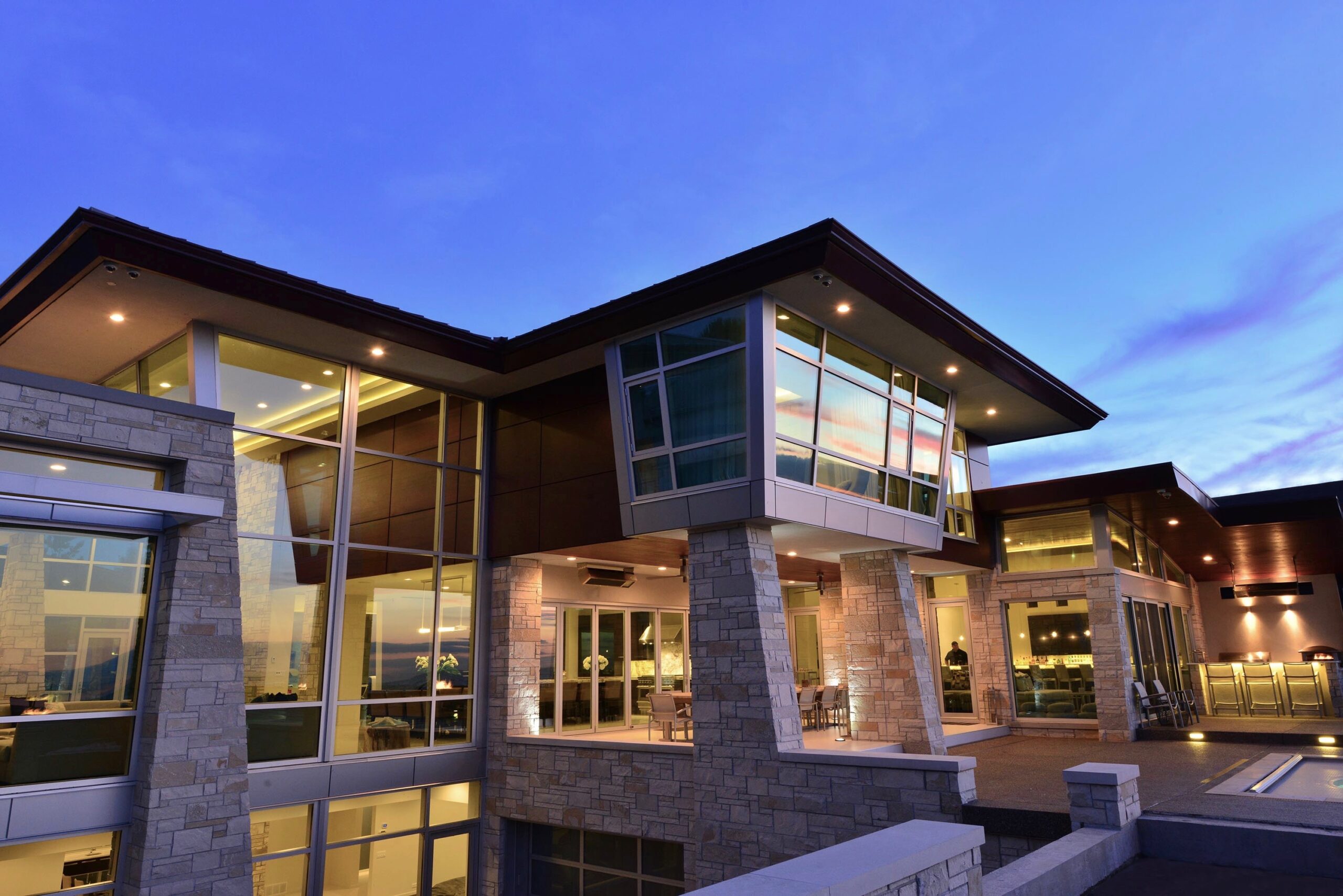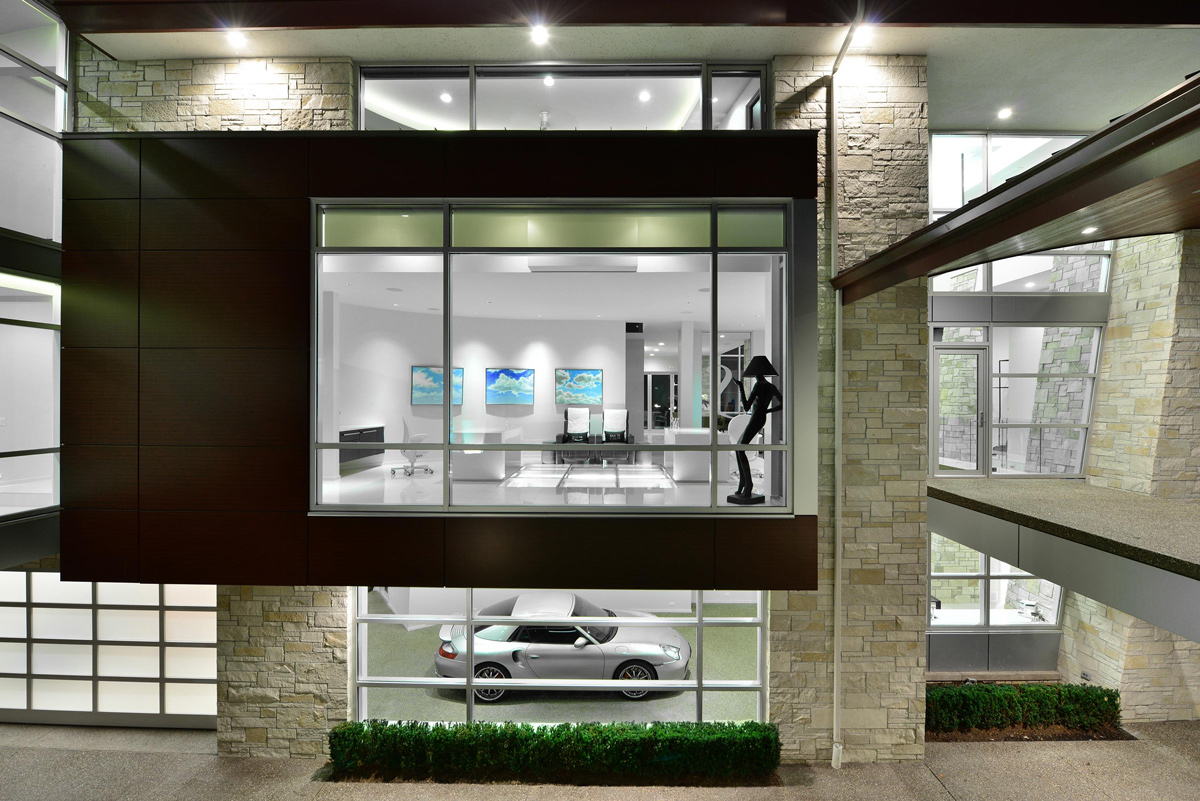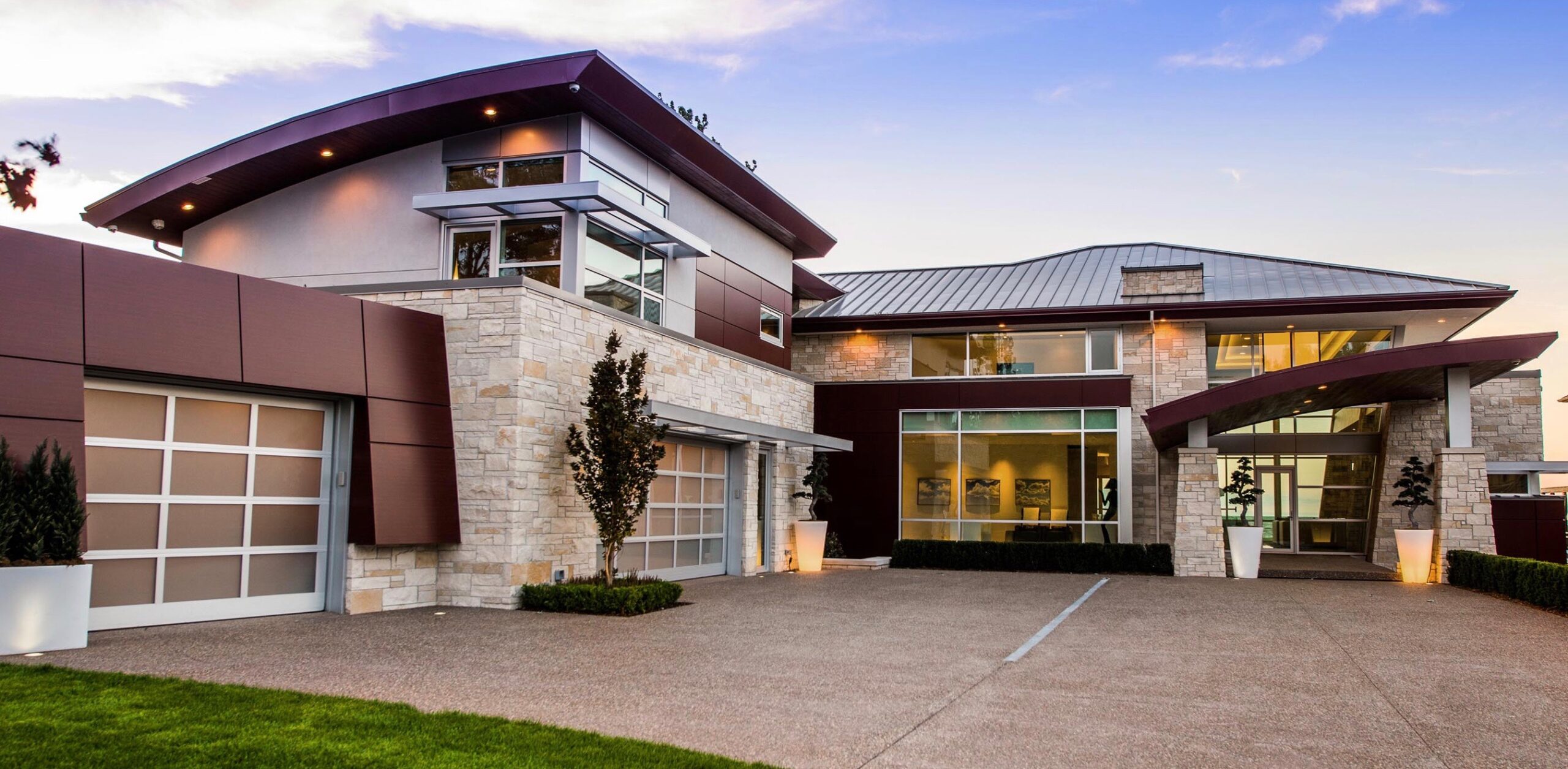 Tilted glass facades and angled rooflines can also be found in the firm's work on the Pine Lake Residence set on the waterfront for clients who envisioned a space fit for entertaining and hosting large groups. Working with tight lot lines and a triangular footprint, this waterfront property is one of amenities and compelling transitions between interior levels, and indoor and outdoor spaces. From the glass-covered entrance, retractable doors that open up to the outside, a rooftop deck, series of balconies, and a stair tower, to the walls of limestone and wood, glass waterfall, sauna and gym space on the top floor, and the quartz-floored foyer illuminated from underneath, the Pine Lake Residence is a detailed and distinctive entertainment destination.
"It is super unique. They wanted something that stood out, that wasn't like anything else around them. It almost feels like you are on a ship when you are in the house," Akey said. "We reused some of the existing foundations and because they were nonconforming, it allowed us to build closer to the lake. This was one of the first ones where we tilted the great room wall of glass. The whole wall facing the lakeside is tilted, so it was tricky building the steel and glass and keeping it waterproofed."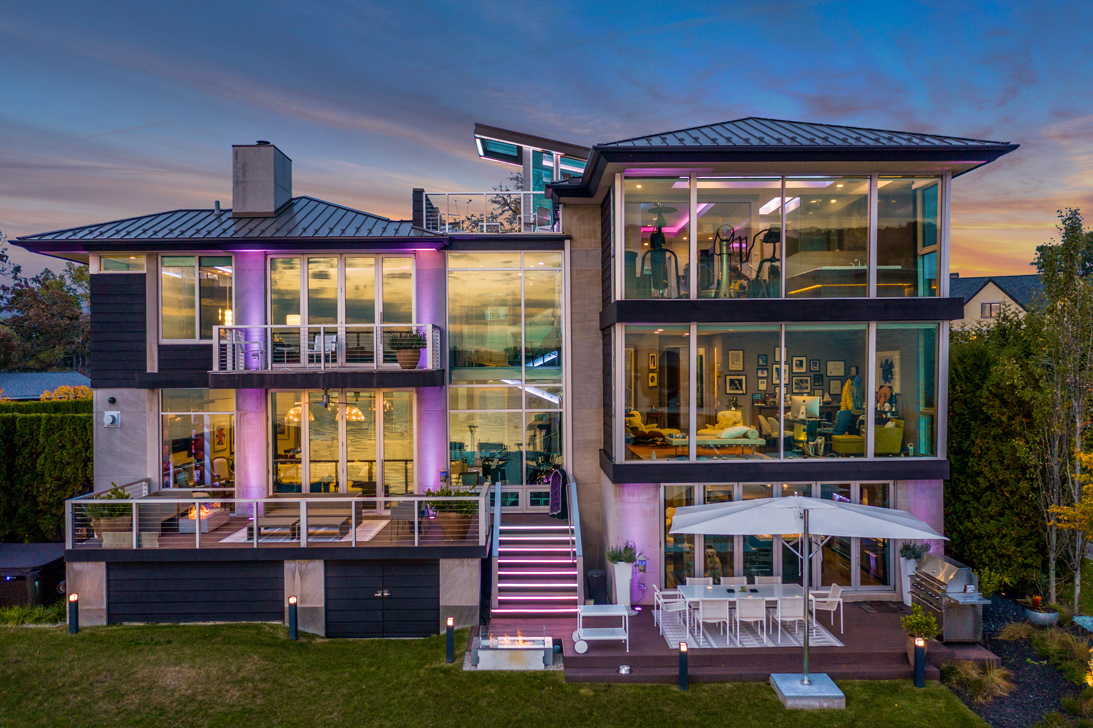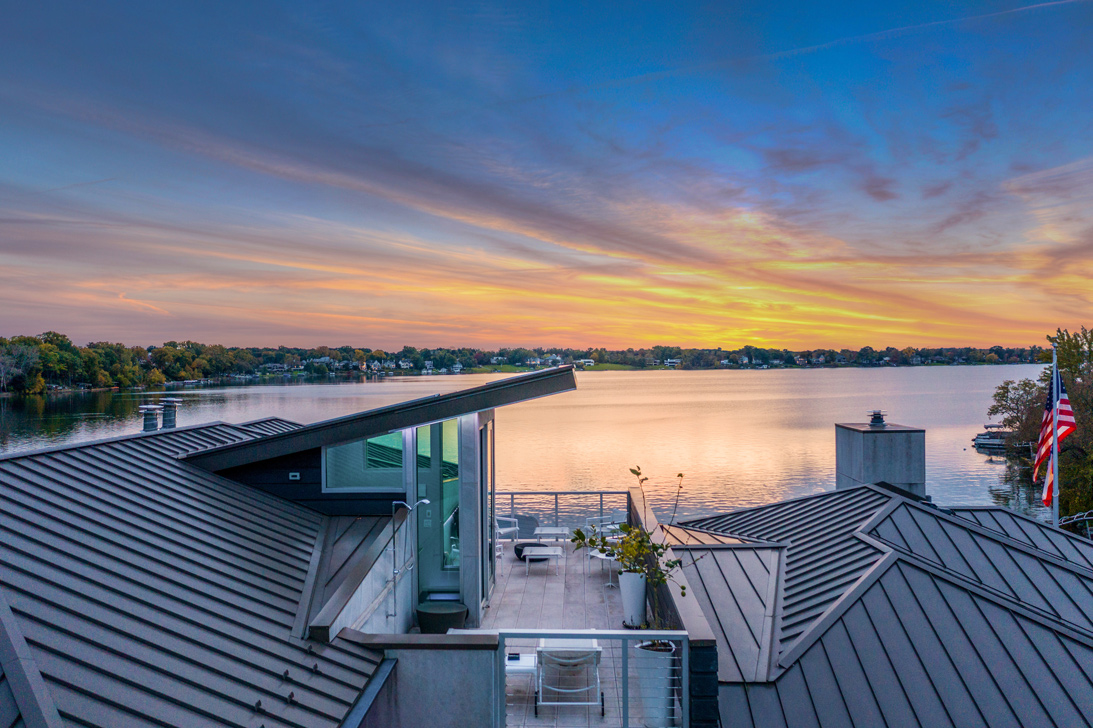 In contrasting style, AZD Associates' Lower Straits lake home is one of traditional estate-like design, where modern influences meet European and French country estate. Set on a peninsula on a roughly nine-acre waterfront site, this sprawling estate welcomes visitors to its grand circular court with a winding drive, flanking welcome posts, and a materiality of limestone, split-faced stone, slate, and glass. The nearly 18,000-square-foot residence offers expansive views out toward the waterfront and is complemented by an additional 8,000-square-foot guest house and a 1,000-square-foot security residence building for onsite security. Designed by Cheryl Nestro at Tutto Interiors, its interior is one of elegance and drama, where spiral staircases and rich contrasting colors blend stylistic elements often found in the traditional and modern.
"It is big and elegant," Akey said. "It is a huge estate with nine acres and a quarter-mile winding drive up through the property through the gates, and then, again, we are on a peninsula so there are panoramic views everywhere. It is a little more of a modern-traditional, because of all the glass and views."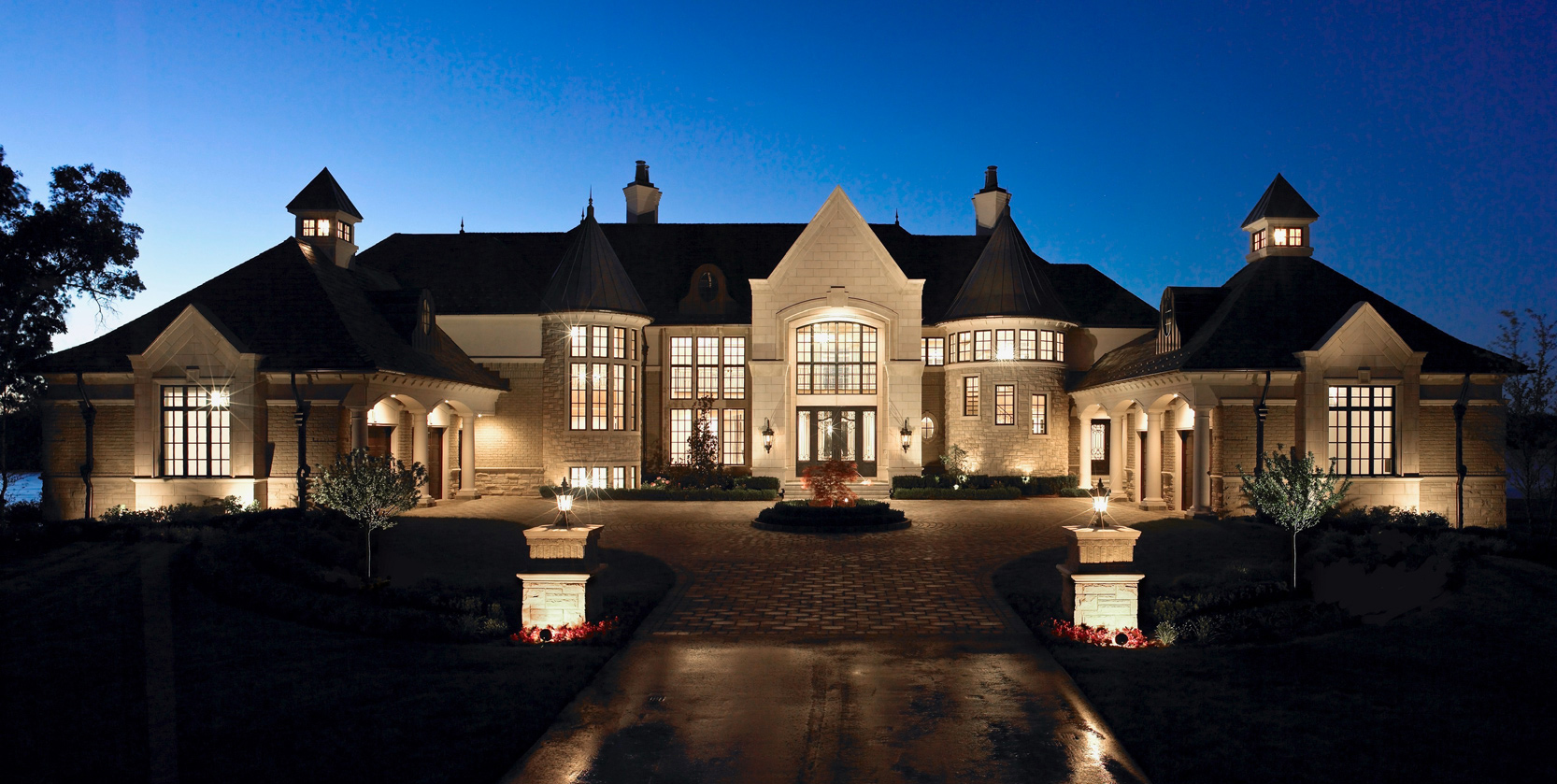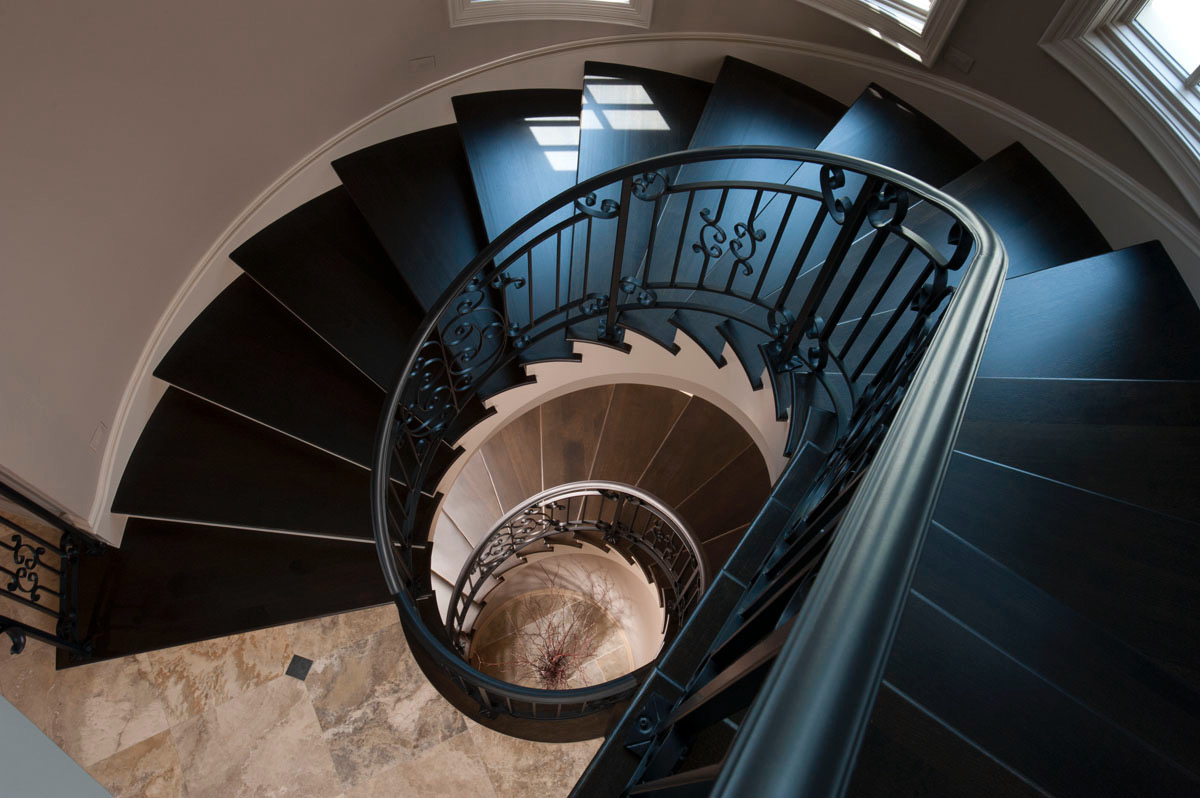 When it came to the steeply pitched site for the Strawberry Residence, Akey noted the design solution was to make it a feature of the house and a compelling narrative for the front entry sequence as visitors traverse a walkway to the layered, modern-lined façade.
"They wanted an extremely modern home and they loved the flat-roof concept. The materials are split-faced stone, smooth limestone, wood, and walls of glass," Akey said.
"We kept the site steep. You have to take a bridge to get to the front door and what that does is it allows light to flood the lower level. It is super dramatic, walking across a bridge, seeing the lower level, seeing through the house, and seeing the lake," Akey added.
The modern waterfront residence also features a dedicated indoor space for floor hockey; sauna, steam, and exercise rooms; an indoor theater; heated, covered porch with retractable screens and doors extending its outdoor use into the shoulder seasons; fire features and dynamic volumes; and a warm, interior palette that embraces its surrounding natural landscape.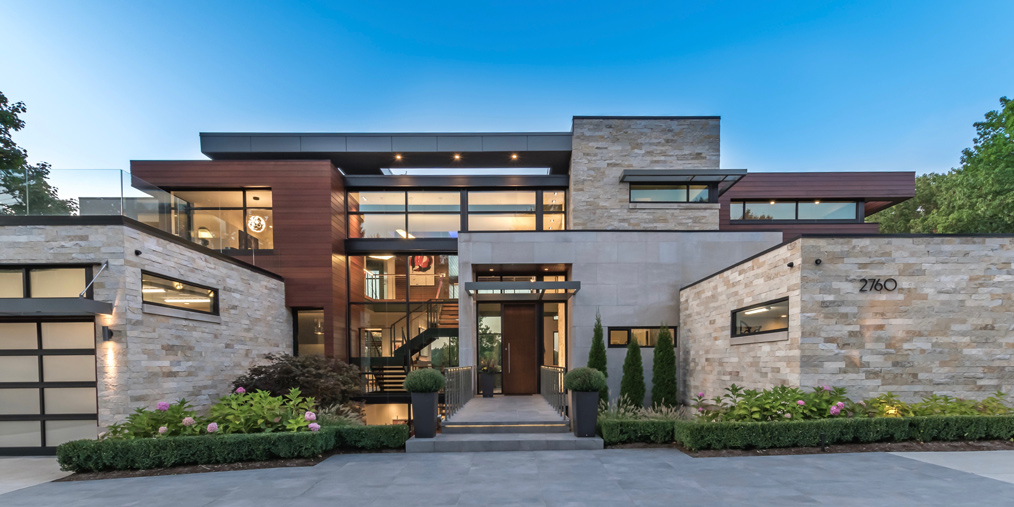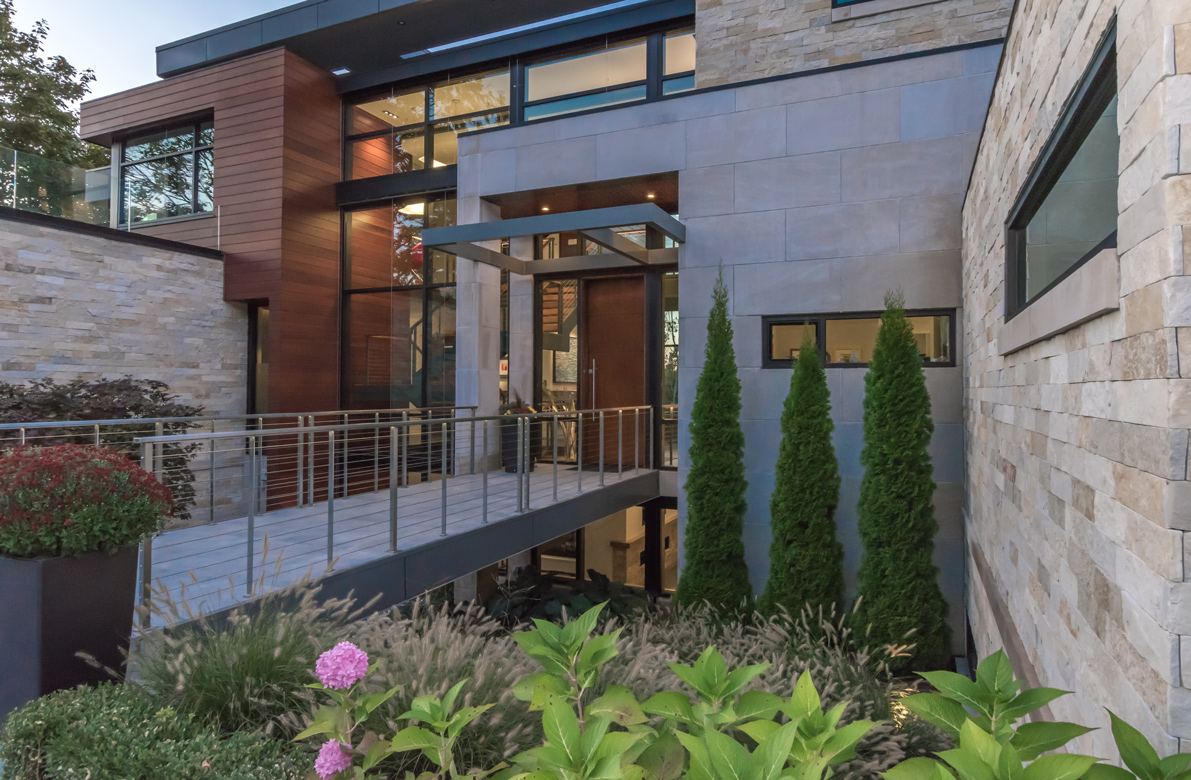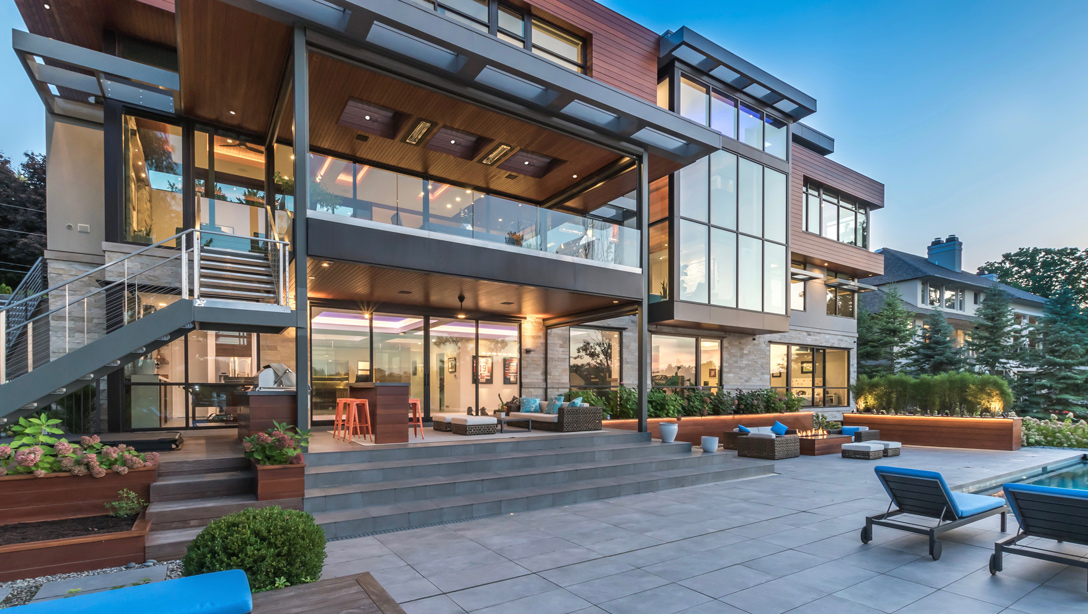 To the more southern, coastal setting of Floridian shores, this structural steel, stone, and glass residence is one of intersecting volumes and distinctive rooflines. Intentionally modern and featuring a unique use of stone for its context, this waterfront home sits on a tight property footprint with maximum views toward the outdoor landscape. Indoor and outdoor living spaces transition seamlessly, as retractable doors and screens create a strong relationship to its waterfront location, drawing the brilliant blues of waves and greens of palm leaves into the modern, albeit warm interior.
Its light exterior façade, metal roof, and stone, strike a subtle, but dramatic silhouette and it is the combination of flat, low-pitched, and asymmetrical hipped roof lines that is just one of the distinctive elements about the house that stand out to Akey. Other unique features comprise the two-story, great room expanse of glass that is tilted floor-to-ceiling, an interior glass waterfall, an asymmetrical entry canopy, glass floors, and dynamic, curved ceiling detail that appears to float between the first and second level as one walks across the glass walkway.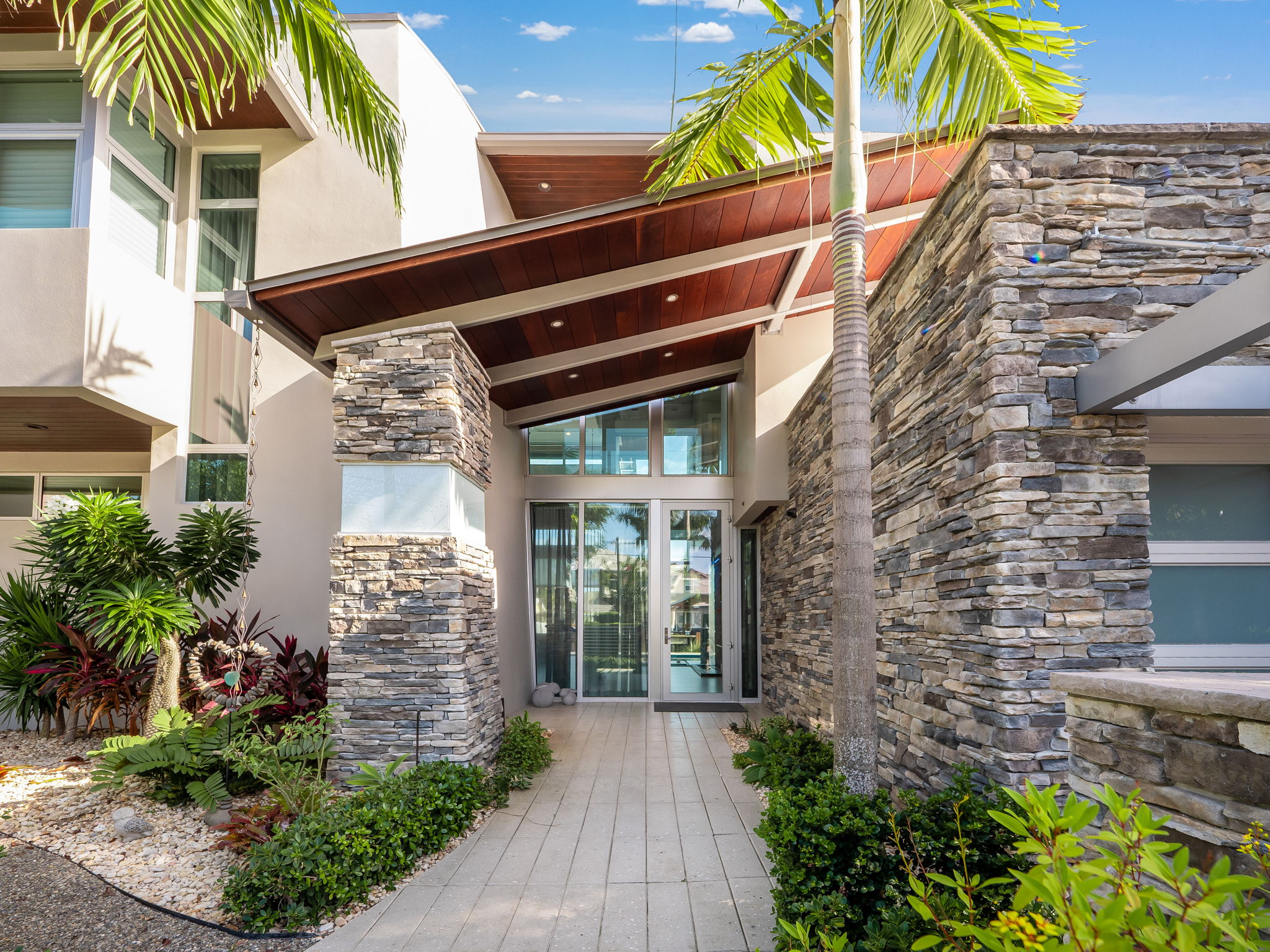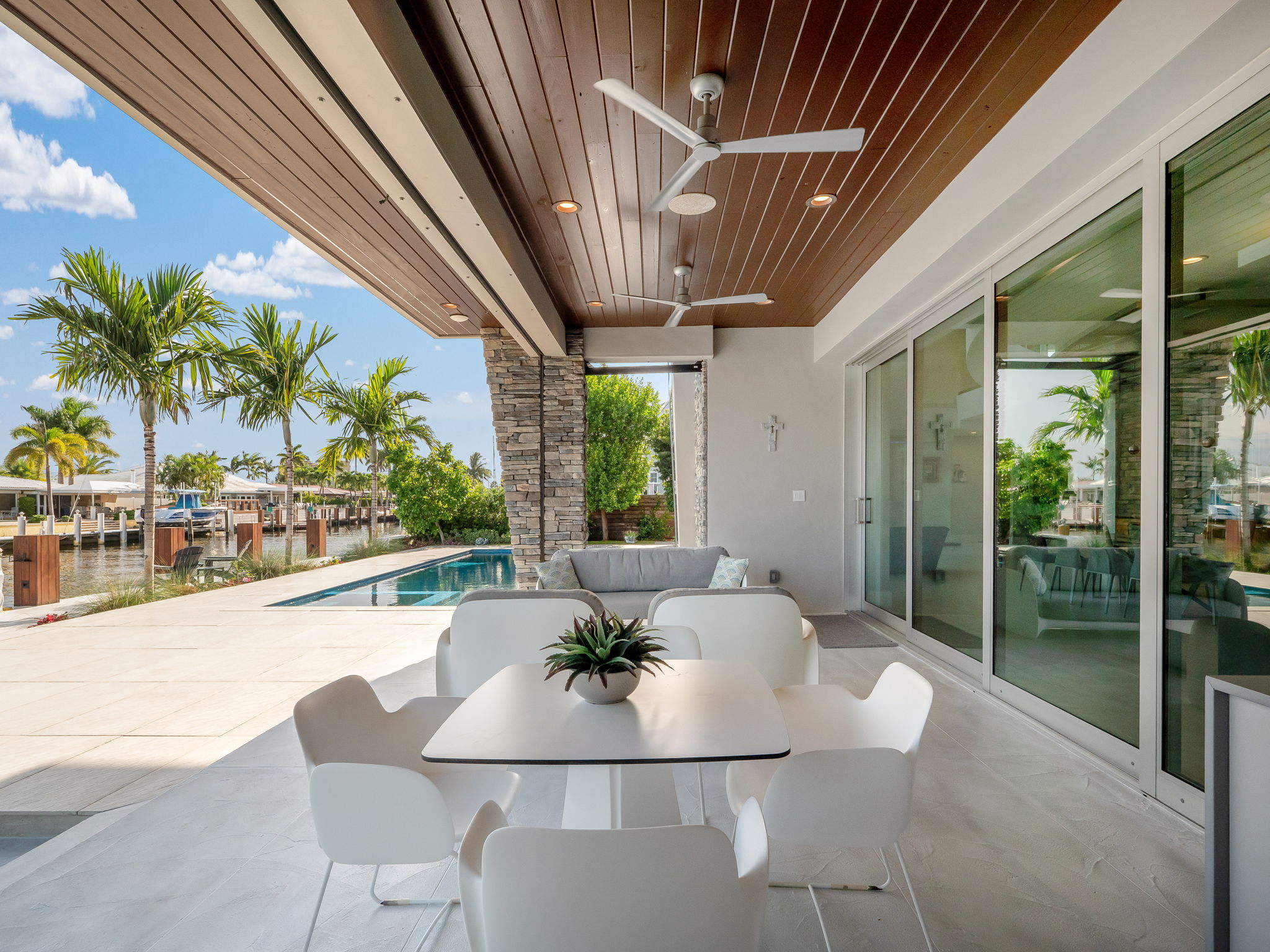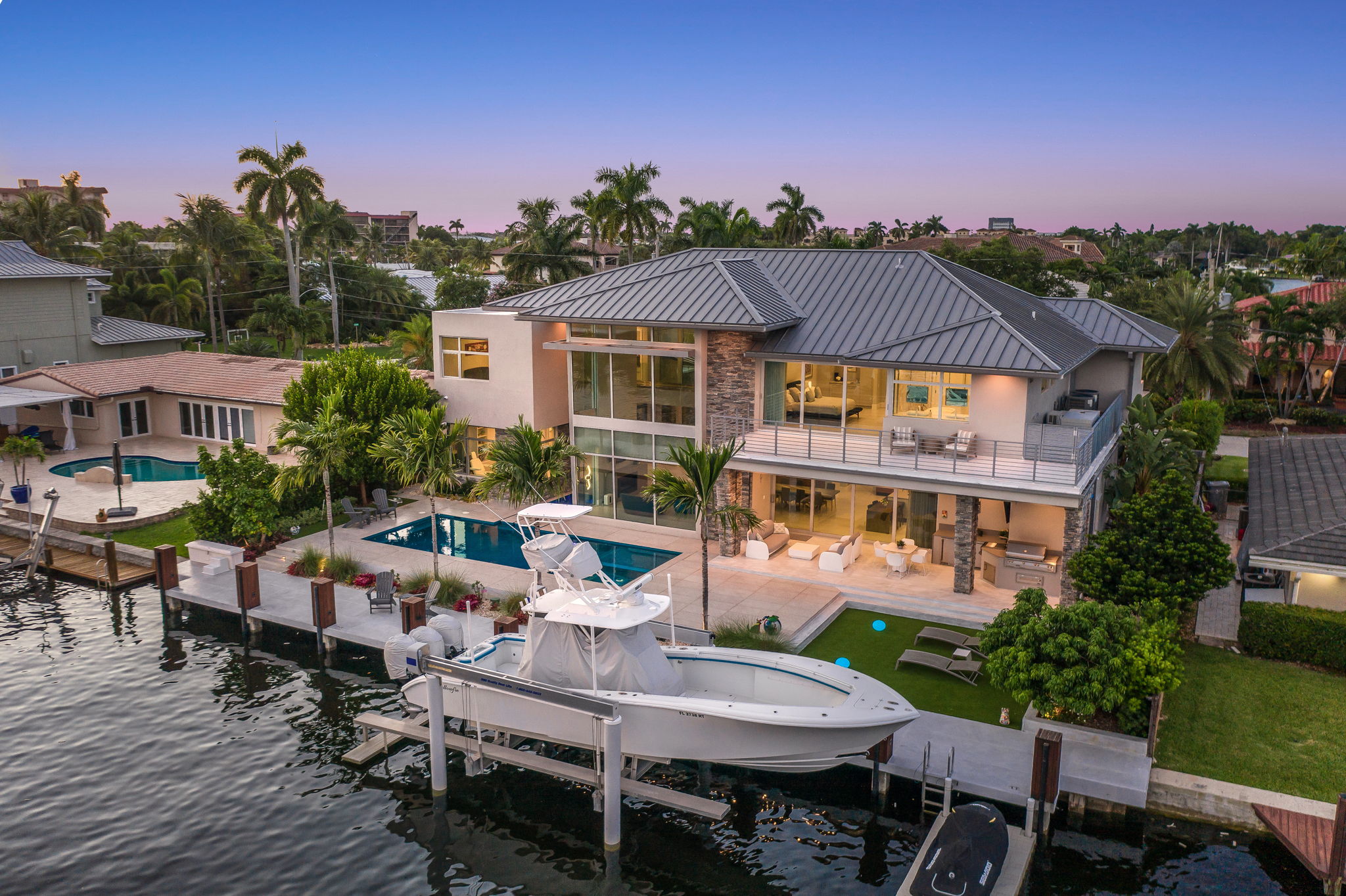 From fresh coast to saltwater shores, AZD Associates' team of skilled and dedicated professionals brings artful designs to life for clients through dramatic silhouettes, modern lines, and distinctive materiality.
"It is just so fun drawing for clients and coming up with these ideas and then eventually getting it built, and we couldn't do it without our awesome, key staff members," Akey said.
Full text available in Great Lakes By Design: Bold Graphics, 2021
Text: R.J. Weick
Photography: Courtesy AZD Associates Architects Inc. | WayUp Media LLC