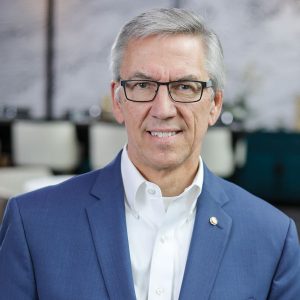 In the past, architecture has been defined as a vocation, a field of both technical and creative study, and a conduit in which an individual can impact lives and leave a legacy. Yet, its potential to influence, create, inspire, disrupt, and include speaks to a larger import than a simple, concrete interpretation. Its significance is elusive, fluid, and subjective; as varied as the talented minds and hands practicing the craft in the region, building upon the existing built fabric and landscape.
In this continued series, Great Lakes By Design Magazine had an opportunity to learn more about some of the architects practicing in the Great Lakes region—and what drives them to create inspired spaces and places.
Thomas R. Mathison, FAIA
Principal, Co-Founder | Mathison | Mathison Architects
Grand Rapids, Michigan
In every project, Thomas R. Mathison, FAIA, principal and co-founder of Mathison|Mathison Architects in Grand Rapids, Michigan, considers the interrelationship of spatial quality and how it impacts people—namely how to enhance overall wellbeing.
"Early in my career I thought I wanted to go into the healthcare architecture field and then I was in the education area: all of it was around how space impacts people and their overall health. Overall wellbeing—light, space, volume, and the materiality—is very significant to me," Mathison said. "In the sustainable movement, LEED, it also became very important and the whole idea of wellbeing is something that pervades just about every one of our projects. How do we build health into our spaces?"
Mathison|Mathison Architects, co-founded and co-led by the father-and-son team of Thomas Mathison, FAIA, and Evan Mathison, is a full-service architectural and interior design firm that strives to create meaningful spaces in educational, residential, commercial, and civic design. At its core, the firm believes exceptional design connects people with space and each other; and uses light, form, material, and detail in a holistic and informed design approach to deliver functional and sustainable results grounded in modernism.
For Thomas Mathison, whose upstairs home loft in 2013 became the humble origin story of the award-winning firm and has been a licensed architect for more than 40 years, it was his love of art and affinity for math that drew him to the design field, and ultimately architecture.
"I wanted to be a commercial artist. It was really what I started out wanting to do, but I wasn't sure that I could actually make a living doing that so I figured architecture is pretty similar, I think I'll move into that direction, and I really began to develop a passion for it," Mathison said. "I took a couple of independent study classes in architecture, really loved it, and decided then, basically late in high school, that it was what I wanted to pursue."
Upon graduating from the University of Michigan with a master's degree in architecture in 1975 and becoming licensed in 1978, Mathison relocated to his hometown of Traverse City, Michigan and began working with a local architectural firm there. By 1981, Mathison would be asked to open a branch office in Florida where he ultimately spent nearly eight years applying his passion and craft in the state.
"I packed up my family and we moved to Florida for what was going to be a two-year-commitment and after two years I could come back to Traverse City, which is really what I wanted to do," Mathison said. "When I did want to come back there wasn't really much of a job left, so I went into business with another architect in Florida and spent the total of about eight years there, but our goal was always to return to Michigan—my wife is also from northern Michigan."
Mathison returned to Michigan in 1988 when he began working for a Grand Rapids-based architecture and engineering firm and foraying into the K-12 and higher education field. He would then spend another 20 years at a Grand Rapids- and Kalamazoo-based firm as a senior principal and focus group leader for higher education. Throughout his career, Mathison was involved in master planning and building projects for academic institutions such as: Kalamazoo Valley Community College, Kellogg Community College, Muskegon Community College, Schoolcraft College, Ferris State University, Grand Rapids Community College, Michigan State University, Montcalm Community College, and Northwood University. He also worked with K-12 programs in districts such as: Byron Center Public Schools, Kalamazoo Public Schools, Grand Rapids Public Schools, Lowell Public Schools, and Portage Public Schools, among others.
"When I was doing a lot of school work, one of my favorite things to do was to be at school on the first day of a new school opening. One of my favorite things was to see the delight and see how people respond to a new space or see a place that they never imagined could look that way—even if it was a familiar building and had been renovated," Mathison said.
"To see people use the space and really enjoy it—that is the most satisfying thing. I think most architects enjoy the idea of creating a project that is real, that you can point to, and you can show people and say 'I worked on that project' or 'I had something to do with whatever-the-building-is'; there is a certain satisfaction architects have by seeing their projects come alive off a drawing and into reality," Mathison added.
At this point, Mathison noted he and his son, Evan Mathison, had discussed the possibility of starting their own practice together upon Evan Mathison's return to Michigan from practicing in Boston for nearly 10 years. While it seemed like "an illusion for a while," Thomas Mathison said it became a serious endeavor and by July 2013, the firm was active from an upstairs home loft. With a project from Massachusetts and a few retained clients by Thomas Mathison, Mathison|Mathison Architects hit the ground running prior to its official launch in the fall.
"We were functional right from the very beginning," Mathison said. "We decided to put a lot of effort into a good website, because we needed to let as many people as we could know about the fact that we were there. It was amazing how soon it was that people started to find us; we were finding ourselves busy right out of the starting block."
Since then, Mathison|Mathison Architects has grown into a more than 14-member team of architects, architectural designers, and interior designers operating from its nearly 4,000-square-foot brick-and-mortar office space in downtown Grand Rapids. Its recent 1,900-square-foot expansion has led to the inclusion of an interior library, large conference room, and viewing area with abundant natural light for display of work, among other amenities.
Whether commercial, residential, educational, or civic, Mathison noted the main tenet of every project the firm tackles is looking for ways to maximize benefit for the most people.
"How can we do one thing that benefits multiple people? Our airport viewing park was a good example of that. We really tried to figure out what would make the biggest bang for a relatively modest budget. How could we get the most people interested in the whole idea of flight?" Mathison said.
"How could we bring education into a project that most people would consider just entertainment or recreation? We are trying to double up or triple up our bottom line when we think of the benefits we can bring to every project," Mathison added.
While familiar challenges of changing technology—its use in the design process and as it relates to new materials and techniques—and finding talented, qualified people continue to face the industry moving forward, Mathison noted the firm has been fortunate in attracting a great team. While the challenge is generic to a number of industries, not just the architectural or design profession, fostering culture and building bonds with their team members is an important element at the firm.
"I'm surprised all the time by their ideas and their innovative approach to projects," Mathison said. "We have been in a very robust economy for a number of years now and the prospect of a slowdown is something that is beginning to enter conversation in construction and design professions. I think how we gracefully slow down, yet maintain our quality and maintain our team will continue to be a challenge as we go through economic cycles in the business world."
To Mathison, design is the manifestation of creative minds and the integration of the senses, of material and space, and is the result of those elements working together in an optimal, balanced, and integrated way—and at the end of the day, he hopes his work speaks to his passion for making a difference in people's lives.
"It is what gets me going," Mathison said. "At the end of my career—I don't know when that is—I'm going to enjoy the memories of those projects. There are a lot of good memories; memories of people celebrating in those projects."