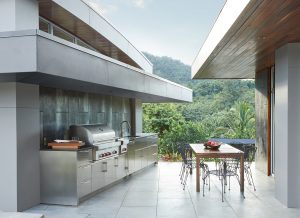 Headquartered in Madison, Wisconsin, Sub-Zero Group, Inc. has been considered an industry leader in culinary appliances, as its subsidiary brands, Sub-Zero, Wolf, and Cove, merge technological innovation and sleek aesthetics to outfit residential and commercial kitchens globally.
With the trio's collections of premium refrigeration, cooking, and dishwashing solutions there is an even larger amount of possibilities when it comes to the designed spaces that they appear in. This is the thinking behind Sub-Zero, Wolf, and Cove's Kitchen Design Contest, which has been in place for more than 25 years to recognize design professionals, builders, remodelers, and students worldwide for advancing current standards in kitchen design. Recently the brands announced the 2019-2020 Kitchen Design Contest, which opened submissions in April and will reveal its 29 professional finalists and a student winner in the spring of 2021, before a fall Winners' Summit and Gala.
"Great design deserves to be recognized and that's what the Kitchen Design Contest was created to do," stated Jim Bakke, president and chief executive officer of Sub-Zero Group, Inc in the press release.
"This contest is our way of honoring the design community and the significant role they have played in making Sub-Zero, Wolf, and Cove a household name for 75 years. It's important to us to push the boundaries of kitchen design, and we are proud to provide a platform to showcase and applaud the amazing creators in our industry doing the same," Bakke added. 
The past 13 contests have celebrated more than 14,000 designs, all competing to win the title of Finalist and Global Winner. Designers are free to tap into each brand's wealth of product resources, which include everything from wine storage and under the counter refrigeration to coffee systems, warming drawers, dishwashers, and cookware, to create kitchen designs that answer to a client's culinary needs while expressing their own unique style. 
Some spaces have utilized kitchen appliances in historic renovations or supported grand modern architectural statements, while others offer a comfortable sophistication or seek to blend within their surroundings. The diversity of the contest's roughly 14,000 designs thus far is a testament to the adaptability and extended ability of Sub-Zero, Wolf, and Cove product lines, which are able to venture the far-reaching borders of design, from farmhouse to industrial loft—traditional to cutting edge. 
Each Kitchen Design Contest entry is evaluated in a blind contest by a panel of judges—all previous contest winners—who are considered leaders in the design industry and its many facets. The cumulation of entries will be narrowed to 29 finalists and one student, awaiting cash prizes totaling a record-setting $275,000 next spring. In all, the design categories for evaluation fall under Contemporary, Transitional, and Traditional; and other categories include First-Time Entrant, Small Space Kitchen, and the newly announced pair Best Outside of Kitchen and Emerging Professional.
Text: R. Collins | GLBD writer
Featured image: Kirstyn Lloyd of Maker + May, second place for Contemporary Kitchen in 2017-2018 KDC. Features M Series oven, wine storage, gas cooktops, and Designer Series refrigeration.
Photos courtesy Sub-Zero, Wolf, and Cove.