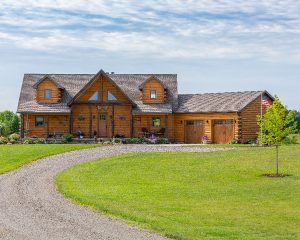 There's a certain sense of comfort created in a home natural wood finishes and accents can invoke. As an architectural material, the rich color and materiality of natural wood causes an instant change in structural style, aesthetic, and feeling when it is applied to the exterior or interior of a home. More so, its malleable qualities allow it to take nearly any shape. 
In the small town of Comins, Michigan, in the heart of a more-than-century-old timber industry, the team of craftspeople at The Woodworkers Shoppe Inc. specialize in creating collections of architectural and household wood products from locally grown and harvested species like White Northern Cedar—a naturally termite and rot-resistant species—and knotty pine.
"I think [wood] gives you that warm, fuzzy, cozy feeling in any room when you sit down and it surrounds you," said Gary Gee, general manager of The Woodworkers Shoppe. "If it's someone in the Detroit area, maybe they have a second home up here and having something like that in a den, living room, or bedroom gives it that warm feeling."
The Woodworkers Shoppe has been outfitting corporate and residential structures nationwide for more than 20 years, and its sawmill, Comins Lumber Sales Inc., has been milling, drying, and molding untreated, fresh-cut logs for nearly four decades. High-quality wood products are created through a rigorous crafting process, which involves inspecting each wooden board for defects after sawing, and later, kiln-drying each piece to its minimum moisture content to prevent warping. The Woodworkers Shoppe and mill operation also includes a three-level showroom and a custom wood shop offering everything from kitchen cabinetry and rustic log railings to stair systems and interior doors.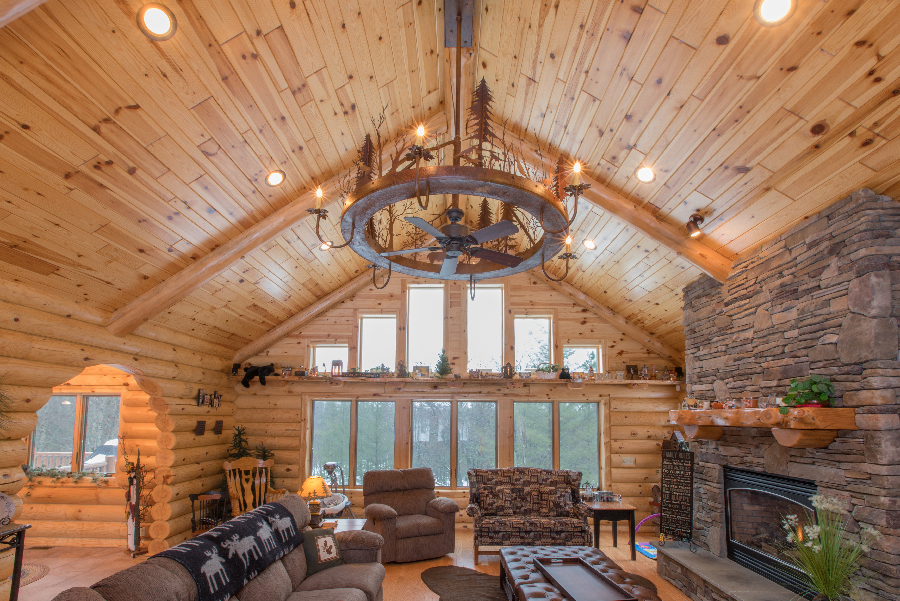 "We also do all the custom wood stuff: custom wood kitchens, log mantels, wood doors, furniture, and log stairways—you name it, the wood shop does it," Gee said. 
Through The Woodworkers Shoppe and its retail site The Log Home Shoppe, customers have access to natural, finished, or custom finished exterior log cabin siding and wood paneling, as well as interior products like decorative, hand-hewn log rafters; rustic lighting; lodge poles; and structural porch systems. 
In 1996, The Woodworkers Shoppe introduced a waste-free, tongue-and-groove design and end-matching system seen on paneling pieces to its cast collection and it has been a popular choice by clients since. The system is meant to ensure assemblers cut paneling only once per row, as opposed to every board being measured and cut to fall on a stud. The result is saved material, labor, and cost.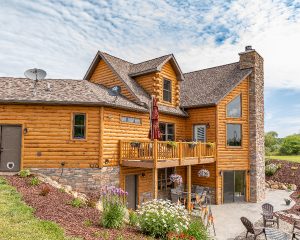 "[Builders] were throwing away a foot or two all the time of these boards, trying to get them to land on a stud, whereas our product is a continuous, no-waste product where you lay one board down and, being it is tongue-and-groove, it can run wild past that stud and still be assembled," Gee said. "It goes together like flooring in a way. There is really no waste. It is the same way with the log siding."
The tongue-and-groove paneling can be applied to new construction or renovation, indoors or out, and on a single room or the entire home. The versatility provided by working with raw wood is also a theme in other Woodworkers Shoppe products, such as the more recently released barnwood paneling, a weathered option evoking a rustic barn appeal, or the glow-in-the-dark, Lumi-Wood paneling that was launched in March 2020. 
Despite a drastic change in conducting physical business recently, Gee said the product has received enthusiastic reviews already and the Woodworkers Shoppe itself is seeing an increase in interested homeowners during a time when many are digging into residential projects of all kinds. The Woodworkers Shoppe has a network of dealers throughout Michigan and its bordering states, as well as Canada, Montana, Idaho, and Louisiana, providing a wide variety of wood accessories for home, porch, and property. 
Text: R. Collins | GLBD writer
Photos courtesy The Woodworkers Shoppe