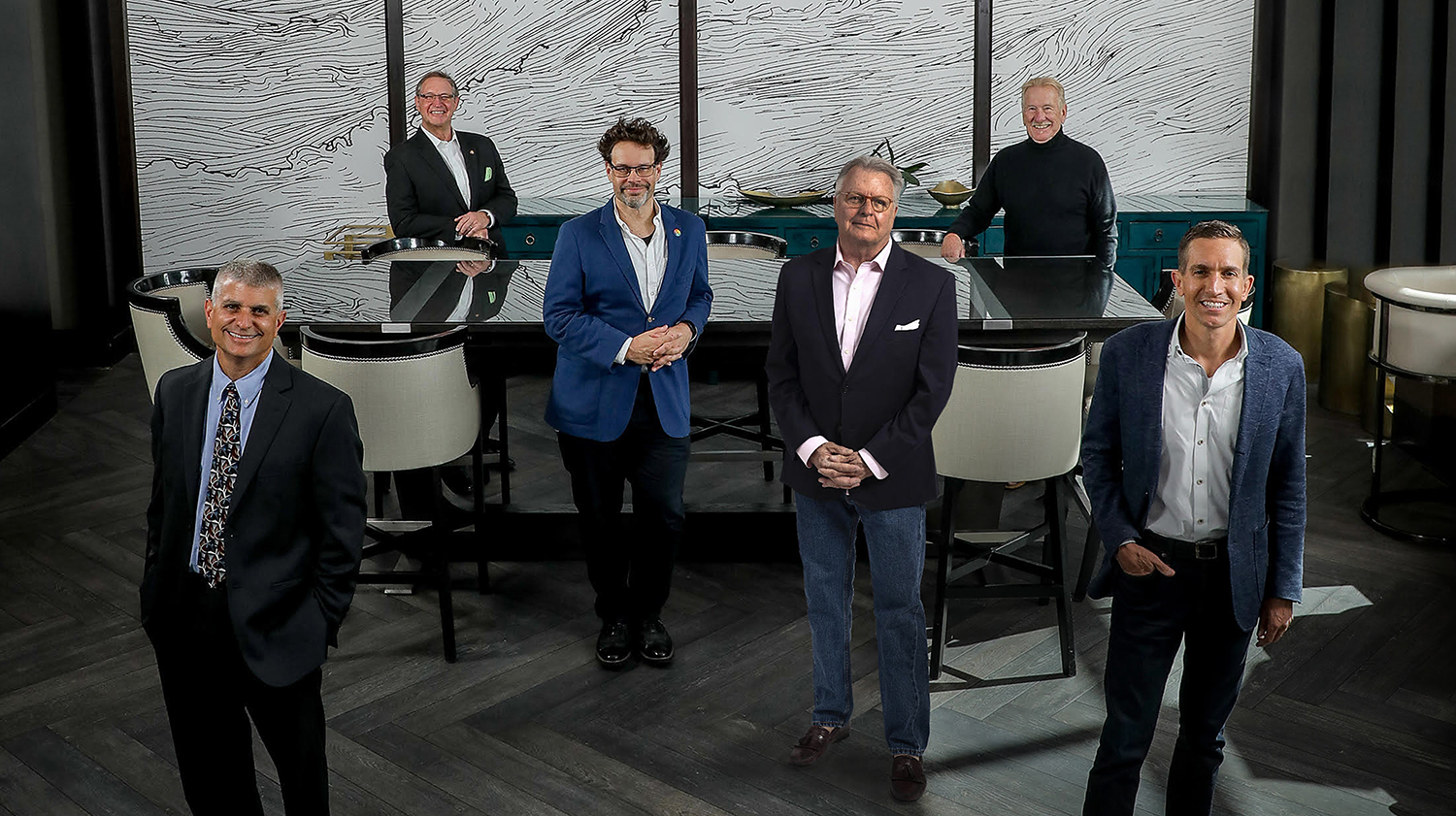 As a professional field, architecture is both process and product, art and science, and statement and solution. In light of the many disruptions this past year has brought, the potential of good architecture—and those who creatively, intentionally practice the craft—to enhance the human experience has become more important than ever. Well-designed office spaces, residential retreats, public parks, landscaped environments, and nuanced processes have the ability to address ever-evolving needs and challenges of today's climate to ultimately support and enhance the quality of life for individuals and whole communities.
In this continued series, Great Lakes By Design Magazine had an opportunity to learn more about some of the architects practicing in the Great Lakes region—and what drives them to create inspired spaces and places.
PHOTOGRAPHY: M-BUCK STUDIO

Ted Lott, AIA, LEED AP
There is a moment in good design when a bell tone rings out pure and true as the nuanced elements of form, function, and context come together to make a project truly sing. It is in this instance, which may not happen every day or in every project, that Ted Lott, AIA, LEED AP, owner and principal at Lott3Metz Architecture LLC in Grand Rapids, Michigan finds moments of joy. (Read More)

James D. Nordlie, AIA

"The first line is never sacred. Design is a process and it is fighting the battle of mediocrity, insensitivity, and laziness. Design is the challenge of overcoming all of those obstacles for an inspirational and positive result," said James D. Nordlie, AIA, president of Archiventure Group PC in Denver, Colorado and Harbor Springs, Michigan. (Read More)

Dennis Reckley, RA
Dennis Reckley, RA, architect and chief executive officer of SVB + Reckley Architects in Holland, Michigan realized his passion for design amid the ice cliffs and island mountains of Anvers Island near the Antarctic Peninsula while stationed at the South Pole as a Navy Seabee in the United States' Navy Construction Battalion. (Read More)

John F. Spalding, RA, AIA, NCARB
To John F. Spalding, architect and partner at Spalding Design Group, LLC, design is a collaborative effort that involves client and architect, as well as a host of talented and trusted designers and trade professionals who contribute insightful input to the multi-faceted design build process. (Read More)

Kevin Toukoumidis, AIA, LEED
There is power in architecture. It is rooted in its innate ability to reflect connections between the human experience and the built landscape, as well as its surrounding environment. (Read More)

Damian Farrell, FAIA, LEED AP
For Damian Farrell, FAIA, LEED AP, owner and principal of Damian Farrell Design Group PLLC in Ann Arbor, Michigan, it was the hours spent as a young boy watching a local architect in South Africa sketch by hand that initially drew him to the field of architecture and design. (Coming Soon)

Full text available in our print edition, Great Lakes By Design, Volume 4, Issue 6: Architectonics available to purchase now or with your subscription.

Other Issues