In the wake of uncertainty across social, economic, and environmental systems, and as many stand on the cusp of cautious optimism for the future, the idea of resiliency has emerged as a vital, multifaceted concept for individuals and industries. Resilience is about the capacity and tenacity of the human spirit and industrial endurance to not only survive, but thrive in the face of external forces and disruptive stressors. It is a concept and often comprehensive strategy with a diverse interpretation as it is applied to operations, communities, coastal environments, and the personal experience.
When Ghafari Associates LLC, an architecture and planning firm headquartered in Dearborn, Michigan, was tapped in late 2019 to design and to lead a comprehensive study for an innovative new operations hub for Northpointe Bank, a Grand Rapids, Michigan financial service organization, early conversations about adaptability in response to future conditions would become a driving force to the success of the dynamic and forward-thinking workplace. Michael Lubbers, AIA, NCARB, LEED AP BD+C, director of design at Ghafari Associates in Grand Rapids, noted Northpointe Bank's initial vision for the cutting-edge facility comprised accommodating the rapid growth across its residential lending and servicing departments, and creating an authentic and engaging recruitment tool to attract new employees, while also ensuring their real estate offerings remained flexible for the future.
"They were looking to be able to find more space for more people, but they really needed a new recruiting tool as well. They were looking to hire a lot of new talent and they really wanted the best and the brightest. Northpointe is passionate about their people both internally as well as their clients and customers, so they wanted that to be authentic as an offering when younger recruits or talented recruits walk in for interviews," Lubbers said.
"They wanted to show them that they are who they say they are and they are very much about creating a healthy, collaborative, and safe environment for both their internal employees and their customers alike," Lubbers added.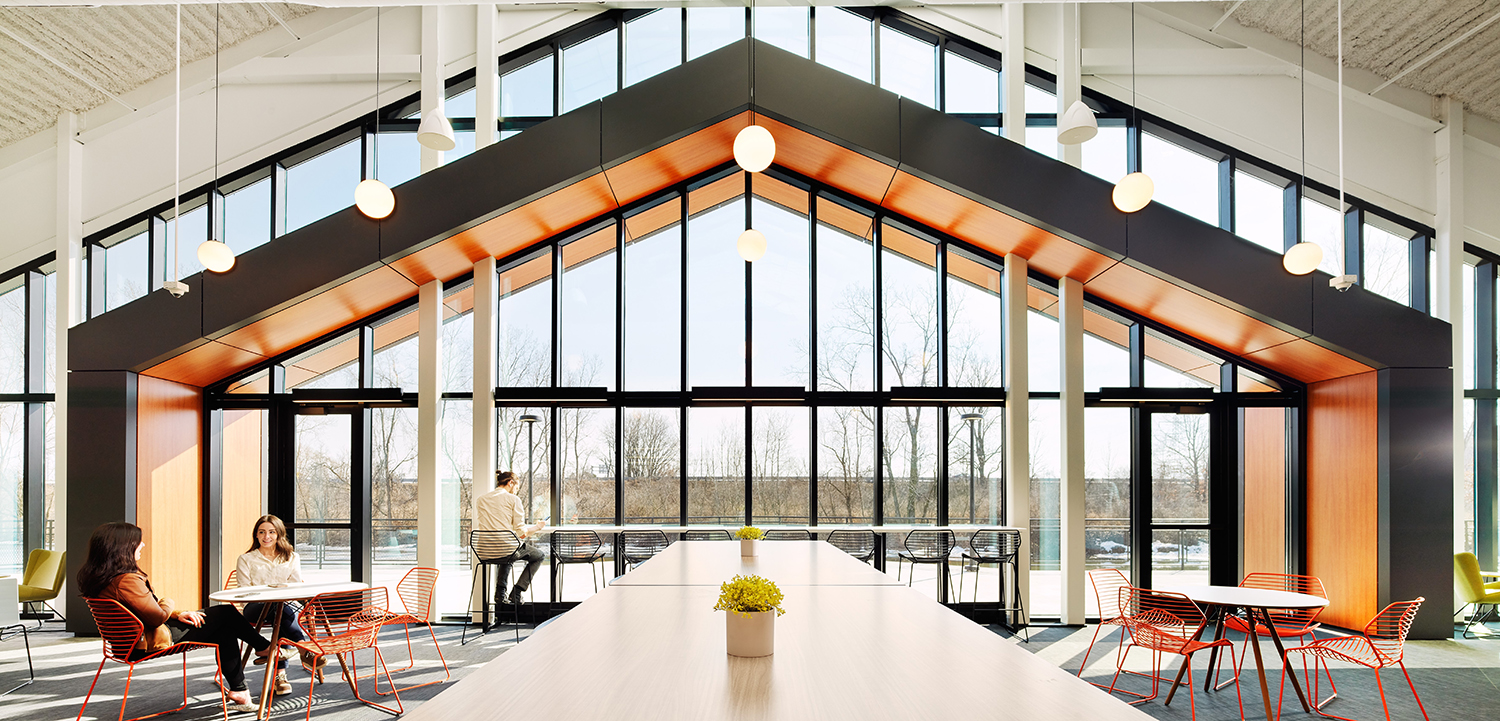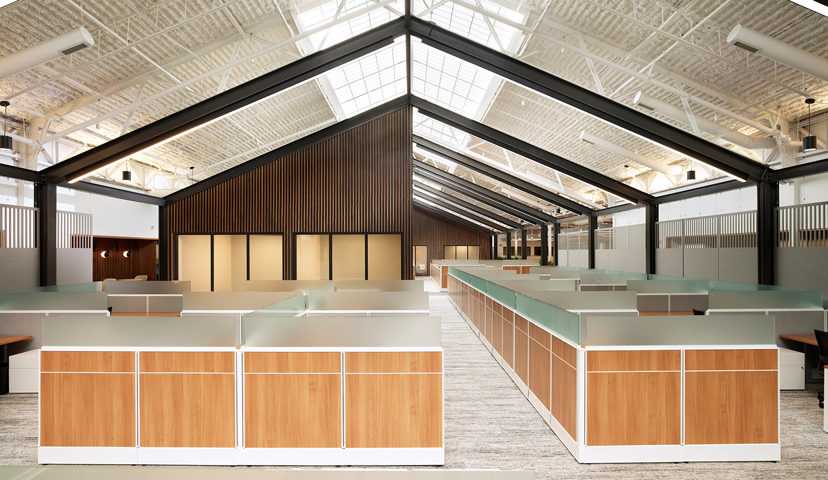 With a mission to create an environment where employees wanted to work and had the flexibility to choose how they did that work balanced with a desire to optimize real estate investment, Northpointe looked to Ghafari to help transform a nearly 100,000-square-foot, big-box facility formerly known as Cascade Commons into a multi-tenant space where 91,000-square-feet would serve as the new hub that could expand or contract as needed.
"Our design process and our philosophy are very much human-centered, so everything we do is about enhancing that user experience for all the environments we design and create, and Northpointe very much was the pinnacle of all of that. Northpointe communicated to us that obviously the environment needed to mesh with their brand and, for us, brand is all about what is memorable," Lubbers said.
To realize a creative, flexible, and authentic workplace in the aging, nearly vacant former big-box, high-bay design showcase center in southeast Grand Rapids, Ghafari engaged Northpointe's leadership and stakeholders in a workplace strategy, visioning, and discovery dialogue to ultimately develop a comprehensive roadmap for the facility. Lubbers also noted Visser Brothers Inc. was brought on board early on in the process before designing began to help mitigate unforeseen challenges with the existing building. As the original contractor for the existing Cascade Commons building, the Visser Brothers team brought an understanding for the facility's design and construction methods.
"It is fair to say it grew a little bit, but the roadmap was very thorough and the common themes were all about flexibility for Northpointe's future and recruitment—making sure this space became a very strong tool for Northpointe to utilize for interviews for new talent," Lubbers said. "Those two common themes remained very strong all the way through; I would say what changed with the roadmap is Northpointe kept growing beyond our wildest expectations throughout that process of developing the roadmap, so the themes remained the same, but the magnitude of the project continued to grow."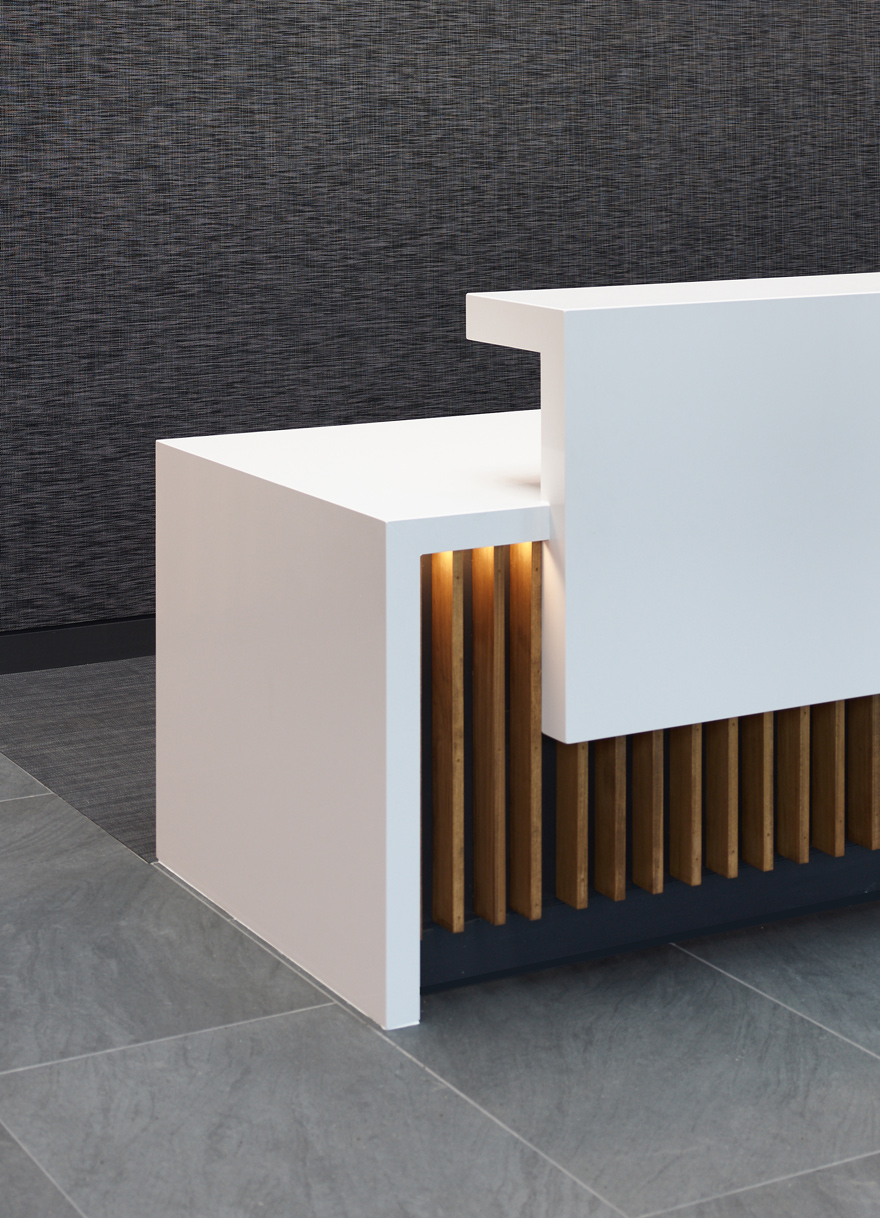 The strategic roadmap, which incorporated terminology for the new space like genuine, authentic, freedom, choices, trust, and diversity, identified how each of the fastest growing departments worked and areas of improvement. It provided a complete facilities analysis, documented existing and future staffing needs, desired work styles and diverse meeting space needs, and an operational vision for the new center. The process also featured masterplan diagrams that explored the physical relationships between the center and potential additional tenants for the 100,000-square-foot multi-tenant floorplate.
Ghafari integrated small nooks and intimate spaces throughout the building where cross-circulation can lead to moments of casual conversation, and designed small, private offices; focus rooms or huddle spaces; and conference rooms tailored for small and large groups. The roadmap, which highlighted Northpointe's key assets as people, culture, technology, real estate, and wellbeing, drove the mix of diverse workstyles balanced with high-tech meeting areas and engaging social spaces. Lubbers noted those choices are the basis of everything of that workplace design and modular thinking in furniture design led to a greater level of flexibility as users move about the space and as the organization's workforce needs evolve. Since the private office spaces, huddle rooms, and meeting spaces are similar in design, Northpointe can "plug-and-play" in the future as their staff expands or contracts by repositioning existing workplace options.
"That is the modular thinking that we designed to with our work at Ghafari: its designing with the future in mind. That says you are taking a client's valuable asset, their real estate, and thinking about their future and not just thinking about growth, but thinking about the potential for contraction as well," Lubbers said. "That is really the basis of flexibility for us."
More than an efficient and flexible workplace, Northpointe Bank Operations Center transformed the former showcase center from its characteristic utilitarian and sometimes intimidating stature into one of natural light and seasonal celebration. The gabled skylight was renovated and complemented by a massive steel arcade structure to bring the ceiling height down to a scalable, relatable level; custom millwork like the wood slat walls are intended to simulate a walk through the forest and add a warmth to the overall space; and custom wall graphics by local artist, Kristi Grotenrath, and custom graphic wallcoverings featuring Michigan seasons, forests, and beaches sourced from Rebel Walls and Mural Wallpaper are intended to blend the boundary between indoor and outdoor space. Greens, cyans, yellows, and wood tones complement a space that has become bright, spacious, and comfortable—in effect, making the space feel more human.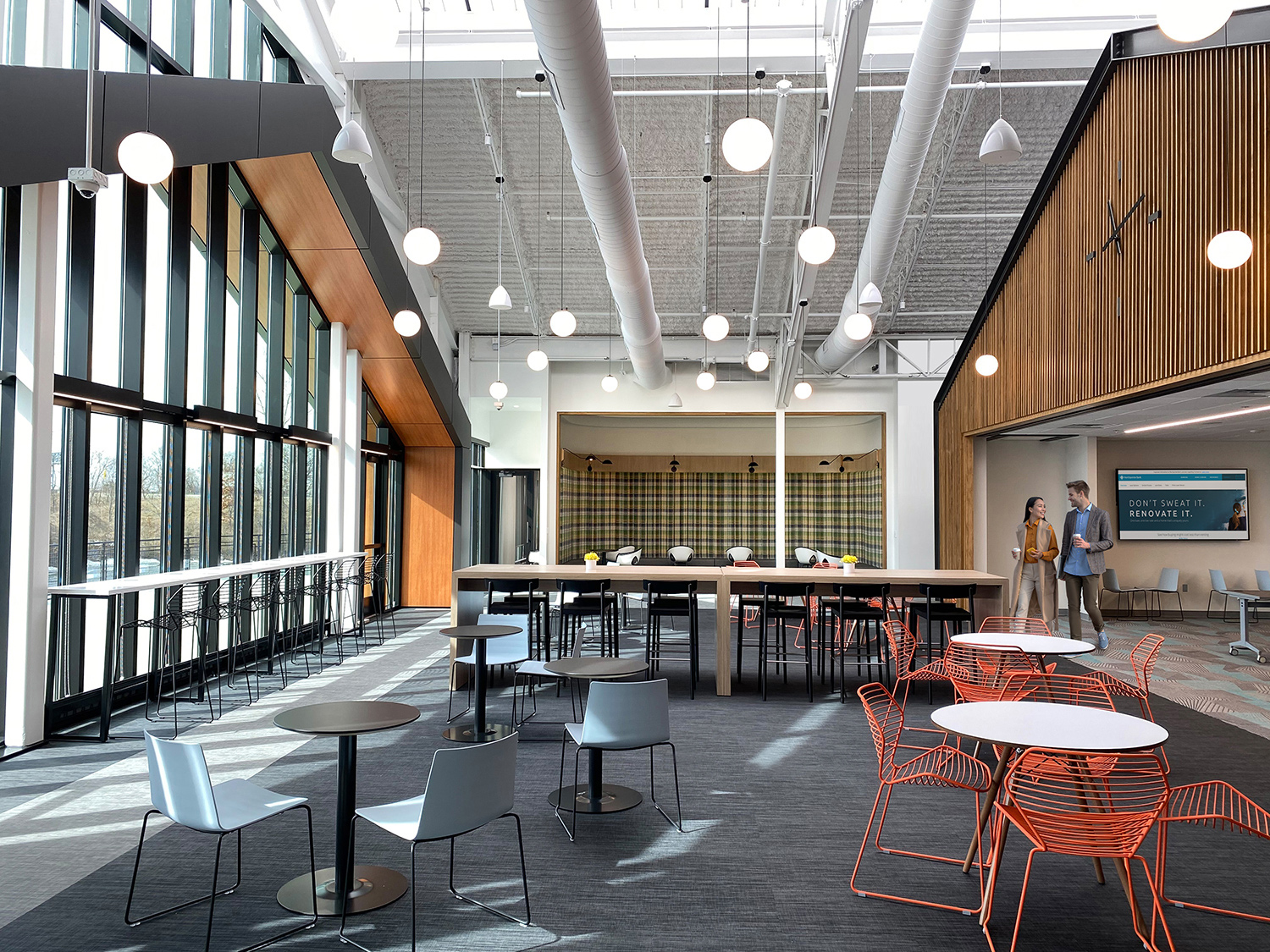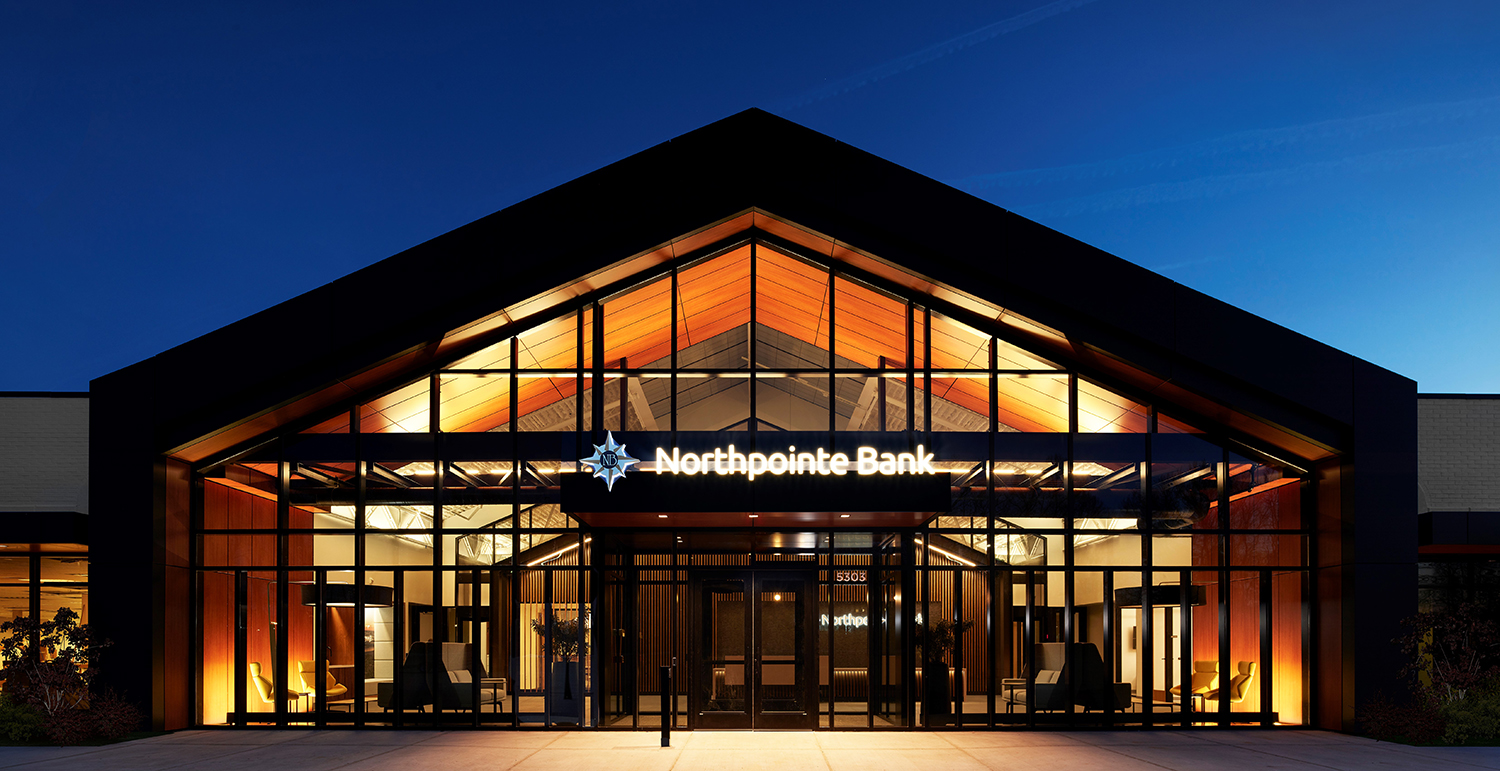 Though there did come a moment in 2020 when Northpointe Bank re-thought how the collaborative workspace fit into business plans amid circumstances, Lubbers said as a financial institution one of their priorities is safety and became very natural to them to move forward in terms of planning for the future.
Bolstered by the budgeting and management expertise provided by Visser Brothers as the design-and-build team navigated the project throughout 2020, Northpointe Bank Operations Center was officially unveiled in late March 2021 as a lead tenant in a building that has been brought back to life once more.
"Design for me is enhancing the lives of human beings," Lubbers said. "Whether you are going to school, going to work, or going home, how can I make that better? How can I help make that memorable? How can I help that expand the success of an organization, grow the brand, grow the client's success? It is all about elevating that human experience for me."
Full text available in Great Lakes By Design: Crafted Lodging, 2021
Text: R.J. Weick
Photography: JJ Jetel