Principal, Senior Architect, Commercial Studio Leader
AMDG Architects | Grand Rapids, Michigan
Inspired by the iconic architectural landscape of southern California, Gina A. Paul, AIA, senior architect and one of the principals at AMDG Architects in Grand Rapids, Michigan, knew she wanted to be in architecture from a young age. From the bustling epicenter of Los Angeles, where she went to college, and the nearby historical districts of Pasadena with its distinctive landmarks like Pasadena Hall, to diverse styles found in the region such as Mission Revival, Beaux Arts, Art Deco, and Midcentury Modern, the rich tapestry of the built landscape left an influential mark early in life. Paul noted she was inspired by the works of architects and designers like Richard Neutra, Frank Lloyd Wright, Charles and Ray Eames, Frank Gehry, and Charles Moore, and it was while on a tour in high school she came across the California bungalows by Charles and Henry Greene of Greene and Greene.
"Growing up in California, I was around a lot of beautiful buildings and architecture that used unique materials and thoughtful design. I fell in love with the architecture from the two brothers of Greene and Greene, which created beautiful home designs using rich wood, detailed joinery, built-in millwork, and exquisite exterior detailing. Going to college in the L.A. area, I was exposed to a lot of different styles of architecture," Paul said. "Downtown was filled with modern high rises, the smaller towns had historic downtown structures, and out in Pasadena, you have these beautiful bungalow homes that were built by craftsmen back in the 1920s and 1930s that intrigued me."
Paul's affinity for the beauty of architecture quickly became something more when tasked with an assignment in elementary school about designing homes, noting the project really resonated and by the time she was 10- or 12-years-old, she already knew she wanted to be in architecture.
"In high school, when they allowed you to take drafting class, I was the only girl in the class typically and I had a teacher who kept saying, 'you know, you could do this.' Design and architecture do not have to be all about engineering and drafting details," Paul said.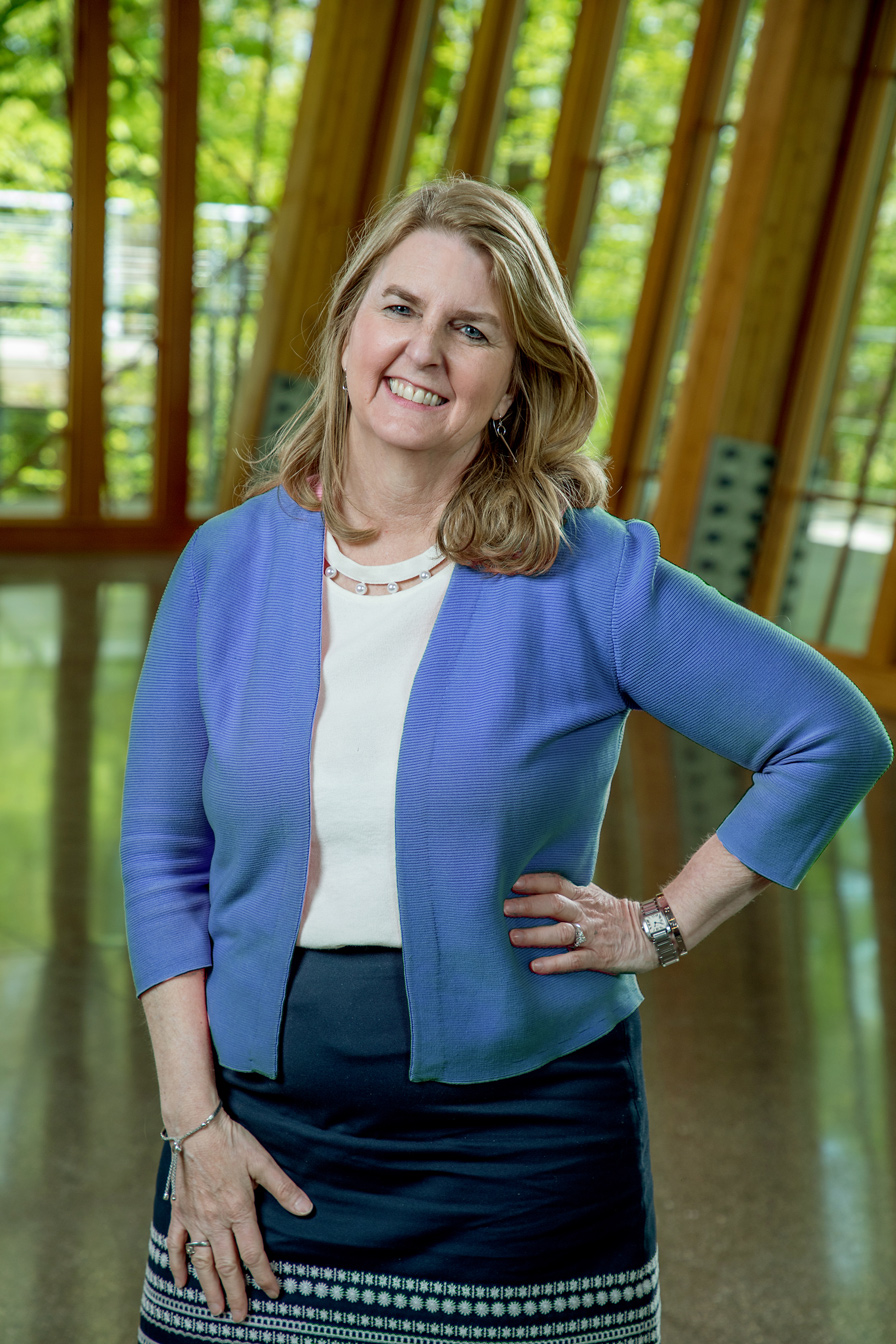 From the University of Southern California's School of Architecture in Los Angeles, the Art Center of School and Design, and the Royal Institute of British Architects in London, Paul's academic journey honed in on an interest in interior architecture and working to marry the design of an overall structure, from exterior vernacular down to material selections chosen for inside spaces. While attending the University of Southern California, where she earned a Bachelor of Architecture and was inspired by professors who were often working architects on landscape, urban, and low-income housing projects; Paul was recognized with an AIA Los Angeles award for the Historic Model Competition and Pershing Square Design Competition in 1981 and 1982, respectively. Paul also spent a summer session at the Royal Institute of British Architects studying as well as working as an intern architect at McLarand Vasquez in Costa Mesa, California, before making her way eastward to Michigan.
"I moved to Michigan in 1986 and started working in the Ann Arbor area and was exposed to Michigan architecture. It was a great mix of University of Michigan campus, commercial, and residential projects," Paul said. "Shortly after that, my husband got transferred to Grand Rapids, so I have been in the Grand Rapids area for about 30 years and I've worked for two firms while I've been in Grand Rapids. I joined AMDG a few years back to head up one of the commercial studios and help to build the interior architecture project portfolio."
AMDG Architects is a full-service architecture firm based in Grand Rapids dedicated to delivering projects with lasting value, usefulness, and delight that at the heart understand and reflect their clients.  Since 1992, the firm has built a portfolio of commercial and residential work backed by a team experienced in site planning and landscape architecture, architectural design, interior design, and construction documentation and administration. AMDG has worked across workplace, industrial, medical, educational, sports and fitness, faith-based, nonprofit, and private residential sectors, and places an emphasis on in-house growth and learning with mentorship.
Now serving as one of the Principals and Commercial Studio Leaders, Paul said her role is focused on aligning the architectural vision with the interiors of projects to ensure continuity from start to finish of the building. Her knowledge of interior and exterior materials, managing the process of the design and documentation for the team, and working with the client to understand their needs and budget, help to create a seamless collaboration and process. Paul also has a passion for mentoring younger architects and interior designers at the firm, helping them craft their skills and talents to be better professionals.
"A good mentor is someone who leads, but lets you fail and then helps you through the failure to help you get better at your craft," Paul said.
"When I started working in architecture, I wanted to understand the needs from the inside, out: developing the client needs, shaping the space, laying out the furniture, and marrying the exterior façade and the site to reflect what's going on within the building. That was one of the things I came to AMDG to support, to help the architects learn more about interior materials and furniture placement, and how they affect the shape and size of a room or space. Architects are not taught this in school and they don't know why you would choose one product over another for durability or aesthetics," Paul added.
When working with clients, Paul's architectural philosophy for delivering successful projects is focused on knowing how to ask the right questions and being a good listener to the clients and to their needs.
"What are they trying to change? What issues are they trying to solve or overcome?" Paul said. "You have to keep in mind you are drawing for them, you are not drawing for yourself, so it is important to keep that in mind as you do any building, whether it is for a commercial group of a medical group or a school."
Within the office, one tool leveraged throughout the process are design principles, which help develop an overall design that reflects clear goals stated from day one. Paul noted the client also has to understand why they are doing something, since often they aren't just building a building to build it, and it is important to help them through the journey to identify the underlying purpose—and budget—of the project whether it is a commercial building or a personal residence.
Though the pandemic presented new challenges in both shipping and procurement costs, as well as in rising building costs, Paul noted architects in the Midwest continue to busy. She also said the number of new materials and building products are still being released—and the ability to use those products in unique ways—is an exciting prospect for the future, especially as much of the commercial sector has resumed its previous building pace.
While advancements and new developments in the field hold promise and potential for the future of architecture, the ability to draw by hand and conceptualize space is a skill that is at risk of becoming lost. Paired with the added challenge of finding good employees, particularly those at the more senior levels, whether it is in interior design, architectural design, or production, Paul noted these are some of the issues the field of architecture is being faced with, especially in the Midwest.
"There are a lot of women entering architecture schools, but they are not coming out of school wanting to work in an architectural office. It is difficult to find someone who is staying with the field and getting licensed and sticking with it for their whole career. There are many opportunities with an architecture degree and many choose to use their degree for marketing, products sales, real estate, or other purposes," Paul said. "I'm part of a women's architecture group in town, there is about 30-to-40 of us and we get together about once every other month for drinks and to chat. The group discusses the design field, their career paths, mentoring the process of interviews, and how to balance family and work successfully."
In the field for more than 30 years, Paul noted she has witnessed a lot of growth in terms of women involved in the field of architecture and while it is great to see, she would like to see even more in the future since their voices and their experiences often bring something different to the table.
"There are a few prominent women designers in our field, but it is minimal in comparison to the men who get a lot of exposure and I think it is because we don't speak up enough. We don't have enough women-owned architecture firms, or women in leadership within the local firms," Paul said. "Developing that in the next 10-to-20 years would be fabulous, because I think they have a different sense of compassion and flexibility with staff, when they've gone through it themselves."
Paul also said it is almost impossible to give 100 percent to everything, especially when balancing a full-time architectural schedule serving as a leader in an office, volunteering in the community, and having a family.
"I found I couldn't work full-time 40-to-50 hours a week and still be sane at home. It was really important for me to find a firm or firms that give you flexibility so that in one week, you might have three things that come up, but then the next week you can put all your heart into the office again," Paul said. "Flexibility in the workplace helps bridge that gap."
For Paul, who spent her formative years among the historic architectural work of Greene and Greene, Myron Hunt, Elmer Grey, and D.M. Renton, and cultural icons like the California Institute of Technology, old homes have a special place in her heart. While she noted it is important to move forward in design, there is significance in the historical homes and buildings of the past.
"I don't want to see every building torn down in a city. I think it is important to have a vernacular and a rich history of old and new and I think they can be parallel. I think you can have old and new on the same street. I don't think every town needs to have a Heritage Hill or a place that is historical and you can't touch it; I think there are places in a city for that, but I think planning and zoning have to allow both to be present in the same space. I think city zoning rules can sometimes hinder creativity," Paul said.
Design, to Paul, is about meeting client expectations through intentional use of materials, marriage of interior and exterior vernacular, and creating in spontaneous collaboration. Though remote work allows a degree of flexibility, Paul noted it often can't replace the face-to-face meetings where expression and articulation goes beyond verbal language to unspoken cues.
First published in Great Lakes By Design: Architectonics, 2021
Text: R.J. Weick
Photography: (profile) M-Buck Studio LLC
Selected projects:
This slideshow requires JavaScript.
Photography: (gallery) Maconochie Photography, Ashley Avila Photography, Brian Kelly Photography