Buildings patinaed by time often resonate with a collective memory embedded deep within the bones of its architectural structure. Iconic places and landmark destinations have a way of allowing moments of the past to collide with the present and potentially into the future in the minds of those who have traversed its spaces. It can serve as a tool or vehicle in which stories can exist across generations, anchoring its place in the built landscape and at times the cultural and social history of a community.
In Minneapolis, a 120-year-old historic structure located at 700 Nicollet Avenue that served for decades as an integral part of the downtown retail and business district recently has been repositioned as a multi-tenant, amenity-rich, mixed-use space. The multi-year project not only sought to reactivate its streetscape and interior spaces, but also to preserve an iconic building in adaptive reuse that honored its historical significance. Led by the collaborative design and development team of 601w Companies of New York City, Telos Group LLC of Chicago, Gensler, Gardner Builders of Minneapolis, PVN—or New History—of Minneapolis, and Meyer Borgman Johnson, or MBJ, of Minneapolis, among others; The Dayton's Project has since transformed the roughly 1.2 million-square-foot, 12-floor National Register of Historic Places structure, known to many as simply Dayton's, into an office, retail, entertainment, and dining destination reimagined for the 21st century.
Michael Townsend, AIA, LEED AP, senior associate, Design Director, and Regional Mixed Use and Retail Centers Leader at Gensler in Chicago, noted while there was a programmatic challenge of converting a single-use building—a department store—into a diversified, multi-use space, the vision for the project extended well beyond its physical walls.
"The aspiration covered a lot more ground in both its identity and its importance for the region as an icon for the Twin Cities and generally Minnesota and all the shared experiences people had over the years," Townsend said. "That was a huge part of this in the storytelling and what was going to make people proud of this space."
Gensler is an award-winning global architecture, design, and planning firm with a network of 50 locations across the world. Since its establishment in 1965, the integrated design firm has developed a robust portfolio of work across community, health, lifestyle, and work sectors with projects ranging from aviation, education, and wellness, to museums, hospitality, energy, and digital experience design. Townsend noted Gensler has partnered with 601w Companies and Telos Group in the past on projects that repositioned iconic buildings such as the Willis Tower and The Post Office in Chicago, and the firm's involvement in The Dayton's Project came about as a result of that relationship.
"[The buildings] were two very similar projects in their aspiration and this idea of repositioning historic assets in cities like it; this was a direct result of the success of those two projects, building off of that," Townsend said.
"We were drawn to it, because we are just really interested in that typology where you are re-envisioning and re-inventing some of these buildings for the next 50 years of their life. It's common across a lot of cities in the United States: what is the next 50 years going to look like for some of these old buildings? It's a great building typology to work in," Townsend added.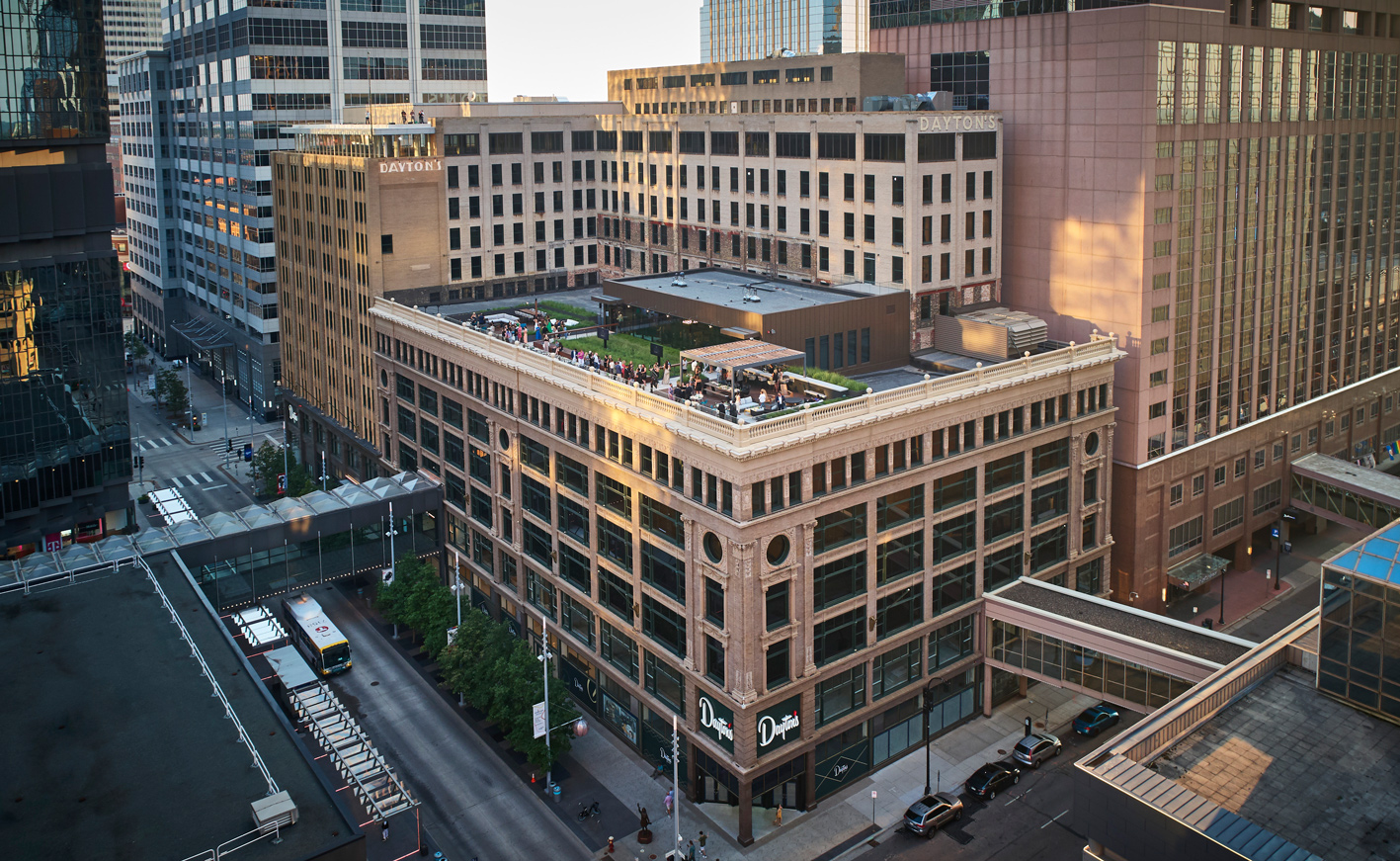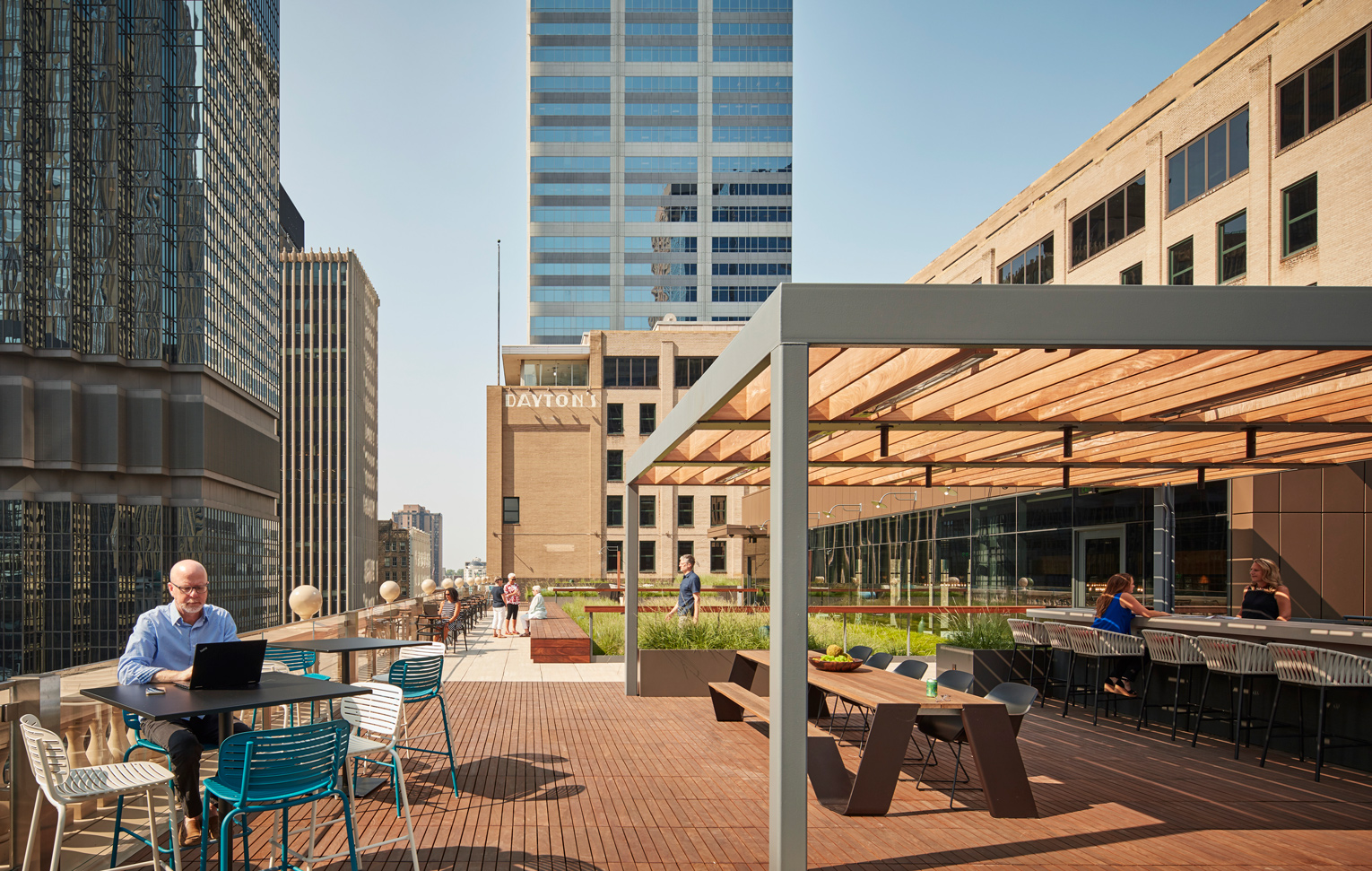 Dayton's has stood at Nicollet Avenue and Seventh Street in its oldest iteration since 1902, founded by George Draper Dayton and designed by Charles Sedgewick. Its original six-story building housed Dayton's Dry Goods Company as its first tenant—after interest in R.S. Goodfellow & Company was sold to Dayton by Goodfellow—and by 1911, The Dayton Company would become a name synonymous to Minneapolis and retail. Throughout the decades, both the building and company would undergo expansion and change that led to a total footprint at its flagship location of more than 1 million square-feet, a network of chain stores throughout the Midwest, architectural details from Neoclassical to Art Deco, and mergers with J.L. Hudson Company of Detroit, Marshall Field's in Chicago, and the launch of a separate chain of discount stores known as Target Corporation, which has survived its parent company.
"The historical significance was basically our number one priority and working with this building was an amazing challenge in and of itself, because it was built in basically 10 different phases over time. If you think of it as a singular building, it is one thing, but if you look at it in more of an archaeological way with the 10 different phases, that meant we had multiple different structural systems over historical periods of time and stylistically it covers a broad range," Townsend said.
"We were trying to find a balance between all of these things and work within those constraints. We wanted to ensure that we were preserving historic elements where possible and that meant things like all the column capitals were historic, reusing a lot of the terrazzo and stone flooring, and then we wanted to supplement that by introducing new things that were nods to Dayton's as an experience or nods to the stories that people told us. It was just an incredible tapestry to work in," Townsend added.
Townsend also noted from the onset there was a functionality element to the project to help re-engage the streetscape and activate the ground-floor interior vertically up into the building to meet with the activity often found on second floors throughout the downtown area due to the Minneapolis Skyway System.
"We spent a lot of time talking from an urban planning perspective about how we could improve and help stitch it into the fabric of the transformation of downtown Minneapolis. Basically, at some point, they put everything on level two and they have this whole skyway system downtown and while that is great in a climate like Minneapolis, it has the tendency to kill the ground plane and the vibrancy of the streetscape of downtown," Townsend said. "This was part of a reparative effort to help encourage that revitalization of the street in the downtown environment, too."
The collaborative design and development team worked closely with state and federal policy makers to secure Dayton's designation on the National Register of Historic Places, resulting in the restoration of a number of original features such as Art Deco bathrooms and the preservation of the building's exterior. Rather than introduce a lot of new materials or forms to the exterior, the team worked within the existing palette and even integrated the same green coloration of original windows and openings to new entries. Townsend said one of the biggest challenges and unique constraints was working with an old wooden structure in part of the building and transforming its interior program from an inward, single function structure to an open and accessible multi-use space.
"In a way, it was like a big puzzle, especially if you think about the public realm—the bottom three or four levels of the building—in that we were trying to connect as many of the existing nodes as possible. So, you have the skyway system on level two that comes into the building in five or six different locations, then you have all the street frontages on level one, and we were really intentionally trying to connect level one and level two together by pulling new vertical, open spaces and atriums into the project to encourage people to move freely between the two levels," Townsend said.
"Then, we expanded that even further to try to connect what we saw as underutilized spaces; square footage that was in the lower levels or in some of the back corners of the floor plates we opened up new sightlines to those areas too to help make sure that we were getting as much activation of that floor plate as possible," Townsend added.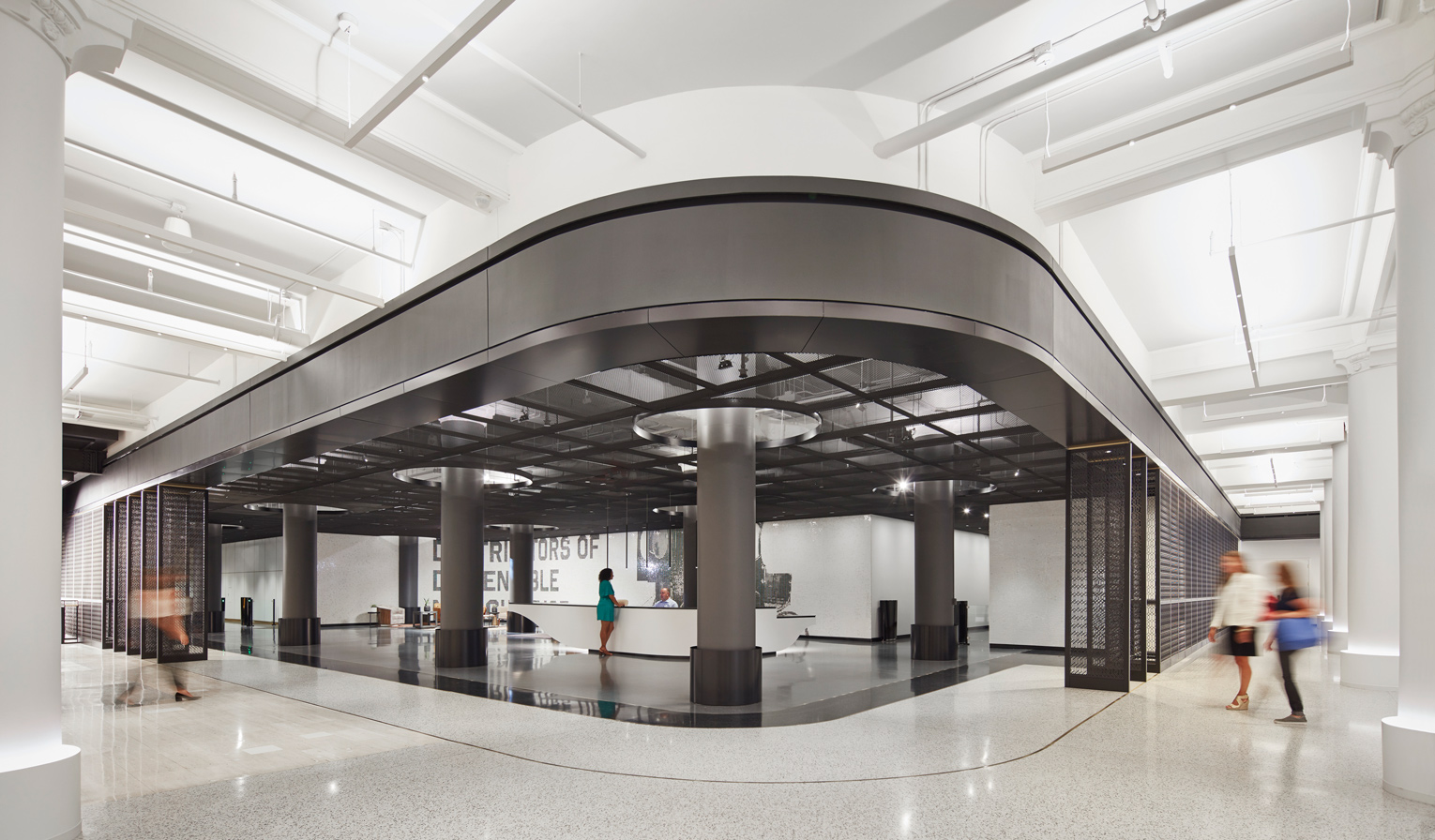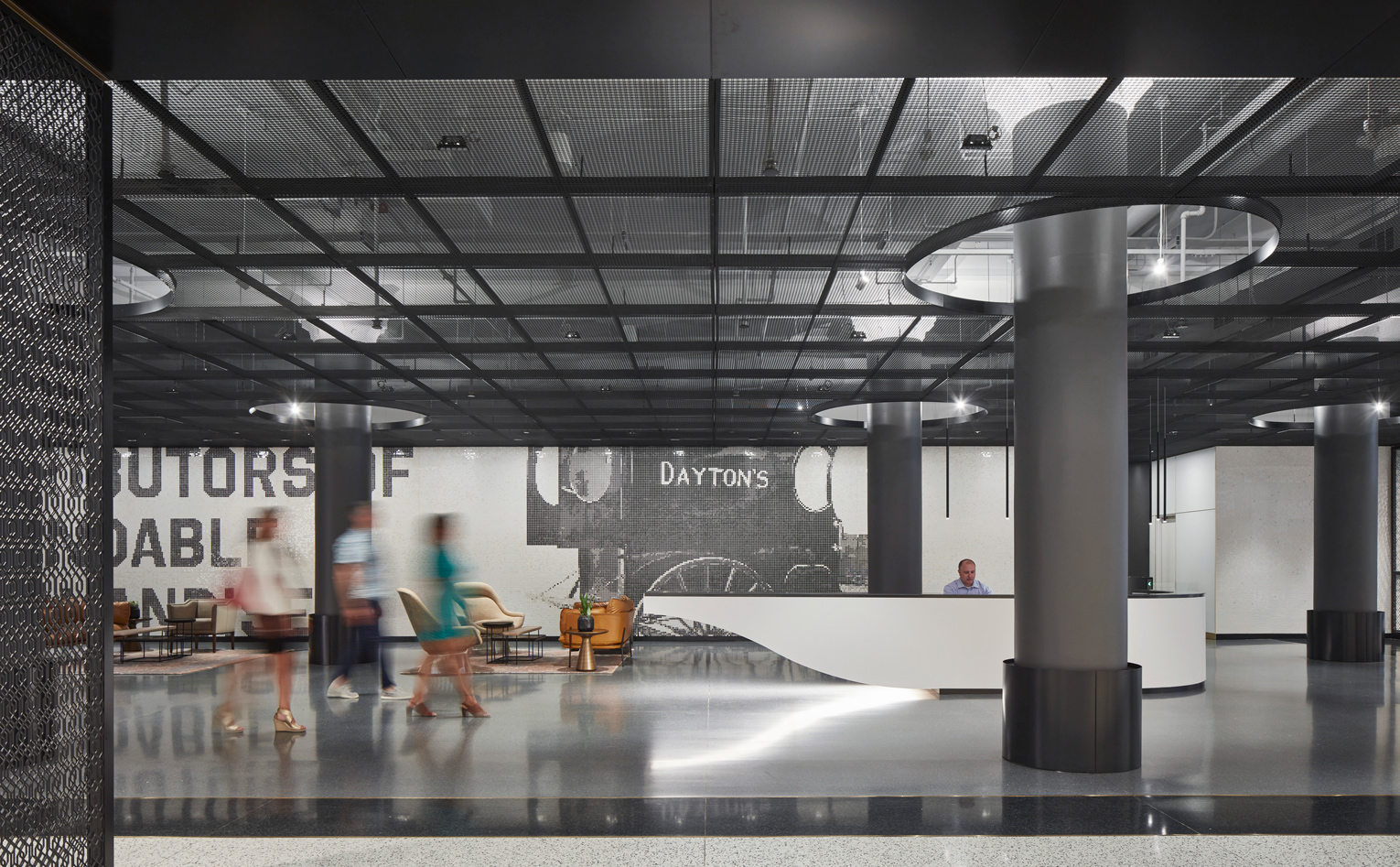 Visually, the old and the new meet in a striking and bold aesthetic contrast of black and white, as historic elements endure in their much lighter, restored palette complemented by newer interventions found throughout in darker tones and hues. Some of the newer interventions comprise art installations, openings in the floors, the stairway, and the office lobby. Townsend also noted other details were subtly integrated into the design in a historic nod to Dayton's, such as the inlaid brass logos on the floor and the sculptural light fixture in the middle of the grand staircase that comes into focus in a certain spot on one of the floors. The lighting program was also intentional in highlighting the historic fabric and elements of the building—such as the column capitals and some of the spaces—while also balancing it with a mix of new solutions to adapt to new functions such as in office and amenity spaces.
"The client was really interested in doing something that was inspired by the old, very large chandeliers that hung in that ground floor retail space of Dayton's as you entered from the street. They wanted to do something grand as a light fixture that held that space vertically, but was also very modern and functionally doing something very different by connecting three levels of space together visually so that your eye is moving up and down via that light fixture," Townsend said.
"For the most part you see it as an abstract sculpture as you are moving through the space, but then when you get down to one very singular spot in one level, it all comes together visually and forms the original Dayton's logo. We liked the idea that there is this discovery over time of some of these elements, that it is not all just hitting you in the face as you come in the front door, that you will start to notice as you experience this project over time some of those details or some of those additional efforts that you might not have seen the first time that you went through," Townsend added.
The Dayton's Project debuted its expansive, redesigned floorplate to the public in late 2021, featuring modern office spaces and a more-than-200,000-square-foot designated retail and dining footprint. The latter of which comprises a 45,000-square-foot food hall curated by Chef Andrew Zimmern. The Dayton's Project also offers tenant-exclusive amenities such as a green rooftop terrace, private lounge, library spaces, and a 10,000-square-foot fitness center. The full team that helped realize the transformative project comprised: 601w Companies; Telos Group; United Properties of Minneapolis; Gensler; Transwestern, headquartered in Houston, Texas; Mid-America Real Estate, with locations in Minnesota, Michigan, Wisconsin, and Illinois; Hightower Initiative of Minnetonka, Minnesota; Gardner Builders; New History; MBJ; and McGuire Engineers Inc. of Chicago, or MEPC Inc.
"These projects come with an incredible history, like hundreds of years of people's stories and experiences and how they perceive this space," Townsend said. "Dayton's: people remember going there for Christmas or they remember going to see Prince play a concert in the building. That gets us really excited, because we love to help build upon those stories and extend the life of the stories, too."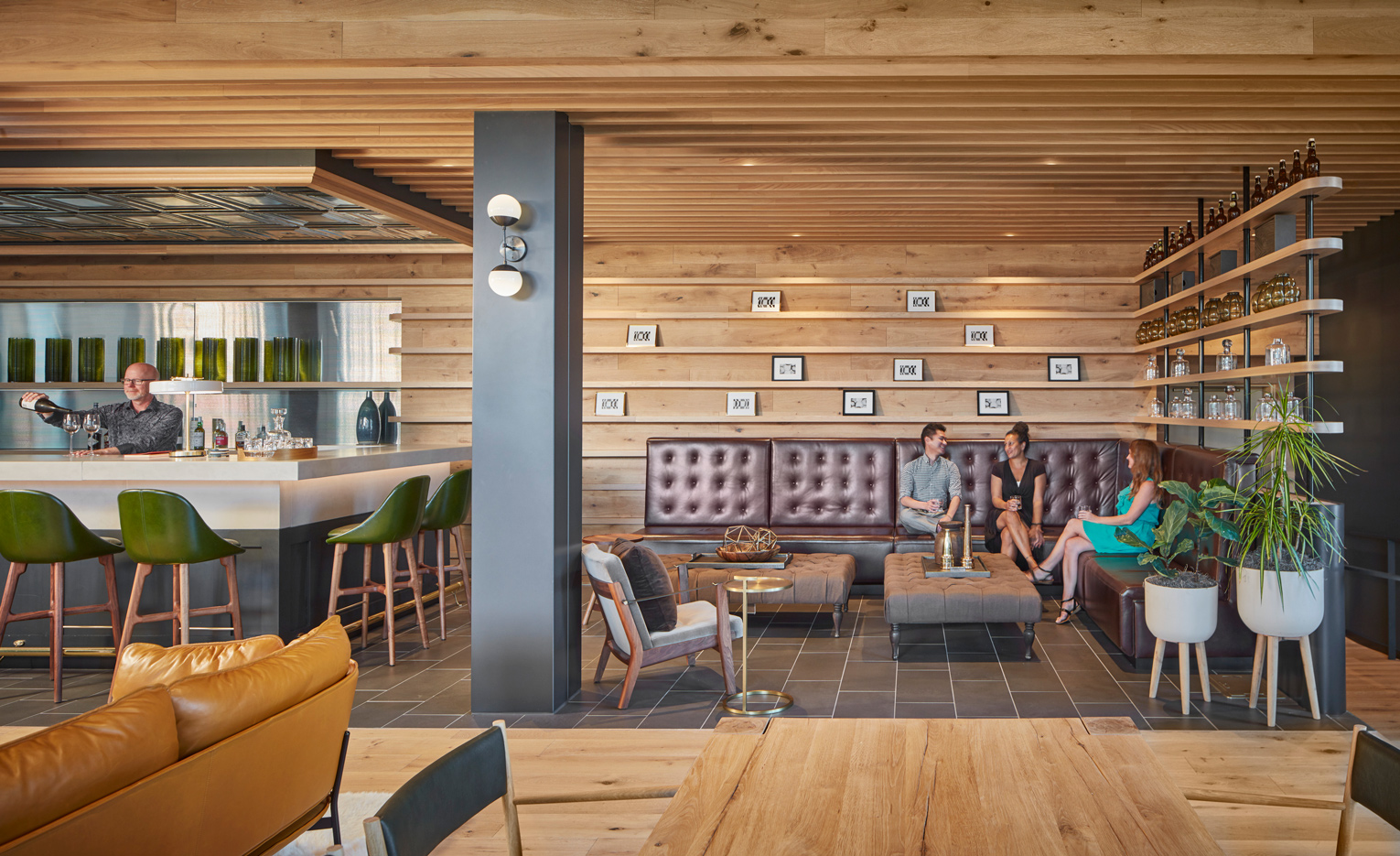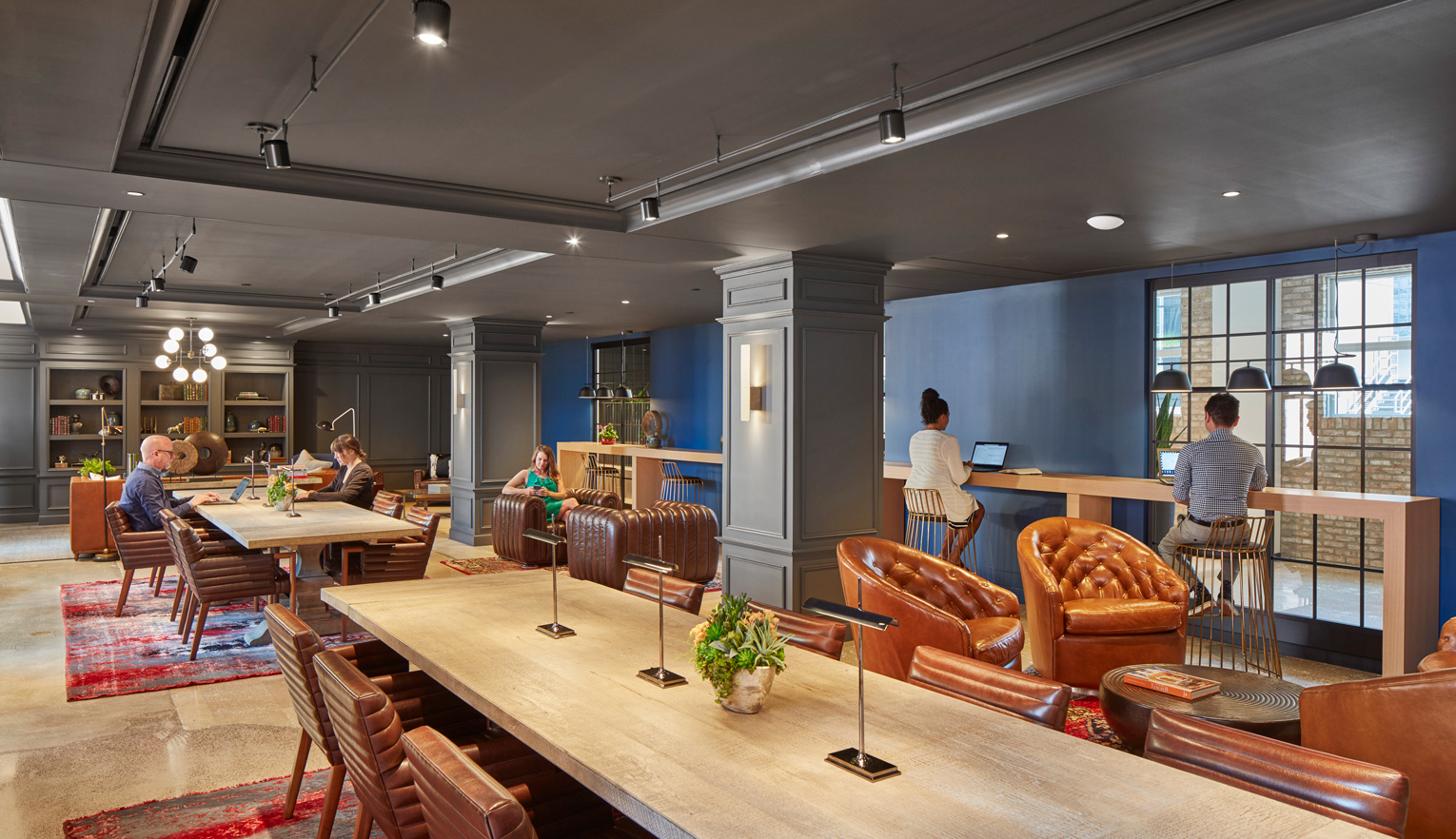 Townsend also noted from a sustainability perspective, the adaptive reuse of existing building stock and preservation of historic structures is a key piece in the puzzle of addressing the carbon footprint since buildings use 50 percent of the energy and are 50 percent of the carbon footprint in the country—15 percent of which comes from just the making of buildings. The retail center as one might have considered them decades ago can re-emerge as a powerful potential and asset for the future, positing environmental, economic, and social benefits in their transformation from vacant and aging facility to a mixed-use development that can easily adapt to changing demands and needs.
"One of the reasons so many of us get into the architectural profession is because we actually like to see the manifestation of this creative process and actually see it built and see people experience it. We do this with the full expectation that our efforts are elevating the built space into something that can be extraordinary," Townsend said. "Our expectation is that our intentionality, our creative process, and our efforts are going to make peoples' lives better and people who are experiencing these projects, their experience in those projects is going to be elevated, because of the work we put into it. We see those direct impacts and that is what keeps us going."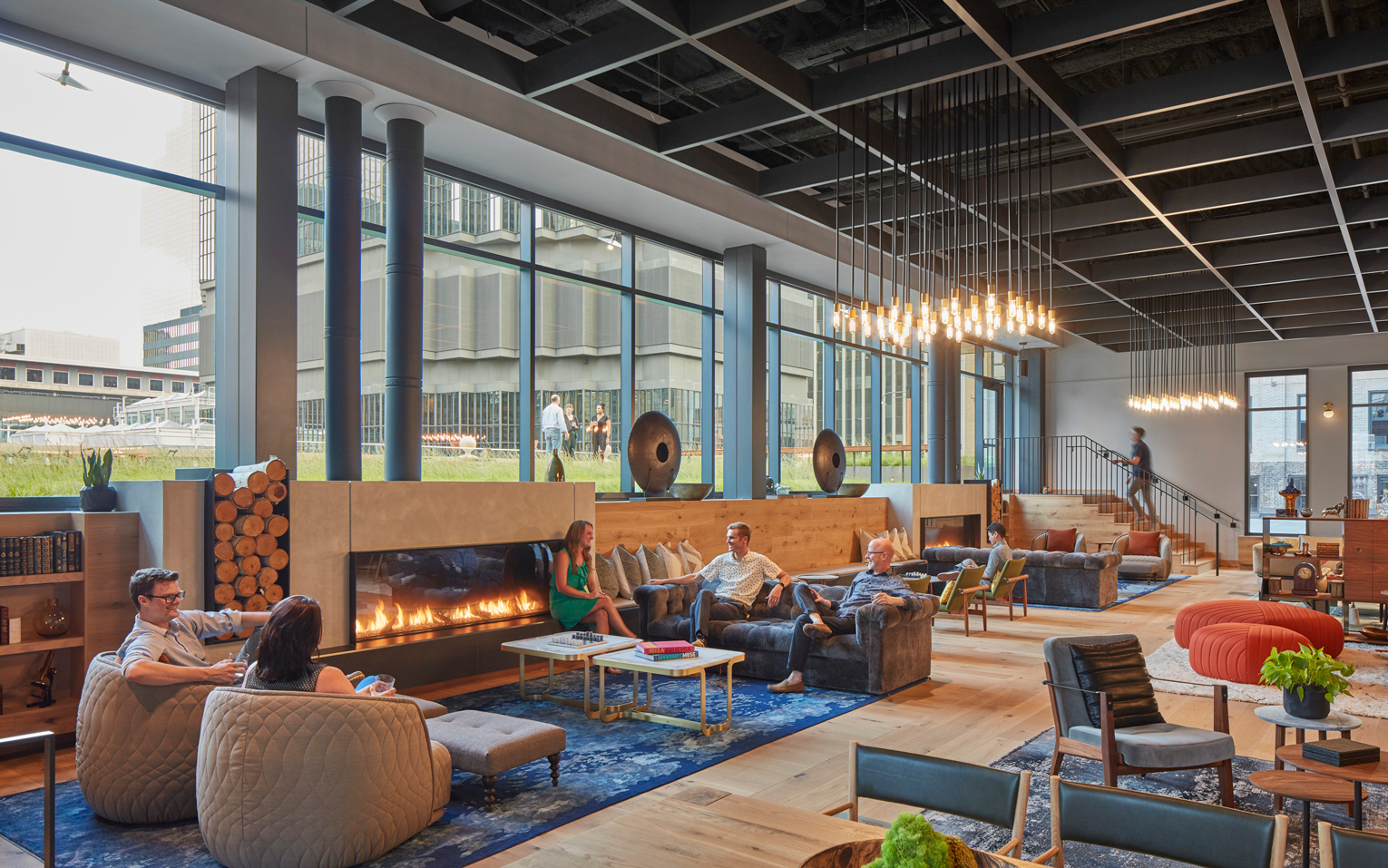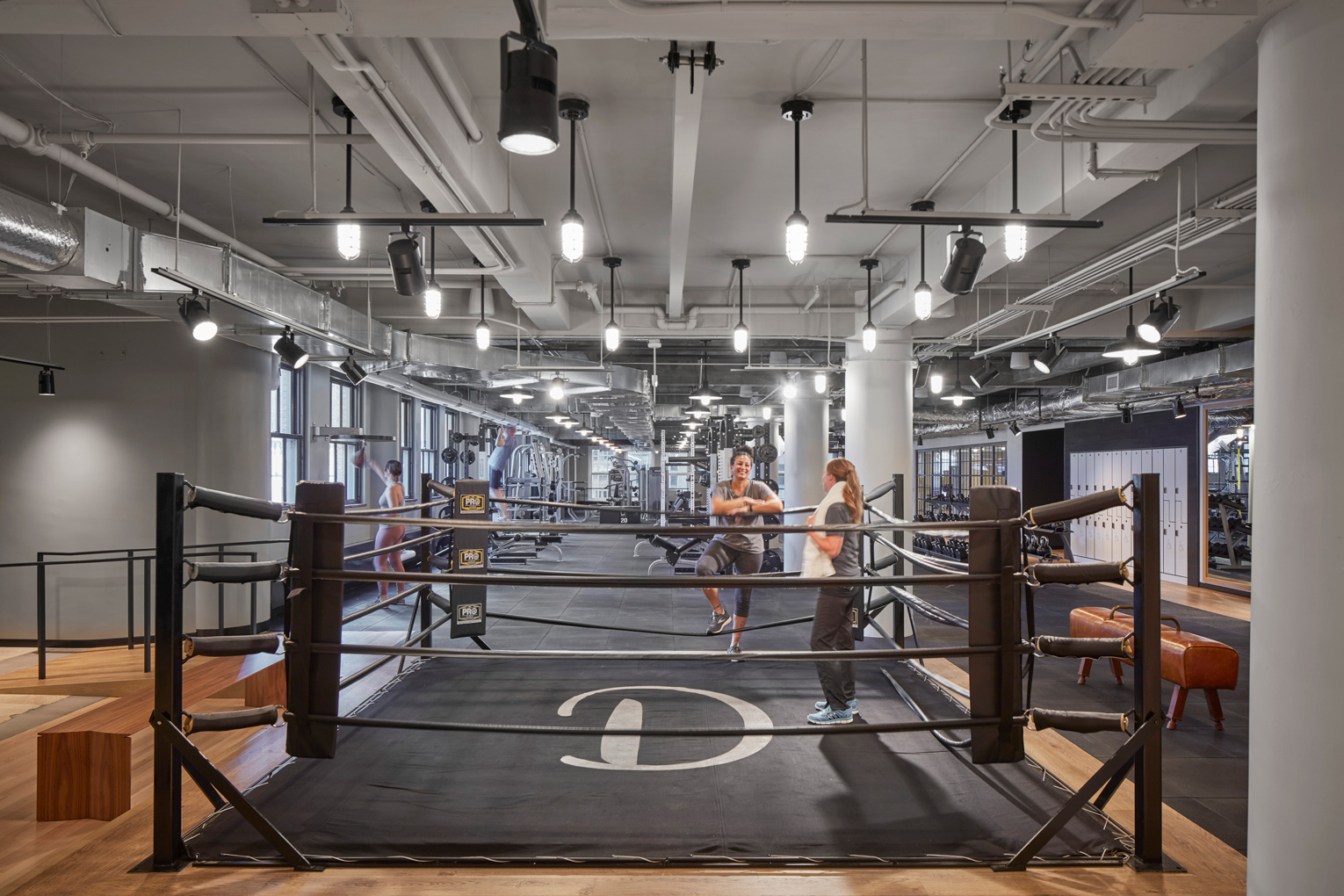 First published in Great Lakes By Design: Ergonomics, 2022
Text: R.J. Weick
Photography: Tom Harris Architectural Photography, Design by Gensler