For Refractory's inaugural body of work and inception—forged at a moment of unprecedented change—its muse sings of a reverence for a frontier unbridled by time, when mountains were new, sandstone buttes clustered, continents drifted, and oceans receded. It speaks of mountain ranges, canyons, basins, and plateaus, shaped by deep-rooted geologic pressures and carved by powerful movements of rivers and wind. It gestures to the fire of transformation, the resilience of form and creature, the presence of materiality, and the harsh grace of natural forces. It embraces the rugged honesty of erosion, the celebration of unusual moments of irreverence, and a dedication to craft as integral to design—set in a region where the embers of an industrial art ecosystem still smolder with a collective passion and grit for the art of craft and making by hand.
Born from the space of adventure and discovery, femininity and sculpture, oddness and rarity, Refractory is a furniture, lighting, and objects brand and design studio based in Chicago, Illinois. Considered by its co-founders, Angie West and Alberto Vélez as both an evolution from and an extension of a community of artisans, the studio leverages its close relationship and co-location with its sister company West Supply, a foundry and glassworks atelier with roughly 45 artists and makers, who create works of sculptural, functional art and collectible design. Backed by collective careers working with firms and artists such as Holly Hunt, CASTE Design, Studio Sofield Inc., Tom Ford, Paul Mathieu, and Theaster Gates, West and Vélez are a creative tour-de-force in their own right informed by disciplined, classical design training and small business management.
"Design is a lens you see life through. For me, even when I was little, it was arranging, curating my little spaces.  Whether it is your cavern or your Airstream or your house in Oak Park…You are expressing yourself in your space by virtue of what you collect and consider precious or inspirational or something that holds meaning from history. Why do we keep things near us? When we do keep them near us, what are they?" said West, founder and owner of West Supply and co-founder of Refractory.
"There is a reason we are all drawn and satiated and comforted by the beautiful, whether it is raw beauty or technical beauty, whatever it is, we have a hunger for it and are comforted by it—as has been true for hundreds and thousands of years," West added.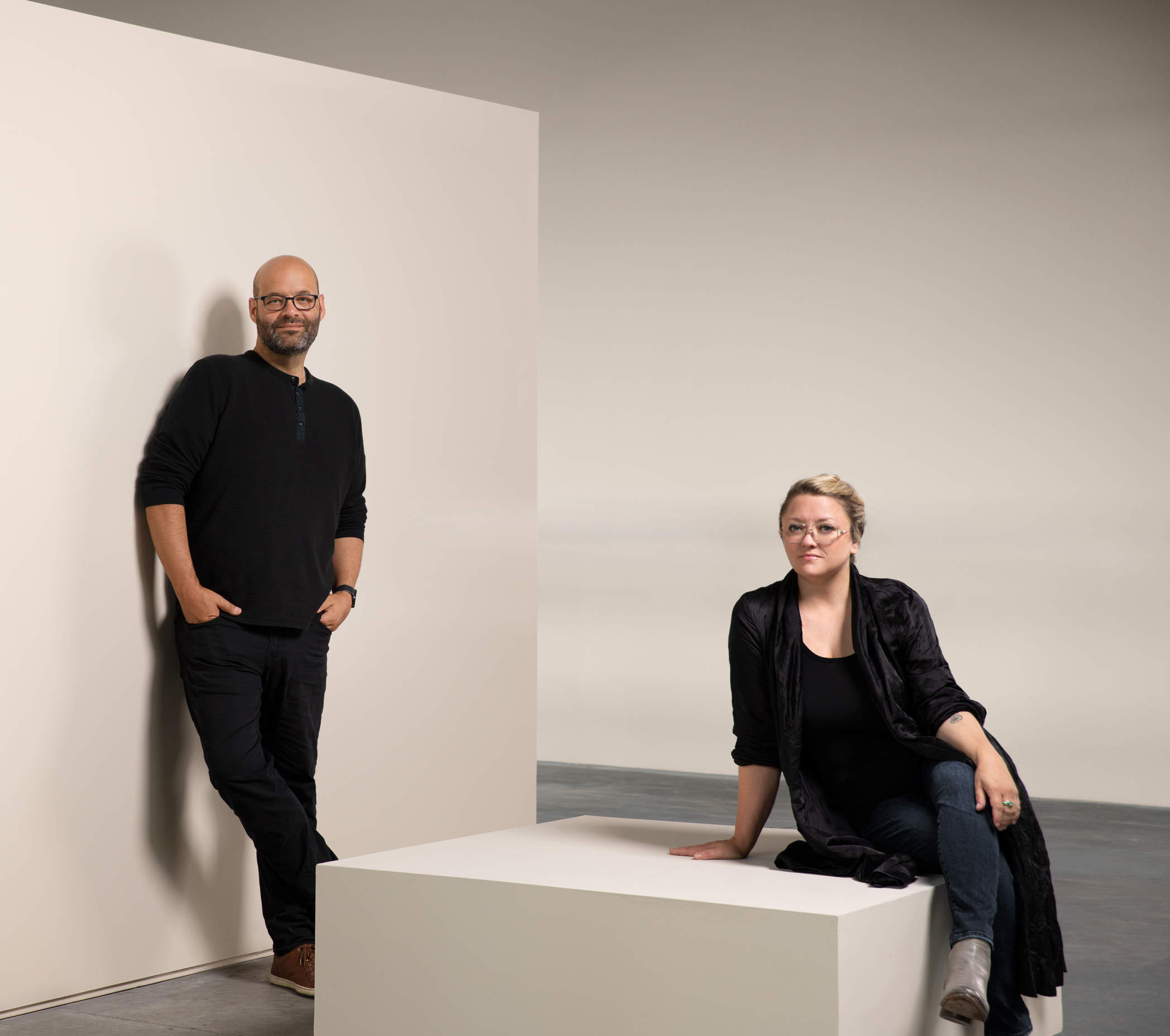 West, born and raised in West Texas, developed an affinity for craft and visual composition at an early age. Inspired by the works of well-known photographers such as Mary Ellen Mark, Sabastião Salgado, and Larry Towell, West went on to attend Vanderbilt University in Nashville, Tennessee where she spent much of her time in a dark room and earned degrees in Fine Arts and Human and Organizational Development. West, a self-admitted maker at heart, said it was as she was about to graduate that she was introduced to Holly Hunt through a mutual, small-town, West Texas friend. Upon meeting Hunt then in 1999, West began working as an assistant overseeing visual imaging for the brand for a few years before turning to professional photography. She then spent nearly a decade shooting commercially in the design industry—including for the Holly Hunt brand—until she was recruited back to the company to serve as director of marketing and subsequently of design. In 2010, West learned a small foundry in Chicago that produced the Juniper Drink Table for Holly Hunt, or HH, was about to go out of business and decided to purchase it, ultimately renaming it West Supply in homage to her family's 1940s army surplus store in Texas.
"I woke up the next day after someone told me the foundry was closing and thought: 'I have to buy this shop, I don't know why, but I have to do this.' I closed on the purchase 60 days later, and HH started churning up amazing activity for us, through Alberto's design prowess and through a partnership HH made with CASTE Design and designer Ty Best to produce licensed work in cast bronze," West said. "That was the foundation of West Supply a little over 11 years ago."
Since then, West Supply has become internationally recognized for its handcrafted, heirloom-quality metal and cast glass objects. Backed by a team of passionate industrial designers and artisans, West Supply leverages centuries-old techniques and innovative, modern processes and technology in its pursuit of the craft, ultimately serving as the platform from which Refractory sprang.
"Many foundries, historically, have begun as art foundries, as sculpture foundries, on the West Coast or in the Southwest or on the East Coast. West Supply is unique, because we really started with a drink table, we started with furniture and lighting, so while the incredible path-paving art foundries of the U.S. may have dabbled in furniture to begin with, we were the exact opposite," West said. "We started in furniture and now make blue-chip art for various clients. West Supply has become a great joy. It is the ship that we sail on. It's an immense responsibility for all of us, because we are doing our best to take care of artisans when so much of this work is exported, and we are strategizing to enhance livelihoods in a way that is more robust than what many manufacturing opportunities may present."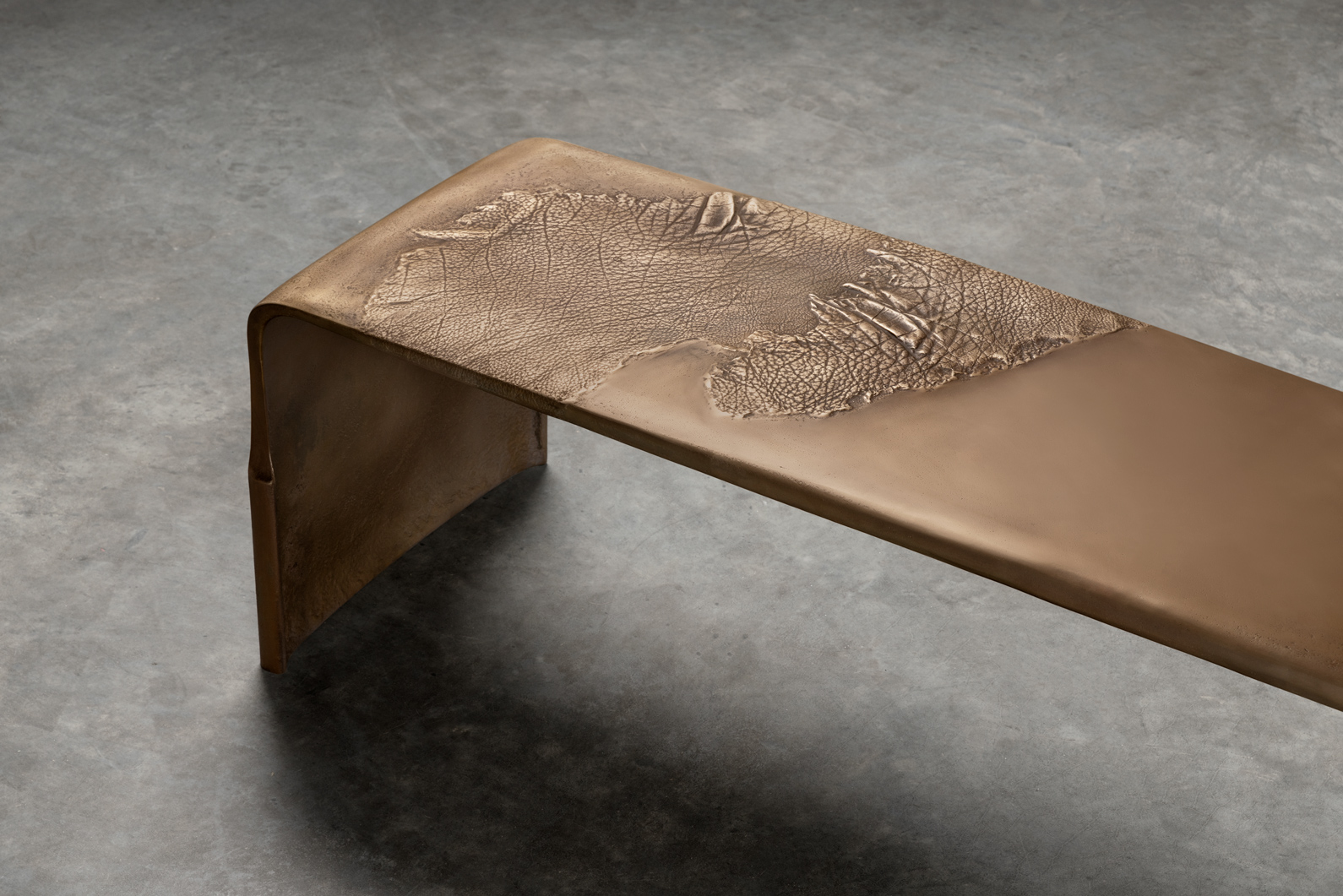 For Vélez, who spent his formative years in Bogotá, Colombia surrounded by artists, creatives, architects, engineers, and photographers in his own family, art and design was a natural pathway.
"My mom is a photographer, so I grew up in a dark room. I was exposed to architecture, the arts, creativity, and imagery very early, so I didn't really think about it. I felt very comfortable and identified with that type of thing," Vélez said. "I was the kid who dismantled every toy he got within five minutes, so I was a tinkerer by nature."
After studying industrial design at the Universidad Javeriana in Bogotá, Vélez worked as a designer before moving to New York where he completed an Interior Design degree at the Fashion Institute of Technology, or FIT. While there, Vélez served as design director for Studio Sofield for 13 years and spent time as an educator, lecturer, and guest critic at FIT and as an adjunct professor.
"Furniture seems like the natural intersection between interiors and industrial design," Vélez said. "While in Colombia, I had become pretty agile with CAD and turned into a dedicated and proud draftsman. So, I was able to contribute with that and it opened doors for me. I spent years and years designing through technical drawing, which can give a good foundation. Eventually, I focused more on furniture, many residential projects with customized, one-of-a-kind pieces, and a ton of that kind of work for Sofield.  During this time, I met such incredible artisans in New York."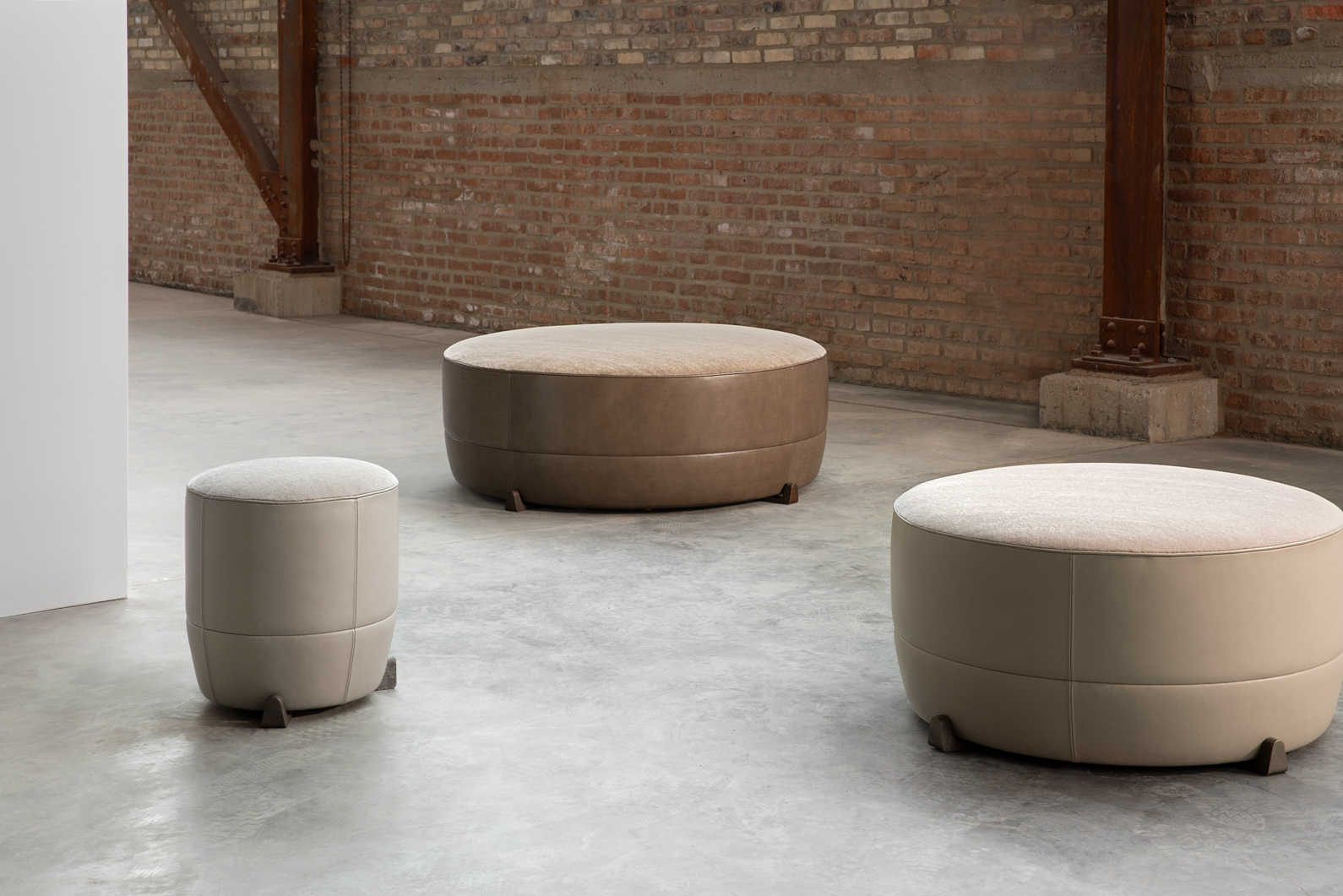 It was through that work Vélez was introduced to Holly Hunt and was persuaded to lead the HOLLY HUNT Studio as Design Director—a role that evolved as West left to take on the task of developing the foundry into what it has become today. Vélez went on to design and develop a number of successful collections in the indoor, outdoor, and lighting spaces, ultimately taking on the role of Vice President of Design for the brand. Vélez, who moved to Chicago with his wife and children, noted it was really ironic that he essentially arrived to replace West and quickly started creating pieces with the design studio for her foundry to fabricate and create.
"We started doing more and more work together, and it was really successful," Vélez said. "It was a very mutually beneficial partnership, and we became friends very quickly."
2020, with the onset of the pandemic, served as a perfect storm for the industry veterans to quietly explore the idea of launching a studio that would focus on functional art and untold stories in design backed by a discipline for contrast, balance, personality, restraint, and tactility. With product development essentially at a halt in the industry at that time, Vélez noted through the course of a number of conversations—and lunches—the two of them instinctively started to find common ground in a nostalgia for the respective geographic landscapes of their homelands.
"[West] wanted to do something that nodded discretely to her Western roots, and I think there are very unique characteristics about the landscape and the geography of this continent, of North America. Being South American, I grew up in lush, organic surroundings that obviously have beauty, but topographically, what has been sculpted by millennia in the Southwest U.S. is quite unique to the world. There is geometry there. There is landscape and frontier that speaks to us as designers," Vélez said.
"It's pretty damn cool for any designer, even somebody like me who couldn't be from a more different place—one that is cold and humid and lush green—and then you look at Monument Valley and Utah and Arizona and Texas, it's phenomenal and otherworldly," Vélez added.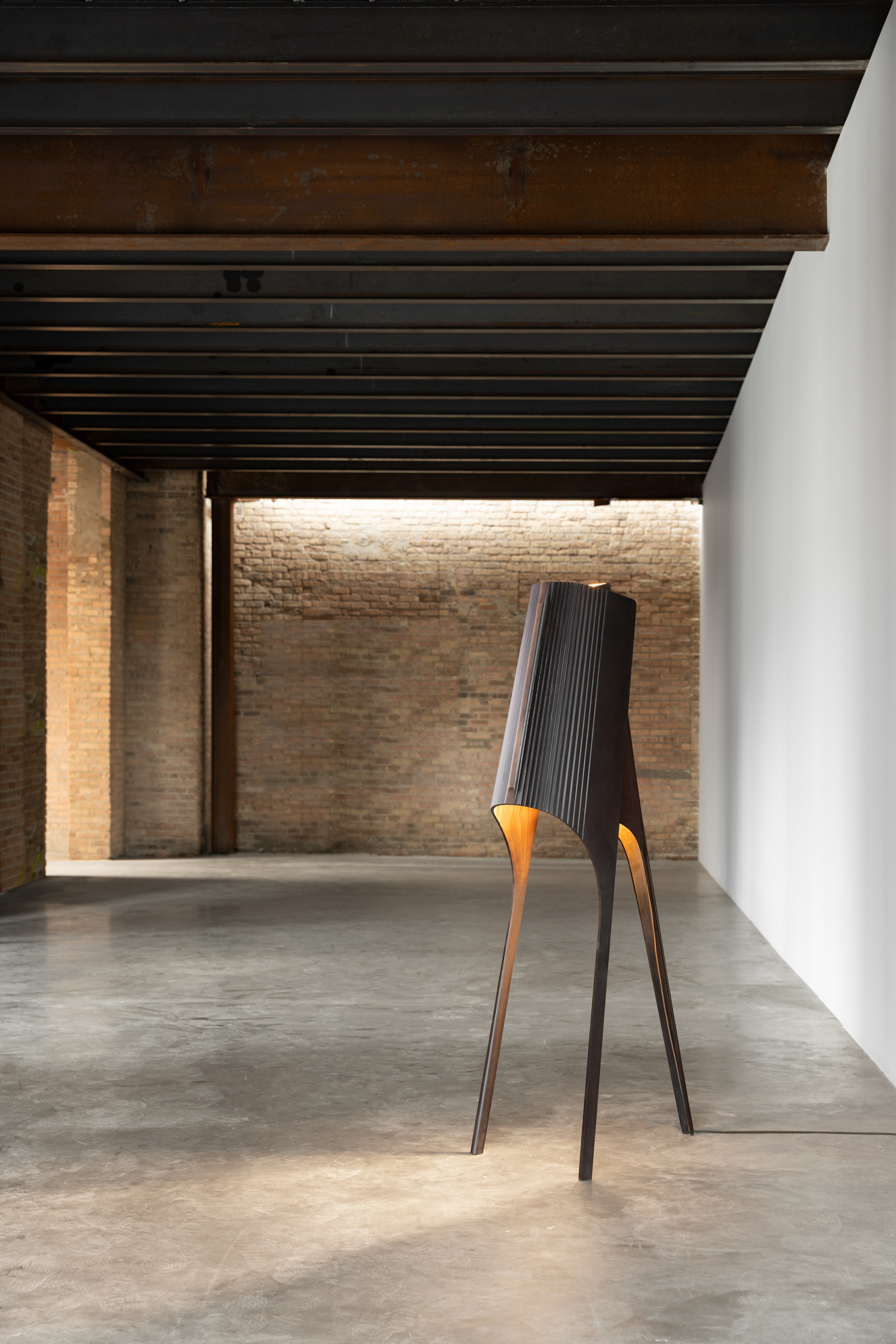 Vélez also noted upon experiencing the landscape in person, there is a sense of understanding and an appreciation for the stories that exist there, and while the Southwest is not the subject of Refractory's collection or brand, it was an authentic and alluring place to start, presenting a wealth of reference and history the two founders leaned into at inception.
"The idea that there was ocean there and that the continents came together, and you look at the shapes that you can see in books, and research what is under the sea, under continents currently, it is the same. It was all underwater at one point, and it's just incredibly interesting how all of that area has been sculpted by water, by nature, by incomprehensible time, and the connection between that and the processes here at our foundry," Vélez said.
"There is also obviously an abundance of texture and how the light hits those rocks and those terrains, and also how the few creatures that do live there are unbelievable themselves in terms of the armor, the texture, the durability, and their resilience. It is truly fascinating," Vélez added.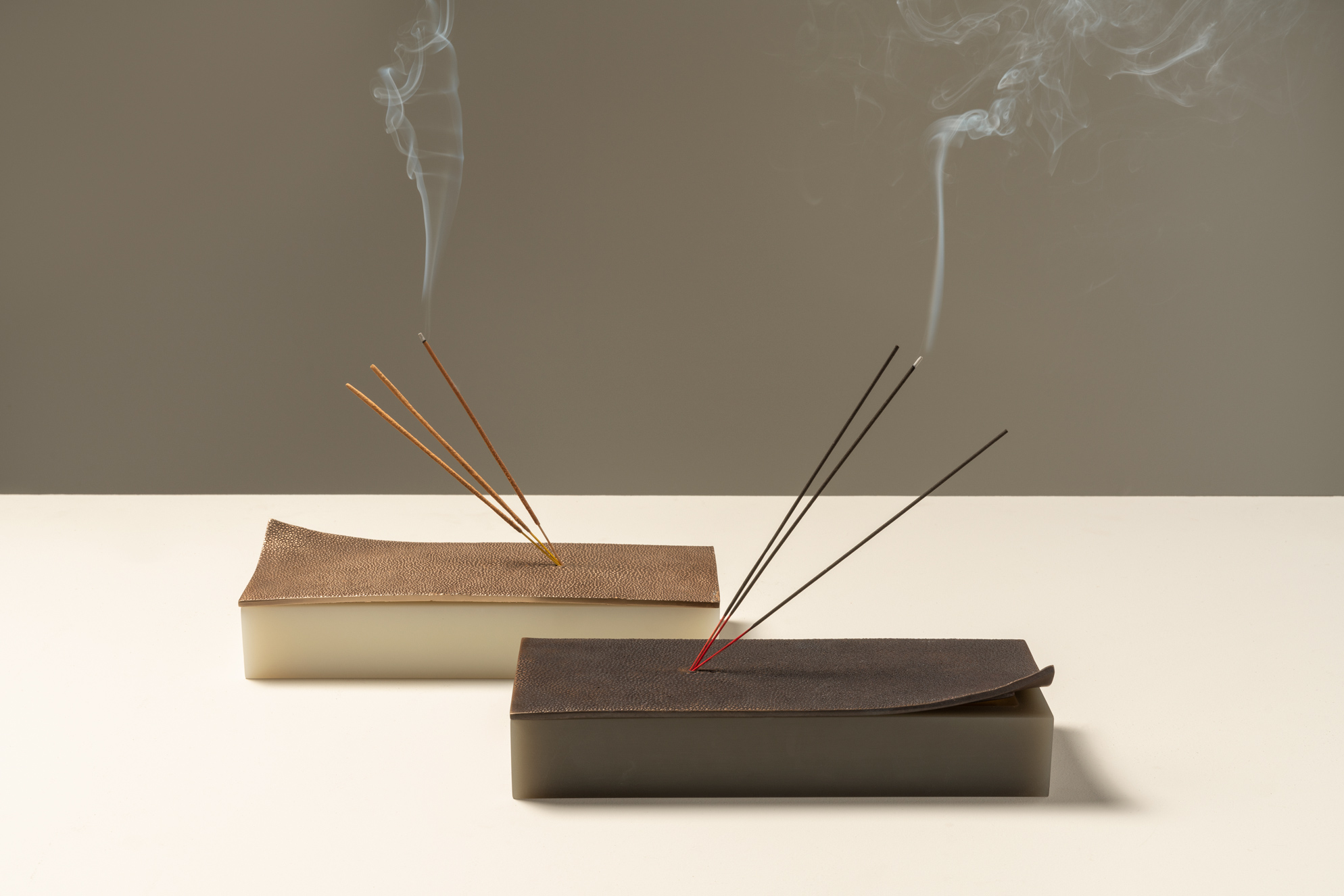 To West, the inaugural collection—which softly launched in late 2021—is equally as nuanced and durable as the landforms and creatures that inspired it, leveraging the materiality and processes that already existed at West Supply. Refractory was equally inspired by a desire to express a functional art and collectible design language as it was to preserve and ultimately enhance the livelihoods of the creatives at the foundry and glassworks atelier.
"How could we activate them and ourselves in a way that would create value and also commitment and inspiration for them and to create something that may buffer us in the future? In other words, it became essential that we create works of our own to purvey. West Supply has been a discrete fabricator for others, so we didn't have any intellectual property. We didn't have our own voice," West said.
"The pandemic was the space to do that. Refractory's language is a bit rooted in bronze and cast glass by nature of West Supply being the ship we sail next to. It was our platform for materials and certainly for administration and logistics, but we've incorporated solid wood and resin—and we are starting to fold into concrete and other composites—and engaging in leather and upholstery," West added.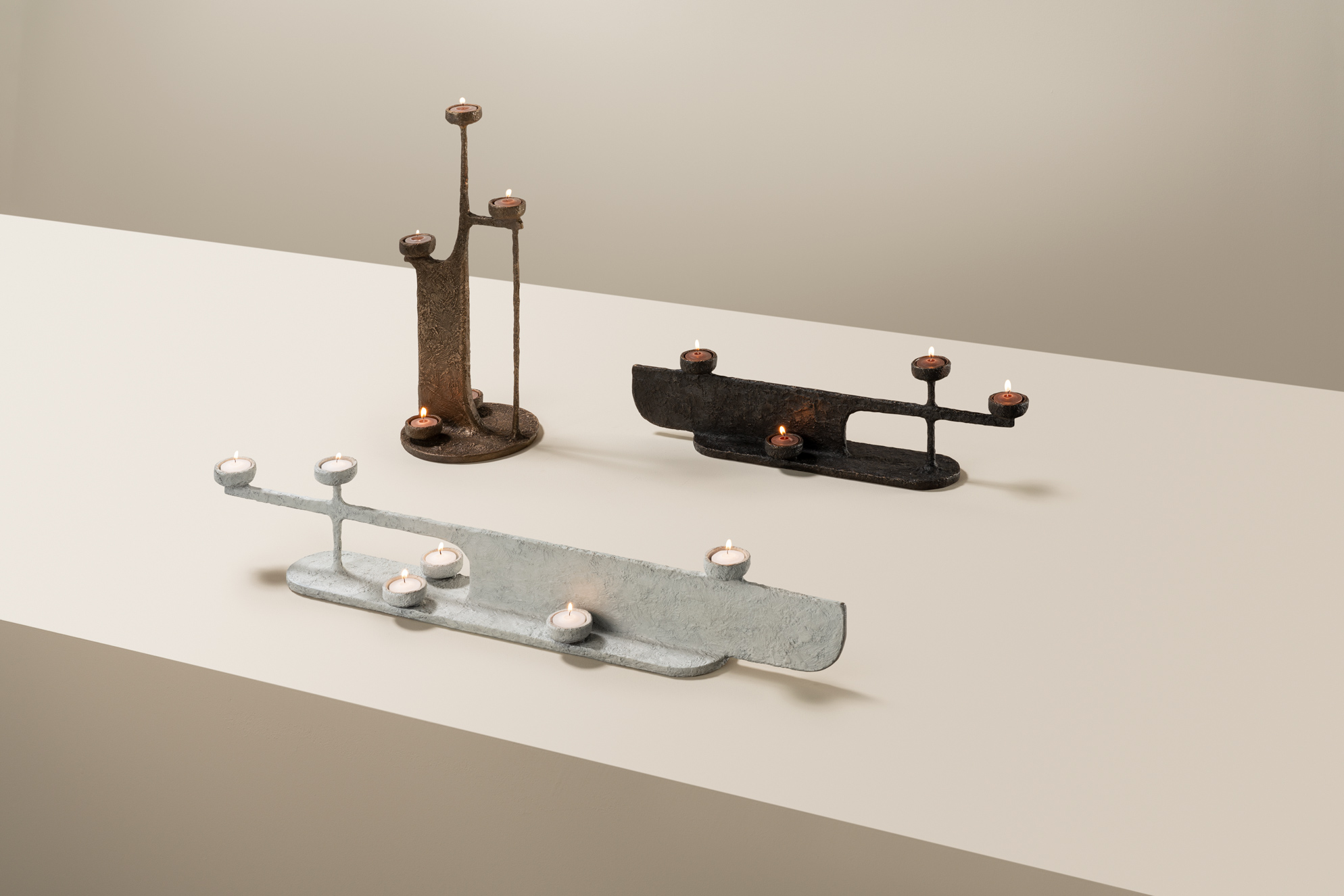 Defined by ten distinct series, Refractory's inaugural work comprises the motifs and ethos of headwaters, braided streams, power and intricacy of armor, rigor and wear, split geodes, stretched and divided landforms, and floating tributes to fallen warriors. Named Tributary, Scimitar, Promontory, Tallow, Isthmus, Ammonite, Okenite, Synth, Sloop, and Cofre, the collection and series of ensembles allows room for growth and an exploration of design language that may inform future commissions and products.
"We wanted to challenge ourselves in the world of vessels, in the world of functional sculpture or tables. We knew we wanted to push light through cast glass: we had some really basic parameters of moves that we wanted to make and then running parallel to that, we had motifs or gestures—Tributary, Promontory, Okenite, all have a certain gesture that we have embraced," West said. "You start to assign those gestures into each of these worlds in a way and then the forms start to appear from that and you say 'love that' or 'don't.' You are in a fleeting moment of curation and editing. I think for us the ingredients of a recipe came together through each of these series."
Vélez also said as a designer he personally tends to play with elements of design so things are communicated clearly and finds that balance and contrast are important aspects of product development. To recognize a subtle diagonal, it often must be contrasted by a 90-degree angle; or organic shapes that invite the touch are juxtaposed by tight definitions; and in curating the overall collection, Vélez noted there was recognition that their clients are mostly interior designers and peers looking to weave together a story or a narrative, so it was important for them to create an assortment of collectible works that are beautiful but quiet as well as active in language.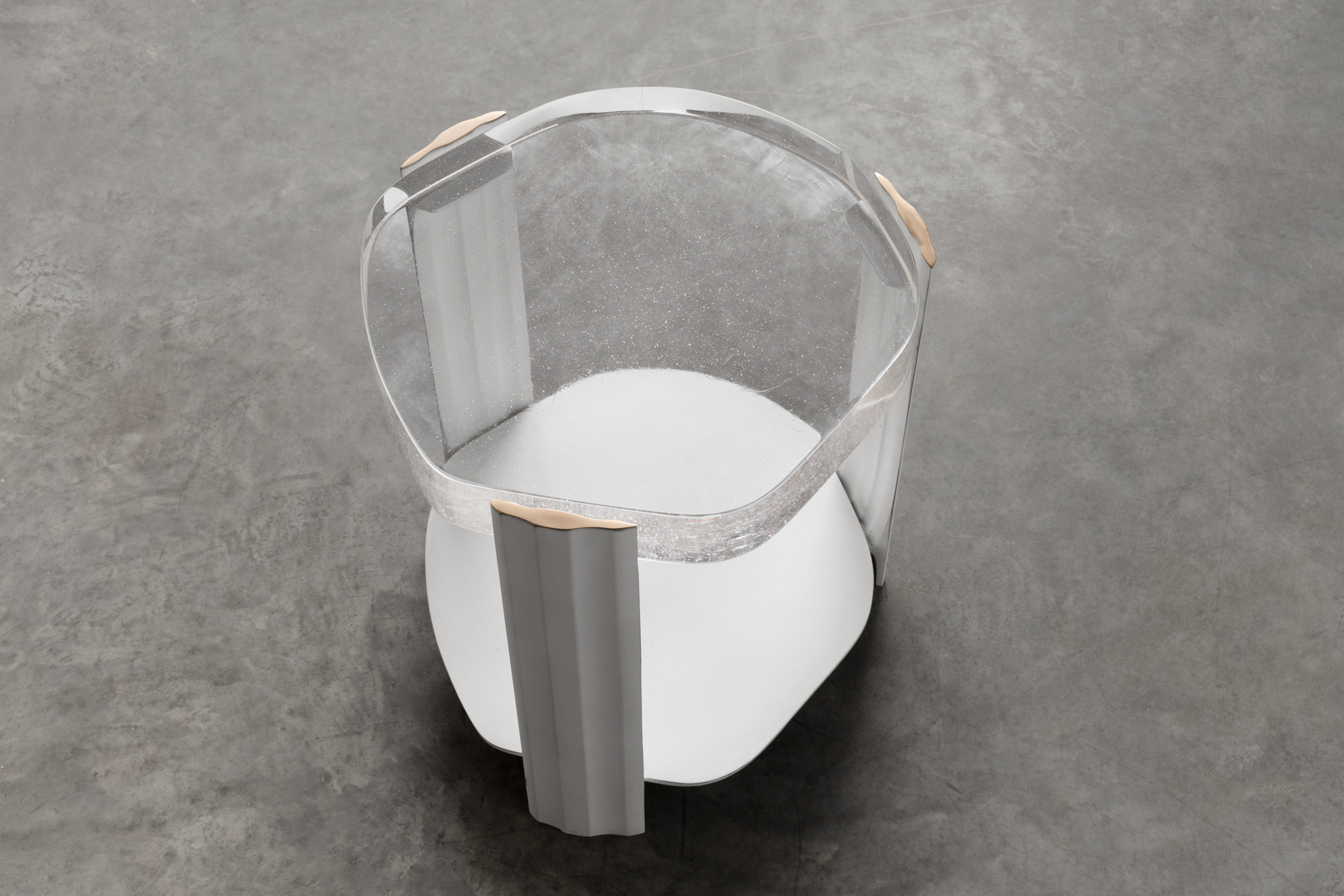 "There is constantly a play between the desire for expression and the desire for restraint. I also, personally, feel that as a designer you appreciate keeping things clean and knowing where to emphasize, where to fold in the texture, where to place the detail," Vélez said.
"The most important thing about [our collection] is that it is a series of families or a series of series. Our product is divided anywhere between roughly tent vocabularies, if you will, little languages within each one. There are a number of pieces in each one, but they are so distinct. Each of these little families will allow us to expound. It is a narrative, it is a number of different stories that all have relation to each other and this bigger landscape vernacular, textures that are both eroded and natural versus textures that are a highly calculated pattern," Vélez added.
Since its soft launch in 2021, Refractory has not only added to its inaugural collection with its new Heretofore Hanging Light and Loma Console—inspired by an expression of the deep memory of mountains and longing for a terrain and place—but also introduced its collection to New York's Future Fair in the New Collector's Lounge during Art Week in May 2022. Refractory has also made its international debut at Alcova during Milan Design Week 2022 with a sensorial installation called "Holotype" above a former WWII psychiatric hospital in a 3,000-square-foot attic enveloped by concrete. A holotype is defined as a single specimen designated by the author or original describer of the form, in other words it is the discovery of a specimen that is as-of-yet unfound and needs a name. The studio received an honorable mention from the Fuorisalone jury, in recognition of working in material that makes the collectible works durable for thousands of years.
"Design is how you end up seeing the world. As a designer, you are expressing yourself as you solve problems and to me, design means work. It is what I do, it really defines who I am, and how I can contribute to society," Vélez said. "It is also a pursuit of works that ultimately move someone. Maybe that is somewhat of a definition of what beauty is: it is something or a perception that is moving, that hits you at an emotional level. As a designer you are always trying to do that. Design is a challenge to constantly find expression that will move people emotionally."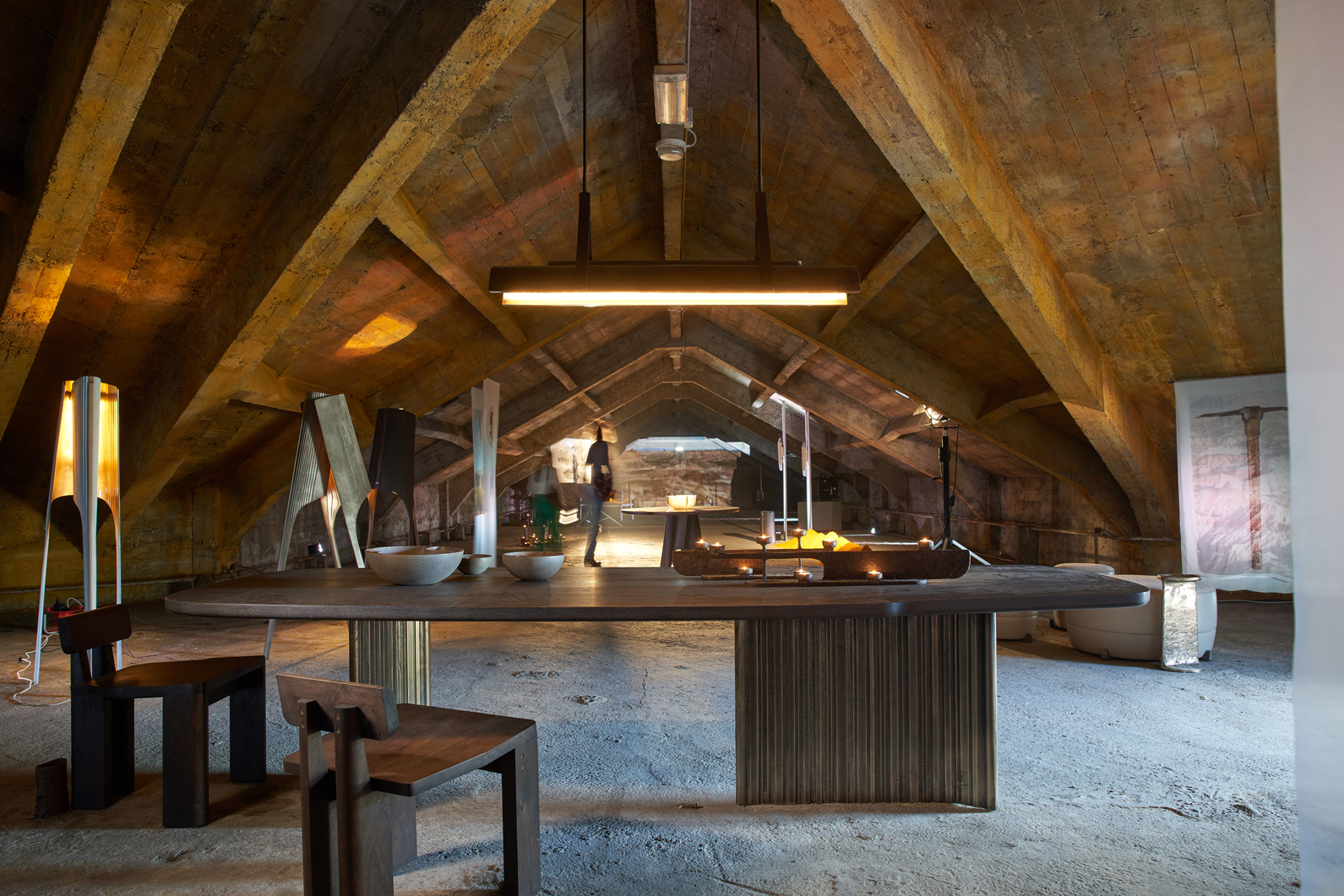 Though Refractory's current muse speaks of a place and time beyond the modern Midwest, for Vélez, Chicago is the perfect location for the studio with its regional narrative of gritty cities located on the Great Lakes with their history of industrial innovation, makers movements, and a deep passion for the magic of melted metal and casting glass.
"There is a manufacturing tradition, conscious or unconscious, in people here, and I think to me that is what eventually makes sense about being based here," Vélez said. "There is the grit. That is an important word for us from the beginning, the honesty and gritty nature of our pieces has to do with the true grit nature of the work our incomparable team does every day in the workshop, their stories, and the gritty nature and history of this city. That is why it happens here. This is where the makers are."
Originally published in Great Lakes By Design: Crafted Lodging, 2022
Text: R.J. Weick
Photography: Jonathan Allen