"I look at design as a creation of how humans interpret the natural world. I think there is this connection between the natural world and the built environment, and it is up to us—those in the design field—to interpret what that is, and to create our own values on how we intersect the natural world and the built environment," said Ernest C. Wong, PLA, FASLA, APA, founding principal and president of site design group, ltd.
"I think the general public takes design for granted. They go to places—the parks we design—and say 'oh, it was just here.' Nobody really thinks about the effort it takes to design this space. They certainly enjoy it and that is the beauty of it, but it is important that the general public learns more and more about design," Wong added.
Site design group, ltd. is an award-winning landscape architecture, urban design, and architecture firm established in 1990 by partners Ernest C. Wong and Robert K. Sit, AIA, principal and founding partner. Headquartered in Chicago, site design group provides design services throughout its local city, the United States, and Asia, working with architects, engineers, municipalities, corporations, and other institutions to realize their design goals.
A team of 43 design professionals, site design group's work primarily focuses on public space, often recognized for their design efforts on public parks in Chicago, such as Henry Palmisano Park in the Bridgeport community, Ping Tom Memorial Park in Chinatown, and Mary Bartelme Park in the West Loop.
"We are all about well-designed and creative, innovative spaces, and that is what people have gotten to know us for," Wong said. "We do a lot of streetscape development. We are the first firm that has done what we call shared streets in the state of Illinois, which is basically curbless streets geared toward the pedestrian rather than vehicular traffic."
In another project aiming to increase pedestrian activity and community socialization, in 2020, a two-block-long boardwalk centered at the intersection of East 75th Street and South Prairie Avenue in the Chatham neighborhood of Chicago was installed to help increase foot traffic to the local businesses along the commercial corridor between Indiana Ave. and Calumet Ave. Wong noted the idea for the boardwalk was initially sparked when considering the number of Chicago businesses boarded up with plywood as a result of civil unrest following the murder of George Floyd.
"I sat up one night and I was thinking to myself: 'That is a lot of plywood. When all that comes down, what do people do with that plywood? They just throw it in the dumpster and off they go,'" Wong said.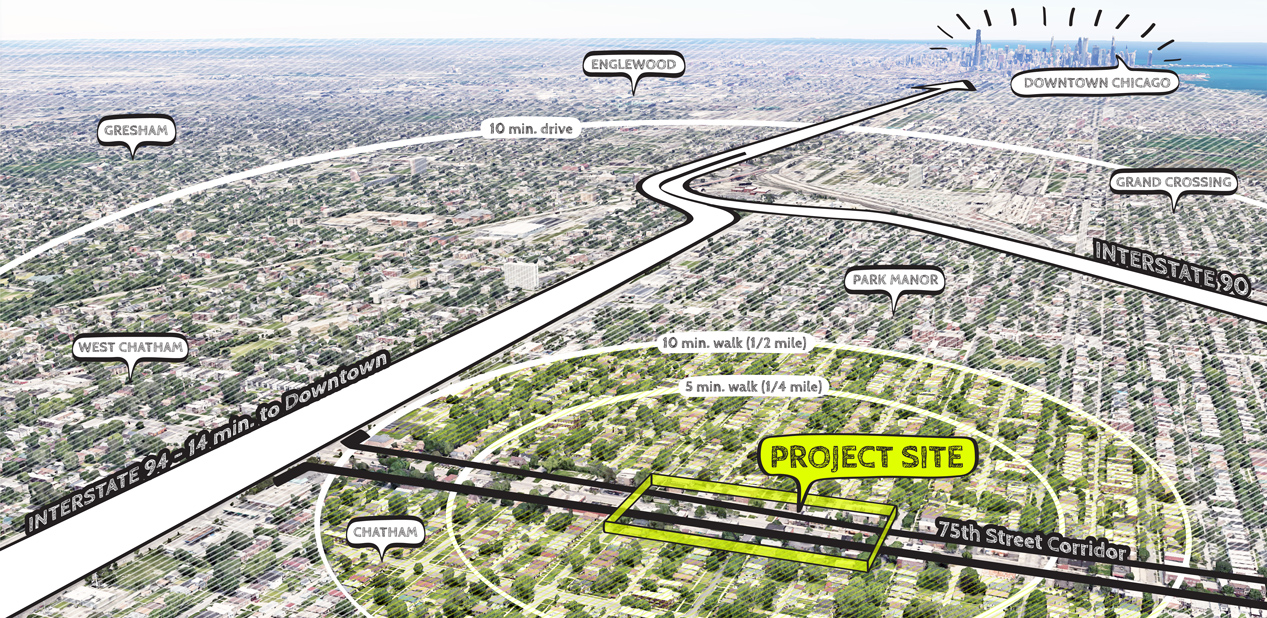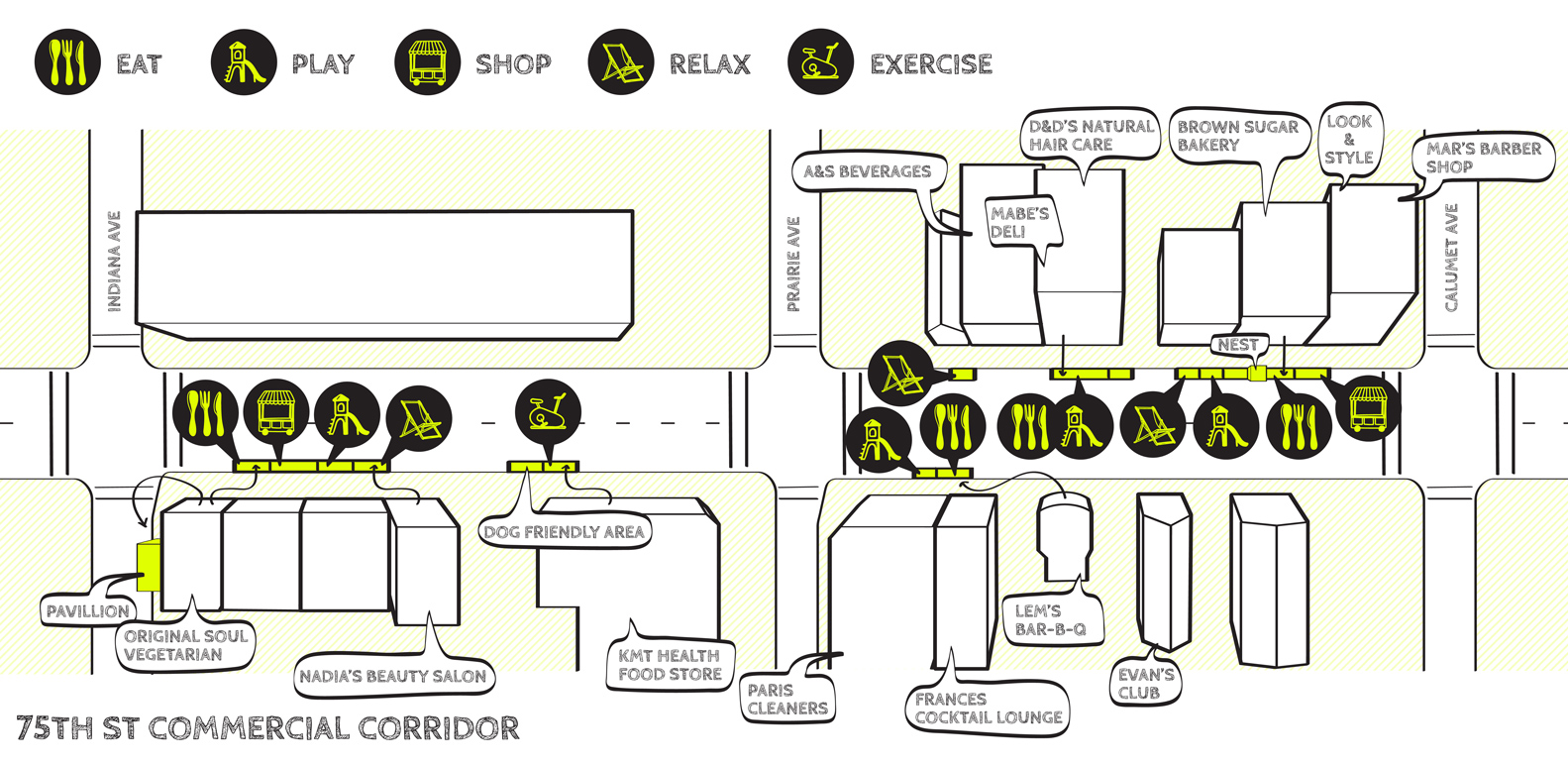 Wong also noted that he took his forming idea and conversed with other architects about ways they could use the plywood to help heal some of the devastation that had impacted local businesses, due to both the looting that had caused physical destruction, and the pandemic that had already hurt many of the businesses. The group then approached the Commissioner of the Department of Planning and Development for the City of Chicago, Maurice D. Cox, who identified several different areas throughout the South Side and West Side of Chicago that presented great opportunity for assistance. Together, they landed on the 75th Street in Chatham as the project location.
"I went down there and discovered a lot of these historic and Black-owned businesses that were really suffering, and I met with the business owners and a lot of the neighboring residents. We talked about what it is that they were looking for and came to a consensus that this boardwalk would be an ideal situation," Wong said.
The City of Chicago had wanted the project to have a quick turnaround so that restaurants and stores could open back up as quickly as possible. In order to achieve the project within 12 weeks, the design-and-build process coordinated a large team of people, involving the community in building a project that would strengthen the local economy and connect people once again, after the pandemic had distanced them from one another.
"I started to think about, 'how do we create something that is really easy to build?' I wanted Black contractors involved, and I wanted Black contractors to start teaching some of the neighborhood youth about construction skills. I wanted these kids to get paid for [their work], because I wanted them to understand that there is value to the things they are learning how to do and this could be something they could carry with them for the rest of their lives," Wong said.
"We wanted to make sure that there was the involvement of these kids and they knocked it out. Many of them had never picked up a screwdriver or hammer and teaching them a trade in the middle of a pandemic, on the street, was crazy," Wong added.
In its entirety, the project involved many parties to bring it to fruition. The program partners were: All Reimagining Chicago, Greater Chatham Initiative, Chicago Department of Planning and Development, Chicago Department of Transportation, City of Chicago, and 6th Ward Alderman Roderick T. Sawyer. The design partners included: Brook Architecture, Inc., Vladimir Radutny Architects Inc., Booth Hansen, Krueck Sexton Partners, Brown & Momen Incorporated, and Illinois Institute of Technology College of Architecture.
The 75th Street Boardwalk also had a number of sponsors involved, such as Bank of America, Jewel-Osco, Seaway, Ace Hardware Foundation, Providence Bank & Trust, The Chicago Community Trust, Benjamin Moore & Co., The Home Depot, and Lowe's Companies Inc. Local artists participated in the project as well, painting colorful murals on the walls of the boardwalk.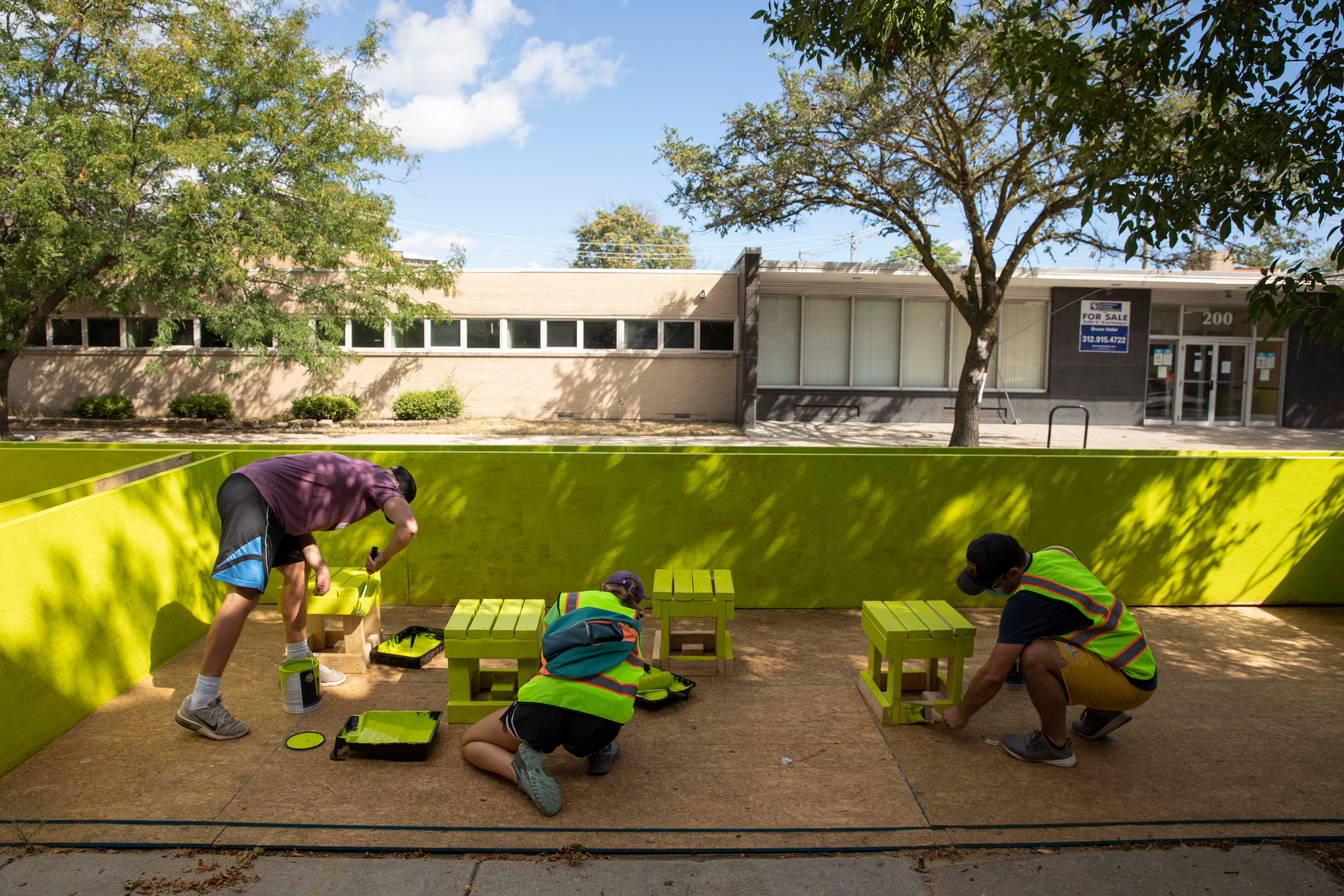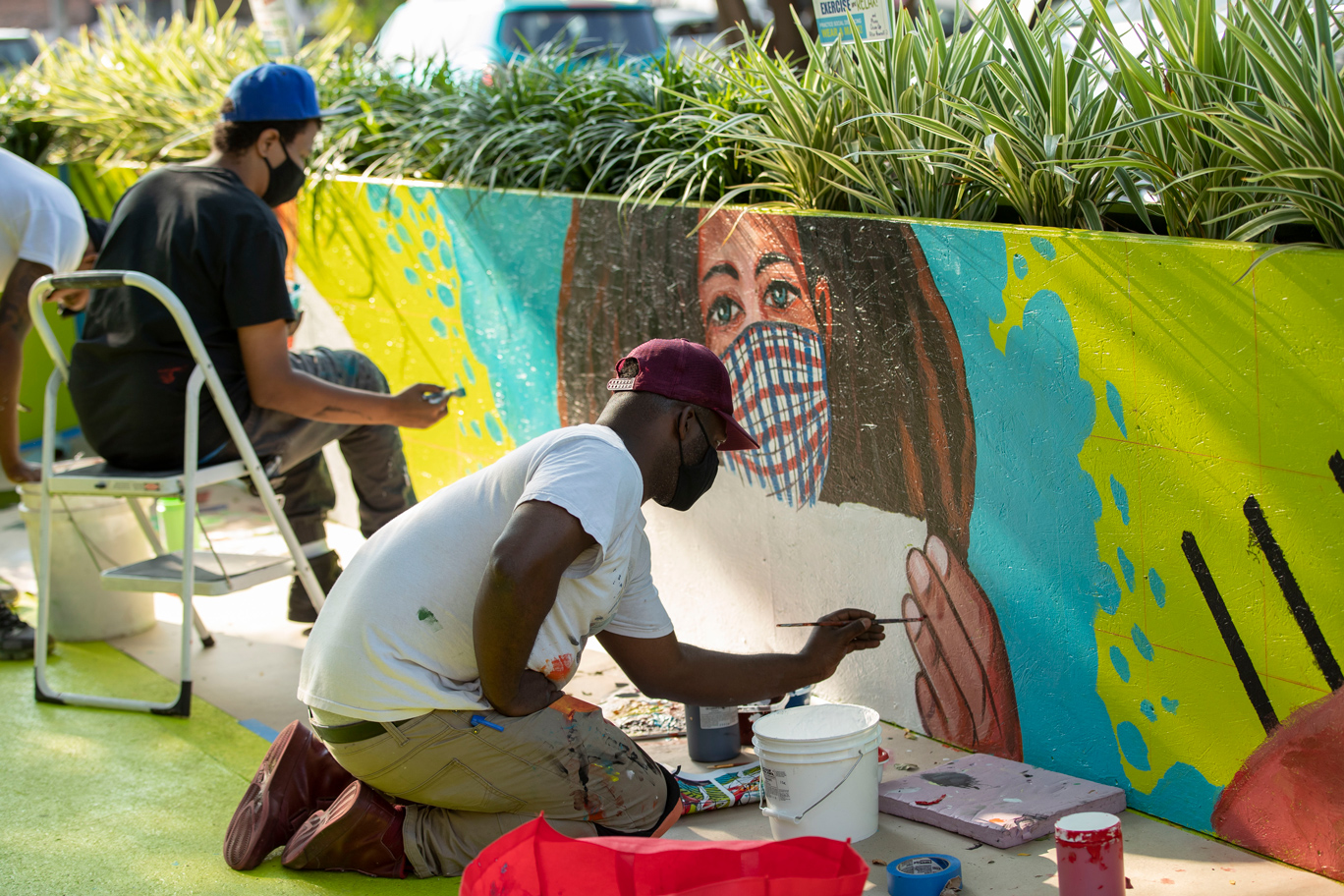 While finding the people and the time to build the project had been a challenge at the start, Wong noted that one of the other initial challenges was finding the funding for the project to succeed. While the plywood used was, for the most part, free of cost, Wong had estimated the project would accrue an expense of about a couple hundred thousand dollars. Since the city was not able to provide that much in funding, the collaborative project team took it into their own hands.
Serving on a few local and national not-for-profit boards himself, Wong indicated that he approached a variety of philanthropists, developers, and foundations asking for money to build the boardwalk. One of his partners on the project, RaMona Westbrook, NOMA, AIA, LEED AP, licensed architect and owner of Brook Architecture, had even started buying materials on her credit card to help push the project ahead, and Wong loaned the community organization a $25,000 loan to get started. After calling everyone he knew to collect donations, they were able to raise the money for the project.
"We have done these things before—what we call parklets—where you take over a parking space and do seating and different activities there on a single parking space," Wong said. "This [project] was unheard of because it was two blocks long and continuous. We did that with a lot of purpose in mind. One, it would really make a statement, and two, [it gave us] the ability to do a variety of different things."
To improve socialization on the street, the dining spaces inside restaurants were extended outdoors. Each streetside dining area was open to the public, allowing pedestrians to order food at one dining establishment, and then carry it down the sidewalk to sit outdoors in front of another. It provided a great place for friends to meet, or for new friendships to form.
Aside from dining areas, some of the other spaces contained activities such as children's play, an informational kiosk, and exercise areas. One space in front of a bike shop allowed the business to bring spin bikes outside and host classes on the side of the street. There were also more open, flexible spaces that allowed other businesses to have a pop-up shop and sell their goods on the boardwalk as well. The theme of community health, dining, and crafts was woven throughout the project.
"The community was really excited about it and they didn't really know what to expect. They were like: 'Who is this guy coming in here with these wild ideas?'" Wong said.
The color that highlighted much of the boardwalk—a fluorescent lime green—was actually a choice made after people noticed and admired the bright color on Wong's own bag that he carried. To Wong, the color worked out well on the boardwalk, as it brought attention to the activity happening at the storefronts and restaurants along the street, both drawing in business and alerting drivers to slow down for pedestrians.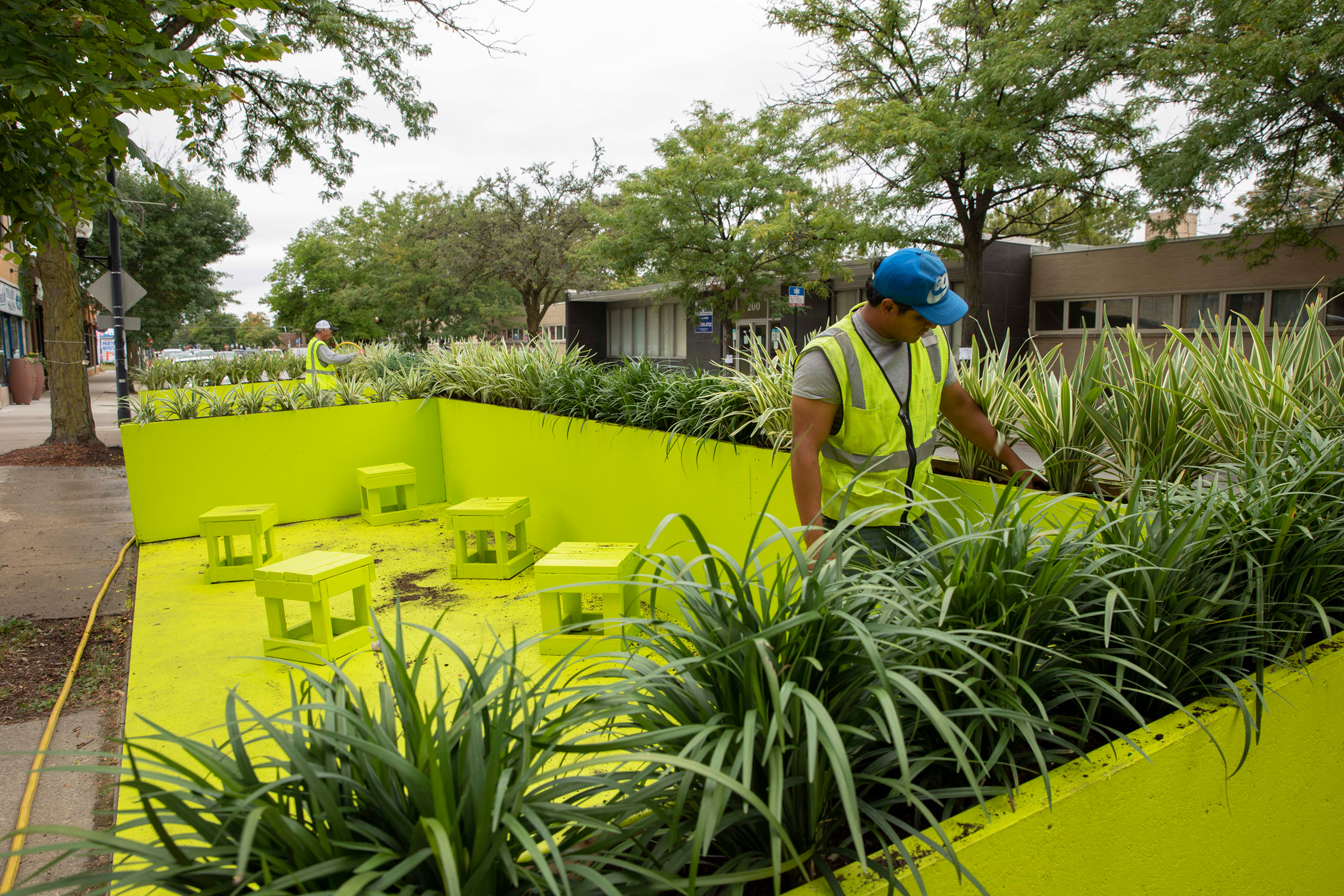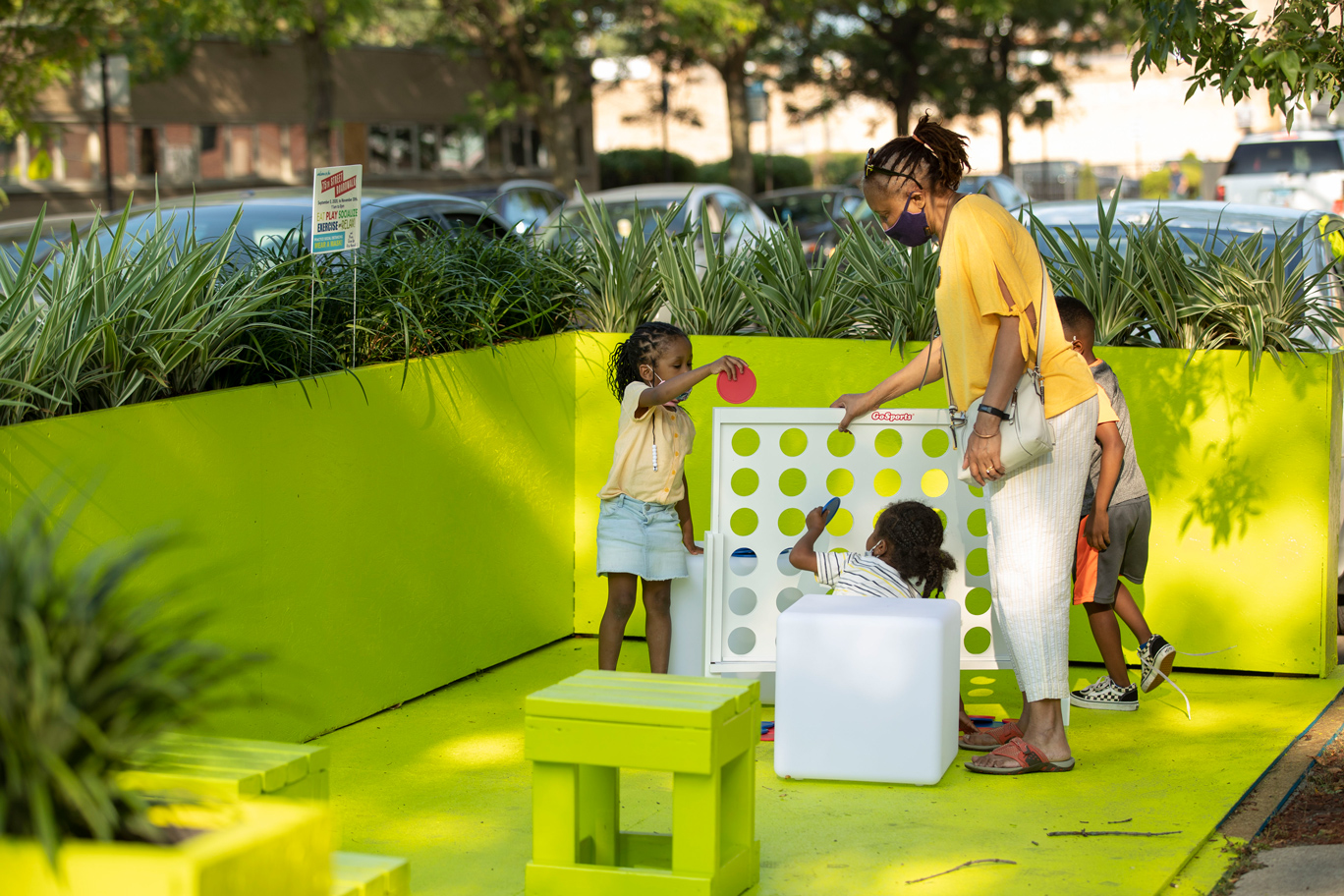 Ace Hardware Foundation had donated the exterior paint for the project, which acted as a protectant to the plywood, allowing the boardwalk installation to weather the seasonal climate inherent to the Chicago region, providing longevity and durability to the project. Due to the typically shorter lifespan of plywood, the boardwalk initially had been intended to serve as a temporary solution, with it running through Labor Day of 2020 to Christmas of 2020. However, it had become so popular among residents of the Chatham neighborhood that they requested the installation remain in use longer, ultimately leading to its duration lasting throughout the summer of 2021 before its eventual removal at the end of 2021.
During its time of operation, the boardwalk had an immense impact on the local community. The businesses located on that stretch of 75th Street saw an approximately 30 percent increase in revenue, and the outdoor installments served as a space for people to come together—including Vice President Kamala Harris upon learning about the project. Wong indicated that as members of the community started to hear about the boardwalk, there were impromptu parties in the street during the middle of the night—a celebration of the project the community had worked together to create.
Though the boardwalk installation was eventually removed from the street, during its time it served as a vital community amenity and space for residents and visitors to gather, and a vibrant tool that helped re-activate its commercial corridor.
"We are fortunate that we have people from all over the world in our firm. We have people from everywhere: from Australia to South Africa, to Europe, and pretty much every country in Asia, South America, Central America, and Canada," Wong said.
"There is a commonality of public spaces that everybody can relate to. When people go to these public parks here in America, there is a connectivity to the plaza they had at home in their little village. [Public spaces] open us up to meeting other people and connecting with them, and I think that is what good design does, it connects people to each other. We are very thankful for that, and we are thankful for the great ideas that come from all over the world and to our office," Wong added.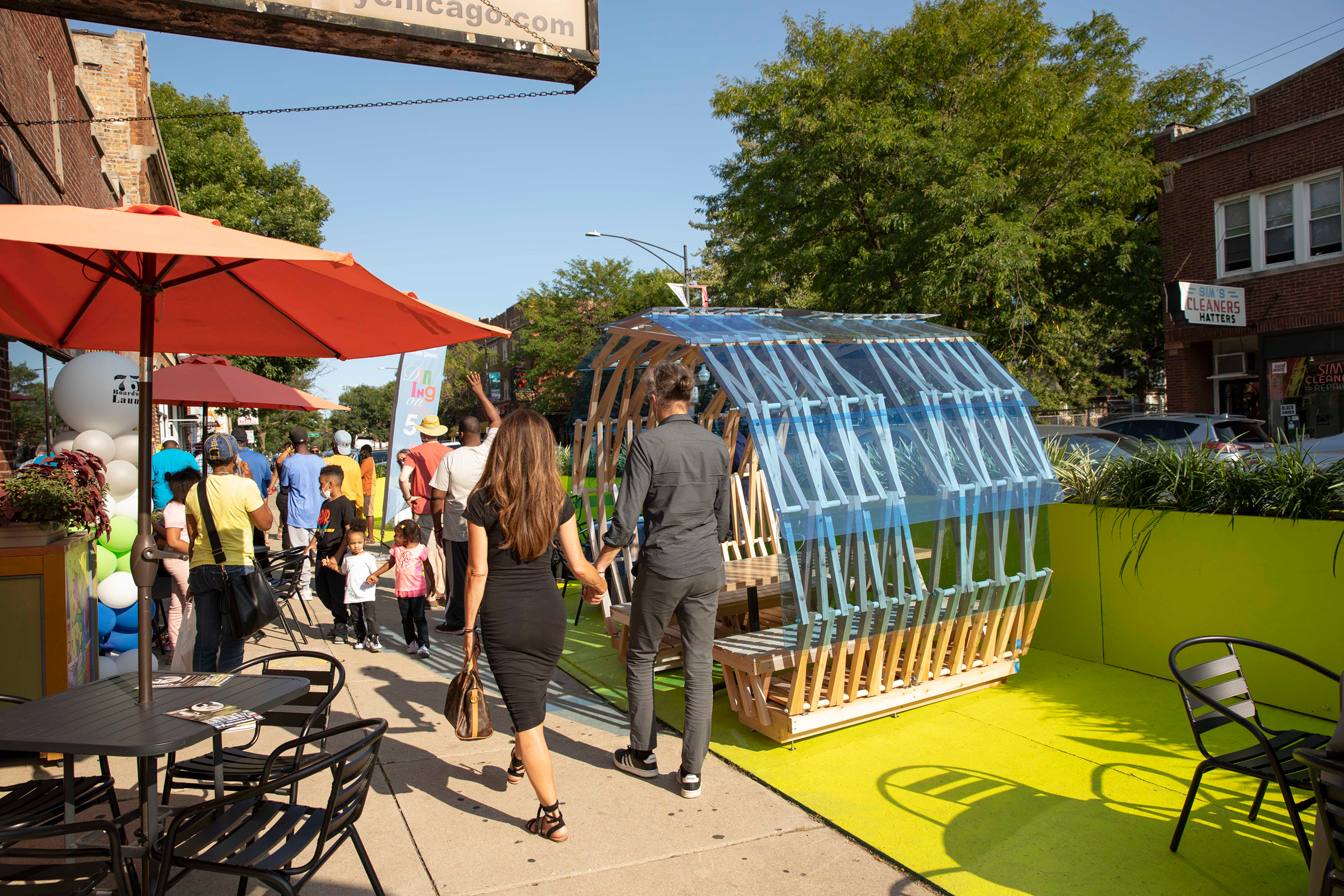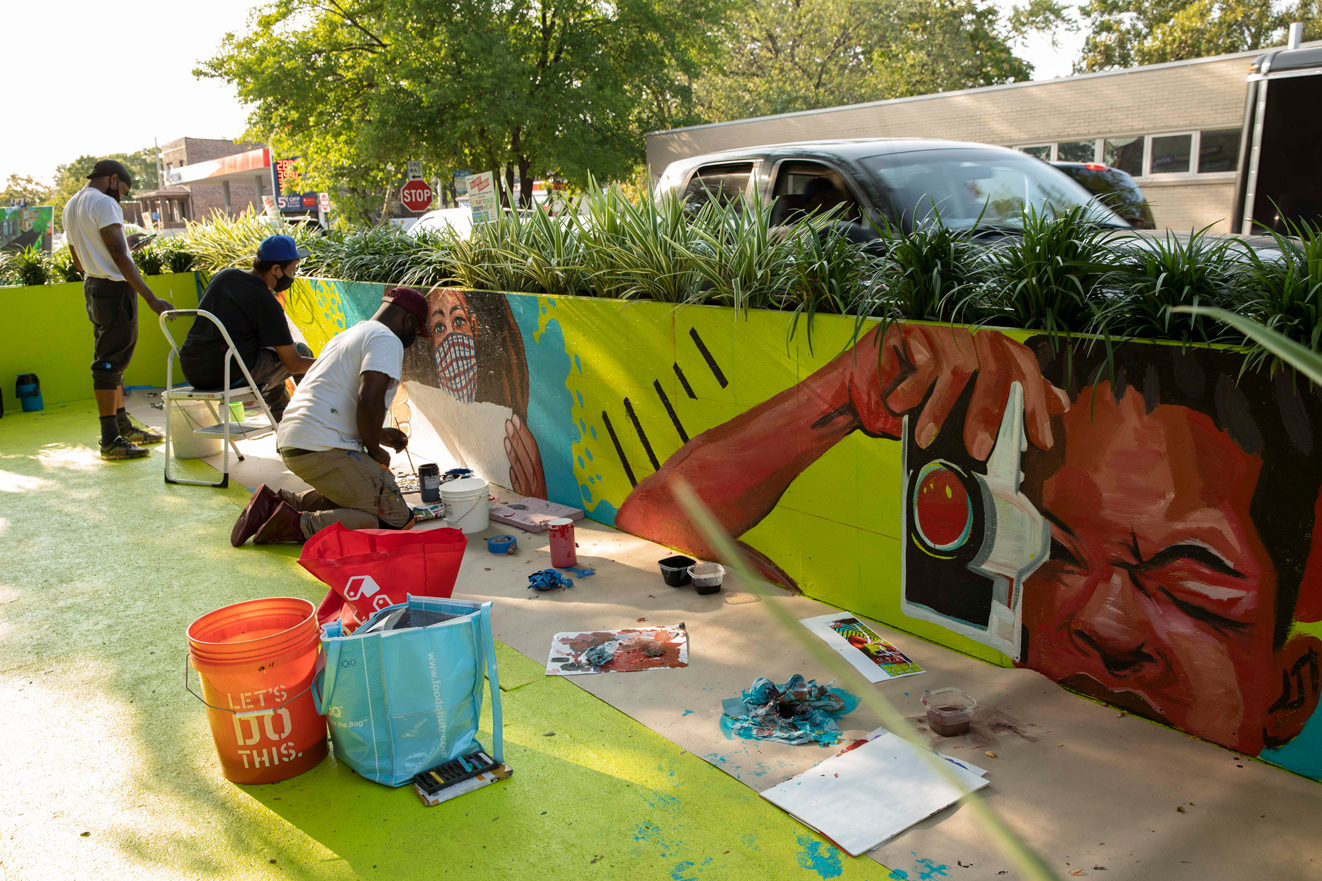 Originally published in Great Lakes By Design: Crafted Lodging, 2022
Text: Brenna Buckwald
Photography: Scott Shigley, site design group, ltd.