Mathison | Mathison Architects, an award-winning, full-service architectural firm based in Grand Rapids, Michigan, celebrated its 10th anniversary this month with an open house held on Oct. 10, 2023 at its downtown office location, commemorating a decade of architecture and design work dedicated to creating impactful projects for clients.
The firm, which embraces the belief that human-centered design is good design, leading to sustainable and resilient futures, specializes in residential, commercial, renovation, and interior design disciplines and has developed a portfolio of work in regions like the Berkshires, Hudson Valley, New England, and Michigan. Its work, grounded in modernism, actively seeks to blur traditional indoor-outdoor boundaries to connect people with nature, informed by a belief that architecture, planning, and design can elevate lives.
"We are excited about our future and look forward to the next ten years," said Megan Feenstra Wall, AIA, principal at Mathison | Mathison Architects, or MMA. "The projects we are able to work on continue to challenge us and help us learn and grow as a result. We plan to contribute to the fabric of our communities, state, and region long into the future."
Originally established in 2013 by the father-and-son team of Tom Mathison, FAIA, and Evan Mathison, founding principal, MMA has developed into a team of 20 architects, interior designers, and creative professionals and expanded its downtown studio space to 6,000 square feet over the years. For Evan Mathison, who began his architectural career in Boston after completing his Master's Degree in Architecture at Harvard University in Massachusetts, the decision to move back to West Michigan and launch a new firm with his father was important—and a leap of faith.
"Starting the firm on the west side in downtown Grand Rapids was important to us," Evan Mathison said. "We wanted to be part of the community and continue the ongoing investment into the city."
What began as a humble, 300-square-foot studio above the garage at Tom Mathison's home as the two founders began working on architectural projects, has since become a well-known firm in the region with a portfolio of residential, workplace, civic, hospitality, education, adaptive reuse, and nonprofit work. Some of the firm's notable work comprises of: the Gerald R. Ford International Airport Viewing Park and Pavilion in Grand Rapids, Special Olympics Michigan Unified Sports and Inclusion Center in Grand Rapids, renovation of St. Cecilia Music Center in Grand Rapids, renovation and expansion of Glen Arbor Arts Center in Glen Arbor, Glen Lake Community Schools in Maple City, Muskegon Community College Downtown Center in Muskegon, Michigan, and more than 200 residential projects.
Tom Mathison, who at the time had been at the peak of a successful architectural career at another large firm in town when he decided to start MMA with his son, officially retired in 2022. The firm, which appointed Megan Feenstra Wall and Ben Franceschi, AIA, as principal owners in early 2021, is now managed by Evan Mathison, Feenstra Wall, and Franceschi.
"This was a once-in-a-lifetime opportunity to start anew with my son and an opportunity I could not let pass me by," Tom Mathison said. "Ben and Megan were the two leaders that we needed to continue the growth of the firm, and both brought a unique background, skillset, and perspective to the team."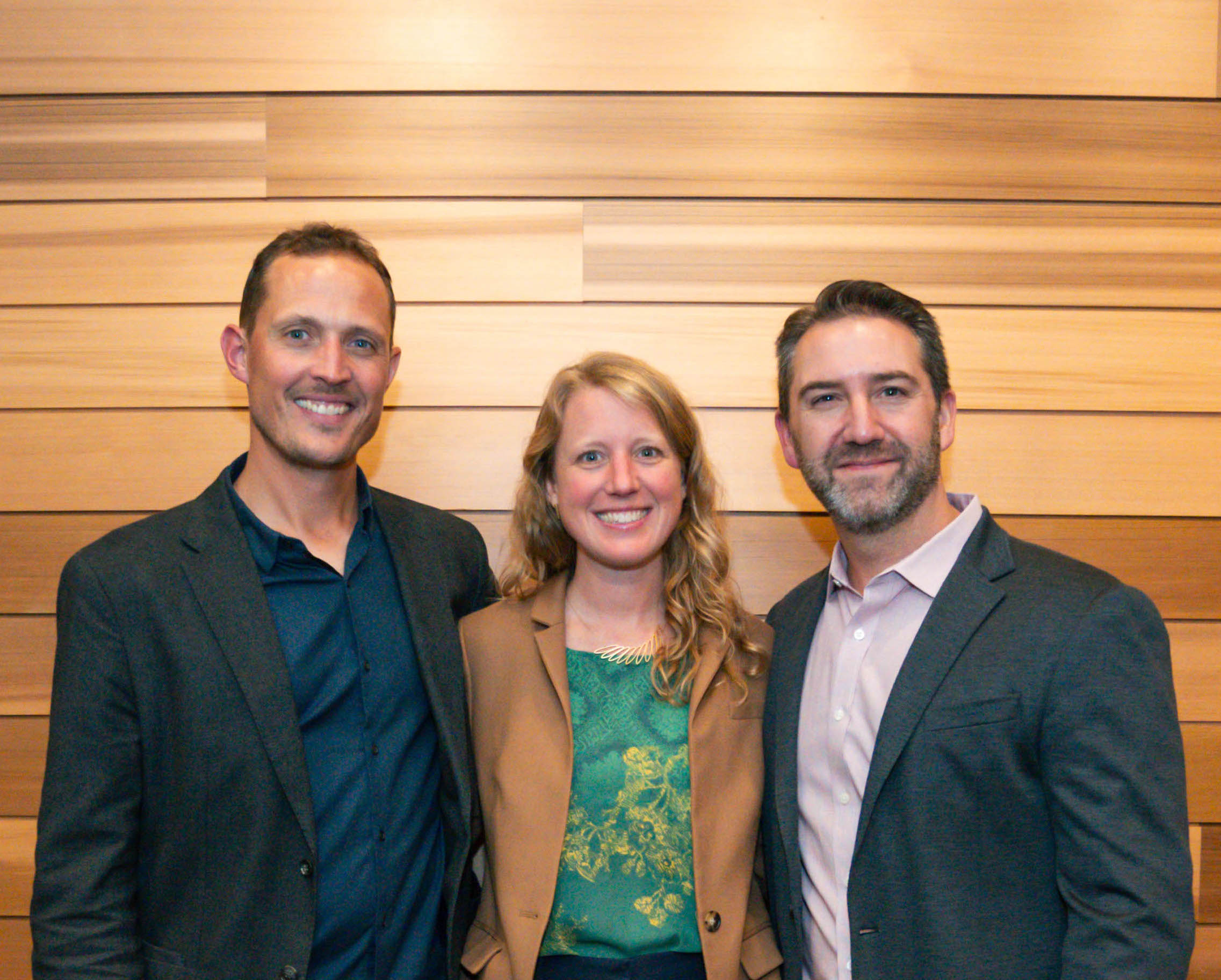 Feenstra Wall, who joined MMA in 2014, brings more than 15 years of experience in architecture to the role and a commitment to community engagement, serving as AIA Grand Rapids President in 2021, on the National AIA Framework for Design Excellence Task Force, the Board of Formation for Kendall College of Art and Design's MArch program, and Ferris State Architecture Advisory Board, to name a few. For Franceschi, who began his career working in San Francisco at Huntsman Architectural Group and then worked at Cambridge, Massachusetts-based Maryann Thompson Architects, or MTA, where he met Evan Mathison, architecture is a fundamental tool for making decisions that can impact the lives of those who inhabit them, and the entrepreneurial spirit that MMA embodies is infectious.
"I wanted to invest in this team and help it continue to grow. At the same time, I fell in love with West Michigan and the community here, and knew this was a permanent home for me and my family," Franceschi said.
As MMA looks to its next decade of inspired work, the team has already begun working on projects like the Muskegon Museum of Art in Muskeon, Traverse City Whiskey Company in Leelanau County, Eastern Kille Distillery in Rockford, Walker Kent District Library, Muskegon State Park Beach House, and Open Systems Technologies, or OST, Headquarters in Grand Rapids, Michigan, to name a few. The firm is also in the process of completing over 25 residential projects.
Text: GLBD Staff
Photography: SideCar Studios, Courtesy of Mathison | Mathison Architects