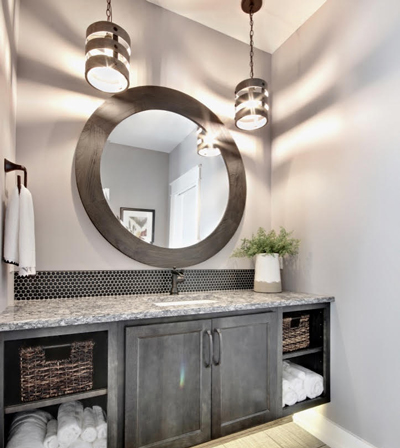 Text: R. Collins 
When designing the interior for a new Byron Center, Michigan home—which would be featured in the Home Builders Association of Greater West Michigan's annual parade—Julie Wynalda, founder of True Vine Creations in Hudsonville, Michigan, looked no further than the Mediterranean aesthetics of the homeowner's childhood living spaces in Israel and her design firm's own principles. 
"My style is literally rooted in my love for nature," Wynalda said. "Somehow that environment opens my thoughts and ideas. I tend to really enjoy neutrals on neutrals and then adding layers of texture rather than color."
True Vine Creations is a West Michigan-based commercial and retail interior design solutions company also offering design consulting services for new construction and remodel projects. Its portfolio comprises a retail store featuring home décor and accessories; from candles and pottery to artwork, lamps, pillows, and more. While her portfolio includes a variety of residential and commercial projects, Wynalda's foundational set of modern, nature-inspired design influences can be seen throughout each of her pre-design inspiration boards and projects to come.  
In Byron Center, motifs of tumbled tile and brickwork and symmetric lamp fixtures create an old-world aesthetic throughout the bi-level home and are elevated by matte black hardware details and modern amenities. This is seen in the homeowner's personal art studio, which is a vast space on the ground level flooded with natural light by second-story windows overlooking the interior and grounded by sturdy rolled laminate flooring crafted in likeness to wood panels. A kitchenette, half bathroom, and outdoor patio add necessary utility spaces, while sliding white barn doors with matte black accents incorporate thematic elements from the rest of the home.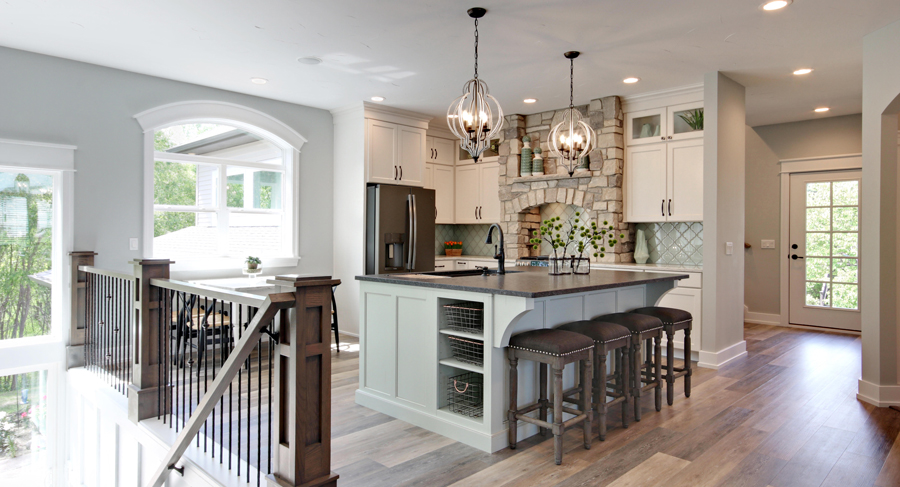 Overlooking the studio, a reading nook and loft offer a quiet retreat from other main living areas while the foyer provides an understated yet striking introduction to it all. Dark tin and glazed skip trowel details in the ceilings add texture and depth to the neutral color palette, also framing the homeowner's own artwork. Internal architectural details like wide pillars and arched windows are decidedly classic and Mediterranean.
In the kitchen, pistachio shades on the island and glossy tile backsplashes add multi-seasonal coolness to the second level—and lightly break the off-white palette. To further create continuity between the open kitchen and remainder of the home, tumbled stones compose the vent hood to add a Mediterranean element and small nooks were carved in each side to store oils and spices for cooking. Each room holds a surprise element while still utilizing the same materials and design themes as others, whether in the knotty, natural texture of Ghostwood or in each blank fifth wall being utilized to introduce new wall textures through grass cloth or herringbone stone work. 
"Each element stood in and of itself, but together they never left you [in need of] more design, just more texture than anything," Wynalda said. 
The large-scale textures exhibited throughout the interior are some of Wynalda's favorite design elements. A lattice work ceiling beam detail in the lower-level living room lengthens the space while adding dimension to the architecture and windows. The opportunity to create a unique—if not unusual—interior element was as inspiring for Wynalda as it was enjoyable. She described working alongside Lowell, Michigan-based builder, Ridgeline Homes, and the homeowner—a professional artist and design enthusiast—as an ideal working relationship in which all parties were able to explore their design abilities while incorporating classic elements of past design influences. 
"Design isn't just about having good ideas, it's about getting together with someone you've never met and making them excited about design," Wynalda said.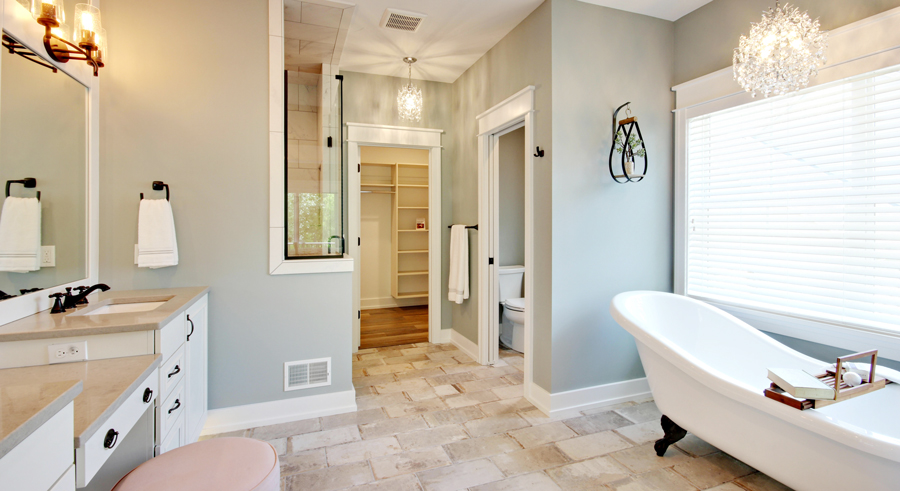 Photography courtesy True Vine Creations