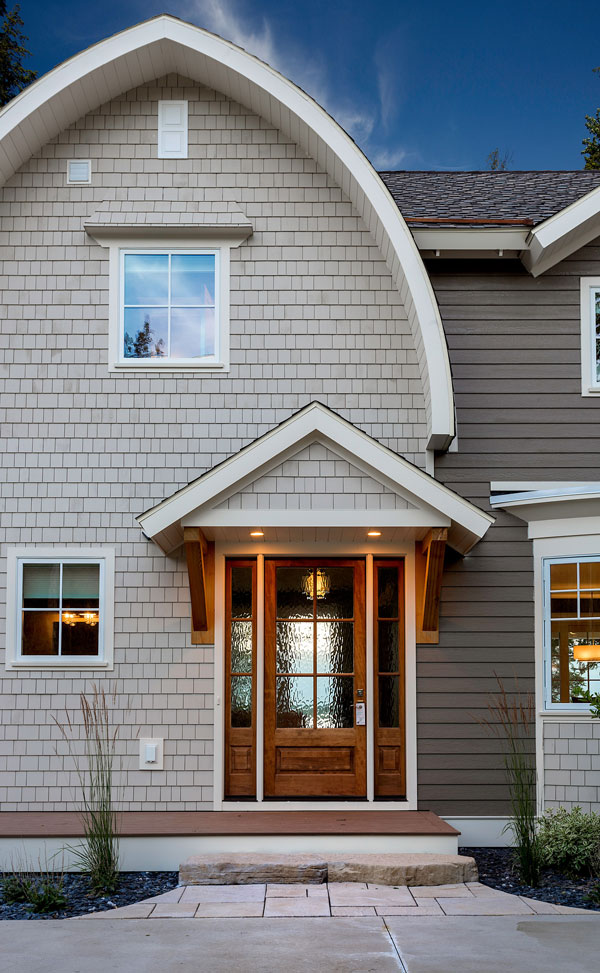 In residential design, personal history and nostalgia can often influence features large and small, gradually creating the identity of a space until it merges into something that clearly signifies the homeowner. In the spring of 2017, Steve Werner, architect and partner at the Shoreline Architecture & Design Inc. firm in Petoskey, Michigan was approached by an unexpected figure from his own childhood—the owner of a Hudsonville, Michigan ice cream supplier near his childhood home—to design a seasonal cottage reminiscent of classic dairy barns.
"One of the homeowners had seen a building we had done previously with this bow truss design, which is reminiscent of a dairy barn, and that was one of the things that drew him to us," Werner said. "We call it a contemporary farmhouse or, in a sense, a modern farm house. It has these contemporary, but still very historical elements that you see applied to modern concepts, so it's non-traditional in that aspect."
The seasonal residence—nestled on the Elk Lake shoreline—was designed to function as both a family gathering space and a refuge for relaxation for the couple; aspects of which Werner said determined the interior layout. The approximately four-bedroom, four-bathroom cottage is fitted with a sunroom porch, study, great room, and bunk room that sleeps eight, which features design choices made by the couple's grandchildren. Each room, despite its purpose, was not particularly large, Werner said, to encourage family time outdoors.
"I'd say the overall personality of the house is simply 'family,'" Werner said. "They're very good people and I think that reflects in the design of the house. It was designed very much like a lot of the homes we design on the waterfront: to incorporate family as a gathering place."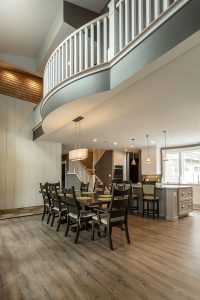 Apart from its familial inspiration, the Elk Lake cottage is designed to reflect the homeowner through its signature bow truss shape featured throughout the interior and exterior. The traditional barn influence exuded by the rounded peak shape is completed in an appropriately light and friendly color palette: caramel and sandy hues cover wood hybrid siding and durable plastic composite trim.
Indoors, the bow truss detail presents itself literally and figuratively. In some rooms, the asphalt room seems to grown inwardly through the ceiling—though this time in cedar—giving an appearance of separate barns being merged together with years of additions, a feature Werner said resonates nostalgia and a grown-in appearance. The shape itself appears elsewhere in the curve of countertops and cabinetry; the interior balcony overlooking the great room; and in the custom glazed kitchen window near the dining room.
The final touch comprised a top-floor cupola originally added to filter natural light throughout the home, which would soon become a more whimsical feature with the addition of a spiral staircase to make it personally accessible at the top of the two-story cottage.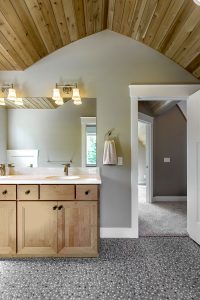 "This is where the homeowner's personality starts to reflect the design," Werner said. "It's a refreshing element when a customer isn't necessarily controlled by the budget as much as they are by the desire to add something really interesting and unique to the design of the house. When they allow us that latitude and that freedom to bring something unique together, you can see when all those elements are brought together that it works really well."
At Shoreline Architecture & Design, architecture is defined as a means to enhance the human experience. The firm's services comprise interior and exterior architectural design, interior design, construction management, and site planning, among others. Its portfolio showcases a variety of commercial and residential projects gathered around a central philosophy that the spaces in which life unfolds should be crafted with careful attention and even lift the spirit. For Werner, the Elk Lake cottage project illustrated the firm's philosophy as it involved a joyful exploration of personal taste and unique design elements that were enjoyable to craft.
"The part that's most rewarding about residential architecture is that you get to work with the client on a very personal level and they allow you into their lives," Werner said. "It's incredibly rewarding when you can deliver a product to a customer that will become a part of their lives and you reflect it as much as you possibly can. It's rewarding to know you helped them facilitate an element that is going to give to their family for years to come."
Text: R. Collins | GLBD writer
Photography: Shoreline Architecture & Design Inc.