Reposed on a cresting dune, this contemporary, coastal lodge is built for the drama of the offshore shoals, turbulent weather, and proud lighthouses that line the Lake Michigan waterscape. It is a home whose beauty is in its implied simplicity, honest materials, and integrated design; where its rich tones are matched only by its memories as a family reprieve in a meaningful setting.
Designed by Douglas DeHaan and built by the team of DeHaan Homes in Hudsonville, Michigan and Studio K Creative in Chicago, Illinois, this modern lodge is one of purposeful understatement and custom luxury. Its site, while challenging the buildability with about 100-foot-width, is intentional as it neighbors family property and played a role in shaping the vertical build of the lakefront cottage. The result, however, is a project not only reflecting the homeowners' dream and lifestyle, but also that of its team—and their commitment to design, craft, and quality.
When initially approached by the home owners of the Lake Michigan "Modern Lodge", DeHaan, president and fourth generation craftsman and owner of DeHaan Homes, said the clients were looking to design a home on a really difficult piece of property located on the opposite end of a multi-generational family compound.
"They never dreamed they could have something like it with the limitation on the property; the amount of effort to obtain a permit was worth it," DeHaan said. "It is easier when you have 10 acres or perhaps a 300-foot-frontage on Lake Michigan to build a beautiful home—but to take a 100-foot-lot that is nothing but a knob, then create a 7,000-square-foot house that is spectacular and exceeds client expectations? That's a challenge."
Carey Elder, senior designer at Studio K Creative—a multidisciplinary creative house, is known for its hospitality and commercial work in the Chicago area—noted DeHaan Homes was the expert behind the home's numerous smart home features and the interior design firm helped veil the amenities.
In the main floor living room, the TV is hidden behind a sliding wood panel adorned with artwork above the fireplace—and when in use, the panel shifts to cover the shelves to its right. On the perimeter, reclaimed barn wood beams in the ceiling—lending a rustic, seasoned look to the interior—house electrical for electronic blinds and drapes, as well as an interior beam serving to cover the electronic laundry chute. Radiant heat in the wide plank floors—as well as the bathroom tile—and other smart features leverage the framework of the house itself to integrate it into the interior.
Working closely, DeHaan Homes and Studio K infused the home with a depth and a richness that requires a second survey to appreciate: it is a palette of wood, white, and blue; and yet many of the finishes were custom developed.
"DeHaan Homes brought to the table the amazing wide-plank, oak flooring and indigo- painted cabinetry," Elder said. "Grounded by these materials, we added rustic wood, floor-to-ceiling doors, concrete patterned tile flooring, and family-friendly linen, wool, and cotton fabrics, and area rugs. This project really became an extension of ourselves as we felt very aligned with [the homeowners'] on the vision they had for their home and feel extremely proud of what we were able to create with this team."
Elder also noted when the clients spend time in the house with their family and feel at home, the team at Studio K knows that their job has been done.
"This project was such a labor of love and knowing that this family will be enjoying this home for years to come is the greatest feeling," Elder said.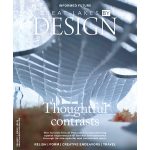 Full text available in our print edition, Great Lakes By Design, Volume 3, Issue 2: Informed Future. Start your subscription now.
Photography: Bill Hebert