Amid Lake Michigan's steadily swelling tides and changing dune faces, the design-and-build team at Mark Scott Homes—based in Niles, Michigan—has created a quaint reprieve designed to minimize coastline impact, while maximizing the qualities of beachfront living.  
Mark Scott Homes specializes in high-quality homes in southwest Michigan and northern Indiana, offering custom home building and property management, as well as design, remodel, and renovation services. The team delivers solutions rich in craftsmanship and material intuition, and as seasoned navigators of lake-side building, its approach to this Lake Michigan beach house was no exception. In fact, the project offered a variety of design challenges, from building among the parcel's challenging natural topography, to navigating equipment to-and-from the site. 
"There were probably many more convenient places to build a structure, but if you wanted to really maximize privacy and best views, it's not always the most convenient," said Mark Scott, founder of Mark Scott Homes. "We look at that and we really want to make sure of where we place it and that we're always maximizing the views, but we do it in consideration of what's around us as well."
After receiving the necessary permissions and instructions for building along the coastline, some of the team's initial challenges were purely logistic and involved navigating building equipment to the site from an increasingly testy shoreline. At some points, rising water levels or steel jetties exposed by erosion halted the progression along the beach, and eventually the team decided to transport the building materials through a barge in the St. Joe River, only to be turned around some days by swelling waves. 
Another matter was securing a structure on the site itself with minimal impact to the dune, which the team achieved by securing it with stilts features. The result was a quaint, approximately 320-square-foot beach house that was surprisingly complex in creation, yet equally as interesting in its final design and collection of amenities. 
"It separates [the owners'] normal, everyday life and the wear-and-tear of daily life with almost just being on vacation. This client was pretty particular and it was very rewarding to hear that we far exceeded her expectations, which were very high," Scott said.
The structure itself is a single volume with a slanted roof, which peaks on the water side. Indoors and out, the home is designed to be multi-functional while emphasizing waterfront views, and from the kitchen there appears to be no barrier between the two. The interior acts as a single room, flexing for sleeping arrangements and encompassing the nearby bathroom and kitchen space, where walnut wood from an owner's childhood home adds warm, rustic accents to the rest of the light, modern room. Folding accordion doors open the length of the home to a patio, which wraps around to form a viewing bridge and window-side bar seating for outdoor gatherings.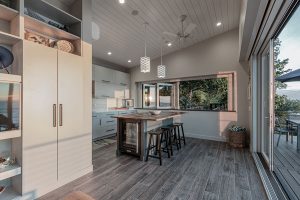 The minimalist interior and exterior arrangements reflect an appreciation for being near the water, which the team made even more accessible by connecting the beachfront and home with a motorized tram. The connection eases the flow between indoors and out, and assists the homeowners and their visitors with moving sporting equipment to the water.
From planning and design, to challenging pre-construction and a hard-earned finish, the project offered Mark Scott Homes an opportunity to maximize the potential of a relatively modest living retreat on the dune. Significant—and sometimes surprising—details in design and functionality culminate in a new home that adapts to the natural flow of waterside living. 
"Sometimes we get these pieces of what people like and we always hope to look beyond them and give them more than they ever expected, and to me [that's] some of the fun in this," Scott said. 
"When [the owners] first started, they thought it was just going to be this little kitchen and bathroom and an area that they could hang out in and then it really started evolving into so much more. … lots of little things; things they never would have envisioned to begin with," Scott added. 
Text: R. Collins | GLBD senior staff writer
Photography by Dean Evan Francis