On June 30, 2021, the Gerald R. Ford International Airport in Grand Rapids, Michigan broke ground on a new $7.7 million operations center that will house key teams such as operations and communications, dispatch, and a new emergency operations center, or EOC. The 11,600-square-foot facility will streamline daily activities and day-to-day management at the airport, as well as serve as a community safety resource.
Stephen Clark, the director of commercial development at Gerald R. Ford International Airport, stated that the new facility will act as the heartbeat and the lifeline for the airport, as it will bring teams that are critical to the airport's day to day operations together in one location.
"I think the biggest thing is resiliency and connectivity. Should there be a situation at the airport, or even in the community, we serve as a rallying point for services," Clark said.
"The airport is that anchor of the community. We can bring not only our team members into a safe facility to work, collaborate, and get resources when need be, but also we can bring in our mutual aid partners and coordinate a response," Clark added.
The building will be staffed 24/7 and accessible on both the airside and the public-side, making it reachable during an emergency. Built to be a safe space during natural disasters, the center will have the strength to withstand extreme weather conditions, including winds up to 250 miles-per-hour, and will also have excess technologies and communication channels in preparation for severe weather, ensuring that services can continue in all types of emergencies.
"This project represents the culmination of years of efforts to realign and streamline our operations and public safety functions," stated Dan Koorndyk, board chair of the Gerald R. Ford Airport Authority, which manages and operates the Gerald R. Ford International Airport, in a press release. "By bringing our teams under one roof, we'll be able to ensure we are providing the best possible service to our guests, tenants, and the greater West Michigan community."
Currently, there are plans to expand the center during the second phase of the project, so that the airport's fire department can be included onsite.
A data center, video walls, and special document review spaces will be implemented in the facility, as well as office, conference, and break spaces.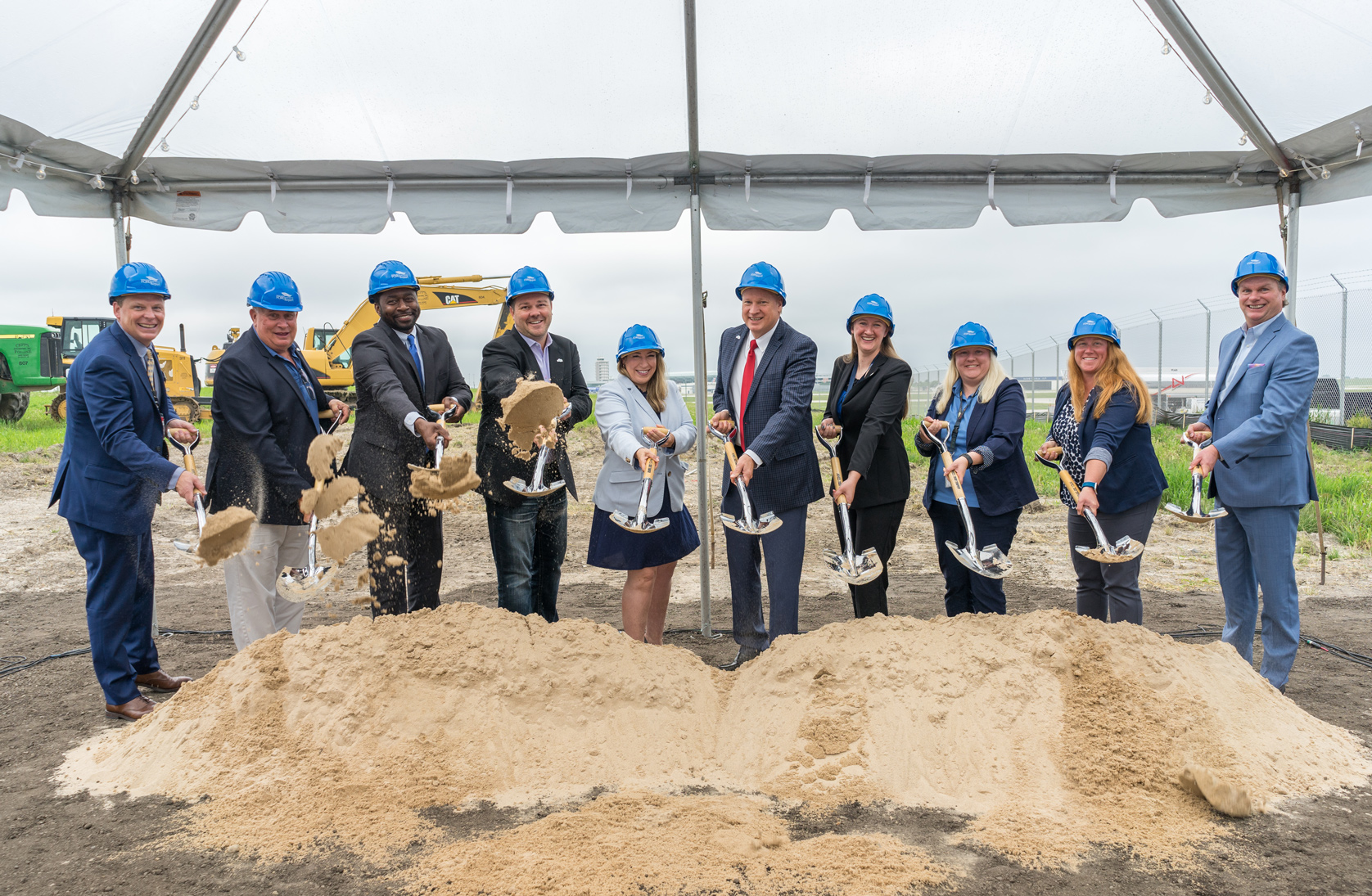 The architect for this project is DLZ of Michigan, with Pioneer Construction of Grand Rapids signed on as the general contractor. DLZ Corporation is an award-winning architectural, engineering, and surveying consulting firm with offices throughout the Midwest, such as: Indiana, Illinois, Kentucky, Ohio, Wisconsin, Pennsylvania, and Michigan. Its multidisciplinary staff of architects, engineers, planners, and technical support staff have worked in civil, transportation, structural, geotechnical, environmental, and construction industries, among others.
Other supporting companies working on the new center are Cripps Fontaine Excavating Inc., CS Erickson, Forman Glass, Gale Plumbing & Hydronics Inc., Level 5 Commercial Finishing, Metal Tech Building Specialists, SecurAlarm, VanLaan Concrete Construction, Van Dyken Mechanical, Van Dellen Steel and Westmaas Electric. The construction of the building is anticipated to be finished by the end of June 2022. Haworth through Interphase will furnish the interior of the facility.
"The airport is like a city," Clark said. "We have got our own fire department, our own police department, our own operations, our own dispatchers—all of those people work together to respond to whatever comes out and that is why this facility is so important."
Text: Brenna Buckwald
Photography: GFIA Marketing