Beyond the St. Joseph North Pier Inner and Outer Lights where the dune unfolds in a rare stretch of broad, flat sandy beach—in contrast to its frequent dramatic bluff-line—a series of vernacular volumes clad in soft weathering materials is nestled amid dune grass and lakeshore. Intimate and sheltered from the street, the cluster of interconnected gabled spaces is intentional in program, providing a number of private spaces throughout floorplan and courtyards before opening out toward dune habitat and freshwater theater in dynamic experience.
There is an immediacy to the site, as view and open-lakeside perspective engage with the shoreline where westerly winds, playful waves, and coastal storms deliver a compelling stage. Its vernacular form is taut, modern in line and detail, softened by the use of natural materials that are intended to age and weather in time. Minimalist upon first impression, this single-family residence is more nuanced and layered in experience as two distinct environments—streetside and lakeside—coexist in crisp, albeit refined expression.
Designed and built by the collaborative team of Wheeler Kearns Architects of Chicago; Norman Zielke Residential Builders Inc., a third-generation, local custom builder based in Stevensville, Michigan; McKay Landscape Architects of Chicago; Enspect Engineering out of Merrillville, Indiana; Stephanie Thatenhorst of Munich, Germany; and Licht + Form of Krailling, Germany; this modern beach house is responsive to the client's needs for intimate living spaces, lake views, and privacy.
"The focus was always driven by the lake and the relationship to it. I think pretty quickly the direction we landed on was reflective of what is built. Some of the earlier thoughts had a lot to do with thinking about the dune grass as sort of a second sea that the house is nestled within, so there were thoughts about bringing wood docks out onto the dune to be among the grasses looking out onto the lake," said Thomas Boyster, AIA, project architect at Wheeler Kearns Architects.
"That, coupled with thinking about the wind driving off of the lake and the views out onto the lake, as well as giving some refuge on the other side of the house, shaped many of the decisions," Boyster added.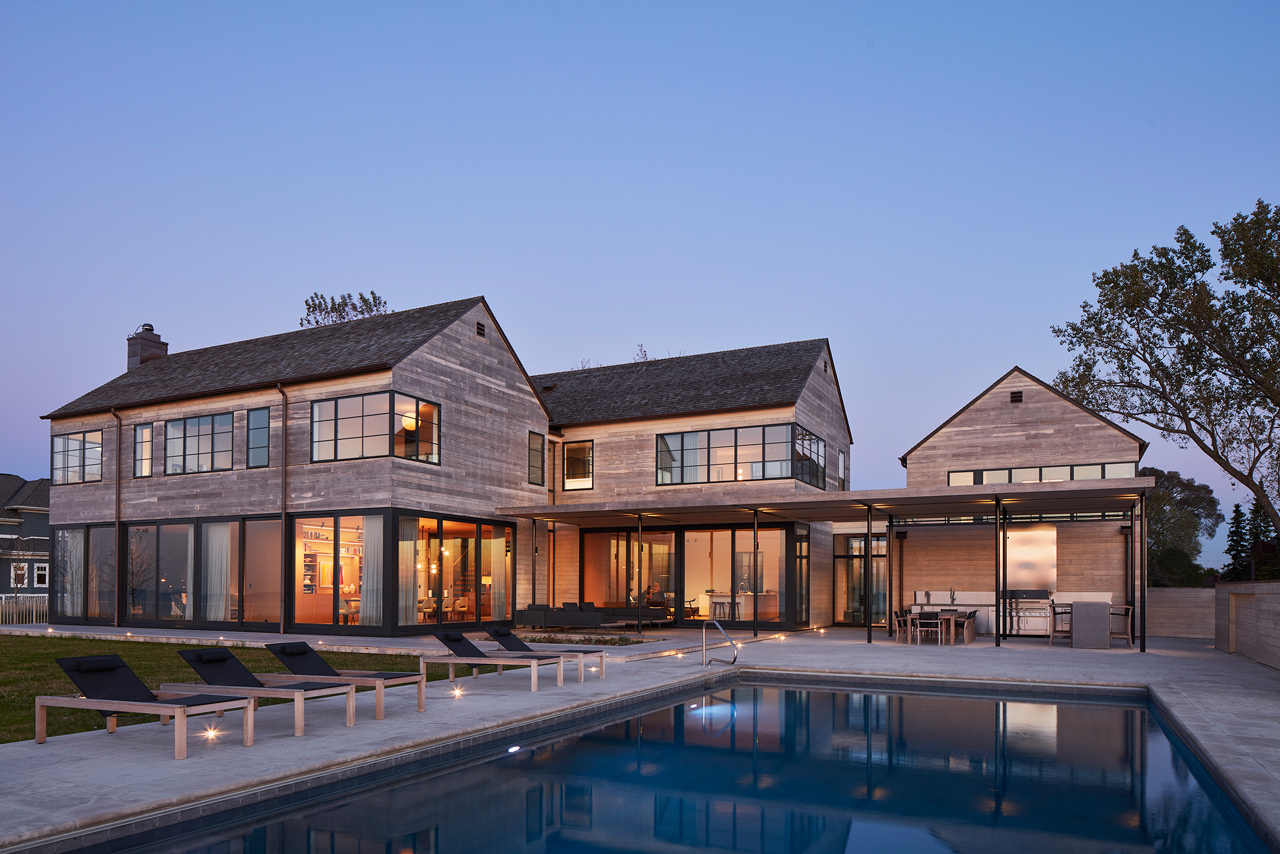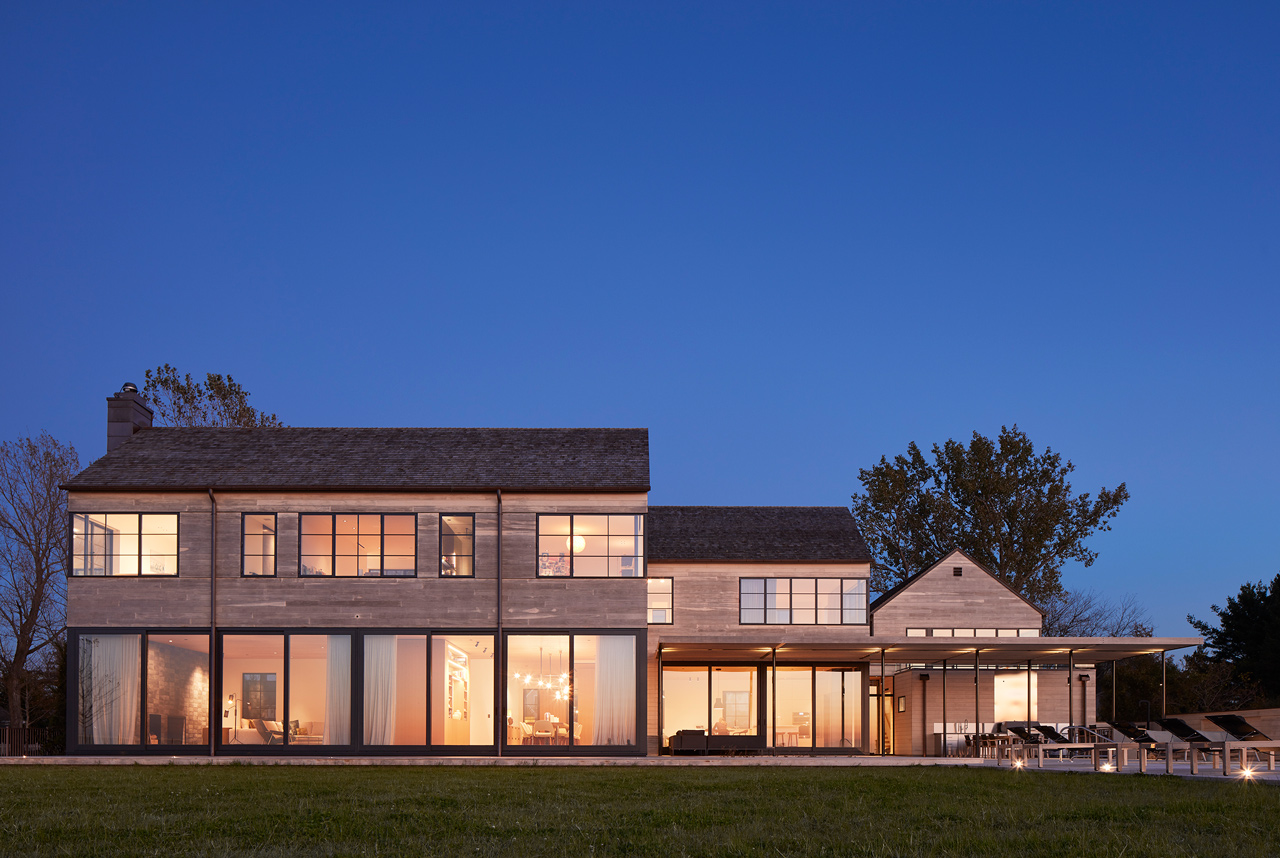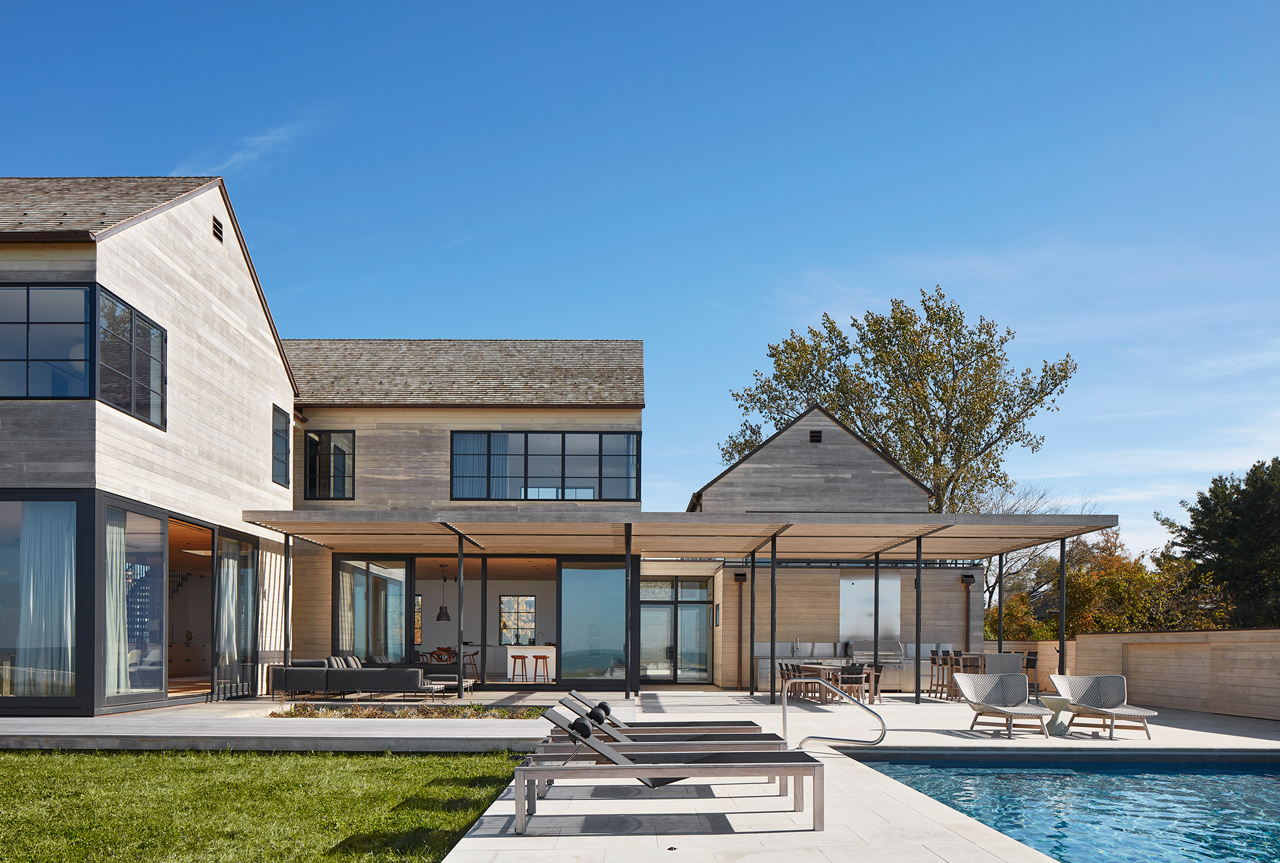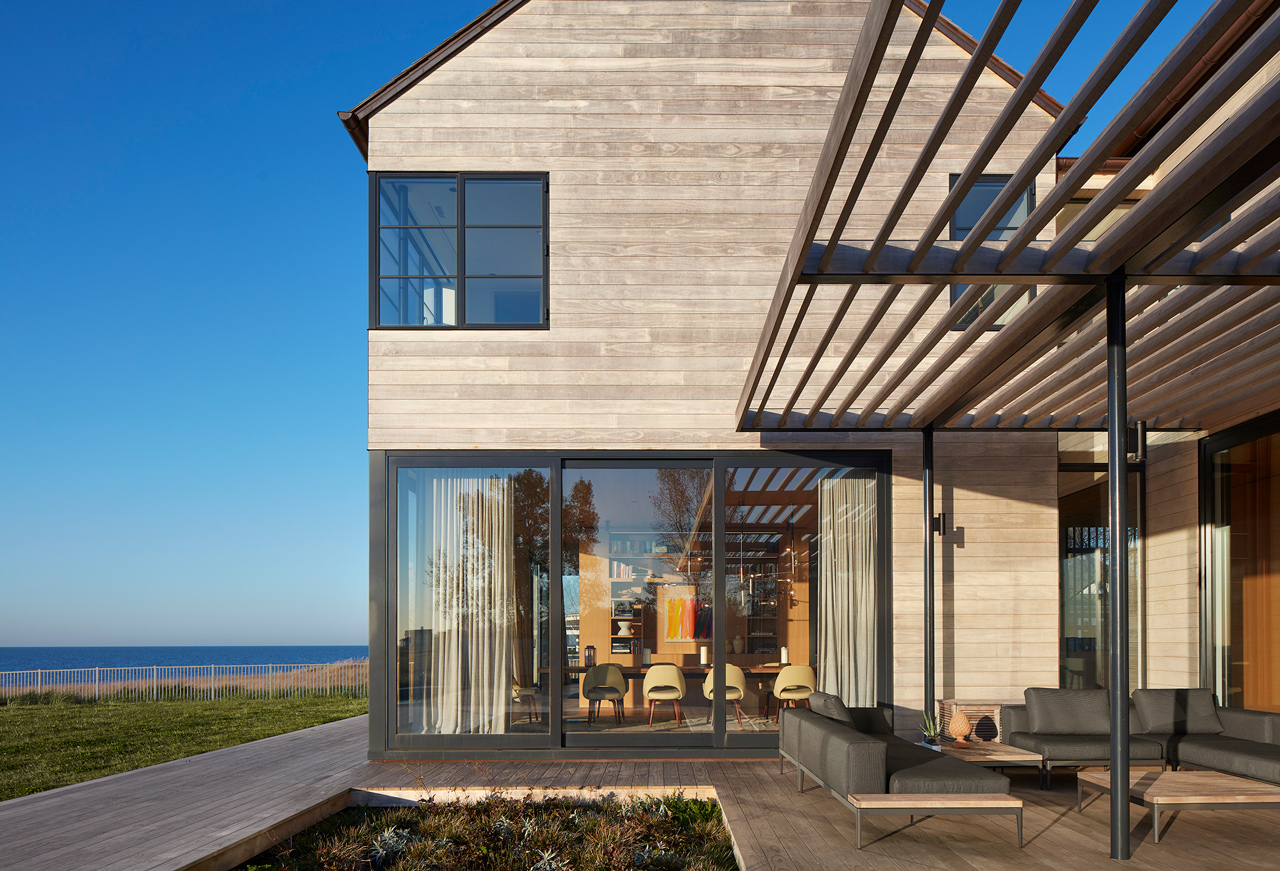 Wheeler Kearns Architects is a collective practice of architects seeking to design and build projects that have a lasting and powerful impact, informed by client understanding and identifying the emotional center of each project. Since its establishment in 1987, the practice has sought to deliver projects that engage, elevate, and house community across institutional, residential, cultural, and commercial sectors, such as with "The Alice" at Goodman Theatre, Chicago Children's Theatre, and Milwaukee Belden T.O.D. Founded by Dan Wheeler, FAIA, with an inaugural project transforming an old scout camp into a residential development, the firm intentionally approaches each project as a prototype with the overall design dependent upon both site and client, according to Boyster.
"It is very important to think about what the emotional center of the project is and how that can really inform what is important and what is focused on in the design. In this [project], I think the two exterior experiences were really important as you connected them from inside to out with the sunken court on the inland side, and the exposed pool and terrace on the lakeside," Boyster said.
"Another big part of it, in terms of appearance, was trying to balance a more vernacular form with detailing that is taut and modern, using natural materials that will age and weather that will feel like they belong there and have been there over time—but pulling those together in a way that is really crisp; really subtle and thin," Boyster added.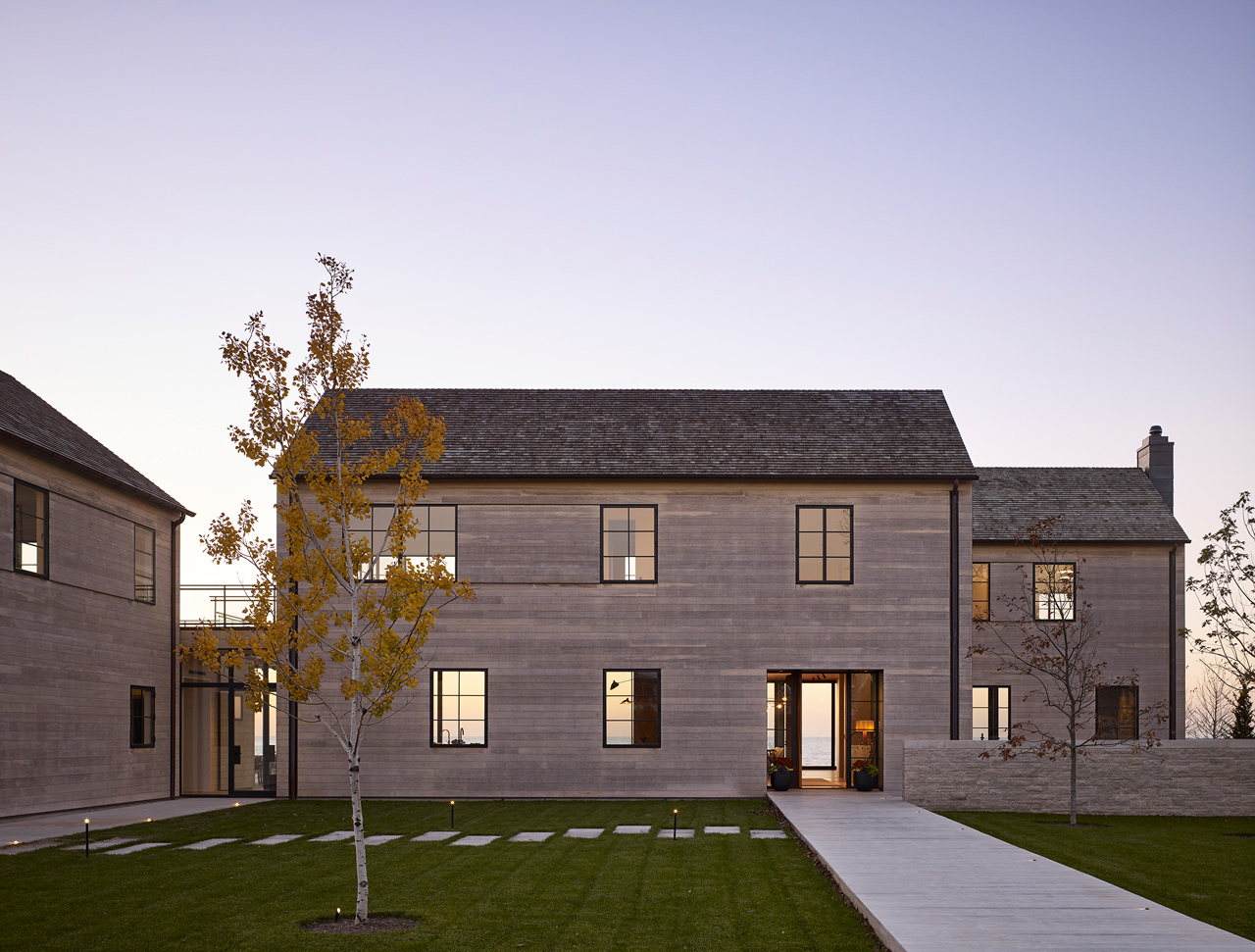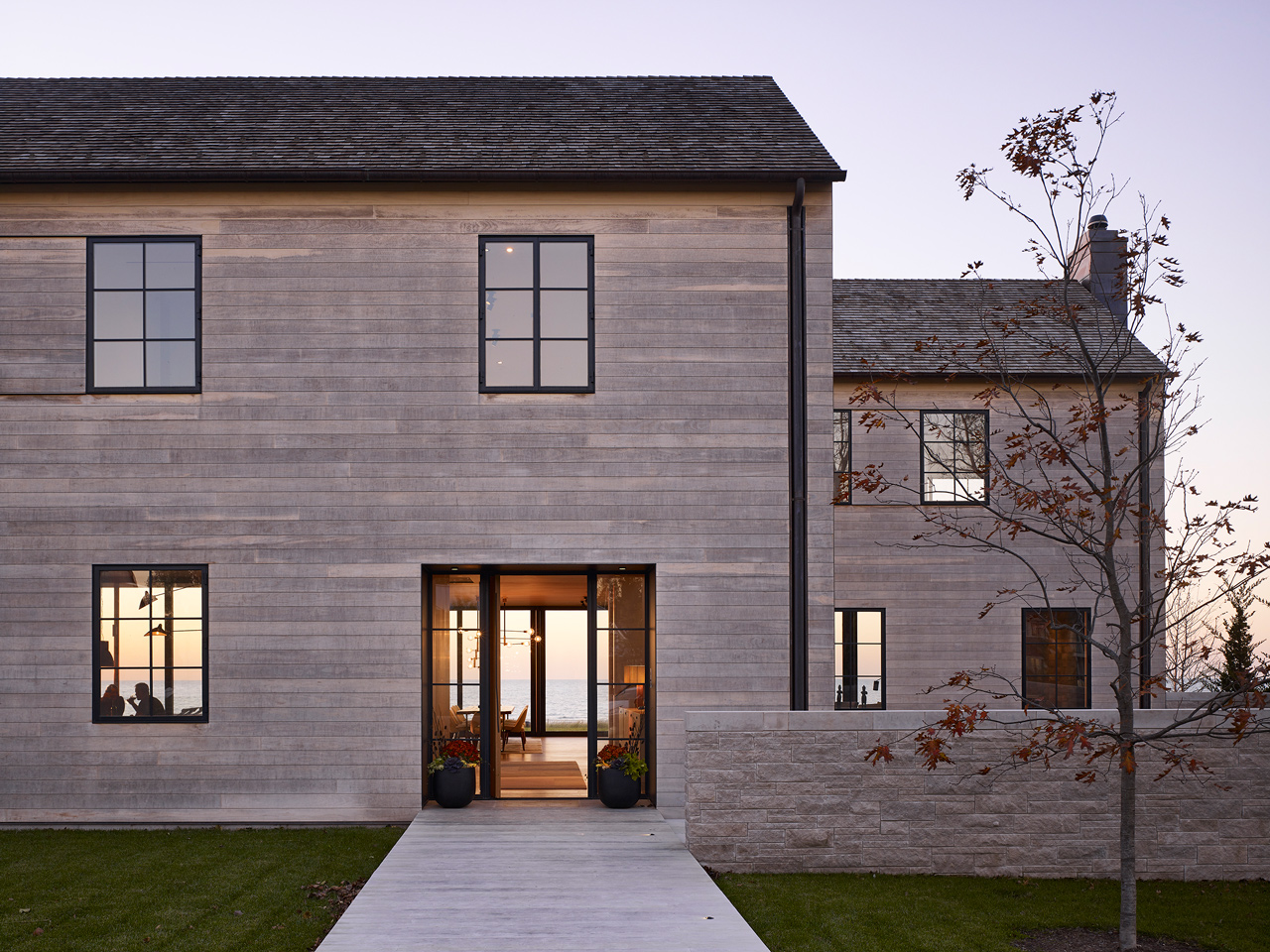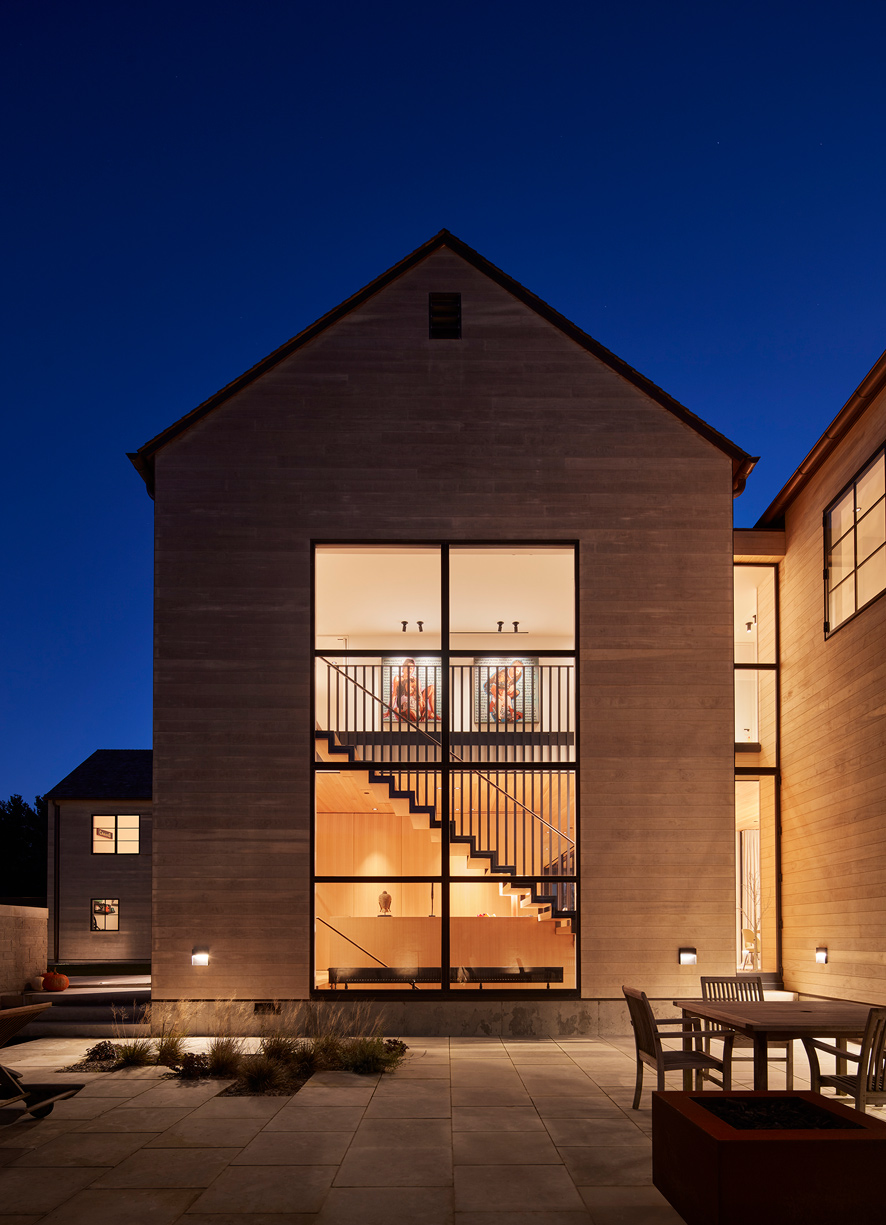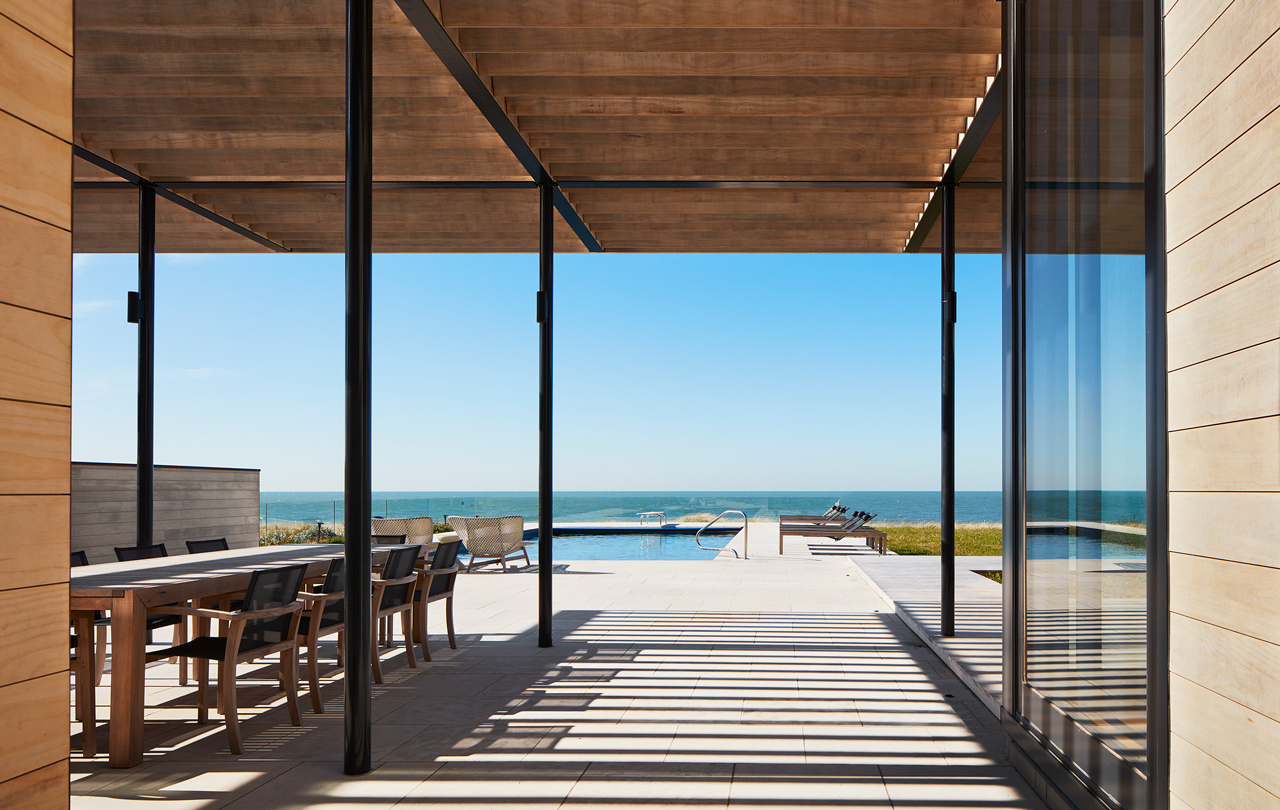 The planning and programmatic layout not only reflect a desire for privacy from the street, but also an affinity for entertainment and a connection with the westward water and landscape. From the drive, the beachfront residence's formal entry court draws the onlooker into an experiential welcome where intimate spaces gathered around the clustered volumes reveal themselves throughout the procession, such as the North Courtyard tucked to the northeast of the two interconnected living structures. Upon entry, the home opens outward to the lakefront with floor-to-ceiling glass that stretches the entire width of the home, dissolving traditional boundaries.
Its exterior materiality of cedar-shingle rooflines and horizontal, shiplap, Radiata Accoya wood-cladding is one of durability and sustainability; dimensionally stable so it won't twist and warp, and sourced from New Zealand-grown, fast-growing soft pine. Treated with vinegar in an acetylation process, the wood can be allowed to weather into a soft gray and is paired with stainless steel fasteners to prevent corrosion. It is complemented by the contrasting, black-steel window frames and glasswork on the westward side that draws light and lakeshore drama within the home.
"I think that design is really unique, because it exists at the intersection of what the client needs and the technical possibilities of what can be done, and then a conversation with the broader discipline and the broader culture. The liminal positioning of design as a discipline is a really fascinating interplay between all those parts. It can really speak to what is most essential and important about a place or a thing or an experience. I think there is a great deal of value in that and in bringing out the depth of things."

—Thomas Boyster, AIA, project architect at Wheeler Kearns Architects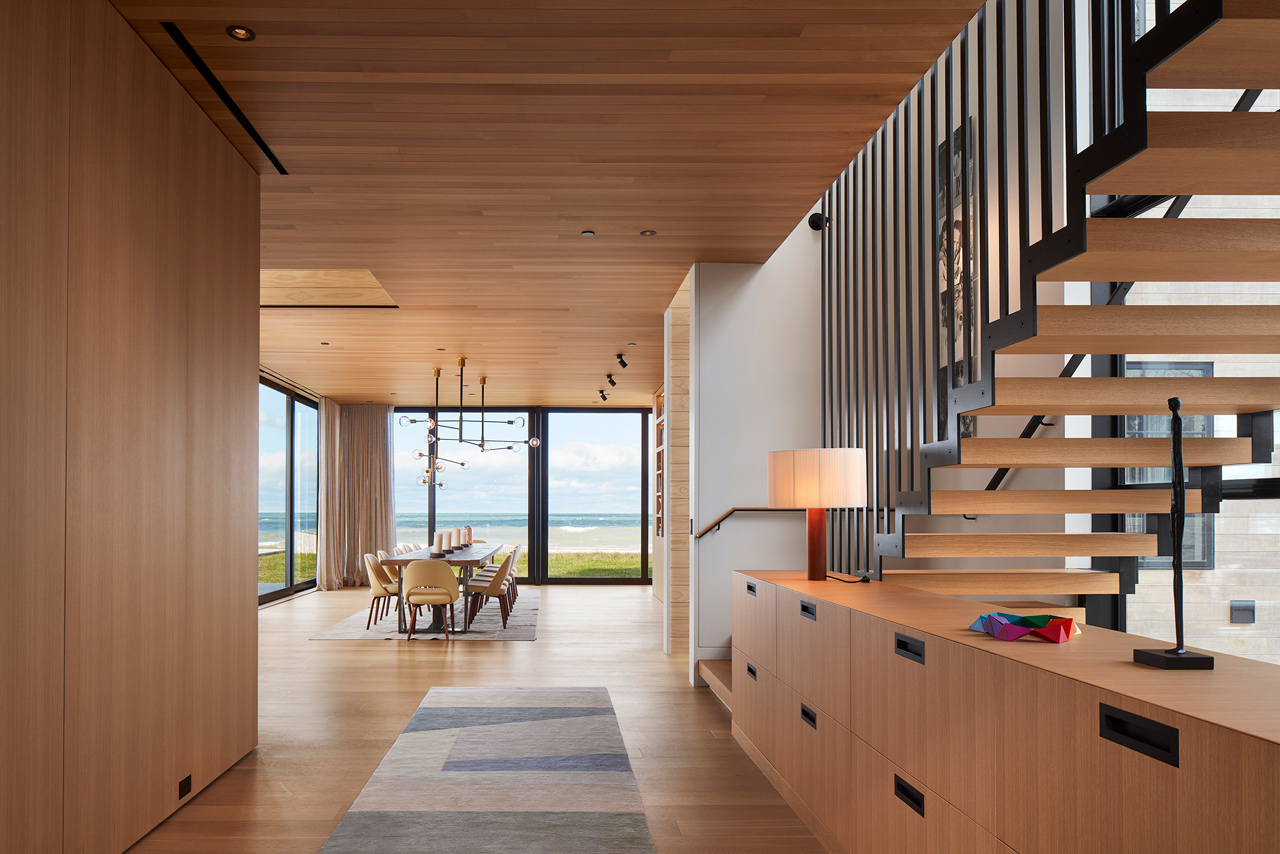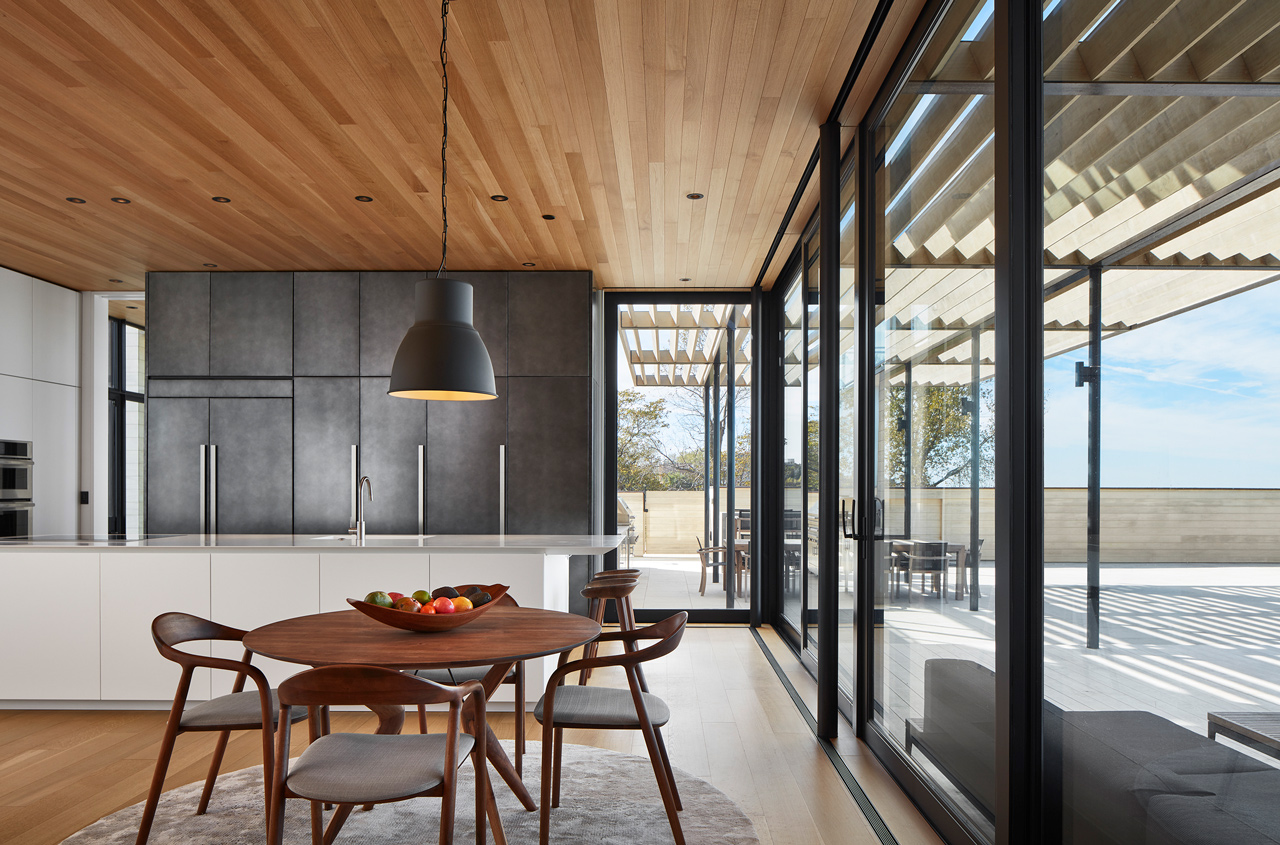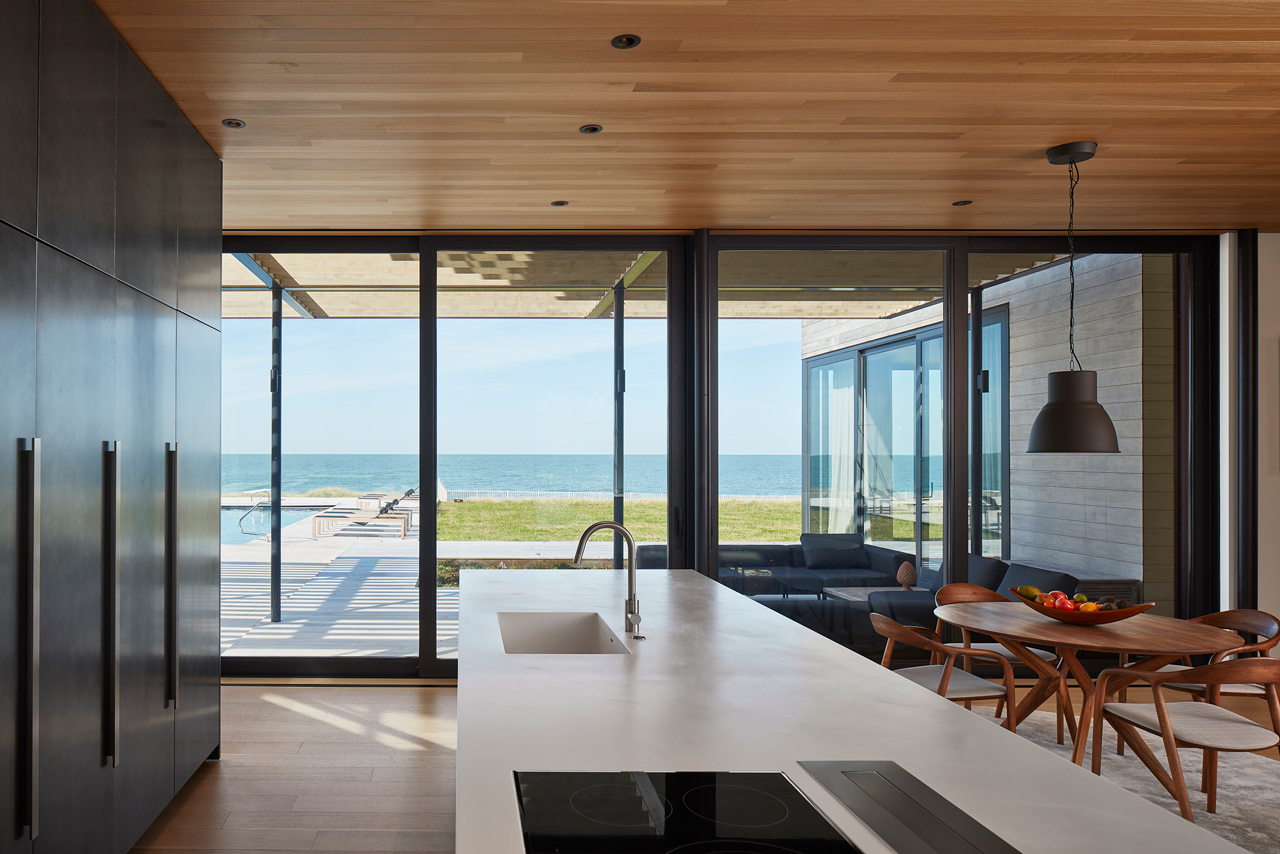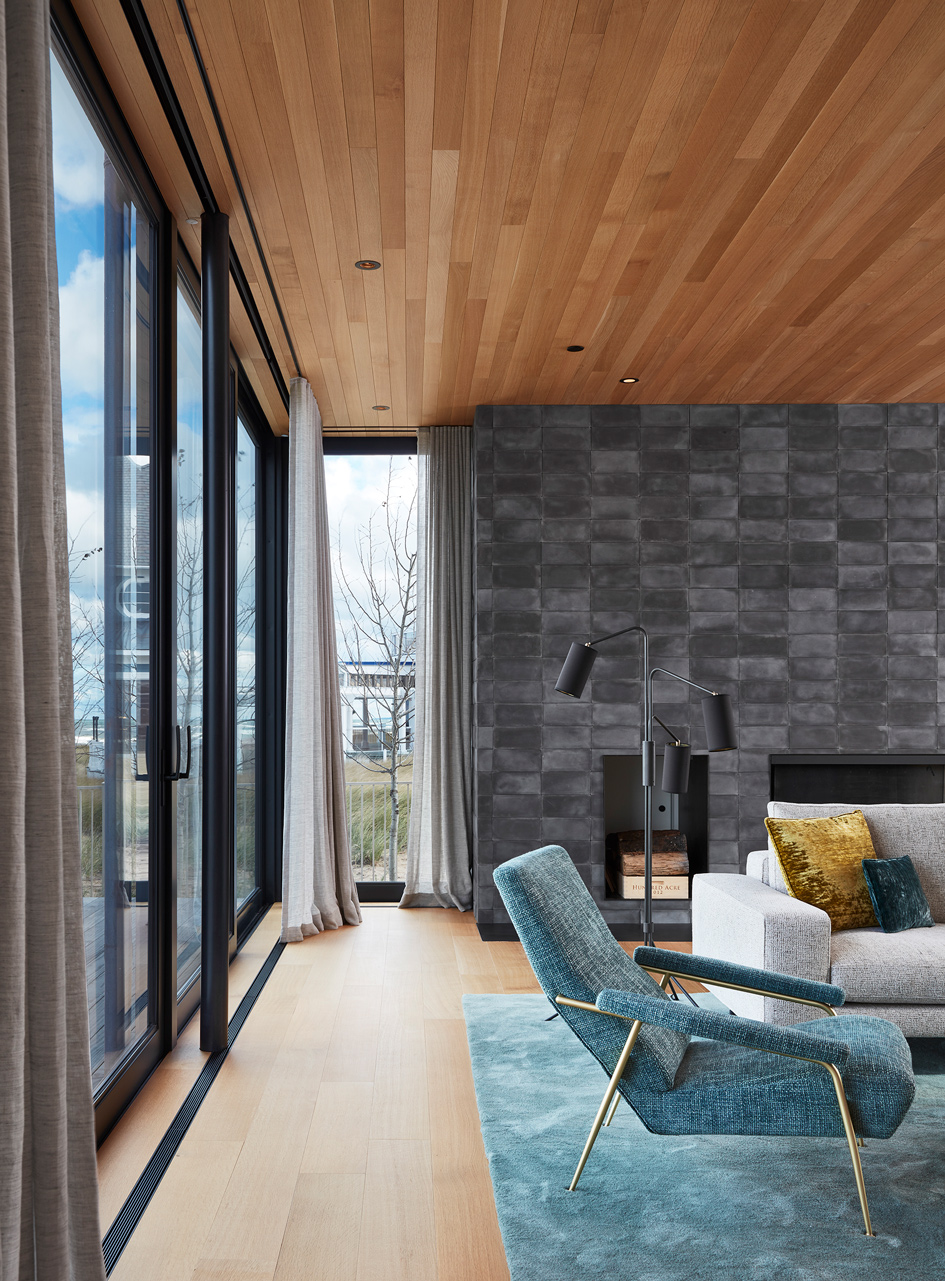 Its interior, designed by Stephanie Thatenhorst along with lighting by Licht + Form, is modern, graceful, and warm, featuring continuous white oak floors, ceilings, and millwork that capture the interplay of light and shadow. Its intentional use of hues, textures, and lighting highlights the steel entry staircase, artwork, and native dune and water habitat beyond its walls. Its immediate landscape, where both garden and architecture exist with the dune and lake, was designed by McKay Landscape Architects, and informed by a belief that the natural environment experience on a day-to-day basis is of greatest importance for health and well-being, and good design is an experiential process.
"We worked with a great team of consultants and contractors. We are really thankful to have worked with them on the project, as everything is always a collaborative team effort," Boyster said. "It's not just us ever and certainly the clients gave us the opportunity and were really driving this, letting this happen at all, so we are thankful for them."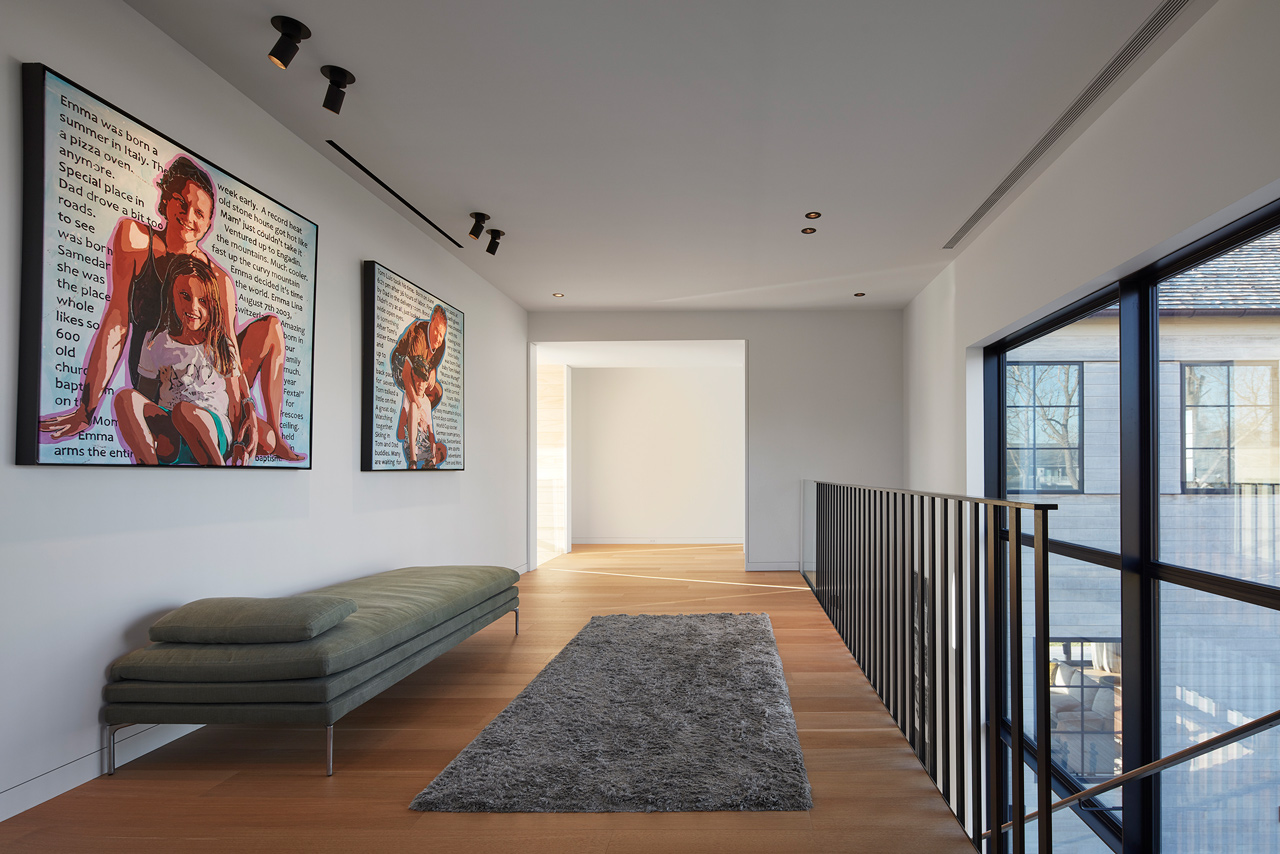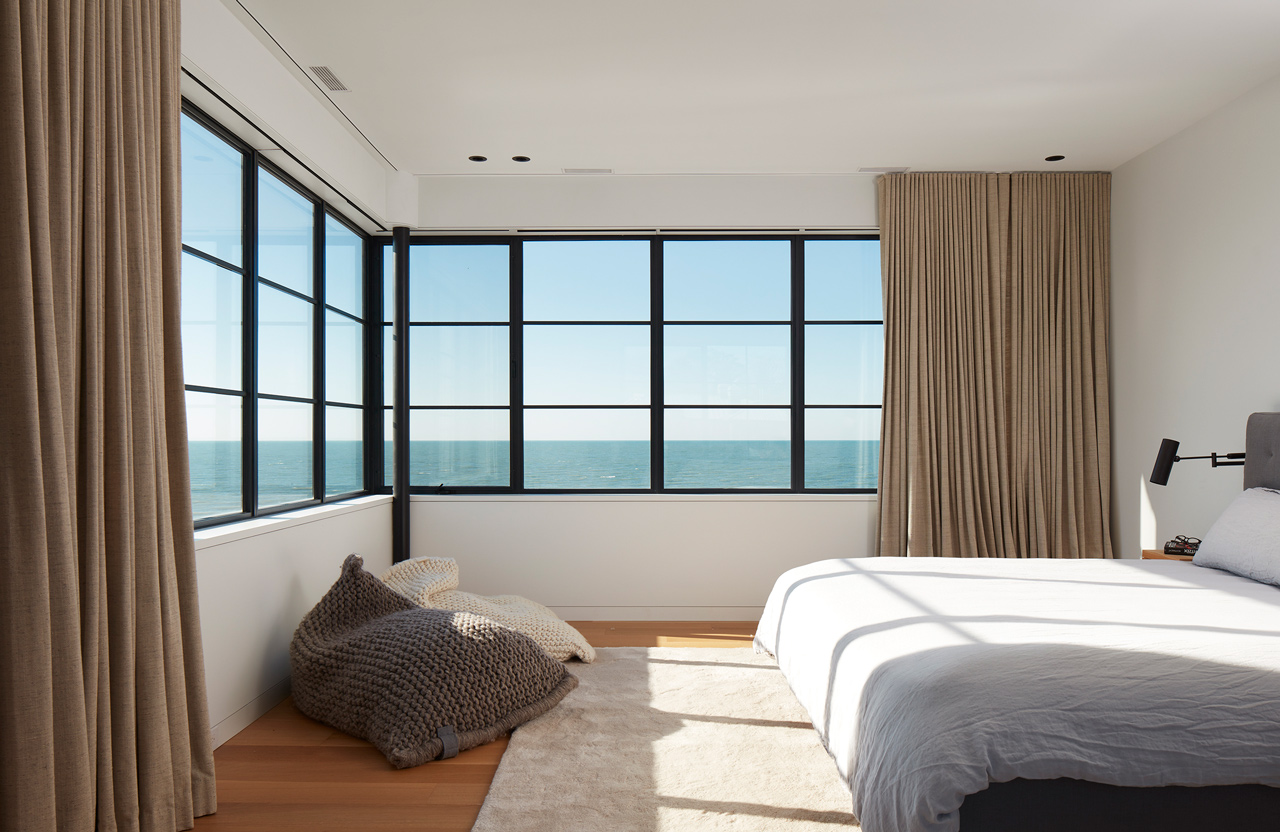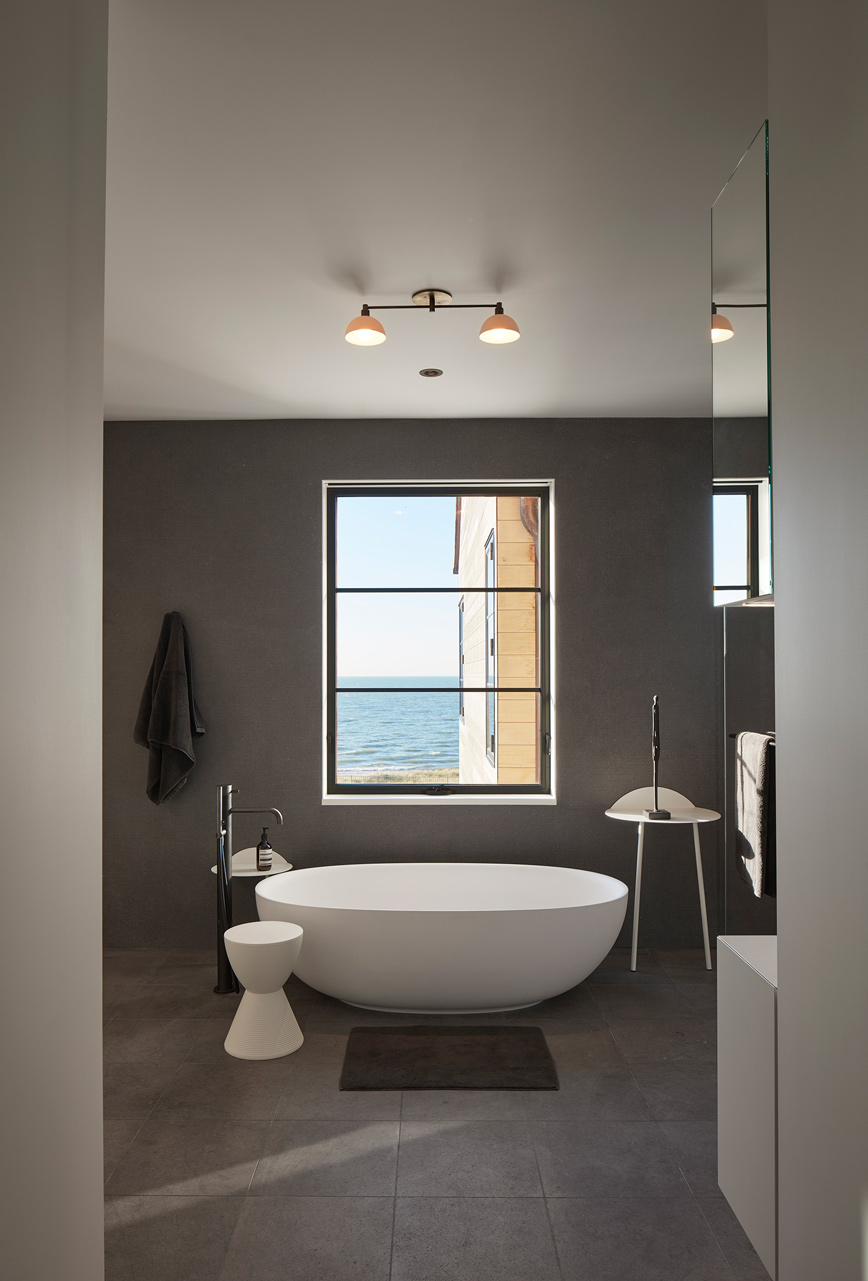 Full text available in Great Lakes By Design: In Flight, 2021
Text: R.J. Weick
Photography: Steve Hall, Hall + Merrick Photographers