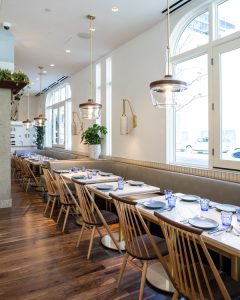 For architectural lighting designer Gwen Grossman, LC, IALD, and IES, lighting is the design element that can finish an entire experience. Within any setting, it can shape and highlight details, create cohesion, and even alter mood. This, combined with the collaborative nature of designing with light, makes the process similar to theatrical production, which is foundational in Grossman's background with time spent designing theatrical lighting. 
"What drives me is the collaboration and creating something with the architect and our team that provides a space—whether it's for students or restaurants, or corporate interiors—with a total experience," said Grossman, principal and founder of Gwen Grossman Lighting Design in Chicago, Illinois.
Gwen Grossman Lighting Design, or GGLD, is a Women's Business Enterprise and is founded on a diverse range of backgrounds—from fine art to architecture—which give it an artistic and innovative approach to the design process. The GGLD team has provided services for clients like Microsoft and Wilson Sporting Goods, and was part of the design collective behind Art on theMART—a permanent digital projection of original artwork taking place across the façade of theMART, which is the largest privately held commercial building in the United States. The project featured identical ties to crafting a theatrical production, from interpreting artist work in a new medium—in this case 25 stories of building exterior—down to fine-tuning cues, and the anticipation of presenting a production for the first time. 
It is this energy that also inspires Grossman's design work in the hospitality sector. Grossman described designing with light as a mixture of art and science; and the scale tips enjoyably in favor of artistry when working with restaurants in particular. 
"People ask me 'what's your favorite thing to do?' and I say it's restaurants for sure, and the reason is because it's the most like theatre to me," Grossman said. 
"Doing restaurants is very different than doing corporate interiors, which are much heavier on the science side of photometrics and deliverance of certain light levels; whereas a restaurant is all about how it makes you feel and how the space feels," Grossman added.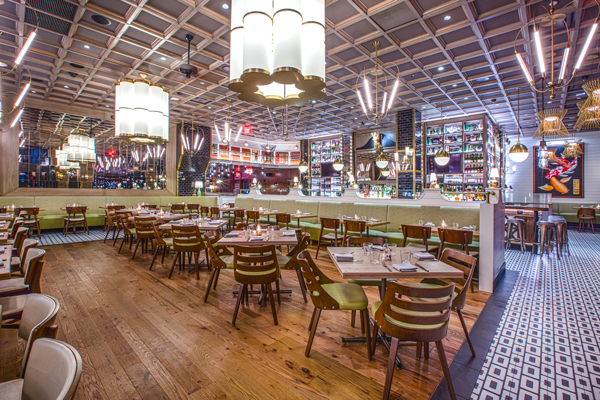 Preparing for the opening night of Pacific Standard Time, an internationally-renowned, California cuisine-centered Chicago restaurant, involved what Grossman described as "creating small punches of light that soften the space." Choices like lighting liquor bottles and using soft light to graze the walls behind banquette seating accented the brass fixtures fabricated by New York interior design firm Parts and Labor Design; a studio co-founded by Andrew Cohen and Jeremy Levitt.
Using light to accentuate different areas, whether main focal points like the bar, or private sections like banquettes, also informed Grossman's approach to two of her latest projects, a conjoined restaurant concept and rooftop bar by the Cameron Mitchell Restaurants group in Columbus, Ohio. The Pacific-influenced eatery, Del Mar SoCal Kitchen and the bar, the Lincoln Social Rooftop, were created with different personalities in mind, one focused on dining, and the other on a late-night market.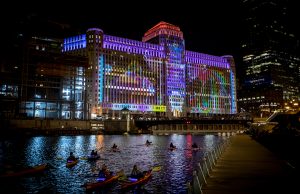 When collaborating on the space with its interior design team, Knauer Incorporated, Grossman transitioned a lighting scheme from one level to another, creating visibility on the main floor restaurant with statement fixtures and small respites out of shadows within its bar area above. The ceiling over the bar itself is studded with warm bulbs reminiscent of vintage theatre signage and leading away from it, orb-like fixtures suspend into the space between a row of banquettes and high-top tables, creating soft evening shadows on either side. 
"The lighting for the two had a lot of similarities but definitely the bar [allowed us] to be a little bit more outrageous as it were," Grossman said. "It was a little more about creating that setting—that scene—rather than lighting for people eating at their table."
The award-winning lighting design firm's portfolio is composed of spaces that create specifically orchestrated experiences. From smaller scale corporate and restaurant projects to vast commercial layouts, the GGLD team melds artistic experience with scientific functionality, shaping spaces with a key material that is both untouchable and impactful. 
"Lighting is art and science put together, and I think working with clients maybe the only thing they can understand is the artistic side or how it's going to make them feel. Then, in the office, behind the scenes, we're doing the technical side, studying angles and photometrics and actually drawing and specifying each fixture," Grossman said. 
"It's presenting [light] in an artistic way that makes everybody excited, passionate, and comfortable, but then doing our due diligence on the other side and making sure it works," Grossman added. 
Text: R. Collins | GLBD writer
Featured image: Cameron Mitchell