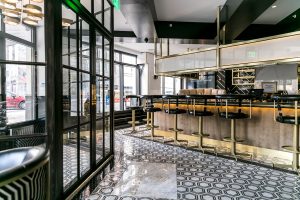 In November 2017, Prime + Proper, a luxurious steakhouse experience, opened in Detroit, and quickly garnered attention for its elaborate interior design and approach to fine dining. Less than two years later in June 2019, McIntosh Poris Associates, the firm behind Prime + Proper's distinctive style and preserved historic details, received a pair of Restaurant Design Awards from the AIA's Los Angeles chapter—the only Midwest-based firm to do so during the 2019 award program.
The People's Choice: Restaurant award and Citation: Restaurant award, were supported by a jury verdict that cites Prime + Proper's "opulence and decadence" as winning factors in the restaurant's downtown Detroit setting. For Michael Poris, founder of McIntosh Poris Associates, the process of fine-tuning the $3.5 million design production was as satisfying as its success.
"The level of detail that we went through I think is great," Poris said. "We worked with [the owner] down to the nines. There was constant thinking about the experience of guests; the richness of all the materials—and there's lot—and really raising it up to a level that people really responded to."
McIntosh Poris Associates, or MPA, is a full-service architecture, interior, and urban design firm with locations in Detroit and Birmingham, Michigan. The firm was founded by Poris and the late Douglas McIntosh in 1994 to transform buildings, communities, and urban centers through client engagement and dialogue. Since then, it has become an active proponent of historic preservation, restoring original structures designed by some of the region's renowned architects into modern city heirlooms such as Detroit's Woodward Garden Theatre—originally designed by Howard C. Crane—and the city's Foundation Hotel, which was once its fire department's headquarters.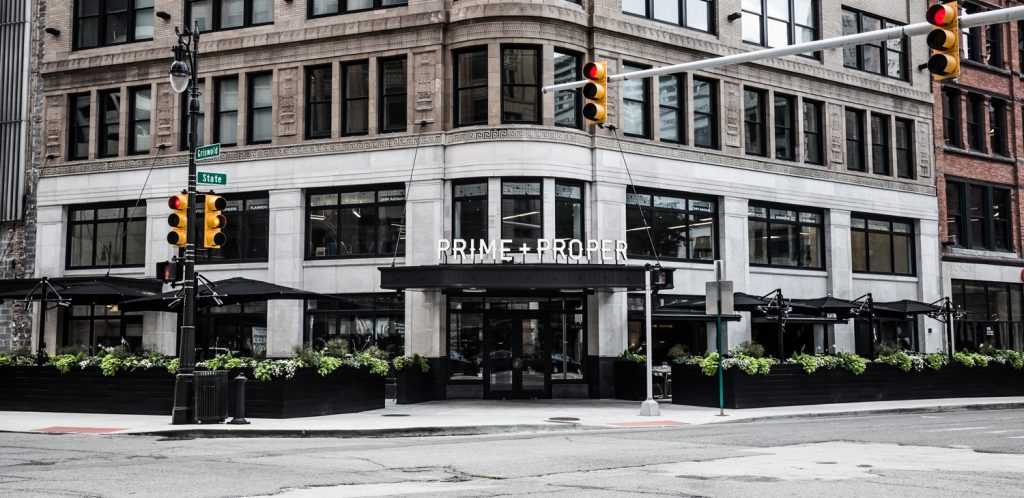 In similar character, the firm referenced Prime + Proper's location in a historic, 11-story, Detroit building when creating plans for the restaurant's architecture, interior design, and custom furnishings. The building—now the Capitol Park Lofts—was originally designed in 1912 by architect Leonard B. Willeke and boasts Beaux Arts-inspired details in its Capitol Park Historic District setting. MPA and Prime + Proper owner Jeremy Sasson pulled inspiration from the same era—this time from the Art Deco movement—to create a fresh, glamorous, and largely more feminine interpretation of the traditional steakhouse which, Poris said, has often been masculine in character.
"That period just seemed similar to today in a way: taking the best of traditional and more contemporary [styles] and adding this sort of decorative flourish to make it richer," Poris said. "[Sasson] really wanted it to be rich and decadent and, honestly, be the best experience in Detroit, as a steakhouse. There are others but none of them are like this."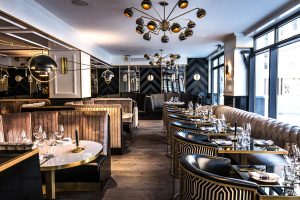 Throughout the space, materials like marble, velvet, and bronze create decadent layers of texture, which are complimented by geometric patterns reminiscent of the era. The restaurant's two floors—encompassing approximately 9,250 square feet—are connected by the building's original grand marble staircase, which MPA restored along with its bronze railing.
From the main floor, a bar area clad in quartz and marble tile greets guests before they enter the dining room, which opens to a secluded outdoor patio and lounge area during warmer months. Porcelain-topped tables and seating upholstered with velvet, leather, animal hide, and chenille were arranged to create pockets of privacy throughout the main dining areas while also allowing movement for uninterrupted service and guest exploration. Other than adhering to historic preservation standards, the idea of exploration became a priority for Poris, who sought to create multiple spatial experiences involving more than dining.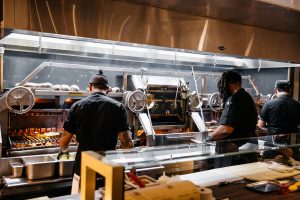 "There's an experience beyond just sitting down," Poris said. "There is more to do than just come, sit, and eat."
The open kitchen, pastry station, wine display, raw seafood bar, and glass-enclosed butcher counter offer interactive experiences that are continued on the lower level, which is introduced by original wall paneling that was restored and fitted with smoked mirrors. Prime + Proper's premium cuts of steak are showcased in the 300-square-foot, dry-aging room, which is enclosed in steel and lined with pink Himalayan sea salt. The Chef's Table is tucked next to an additional wine storage display and illuminated by a brass chandelier.
Prime + Proper's award-winning design by MPA and Owner Sasson was a careful and collaborative curation, with the help of Great Lakes Hotel Supply Company, food service design; Milo Building Company, construction manager; and MA Engineering, MEP engineer.
Poris said Prime + Proper's richness of material palette and city setting likely distinguished the project amongst other prospective winners during the AIA | LA's Restaurant Design Award program. Additionally, Poris noted it adds something new to Detroit's own culinary scene: a revival of fine dining for a modern era.
"The city hasn't seen a fine dining restaurant like this in a long time," Poris said. "It's probably been forty years since someone went all out and did an expensive fine dining experience like this, and that was really a part of the goal."
Text: R. Collins | GLBD writer
Featured photo: Aly Sasson