"I don't give people what they want. I give them what I want to give them and what I want to share," said Chef Diana Davila, who is the mind behind Mi Tocaya Antojeria, a renowned Chicago antojeria, Michelin Bib Gourmand selection, and 2018 semi-finalist for the James Beard Foundation's award for Best New Restaurant.
Upon opening in 2017 in the city's Logan Square neighborhood, Mi Tocaya was quickly recognized for its innovative additions—and interpretations—to the Mexican cuisine canon. Combinations such as classic guacamole dressed in chile ash and pan-seared beef tongue with thick peanut salsa establish Mi Tocaya as a source for unexpected renditions of classic dishes, straight from the mind of the chef, who is a 2018 semi-finalist and 2019 finalist for the James Beard Foundation's award for Best Chef: Great Lakes. 
"Mi Tocaya is where I get to express my love for Mexican [food] and where I get to express myself as an artist and as a chef, and my love for my culture and its cuisine where I get to continue to explore and to share," Davila said. "I never worry about how the public is going to perceive something."
For Davila, establishing Mi Tocaya symbolized an arrival at the long-awaited threshold of full creative control. Positioned comfortably on the other side, she is continually crafting a dining experience steeped in reflection, tradition, and community. It is an experience centered around the senses piqued by memory, and Mi Tocaya's dinner and Domingo Familiar menus have been deemed similar to culinary scrapbooks; each antojo—or "little joy"—signifying a specific memory for Davila, who split her childhood between Chicago's South Side and visiting family in Mexico. The restaurant's menu is designed to evoke nostalgia for classic Mexican dishes based on Davila's own; in effect, reinterpreting classics by applying original, personal experience. 
"This restaurant isn't a fine dining establishment—it's an antojeria—so all the dishes I do are based on tradition and any and all of its flavors we make—for anybody who's Mexican—it should be nostalgic," Davila said. 
Part of what injects Davila's dishes with individuality is the intersectionality and playfulness of their nature. Dishes are changed or added to menus frequently, and from various appearances by wild mushroom varietals to unexpected sprigs of lavender and hibiscus, each ingredient is carefully placed in each overall composition. On the menu's antojo section, traditional pellizcadas are topped with regional interpretations like asada made of venison and morel mushroom pico; and lump crab, Coloma corn, and spaghetti squash are prepared elote style with brown butter and chile. 
Memories of the women in Davila's life surround every aspect of Mi Tocaya, from its menu and interior to its plateware—specifically sourced with round edges to reflect femininity. A still life painting from Davila's grandmother's house overlooks the bar and open kitchen, and a colorful mural by artist Jason Brammer depicting "el arbol de la vida" frames the single row of banquette seating. "Mi Tocaya" translates loosely to "my namesake:" the term expressing an endearment for those of like-mind. Davila's own tocaya appears opposite el arbol de la vida in a mural depicting a Mexican Diana Prince in classic Wonder Woman apparel. Like Prince's many-iterations throughout the years, Davila seeks to strike a balance between retrospection and prospect; tradition and change. 
"There are warm colors, in-your-face colors, clay, and then some things that are just really muted, because the flavors we're having are really big and bold and in-your-face," Davila said. "Sometimes it's nice to go very simple—let the actual tasting be the surprise versus the visual."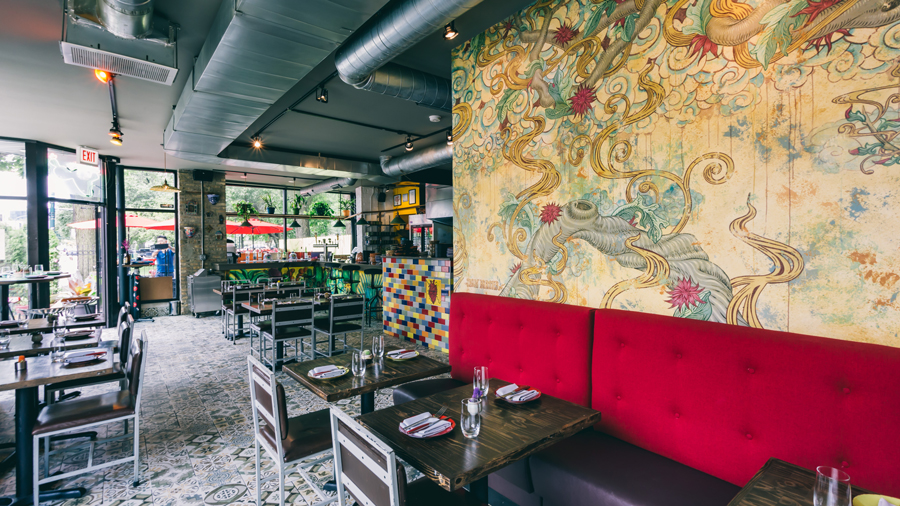 Text: R. Collins | GLBD writer
Photography: Jude Goergen