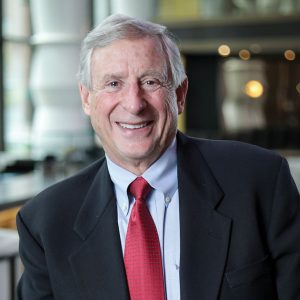 In the past, architecture has been defined as a vocation, a field of both technical and creative study, and a conduit in which an individual can impact lives and leave a legacy. Yet, its potential to influence, create, inspire, disrupt, and include speaks to a larger import than a simple, concrete interpretation. Its significance is elusive, fluid, and subjective; as varied as the talented minds and hands practicing the craft in the region, building upon the existing built fabric and landscape.
In this continued series, Great Lakes By Design Magazine had an opportunity to learn more about some of the architects practicing in the Great Lakes region—and what drives them to create inspired spaces and places.
Louis DesRosiers, AIA
President | DesRosiers Architects
Bloomfield Hills, Michigan
For Louis DesRosiers, AIA, president at DesRosiers Architects in Bloomfield Hills, Michigan, architecture is a family affair. It is a vocation—and inspired, creative endeavor—that has been a part of his family for generations and as he noted, a trait of heritage.
"You might say that I was born to be an architect, having both my father and grandfather's architectural genes," DesRosiers said. "Design is what inspires the human race. To me, it is the most critical part of our daily existence."
As the son of Arthur DesRosiers, a prominent Michigan-based architect who designed a number of high-profile churches in the Detroit area—such as St. Hugo of the Hills Stone Chapel in Bloomfield Hills and St. Jude Roman Catholic Church in Detroit—Louis DesRosiers spent his formative years watching his father at both the drafting table and at construction sites. It was in part due to the time observing the process, from sketch to sweeping arches on completed cathedrals, that DesRosiers credits his affinity for design and architecture.
"My mother passed away when I was two-years-old, so all of my attention was focused on my father and his creative and successful career. I would see him do sketches on onion skin on his drafting table and he would show them to me. I wouldn't pay any attention for nine months and then he'd take me with him on these excursions into the field to see his projects," DesRosiers said.
"It was just amazing, because I'm 10-or-12-years-old and I can't wrap my arms around the columns. That was extremely inspiring," DesRosiers added.
Instilled with an appreciation for great architecture from a young age, DesRosiers began to follow in his father's and grandfather's footsteps by taking art and drafting classes while attending Shrine Catholic High School in Royal Oak, Michigan. DesRosiers then joined the United States Army Reserves at the age of 17-years-old, with the goal of fulfilling his Armed Services obligation while attending college, and went on to earn a Bachelor of Architecture with highest honors in design from Southfield, Michigan-based Lawrence Technological University in 1968.
"There were a lot of guys I knew in college who were drafted and I was burying them nine months later, it was depressing," DesRosiers said. "I finished basic training on my 18th birthday and I'll never forget it."
Though exposed to a variety of classical architecture from the many churches designed by his father, DesRosiers noted he was also drawn to residential work, especially after designing and building his own 6,400-square-foot residence on a nearly 120-acre parcel in the Metamora area in 1972. The endeavor, which arguably launched his architectural career, came shortly after his father passed away while he was still enrolled in college. DesRosiers said taking over his father's 50-year-long architectural firm at that time was not an option and shortly thereafter, he met and married the "most wonderful person" in his life, Jojo Labadie.
"We were married in 1967, a year after my father passed away. We started a family and had two wonderful boys, Glenn and Paul, and moved to the Metamora area," DesRosiers said.
"I was always impressed by the phenomenal work of the famous and renowned Frank Lloyd Wright. After I designed and built our personal residence at the age of 28-years-old, I felt designing single-family homes was one of the most gratifying experiences of creating architecture," DesRosiers added.
DesRosiers, a third-generation registered architect, established DesRosiers Architects in 1974; building upon a rich architectural legacy in traditional and contemporary design. The firm, led by a team of registered architects, technical draftspersons, and designers, has become an award-winning, full-service architectural firm specializing in custom residential, institutional, and commercial design.
For the last 45 years, DesRosiers Architects has worked with clients to provide comprehensive architectural design services from schematic design and design development to construction documents and construction management. Its portfolio is one that reflects a pursuit to create physical statement through a harmony of art and structure, with a majority of its custom residential work completed set on the waterfront throughout the Great Lakes region, as well as in Oakland County, Michigan; Beverly Hills, California; Jupiter, Florida; and Telluride, Colorado. The firm has also worked on projects across the globe, such as a palatial residence currently in process in Pakistan.
"Our firm's design philosophy is to design for each client, for each individual personality and lifestyle utilizing our creativity and talent. It means we do not force our personal tastes and opinions on the clients, but we work with them to develop the best possible solutions to their personal needs," DesRosiers said.
"The multi-functional aspects of today's family lifestyles are amazing. Clients' homes must offer functional solutions to every aspect of their daily lives. The creative solutions are endless and are very gratifying," DesRosiers added.
From sculptural staircases and stepped ceilings to rich ambiances and stunning outdoor views, DesRosiers' said he would like his work—diverse in style and scale—to reflect how much he cared about clients and their day-to-day lives, and delivered the very best possible designs. Each project is driven by a goal of evoking the same sense of thrill and excitement from homeowners 20 years later as the first day they walk through the front door.
"That is my biggest goal. Every time it is refreshing, exciting, uplifting, and makes their lives better. I want to be known as someone who cared about everyone; cared about how people lived and what their daily lives were like and put them on a level that inspired them do what they did in life in a better way," DesRosiers said.
"Man would not have achieved where we are today if we didn't live in an atmosphere that inspires us on a daily basis. We want people thrilled with what is surrounding them and where they live, and inspired by what they see, touch, and feel," DesRosiers added.
While in the past many of the projects the team at DesRosiers Architects worked on were large and expansive, DesRosiers noted the newer generations are realizing sizable homes are not necessarily aligning with their goals in life. Though single-family homes may be diminishing in size and scale, DesRosiers said the opportunity lies in providing the highest level of creativity, design, and quality.
"I advise clients to scale down and quality up," DesRosiers said. "I'd rather do a 2,000-square-foot phenomenal home built with the finest materials that nature and man can offer with everything designed and detailed to the finest degree, than a giant drywall box."
The drive to improve upon every result, each design and detail has propelled the firm forward throughout the years. DesRosiers looks at each new project as the potential for his best work, backed by a team of multi-faceted, talented and creative architects with experience in architectural vernacular running the gamut from French Renaissance and Louis XV to state-of-the-art contemporary with integrated technological amenities.
"There is no style of architecture that we don't do in our firm. We design every style and do a great job for each style. That's the trick: each style must be to the highest degree. It doesn't matter if its Cape Cod, simple ranch, two-story home, or 30,000-square-foot palace," DesRosiers said.
"That is what is great about this business: you are constantly inspired or constantly challenged by all of it to be able to come up with creative solutions. It keeps your mind vibrant and keeps you excited about getting up in the morning: that is really important," DesRosiers added.