Principal, Partner
Searl Lamaster Howe Architects | Chicago, Illinois
In the digital age of rapid technology advancement and immersive virtual landscapes, Pamela Lamaster-Millett, AIA, envisions a future in which the industry embraces architecture's inherent permanence and continues to advocate for the importance of the tactile experience in physical spaces.
"In our modern time, where everybody is looking at social media, we are inundated with so many visuals and graphics and products and information that we all didn't have before. I really strive to make sure that our designs include things that touch people's lives in the most personal way," Lamaster-Millett said.
"I think there is a tactile awareness that we really exploit in our designs that just make it feel so much more real and I think that your mind interacts with it on so many more levels, just by being in it and touching it and feeling it and looking out from inside the space, as opposed to always focused on what you are looking at. I think design is just a sense of being and the different memories and sensations that stirs in your mind is a really powerful thing," Lamaster-Millett added.
For Lamaster-Millett, principal and partner at Searl Lamaster Howe Architects in Chicago, Illinois, it is an idea that not only leverages and promotes existing building stock, but also alludes to the significance of investing in the journey it takes to truly craft spaces and places that are a reflection of their users in a way that leaves a lasting impression. To her, spaces should be scaled and crafted for living, and the progression to, into, and within spaces that are designed should be an experience that takes place over time.
"I think as a society we've become very consumption oriented, and I don't think that has served our built environment well. There should be an emphasis on people building things they want to enjoy for a really long time, and they are inspired to take care of and pass down to the next generation. Giving people something to live in and work in that has visual weight to it and some substance is really important," Lamaster-Millett said.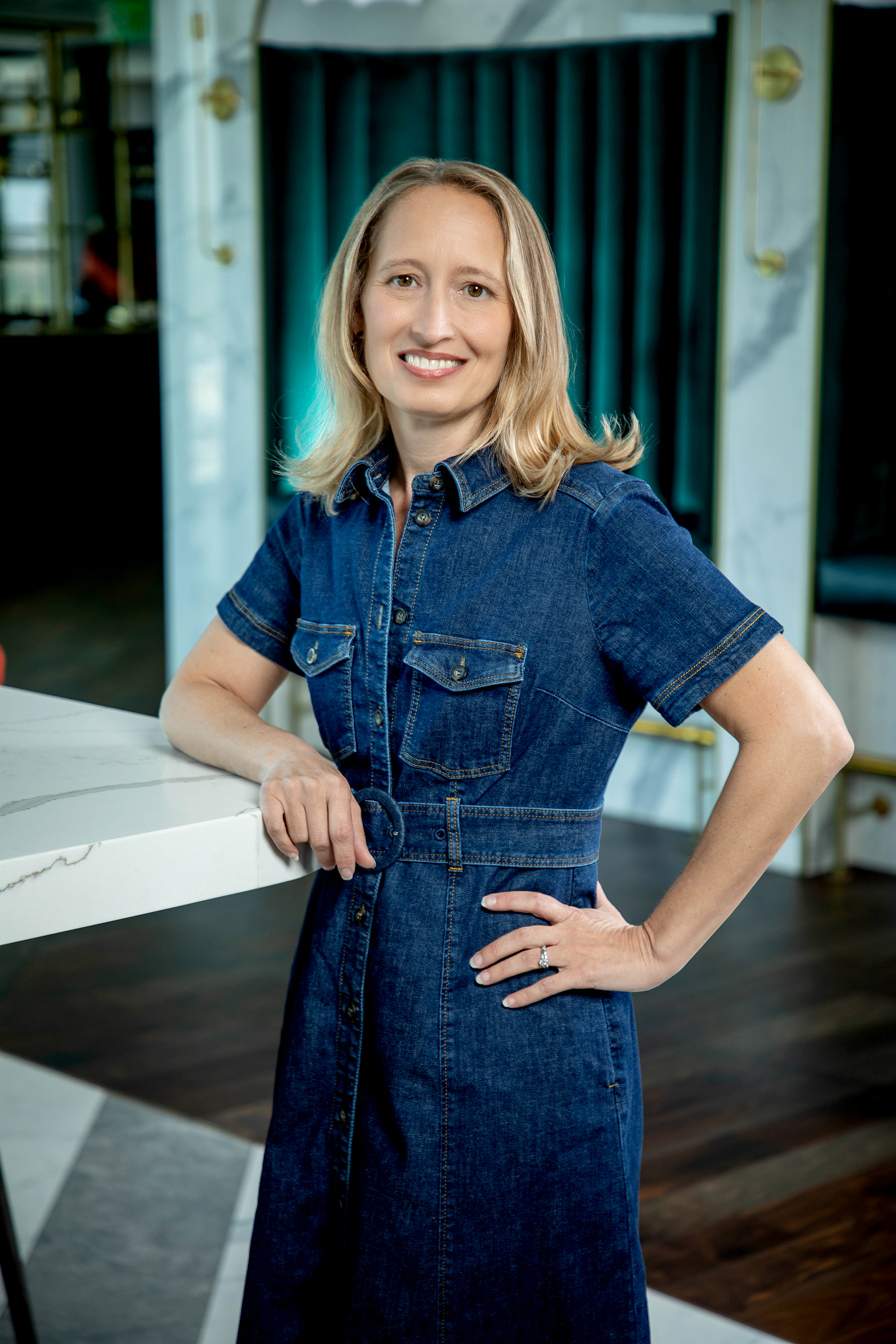 "A well-designed space should be a journey that takes place over time, not a fleeting image. I think it is also the journey that sticks with our clients and why the projects we design for them are such special places," Lamaster-Millett said.
Lamaster-Millett's own journey into the field of architecture initially began with an interest in artistry and being introduced to spaces like the César Pelli-designed Commons Centre and Mall in Columbus, Indiana, which in her mind as a child had one of the most fabulous playgrounds she had ever seen. Looking back, she noted growing up surrounded by great buildings and inspiring places left an impact on her that has stayed with her long into her professional career working on residential and commercial projects.
"[Columbus, Indiana] is this postmodern, midwestern mecca of architecture, oddly enough. I mostly have been working in the residential sector for the large part of my career, but it definitely is something I don't think everyone gets and I certainly think living in great design and playing with great design as opposed to, 'let's go to a city and go on a tour,' is a very different, much more intimate experience," Lamaster-Millett said.
"I certainly think it is something that continues to inspire my work, that space is not this icon you just look at and is a visual experience, but it is something that you get into and you occupy and you really get a sense of what it is like to inhabit something, especially in residential. I think very young that was certainly something that helped mold my thoughts about space," Lamaster-Millett added.
Pursuing a degree in architecture, Lamaster-Millett went on to attend Ball State University's College of Architecture and Planning in Muncie, Indiana where she earned a Bachelor of Architecture and Bachelor of Science in Environmental Design. Though a fairly small school, she noted her experience there was really wonderful since the staff and university seemed to really invest in ensuring the students were getting everything they could out of their education.
"I was really impressed that we had so many wonderful professors who spent so much time with us," Lamaster-Millett said. "When I started school, I was interested in design and it took me probably four years of school to realize that I really did like academics and I really did like studying. I started to really get to that point in my education that we had more freedom and could research things that we were interested in on our own. I really enjoyed theory classes."
Though she briefly considered teaching while pursuing a graduate degree, Lamaster-Millett quickly began developing her own portfolio of work. Building on her internship experience at a firm in Cleveland, Ohio—and academic work where she spent a lot of sketching and design focused on stitching together "those trails of memories, the things that bind us all together as humans"—she joined Searl & Associates Architects as an intern architect in 1998. In the course of the next two-and-a-half decades, Lamaster-Millett would not only foster a studio culture of creatives who design toward craft, beyond trend, as a managing principal, but also become a partner of the firm by 2007, along with Greg Howe, AIA, as it evolved into Searl Lamaster Howe Architects. Today, the office is certified Female Business Enterprise in the state of Illinois and is a Women Business Enterprise at the Chicago level.
The firm, which is committed to realizing inspiring spaces for its clients, has built a portfolio of residential, commercial, and institutional projects throughout the years. Informed by a detailed study of program, context, budget, and technology, each project is equally informed by principles like creativity, innovation, materiality, and sustainability. Lamaster-Millett said while the firm does a mix of residential and commercial, most of the latter is pretty selective in the sense that the clients have to be very interested in being a part of the process, perhaps more so than the typical commercial client.
"They almost have a sensibility like a residential client would bring to a project, where they are very vested with how is this design a reflection of who they are or who their business is. One of the things, as a firm, that we really embrace is how the design speaks to our clients and how it is informed by them and their lives and their background and their tastes and their daily process," Lamaster-Millett said. "We are really good at remaining students and wanting to learn from our clients what is important to them and building something around them so that it really feels like home. In the case when we do take on commercial work, it is a similar reflection of their values, their company's values, and when people come and visit them in a space, they feel like they are part of that business or that lifestyle."
The firm has been recognized throughout the years for its award-winning work and Lamaster-Millett noted one of the things she appreciates more and more is the opportunity to meet and forge relationships with the craftspeople who help execute their design vision. The scale of much of their work often lends itself well to visiting job sites, and it is really important to have a good working respect for the experience those in the field who are able to bring to a project. And while the nature of remote work and how it has transformed how people meet and do work can often present a challenge when designing something so tactile as a home, there is also an opportunity in the flexibility and hybrid work schedule.
"As a profession, architects have historically struggled with the work-life balance. New ideas about flexible-hybrid office hours seems to be bringing some balance and I hope it allows a lot of women architects to stay in, or get back into the practice," Lamaster-Millett said.
"I also think, recently, with the change in everyone's industry of people working remotely more, it makes me appreciate the things that we can get together physically on and do. When you are in the business of building something physical, it is really hard to design when you are not physically together sometimes. There is just something about space and scale and understanding how all of those pieces and parts come together, and even when you are talking to clients and each other in the office, there is something about communicating and seeing the expressions on somebody's face," Lamaster-Millett added.
It is the three-dimensional world itself that often inspires her, in which discovering new vantage points to explore form, material, and color drives her each day in the pursuit of successful architecture and celebrating the details. It is in the connection, the sense of touch, or the celebration of hipped rooflines in a seemingly simple midwestern form, that lingers in the mind of the users long after having experienced the space. And it is also in its timelessness, where architecture has been designed as part of its place and appears as if it could have been there for two years or a hundred years, according to Lamaster-Millett.
"Design is thoughtful. There is a lot of planning and intent that isn't always appreciated with the pace the world moves. You can't experience a good design without spending some time in it and if we're going to ask someone to slow down, it needs to be a thoughtful, designed experience," Lamaster-Millett said.
First published in Great Lakes By Design: Architectonics, 2022
Text: R.J. Weick
Photography: Cynthia Lynn Photography; Tony Soluri Photography; Kendall McCaugherty, Hall+Merrick+McCaugherty Photographers
Select Searl Lamaster Howe Architects projects:
This slideshow requires JavaScript.