Vice President; Design Principal; Team Leader Corporate, Hospitality, Residential
Kahler Slater Inc. | Chicago, Illinois
Scale, proportion, light: For Trina Sandschafer, AIA, LEED AP, vice president, design principal, and team leader of corporate, hospitality, and residential at Kahler Slater in Chicago, Illinois, they are often the defining elements of her architectural philosophy and client-based design approach. It is in the deft, informed use of them and understanding their nuanced, interdependent relationships, while centering client needs, that can ultimately deliver well-defined architecture.
"Central to my architectural philosophy is to study scale, proportion, and light and to use them wisely. They are still free to use and so if you can use them with intention, that is going to get you really far. They are some of your best tools along with listening, so I think that architectural philosophy is about editing, curating, and listening to the client," Sandschafer said. "Good architecture doesn't need to be explained; it just quietly sits back and brings forward beauty and craft and there is an underlining sense of rigor. Those are evident in good architecture."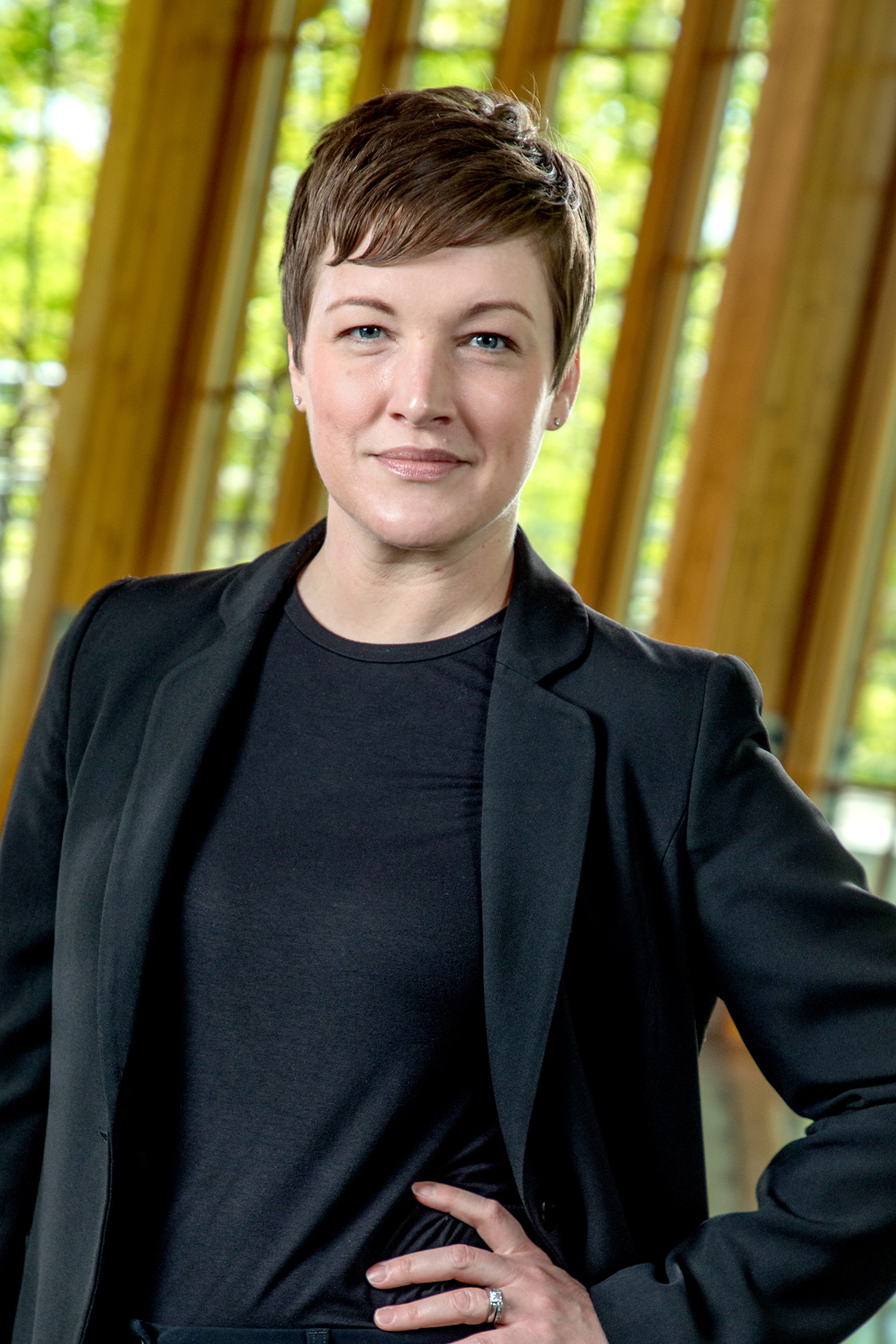 At Kahler Slater, where Sandschafer oversees the comprehensive development of the design process and provides leadership at a firm-wide level, design is about enriching life and achieving powerful results. Founded in 1908 with locations in Milwaukee, Madison, Richmond, and Chicago, the firm leverages a performance-based design process to deliver upon strategic goals that advance organizations and elevate the lives of individuals through architecture, interior design, strategic advisory, and environmental branding.
"I begin each project with an open mind. I ask a lot of questions both of the client and of the team and so this goes back to listening and interpreting long before we start drawing anything," Sandschafer said. "When we walk the site, that is a big part of the process, a part of the listening and intake process. The site can tell you where the opportunities lie for that particular project, so it is taking in a lot of information, interpreting, editing, and then curating it back."
From cultural and civic projects like the Bradley Symphony Center of the Milwaukee Symphony Orchestra, which was recognized with an 2021 AIA Honor Award by AIA Wisconsin; residential work in single-family homes to innovative affordable housing projects; and higher education spaces like the Texas A&M University Clinic & Education Building in Dallas, Texas, which received an Award of Excellence by IIDA Wisconsin in 2021 and a Gold Award by the ASID Wisconsin in 2020; to corporate work like the C.D. Smith Construction headquarters in Fond du Lac, Wisconsin, recognized with a Gold Award by ASID Wisconsin in 2019 and a 2021 AIA Merit Award by AIA Wisconsin; Kahler Slater is an award-winning design firm backed by a team of marketplace experts and creative thinkers using design as a catalyst for change.
"I appreciate working on different typologies and scales, because it keeps things fresh and interesting and because we are always learning, one can inform the other. So, a small boutique project might be all about detail and the things you touch, whereas large projects are about organization and order, bringing simplicity to a complex or layered idea, a complex problem, thinking about serving different typologies and clients too," Sandschafer said.
"It is problem solving and customer service, making sure you are delivering on what are the needs of the client and the more fluid you are between typologies and scales, the easier that becomes. You can take something you've learned on one project and use it to inform another project, and it is multidisciplinary, cross-collaboration, and I think that is very exciting," Sandschafer added.
As a design principal and vice president at the firm, Sandschafer is responsible for the design intent and clarity of the firm's work; and as the leader of Kahler Slater's Chicago office, which is its newest domestic studio, she serves as a national leader for the residential, hospitality, and corporate practices.
"It is big-picture-thinking for the project and it is also down to the details. It is trying to figure out how are we achieving the client's goals aesthetically, technically, and really delivering a project for them that is going to exceed their expectations. We are about to do a lot of cross-discipline work, which is a real positive for us," Sandschafer said.
"I'm excited about what we can do to use design to solve problems and elevate everyday for people whether they are professional clients or private clients. It is a really exciting time to be a part of Kahler Slater. I'm also excited about our growth. We are expanding regionally and geographically both in the Midwest and in the Southeast, and across the country. There is an energy and a buzz in our firm right now about this next chapter, about building on our legacy and delivering projects that are high-expectation and raising the bar in all that we do," Sandschafer added.
Throughout her career as an architect and design principal in Chicago, with extensive experience in single-family and multi-family residential, and hospitality sectors, Sandschafer has brought a passion to the art and craft of architecture and design fostered at an early age. Sandschafer said she has wanted to be an architect for as long as she can remember and has been drawn to the world around her since at least the second grade.
"I was always building and drawing and drawn to cities. It seemed pretty natural to me. It brought together all the things that I love about art and science and people," Sandschafer said. "I've always been a people-person and I didn't realize how much architecture brings that passion forward."
Inspired by urban design, art, nature, and photography—as well as storytelling—Sandschafer attended Southern Illinois University in Carbondale, Illinois where she earned a Bachelor of Science in Architectural Studies and served as an architectural research assistant. She then went on to earn a Master of Architecture from the College of Fine & Applied Arts School of Architecture at the University of Illinois at Urbana-Champaign, which is one of the oldest and largest public architectural schools in the country established in 1867.
"I just studied all of those things and eventually I did spend a lot of time thinking about where people live, but I think those have always been my 'true north,' if you will, just spending time studying your passion and it eventually leads you to where you need to go," Sandschafer said.
While enrolled at University of Illinois at Urbana-Champaign, Sandschafer also spent time as a Design Studio Teaching Assistant, which is a passion that has endured into her professional work as well. Even after graduating, Sandschafer remained involved at the university in a number of different capacities, such as a mentor, professional practice liaison, and guest critic, that has ultimately led her to be recognized as the 2020-2021 Distinguished Visiting Professor at UIUC School of Architecture where she leads the Chicago Studio—and named as the inaugural Chair of the school's Architecture Alumni Advisory Board as of March 2021.
"I am a very proud alum of the University of Illinois Urbana-Champaign. I have been involved with the university really since I graduated at a lot of different levels. I was the Distinguished Visiting Professor last school year and I led the Chicago Studio where we focused on the paradigm shift and the future of urban housing, specifically with a lens of health and wellness. That was really engaging; it helped me blend academia and professional. I am also the Chair of the Architecture Alumni Advisory Board and what we do is advocate for our students and we support them in this blending of academia and professionalism. I love to spend time with students," Sandschafer said.
"I like to see where their passions lie and what is in their minds, what they aspire to, where they think the future of our profession is going. They keep me fresh and I have always gained more from spending time with students than you can think is possible. They are the future of our profession and time spent with students is time well spent," Sandschafer added.
Sandschafer also noted for students and aspiring young architects, it is important to be genuinely curious, inquisitive, and ask questions of the world around them not only in terms of buildings as structural or cultural artifacts, but also as one goes through day-to-day living to think about how architecture can enhance, elevate, and change lives.
"We can solve problems with architecture, and listen—long before you start drawing—to what your client is telling you, what they are trying to do, and then spend time with people who are really interesting; it is definitely time well spent," Sandschafer said. "Last, I would say, learn to rest. I think we push students and architects pretty hard, it's a pretty intense profession, and time resting is just as important as time creating and we need to make room for that in our lives."
While design and architecture have the power and the potential to inspire, impact, and disrupt life, tackling complex problems and delivering innovative solutions, Sandschafer noted some of the critical issues facing architecture today are sustainability and wellness.
"We have to advocate for our planet. We need to move the needle whether it is a little bit or a lot and that is going to depend on project-specific needs, but we are running out of time to make a difference. We have to advocate for that. I also think wellness is something architects really need to think about," Sandschafer said. "The pandemic proved that, but we know that people spend most of their time indoors, where they live, work, learn, and play, and those spaces need to be, first of all, healthy, and, second of all, support wellness among the people who are in them."
The other issue architecture needs to address is diversity and for professional architects to be mindful of who they are designing for as well as who is on their team, according to Sandschafer.
"We need to make sure architects match the populations that we design for; we need to have all that richness in our architecture team," Sandschafer said. "Like all things, I think we are stronger when we have architects and leaders who represent who we design for. We each bring a unique skillset and a different perspective, so leaders who are complementary in skills will take our firms and our profession further."
To Sandschafer, who noted good design has the power to make everything better, solve problems, and enrich daily lives, there are five things that come to mind architectural projects need in order to achieve that power of potential and possibility at a micro and macro level.
"It is thinking about how our projects can support communities, whether that is at the scale of the building, the neighborhood, or the city, bringing people together; it is so important and something that architecture and design does every day. It is thinking about wellness, as I mentioned, making sure the spaces support the inhabitants who are in them; and thinking about sustainability so that we advocate for a healthy planet," Sandschafer said.
"It is thinking about innovation: what can we do to innovate, to think about not only our construction methods and how you deliver projects, but also is there an opportunity to have some cutting-edge thinking on projects? And then, storytelling. Architecture is a way to help our clients tell their story and the most successful projects do that. It's just ingrained in the project."
First published in Great Lakes By Design: Architectonics, 2021
Text: R.J. Weick
Photography: (profile) M-Buck Studio LLC
Selected Kahler Slater projects:
This slideshow requires JavaScript.
Photography: (gallery): Tom Harris Architectural Photography, Peter McCullough Photo + Drone, Steve Hall © Hall + Merrick Photographers