In poetic, literary tradition, a hospitality destination set in the Gold Coast Historic District of Chicago, Illinois has reimagined a second-generation restaurant space into a sensory feast, where its muse is both mystery and namesake, giving voice to the exploration and delight of the culinary experience. Its impression, carefully curated, leaves a lingering hint of curiosity on the palate, as it invites diners up and into its second-floor space before unfolding into a layered canvas of textures, contrasts, and aromas.
There is an emotive depth of hue, a tactile richness of fabric, and a moodiness of backlighting to its redesigned space that is tempered by the subtle curve of form, the softness of rose petals, and the ephemeral quality of its sprawling chandelier—an atmosphere intentionally crafted to deliver an elevated and tactile dining experience full of sensation.
Inspired by a fictious figure of sophistication, elegance, and intrigue, Adalina is a contemporary-inspired restaurant serving a modern Italian menu that highlights traditional flavors while infusing dishes with Executive Chef Soo Ahn's creative "twist." From staged, shared plates and statement items to dolci dishes, Adalina offers a subtle new perspective on timeless recipes, culminating into its seven-course tasting menu curated by Executive Chef Ahn and Executive Pastry Chef Nicole Guini.
Both talented and experienced chefs in their own right—Ahn earned a Michelin Star at Band of Bohemia and Guini was awarded a Jean Banchet Award for Pastry Chef while at Blackbird and Avec—the chef's tasting menu is as experiential as its space, where its third course features a reverse eggplant parmesan of breaded green tomato, eggplant purée, and spicy pomo; its fifth course features petite filet with quinoa, banana agrodolce, fried okra, and pistachios; and finally its seventh course features crémeux of caramelized milk chocolate, sunchoke, blood orange, and buckwheat.
"Culinary experiences are innate to humans. We need to eat to survive," said Paul Kozlowski, owner and principal architect at Dunne Kozlowski in Chicago, Illinois. "Our job is to amplify this everyday moment by infusing beauty and experiential factors to make that meal stick out from the rest."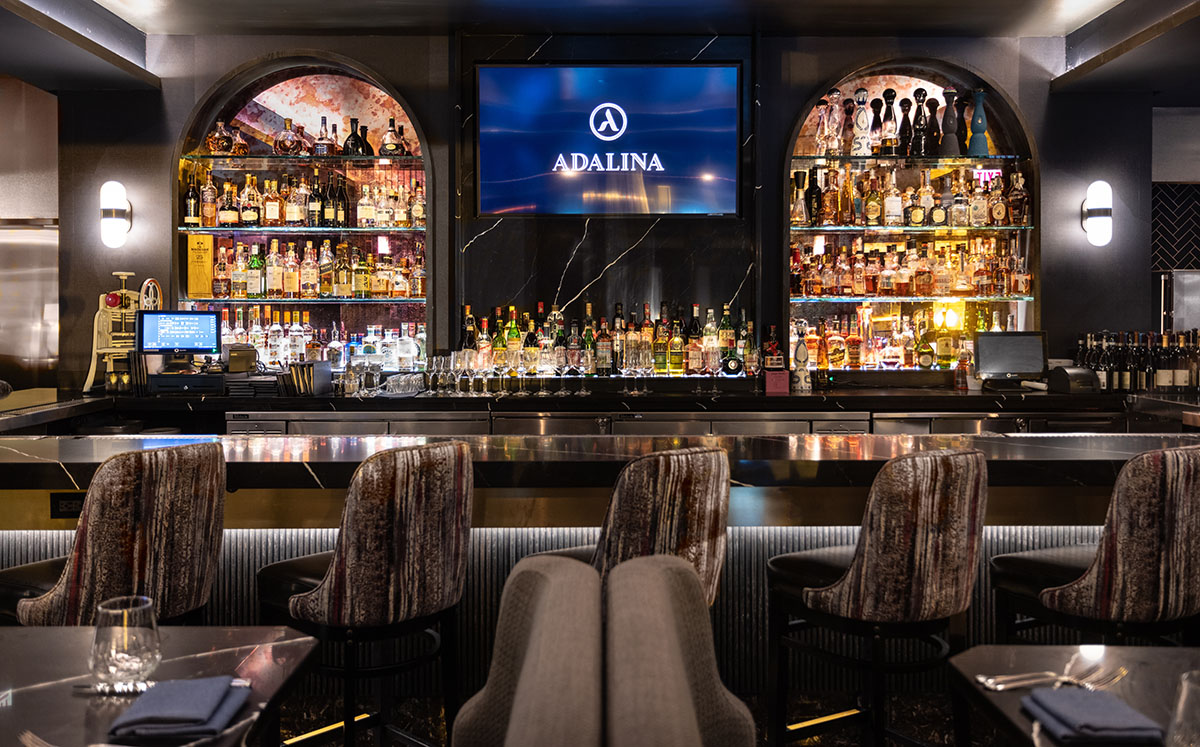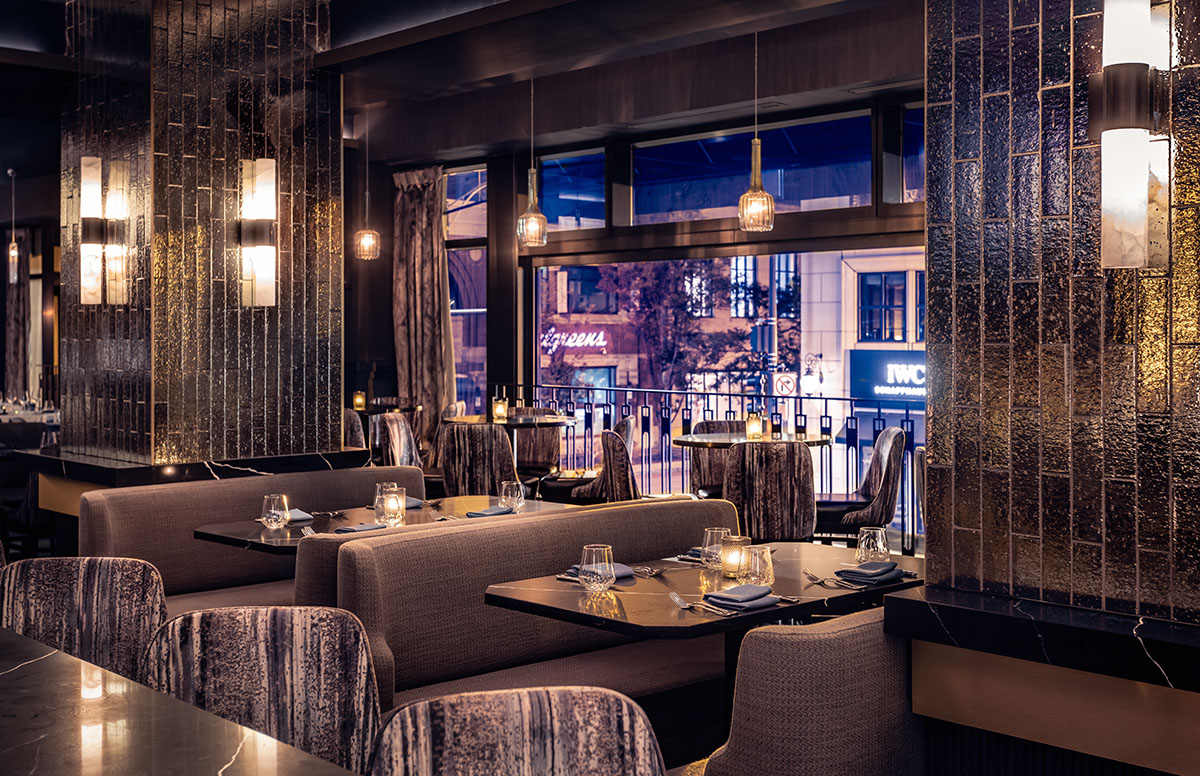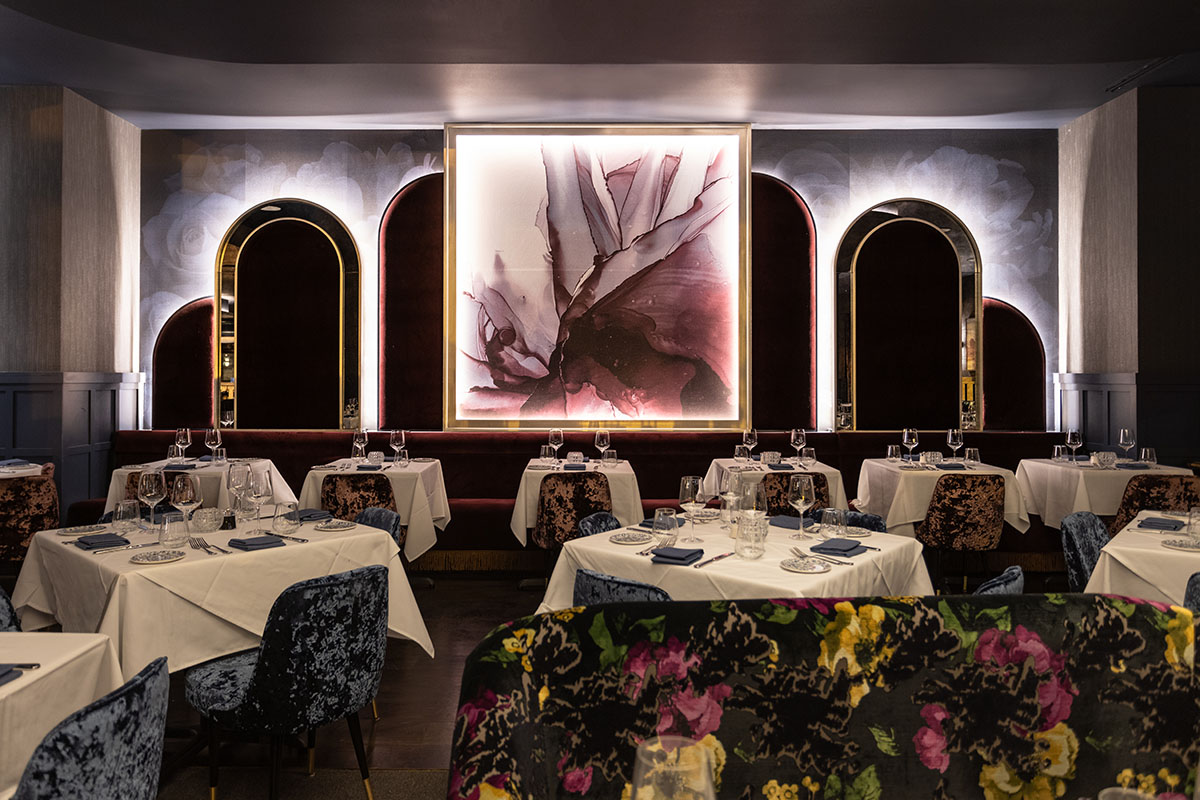 Dunne Kozlowski, formerly D+K Architects & Interiors or D+K, is a full-service architecture and interior design firm dedicated to fostering a collaborative environment in which its team of architects and interior designers are committed to their customers, the design moments, and the well-executed details. Led by Kozlowski and Corey Dunne, owner and principal architect, the firm has developed a diverse portfolio of work in both the commercial and residential sector that reflect a client-focused design process in which the project is about the partnership, the journey, and ultimately the story the client wants to tell.
"Design matters, because it's an opportunity to influence—to bring joy and to inspire guests. It's the challenge of being able to take a vision and turn it into something tangible," said Luis Hernandez, senior designer at Dunne Kozlowski.
Established in 2003, Dunne Kozlowski has worked with clients and values-based companies to elevate their spaces and their brands across hospitality, retail, commercial, and residential sectors. Throughout the years, the firm has partnered with corporate clients like IHG, Specialized, Hermès, and Versace as well as boutique hospitality clients like The Graceful Ordinary, Gino & Marty's, Hangar Two, Blufish Sushi, and the Hubbard Inn and Blue Violet. It was the firm's expertise in hospitality—and its relationship-centric approach—that led the team to work on Adalina.
"One of Adalina's partners was a longtime friend of ours. We actually worked with him on our very first hospitality project in 2005, and he came to us with the idea of Adalina. Obviously, we were all over it," Kozlowski said.
"The restaurant is high-end, experiential Italian. It's in the heart of Chicago's Gold Coast and in the city's most exclusive, high-profile condo buildings—so emphasis on style and an elevated experience, but still fun and vibrant. Our programmatic goal was to design Adalina as a place people wanted to be, because that wasn't the case for the restaurant that preceded it," Kozlowski added.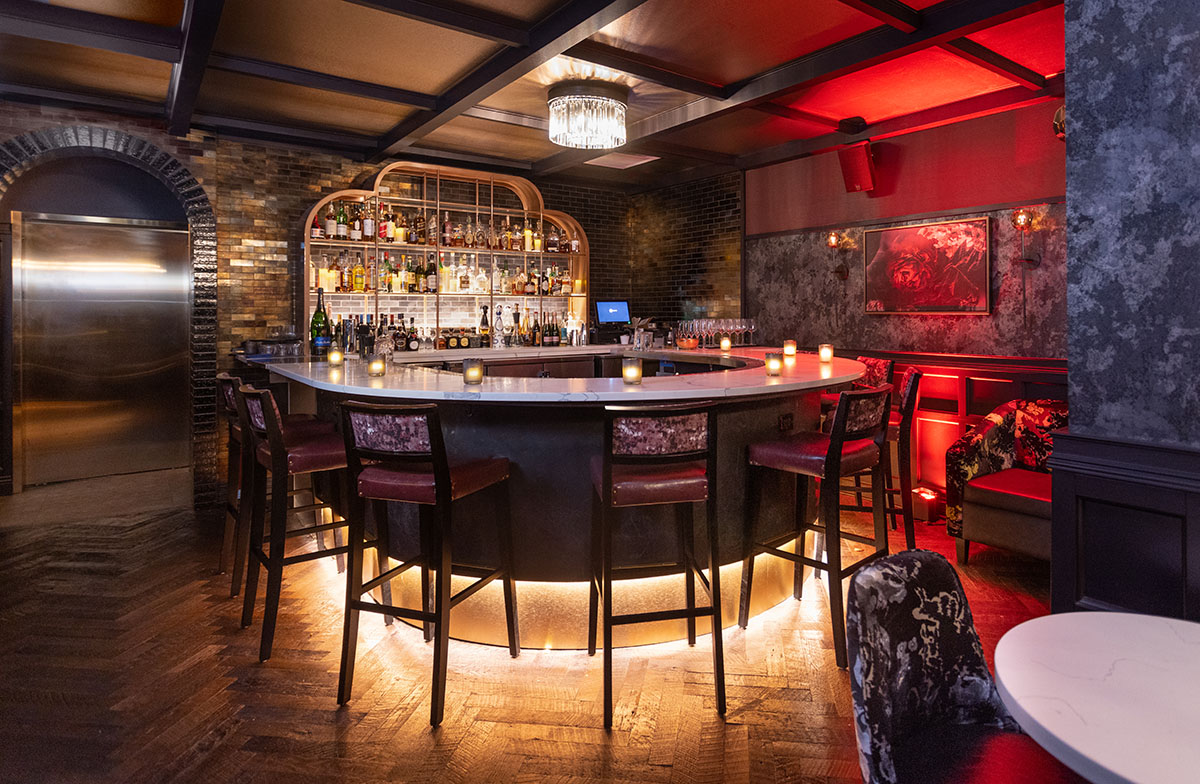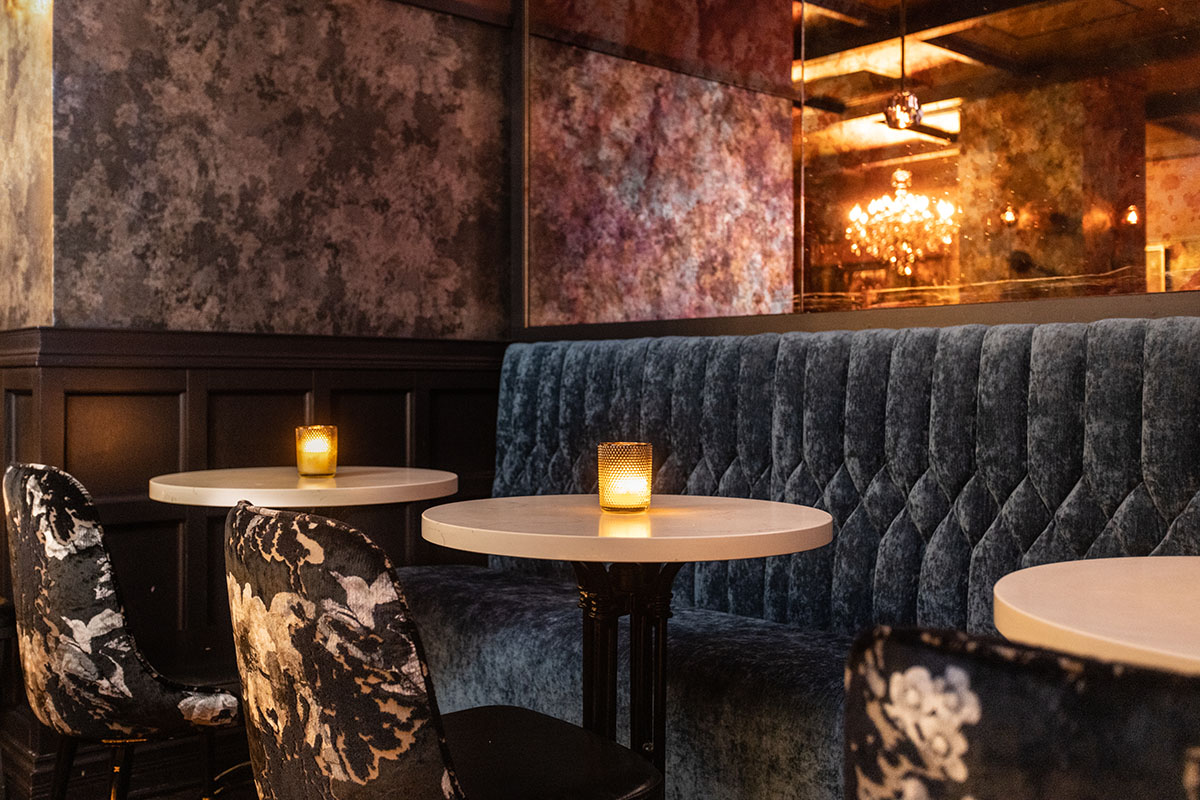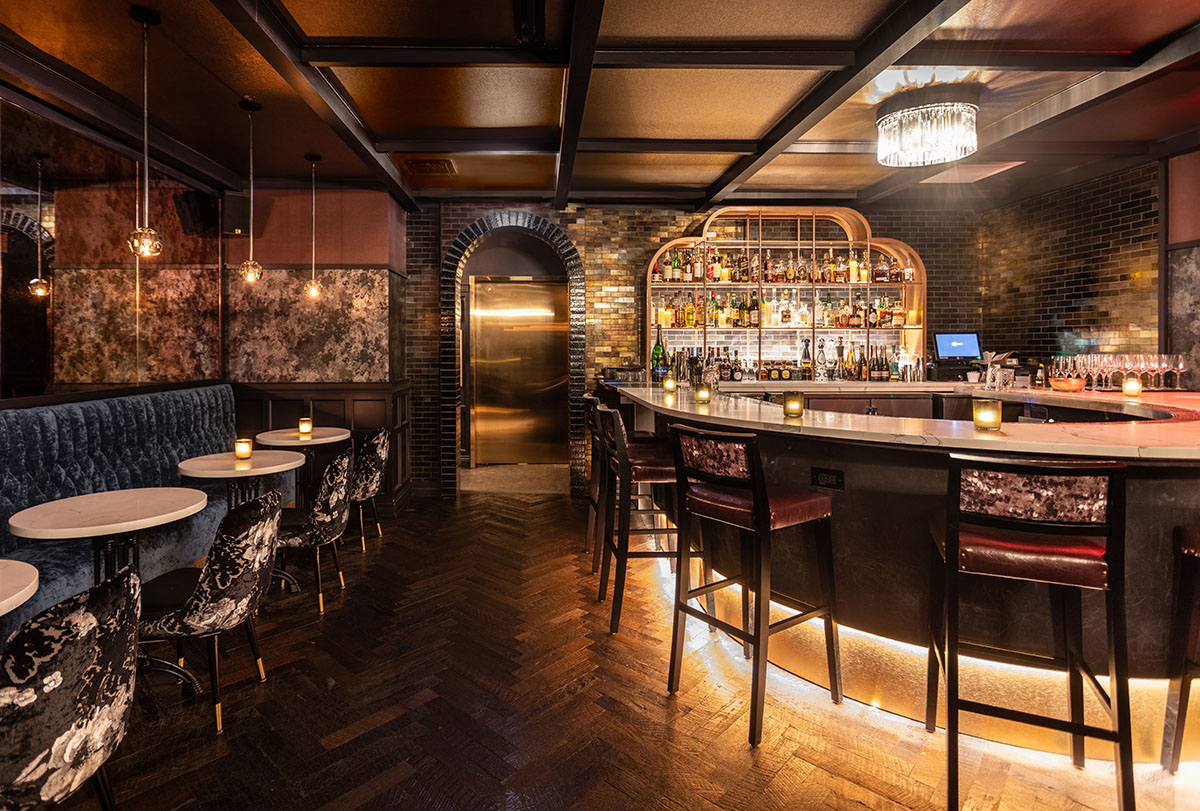 The site, located within the No. 9 Walton, had previously housed another restaurant owned and operated by a different organization, which presented the team with both design opportunities and challenges—the latter being a second-floor concept with an out-of-scale bar and a perpendicular wall that ran between the bar and main dining room. Kozlowski noted while the kitchen equipment, bathrooms, and electricity that were already set up from a technical standpoint were advantageous to the project, the second-floor space as a restaurant layout tends to be a hurdle.
"There was no vibrance, no draw to lure guests in or keep them coming back," Kozlowski said. "We had the unique challenge of totally recalibrating the space to be a lively and attractive atmosphere that would anchor such a major building in one of Chicago's notoriously renowned neighborhoods. Basically, we had to maximize what was there and change what wasn't working."
To address some of the challenges, the Dunne Kozlowski team reduced the size of the bar, creating a lively lounge area connected to the main dining space that intentionally pulls the patron through, and infused the space with the enigmatic mystery of the restaurant's muse: Adalina.
"The entrance wasn't visually stimulating, and there was nothing to pique a guest's interest to climb the stairs to the dining room. We overcame this challenge by riddling the space with mystique and intrigue in the form of our fictitious female muse: Adalina. The ground floor entrance is clad in dark monotone. It's meant to draw your focus to a larger-than-life graphic of Adalina that starts at the stairs and towers into the landing of the dining room," Dunne said. "Adalina's back is to the guest and her profile is covered by giant florals—you never see her straight. Her empowered sultriness is designed to lure guests upstairs to determine who she is for themselves."
The team also curated additional moments of delight and surprise, inspired by muse and mural, to continue to pull guests through the space whether by stair or golden elevator, such as a 17-foot chandelier featuring 150,000 crystals suspended from a rose-painted ceiling—not unlike "draping jewelry"—and the compelling, backlit back wall highlighting rounded paneling and custom wallpaper and artwork by Caitlin Cole Design. Founded by Caitlin Cole, graphic designer, artist, muralist, and interior designer, Caitlin Cole Design specializes in branding, environmental wall graphics, and hand painted murals. Cole not only did the custom wallpaper and mural work for Adalina, but also provided branded elements like the graphics on the menu, plateware, and signage.
There is also the layering of sconces, pendants, uplighting, and soft materials that invite exploration beneath floral ceiling mural and before the custom backlit wall, and Melissa Grovenburg, director at Dunne Kozlowski, said the strands of the chandelier themselves are intentionally designed to mimic flower petals. While the whole space is riddled in this ambiance of sultriness, in which diners can experience a culinary journey curated by Executive Chef Soo Ahn and his team, Grovenburg added it is the overall guest experience that drove the reimagined layout.
"That's always priority number one for us: how can we work with an existing space to create something special for those who come to dine here?" Grovenburg said. "Lighting is not vibrant or in your face, there's a mystery to it—but it's alluring."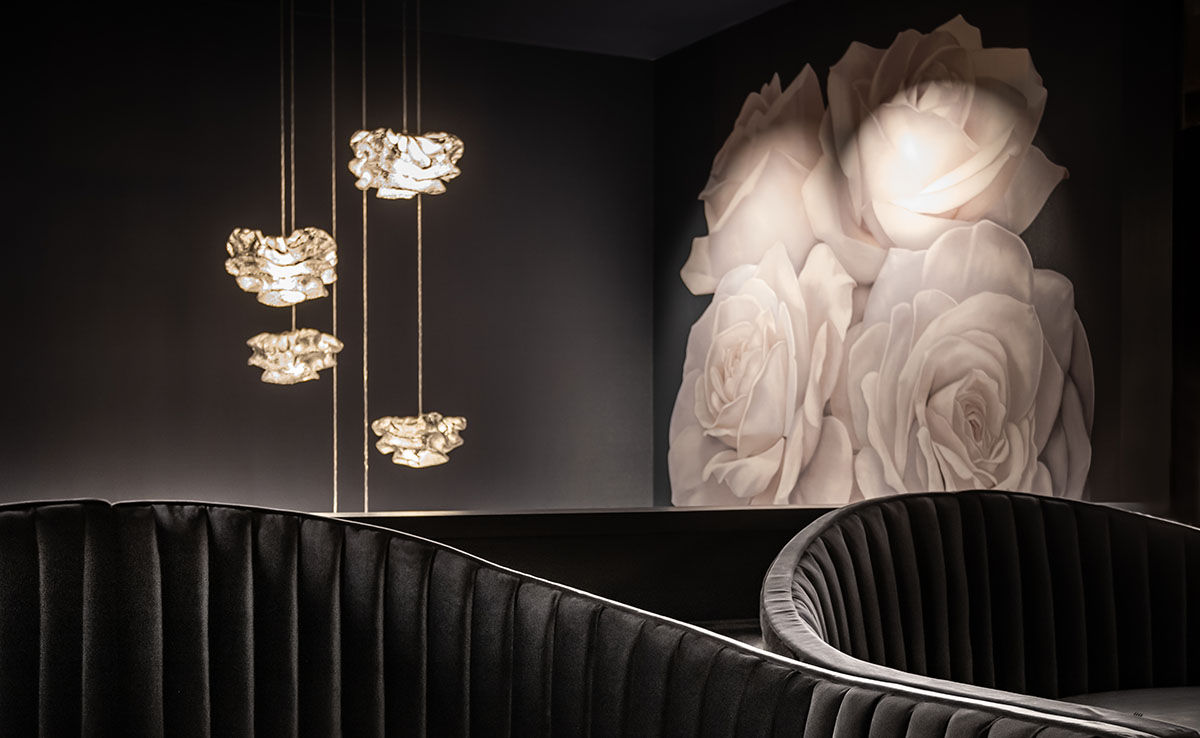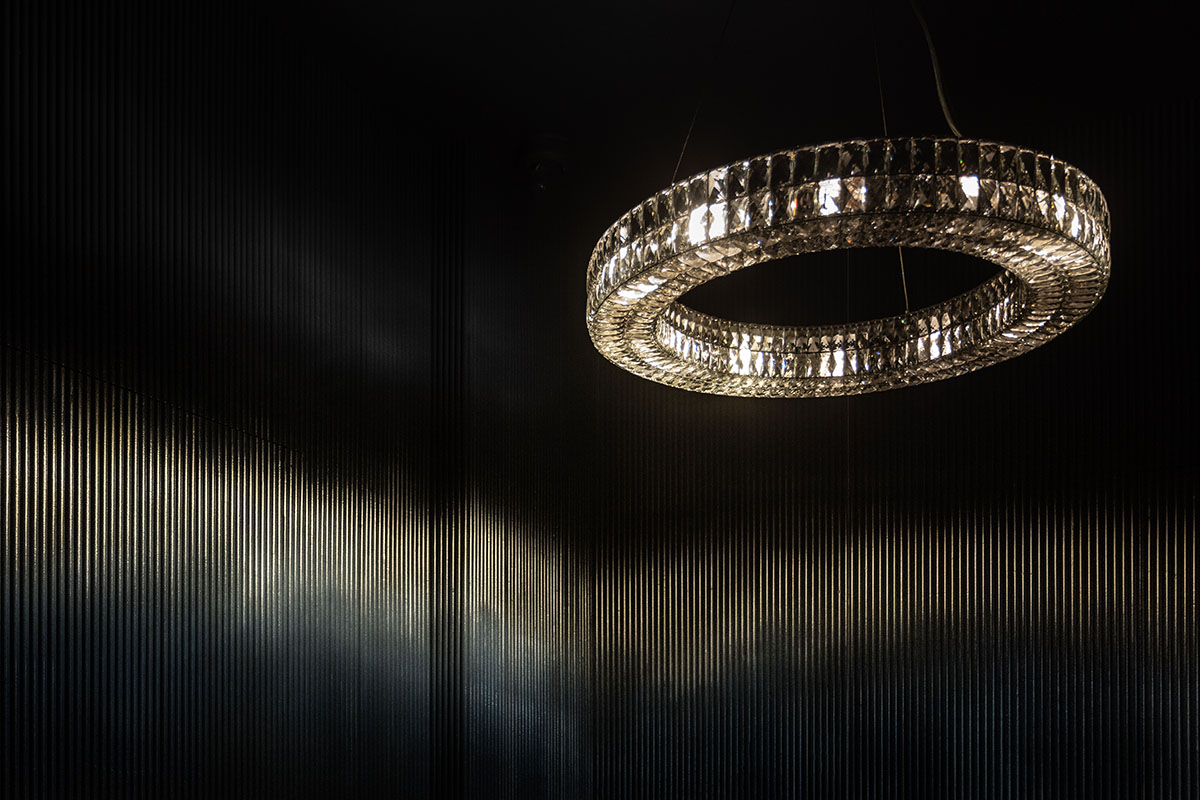 Grovenburg also noted from the dripping, floral light fixture suspended above that allows one to walk through the graphic, rather than just seeing it on the wall, to the sprawling crown jewel of a chandelier, diners are pulled and drawn by the mysterious lighting in the entirety of the space.
"[Design] means to create experiences for people that they'll remember for whatever reason, because they immersed themselves in it and walk out knowing it was specifically curated for them," Grovenburg said.
To Dunne, every restaurant project is different, where cues from the food inform the design and vice versa. From the initial visual and tactile impression to the soft notes on the nose and palate, delivering a cohesive, curated experience can be found in the most intimate of details like the layered light at the table and mix of whites and blues for flatware and place settings to amplify the plate and elevate the dish.
"Open kitchens obviously have food and smells right there in front of guests. Adalina is different: you don't see the process of food being prepared, but you experience it when your server is bringing it out to you. We put emphasis on lighting in this space to create an ambiance and mystique in the room with spotlights on tables to make food the center of attention," Dunne said. "There are layers of light at table level to draw you to the plate once it arrives, since you can't see into the kitchen while it's being prepared."
The ground floor also holds an additional, layered element of surprise, from which the mural can be seen up the staircase, intended to draw visitors back time and again. Designed as a hidden, intimate experience, the Rose Lounge is Adalina's speakeasy featuring a specialty curated drink menu, dark marble, crushed velvet, and ornamental light fixtures amid booth seating and soft lighting.
"The first floor was a distraction in the original space. With the Rose Lounge, we flipped this notion on its head and turned it into a secret destination. Essentially, we're taking advantage of human curiosity to draw you in," Dunne said. "And it's working."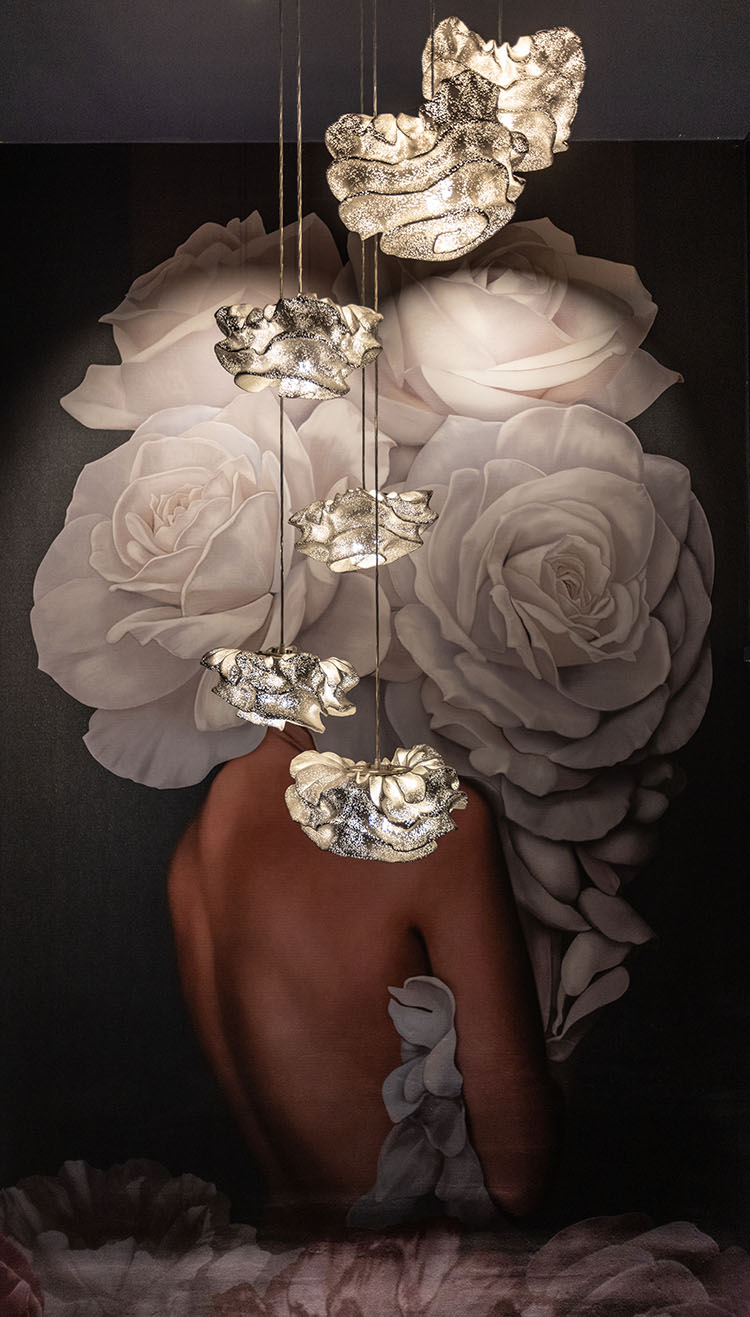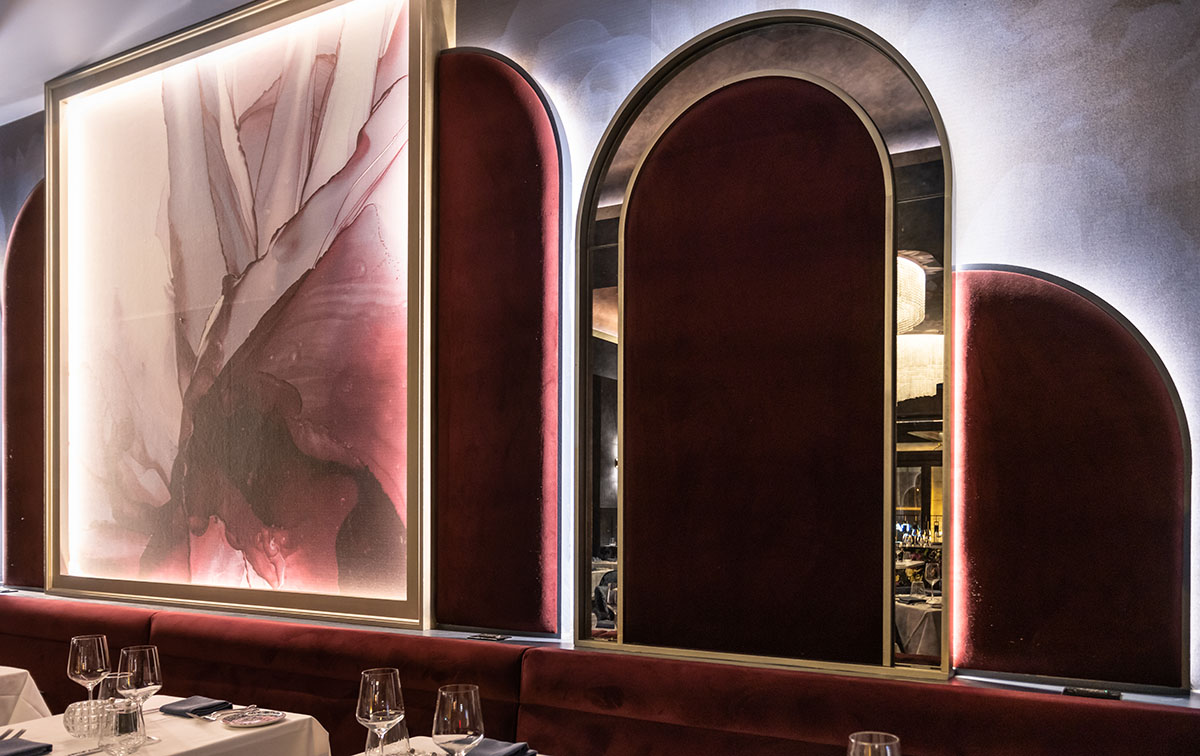 Kozlowski also said the idea was to transform the underutilized and unattractive area in its first generation into an alluring space with an atmosphere of exclusivity—and the other unique element is that the team reversed the traditional circulation often found in restaurants, where it flows from ground floor to those above it.
"You must first go up to the second-floor dining room before being 'invited' to the Rose Lounge. As we say, 'when you get to know Adalina, you get invited to experience more.' The Rose Lounge is more," Kozlowski said. "You know the saying, 'everyone wants what they can't have'? We took an eyesore from the original space and turned it into the place where everyone wants to be."
For Kozlowski, design is about creating memorable, unique experiences that are personalized, and solving the second-floor concept and successfully activating the first floor as an additional experience was one of the greatest challenges and greatest accomplishments of the project.
"Everyone goes up to the main dining room without even realizing they did it—they were pulled up there by Adalina," Kozlowski said. "For Adalina specifically, design meant an opportunity to weave new life into a space that previously wasn't used to its maximum."
Dunne noted design is about inspiring and raising spirits, and one mark of a job well done is the answer to the question of how many moments of the restaurant journey stand out as memorable.
"At Adalina, so many do. The girl herself in the graphic, the giant chandelier, the ambiguous back wall, and the Rose Lounge," Dunne said. "So many things make that restaurant stand out from the rest from an experiential design standpoint."
First published in Great Lakes By Design: Raising the Bar, 2023
Text: R.J. Weick
Photography: Kyle Flubacker