In today's world, technology has become as inherent as it is prolific in enhancing and executing tasks in both the personal and professional life. Residential hardware and office workplaces have become smart and intuitive, relieving subliminal burdens from homeowners and employees as they continue their daily routine. Software applications, processes, and entire industries push the boundaries of what is possible; and at the intersection of this art and science, creative digital agencies are leveraging the cutting-edge technology to craft moments of connection between people and brands, ultimately weaving next-generation digital-branded experiences into physical landscape.
"We are an experiential tech company. We create custom experiences in emerging technologies like virtual reality, augmented reality, projection mapping, holograms, gesture control, motion tracking, and pretty much all those cool buzzwords that are sort of rising to the surface now in the techsphere," said Mark Matthews, marketing strategist and senior copywriter at NEXT/NOW in Chicago, Illinois.
Alan Hughes, founder and chief creative officer at NEXT/NOW, said the focus from day one has been to create digital experiences by layering it into physical spaces and places where people interact with architecture, retail, or branded events.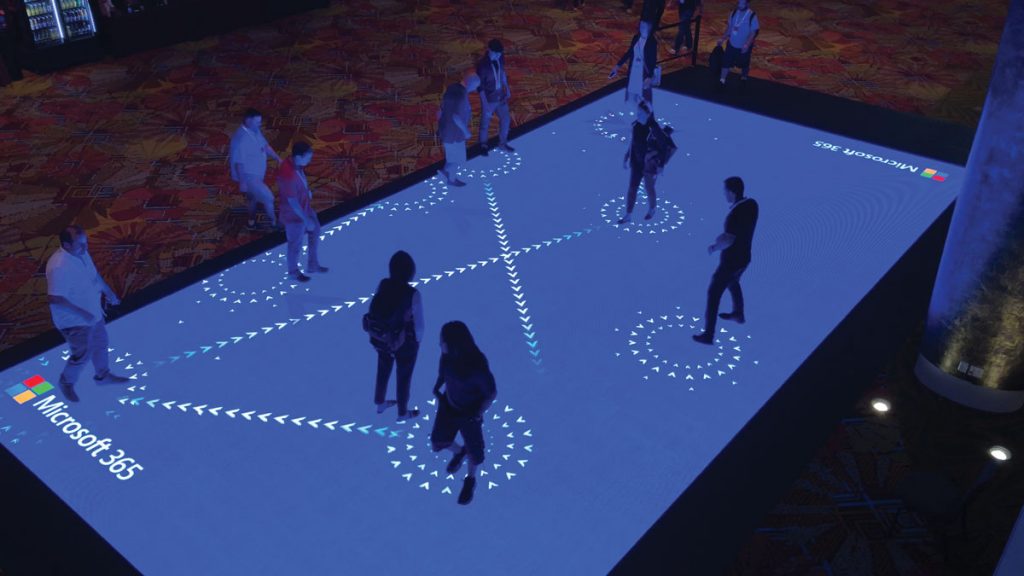 "We work very hard to make deep experiences that can take place in those environments that are enjoyable and surprising to the consumer who are in those spaces, but also give brands a way to tell a deeper story about their product or overall mission," Hughes said.
For the past eight years, NEXT/NOW has partnered with clients to bring a new level of interaction and immersion for consumers and end users; virtually transporting people to cities across the globe and as far as futuristic space stations, handing them an insightful—and augmented—window into a first-of-its-kind electric semi-truck or pit crew experience, and inspiring viewers with reactive LED floors and projection-mapped sculptures and buildings. It has worked with well-known brands such as Intel, McDonald's, Goodyear, Under Armour, Mazda, LG, Steelcase Inc., NBA, Farmer's Insurance, and John Deere, as well as the Chicago Sports Museum and the United States Federal Reserve System.
For Matthews, what NEXT/NOW is creating isn't just something that is simply in a space, but often something people are interacting with.
"As we begin our thinking, we are already thinking about that moment—how it looks, how it feels, is it accessible, how do we draw people in, how do we make them feel connective and comfortable in this space—so there is the extra layer of usability and practicality that goes into everything we do," Matthews added.
Full text available in our print edition, Great Lakes By Design, Volume 3, Issue 2: Informed Future. Start your subscription now.
Photography: NEXT/NOW